SHARE YOUR BATTLE Weekly Challenge! DJINN INFERNI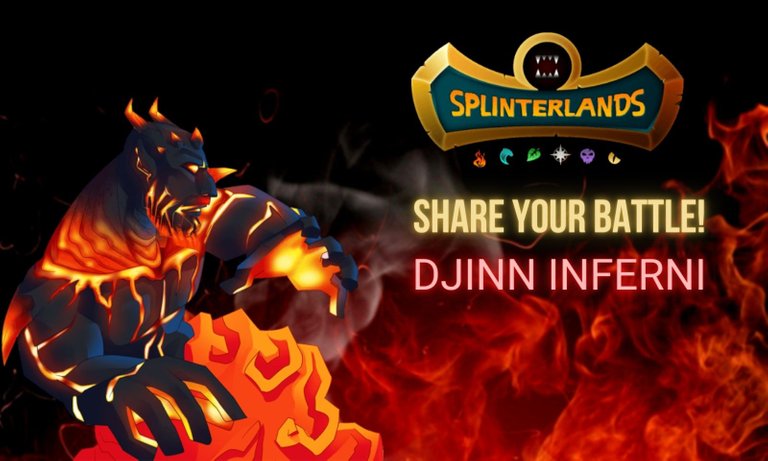 [🇺🇸 - EN - 🇧🇷 - PT/BR]
Hello, everyone! 😄
For the Share your Battle ⚔️ of this week let's talk about an Epic card: Djinn Inferni! I'd rate him as a card 5/10 in Gold league level, he has decent abilities, but cost a lot of mana + not versatile at all. Therefore NOT a must in your deck!
Lore
Djinn Inferni is the eldest of the ancient wardens of fire, spirits of flame that dwell in the deepest rivers of stone. Second only to Lord Janai himself, he is prideful and cunning, but fiercely loyal to his master. With the opening of the rift and the betrayal of Djinn Muriat he has taken up a blood oath of vengeance against the chaos exercitus, rising to the surface to lay waste to the enemies of stone and fire.

---
Fala, pessoal! 😄
Para o Compartilhe sua batalha ⚔️ desta semana, vamos falar sobre uma carta épica: Djinn Inferni! Eu o classificaria como uma carta 5/10 no nível da liga Ouro, ele tem habilidades decentes, mas custa muito mana + nada versátil. Portanto NÃO é obrigatório em seu baralho!
Folclore
Djinn Inferni é o mais velho dos antigos guardiões do fogo, espíritos das chamas que habitam nos rios mais profundos da pedra. Perdendo apenas para o próprio Senhor Janai, ele é orgulhoso e astuto, mas ferozmente leal ao seu mestre. Com a abertura da fenda e a traição de Djinn Muriat, ele fez um juramento de vingança contra o caos exercitus, subindo à superfície para devastar os inimigos da pedra e do fogo.

---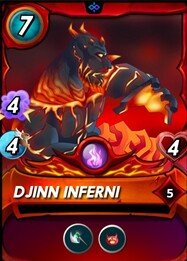 QUICK OVERVIEW
Abilities: Giant Killer and Stun
Usability: high mana battles, since most player will select monsters that cost 10 mana or more. Also great on Heavy Hitters rule set.
Best Summoners: Conqueror Jacek, Yodin Zaku, Delwyn Dragonscale and Byzantine Kitty
Best Position: 4th to 6th position, I don't like to put him in the last position due to his low HP, so he will die very quickly against sneak attacks.
Strengths: high damage, good abilities and decent speed.
Weakness: low HP, no armor, high mana cost.
Best rule sets: Equalizer, Blast, Heavy Hitters
Worst Rule Sets: Earthquake, Noxious Fumes and Counterspell
---
Habilidades: Matador de Gigantes e Atordoamento

Usabilidade: batalhas de mana alta, já que a maioria dos jogadores selecionará monstros que custam 10 mana ou mais. Também é ótimo no conjunto de regras Heavy Hitters.

Melhores invocadores: Conqueror Jacek, Yodin Zaku, Delwyn Dragonscale e Byzantine Kitty

Melhor Posição: 4ª a 6ª posição, não gosto de colocá-lo na última posição devido ao seu baixo HP, então ele morrerá muito rapidamente contra ataques furtivos.
Pontos fortes: alto dano, boas habilidades e velocidade decente.

Fraqueza: baixo HP, sem armadura, alto custo de mana.

Melhores conjuntos de regras: Equalizer, Blast, Heavy Hitters

Piores Conjuntos de Regras: Terremoto, Emanações Nocivas e Contrafeitiço
---
---
Below you can check the most relevant upgrades. In short: if you upgraded him to level 3, you will receive a decent benefit only at level 5 and 6 (stun ability + extra damage).
---
Abaixo você pode conferir as atualizações mais relevantes. Resumindo: se você o atualizou para o nível 3, receberá um benefício decente apenas nos níveis 5 e 6 (capacidade de atordoamento + dano extra).
---


MARKET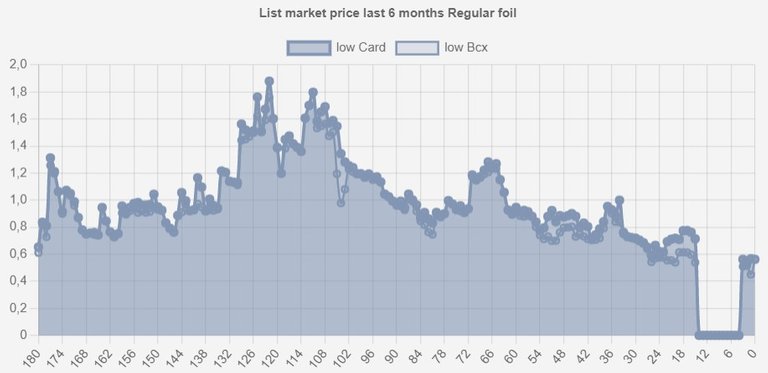 In the last days his priced varied between $ 0.56 to $ 0.77 a BCX. However, 3 months ago it used to cost between $ 1 to $ 1.20, so it might be a good time to upgrade your Djinn Inferni (not financial advise)
---
Nos últimos dias seu preço variou entre $ 0,56 a $ 0,77 a BCX. No entanto, há 3 meses custava entre $ 1 a $ 1,20, então pode ser um bom momento para atualizar seu Djinn Inferni (não aconselho financeiro)


For this challenge I picked a ranked battle in Gold league + Modern Format. The rules were: Odd Ones Out and Holy Protection with all elements available, except Earth and 50 mana cap, which was perfect to use Djinn Inferni. It would only get better if one of the rule sets was Equalizer.
General Strategy: use monsters with Giant Killer (Legionnaire Alvar and Djinn Inferni) while Oshuur Constantia keep healing and resurrect him and the rest of the team does the main damage.
Summoner: Byzantine Kitty, probably one of the best (or the best) summoner in the whole game, I got lucky with a bid, so I'm going to use her very often.
Main Tank + Support (Legionnaire Alvar + Oshuur Constantia): this is a very common strategy, but it works very well: Void Armor + Resurrect.
Carnage Titan (Secondary Tank): with the true strike of Byzantine Kitty I don't have to worry about him missing his attacks, so he will deal 6 damage each round!
Tenyii Striker + Spirit Hoarder: Spirit Hoarder Blind ability is very useful since affects the whole enemy team. Not only that, he would be able to increase the chances of Tenyii avoid some attacks with his Dodge ability and also Triage him.
Djinn Inferni: well, we are expecting giant monsters, so his stun+giant killer ability will be valuable!
---
Para este desafio escolhi uma batalha ranqueada na Liga Ouro + Formato Moderno. As regras eram: Odd Ones Out e Holy Protection com todos os elementos disponíveis, exceto Terra e limite de 50 mana, que era perfeito para usar Djinn Inferni. Só ficaria melhor se um dos conjuntos de regras fosse Equalizador.

Estratégia geral: use monstros com Giant Killer (Legionnaire Alvar e Djinn Inferni) enquanto Oshuur Constantia continua curando e ressuscitando-o e o resto da equipe faz o dano principal.

Invocador: Byzantine Kitty, provavelmente uma das melhores (ou a melhor) invocadora de todo o jogo, dei sorte com um lance, então vou usá-la com bastante frequência.

Tanque Principal + Suporte (Legionário Alvar + Oshuur Constantia): essa é uma estratégia muito comum, mas funciona muito bem: Armadura do Vazio + Ressuscitar.

Titã da Carnificina (Tanque Secundário): com o golpe certeiro do Bizantino Kitty não preciso me preocupar com ele errando seus ataques, então ele causará 6 de dano a cada rodada!

Tenyii Striker + Spirit Hoarder: A habilidade Spirit Hoarder Blind é muito útil, pois afeta todo o time inimigo. Além disso, ele seria capaz de aumentar as chances de Tenyii evitar alguns ataques com sua habilidade de esquiva e também triá-lo.

Djinn Inferni: bem, estamos esperando monstros gigantes, então sua habilidade de atordoar+matador de gigantes será valiosa!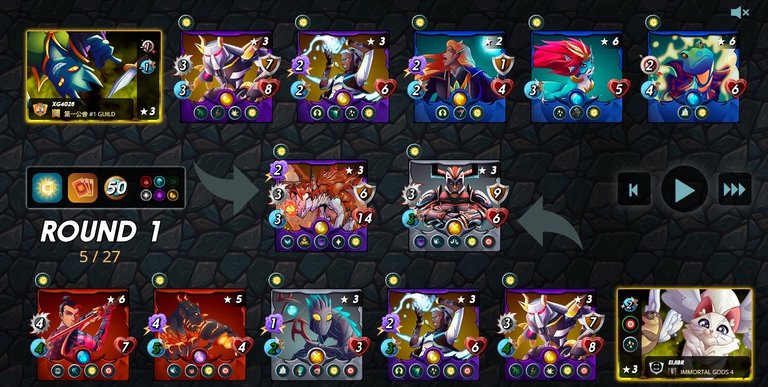 Highlights/Destaques
Giant Killer was very useful since my opponent built a lineup based on resurrect + tank heal. Even with Giant Killer it took me 5 rounds to take Agor Longtail three times.

Djinn Inferni killed Carnage Titan in a single attack, which was very useful since my opponent didn't have any other monster to tank.

To be honest, in the beginning I thought I was going to lose, since it was taking too long to kill Agor, but the lack of fire power of my opponent's increased my monsters survivability.
---
Matador de Gigante foi muito útil já que meu oponente construiu uma escalação baseada em ressurreição + cura de tanque. Mesmo com a habilidade matador de gigantes demorei 5 rodadas para matar Agor Longtail três vezes.

Djinn Inferni matou Carnage Titan em um único ataque, o que foi muito útil já que meu oponente não tinha nenhum outro monstro para tankar.

Para ser honesto, no começo eu pensei que ia perder, já que estava demorando muito para matar Agor, mas a falta de poder de fogo do meu oponente aumentou a capacidade de sobrevivência dos meus monstros.

If you want to start playing Splinterlands, please use my referral link by clicking here!
Thanks for reading!
---
Se quiser começar a jogar Splinterlands, por favor use meu link de referência clicando aqui!!

Obrigado por ler!

---
---