SHARE YOUR BATTLE Weekly Challenge! LEGIONNAIRE ALVAR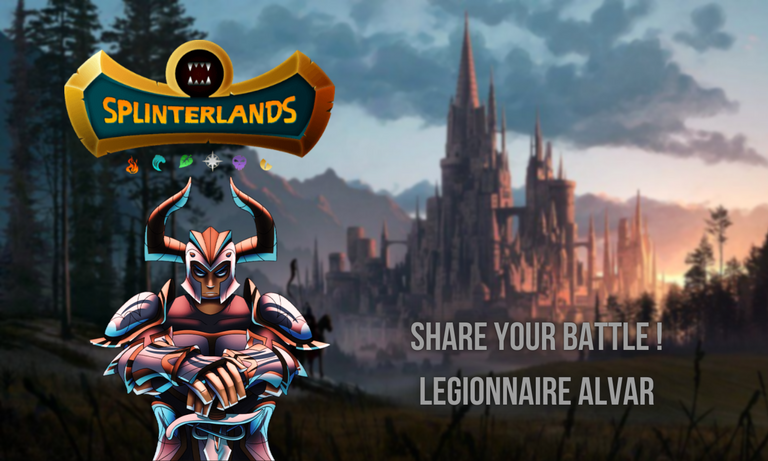 [🇺🇸 - EN - 🇧🇷 - PT/BR]
Hello, everyone! 😄
I was very surprised to see a Legendary card in the the Share your Battle ⚔️ of this week, so let's talk about Legionnaire Alvar! I'd rate him as a card 8 out of 10 in Gold league level, he has great abilities, a lot of armor and fits perfectly in some rulesets that I'll list below!
Lore
The Chaos Legionnaires are ruthless warriors and the Chaos Legion's elite fighting force. Alvar Veralyn was conscripted into their ranks at a young age after his family was slain and his world conquered by the Chaos Legion. The harsh conditioning that all conscripts receive nearly broke the child, but in the end, his old, easy way of life was subsumed by the desire for battle and conquest. Alvar dedicated himself to his training, intent on reshaping his mind and his body until he had no equal on the battlefield. Eventually, he rose to the rank of General and now stands as leader of the Chaos Legionnaires.

 Alvar is a most imposing sight on the battlefield. His armor is imbued to withstand the strongest of magical attacks, and even the mightiest of foes is no match for his massive, two-handed sword, which some say was forged in the Realm of Nightmare. He lives for battle, wading through his enemies and striking them down as he seeks out the strongest among them to engage in single combat. He enjoys nothing more than watching the life fade from his opponent's eyes. His conquests are legendary even among the Legionnaires, and he earned the title of Godkiller after the Battle of Dargnilat, during which he single-handedly defeated one of the Old Gods.

---
Olá pessoal! 😄

Fiquei muito surpreso ao ver uma carta Lendária no Compartilhe sua Batalha ⚔️ desta semana, então vamos falar sobre o Legionário Alvar! Eu o classificaria como uma carta 8 de 10 no nível da liga Ouro, ele tem ótimas habilidades, muita armadura e se encaixa perfeitamente em alguns conjuntos de regras que listarei abaixo!
---
Folclore
 Os Chaos Legionnaires são guerreiros impiedosos e a força de combate de elite da Chaos Legion. Alvar Veralyn foi recrutado para suas fileiras ainda jovem, depois que sua família foi morta e seu mundo conquistado pela Legião do Caos. O duro condicionamento que todos os recrutas recebem quase quebrou a criança, mas no final, seu antigo e fácil modo de vida foi substituído pelo desejo de batalha e conquista. Alvar se dedicou ao treinamento, com a intenção de remodelar sua mente e seu corpo até que não tivesse igual no campo de batalha. Eventualmente, ele ascendeu ao posto de General e agora é o líder dos Chaos Legionnaires.

 Alvar é uma visão imponente no campo de batalha. Sua armadura é imbuída para suportar os ataques mágicos mais fortes, e mesmo o mais poderoso dos inimigos não é páreo para sua enorme espada de duas mãos, que alguns dizem ter sido forjada no Reino do Pesadelo. Ele vive para a batalha, atravessando seus inimigos e derrubando-os enquanto procura o mais forte entre eles para se envolver em um combate individual. Ele gosta de nada mais do que ver a vida desaparecer dos olhos de seu oponente. Suas conquistas são lendárias até mesmo entre os Legionários, e ele ganhou o título de Matador de Deuses após a Batalha de Dargnilat, durante a qual derrotou sozinho um dos Deuses Antigos.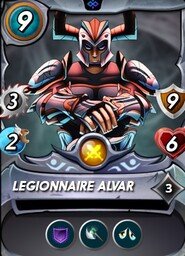 LEGIONNAIRE ALVAR
Abilities: Void Armor, Giant Killer and Demoralize.
Usability: great tank to counter giant monsters like Agor Longtail, Grum The Flameblade etc. Also good to counter mages due to his Void armor!
Best Position: if the ruleset doesn't allow him to attack from the backline, he will work better as the main tank in the first position.
Strengths: lot of armor, decent attack power and great abilities.
Weakness: high mana cost and low HP and speed, making him inconsistent due to attack miss.
Best Rulesets: Equalizer, Up Close & Personal and Armored Up.
Worst Rulesets: weak magic, back to basics and Unprotected.
---
Habilidades: Void Armor, Giant Killer e Demoralize.

Usabilidade: ótimo tanque para combater monstros gigantes como Agor Longtail, Grum The Flameblade etc. Também é bom para combater magos devido à sua armadura Void!
Melhor posição: se o conjunto de regras não permitir que ele ataque pela linha de trás, ele funcionará melhor como tanque principal na primeira posição.

Pontos fortes: muita armadura, poder de ataque decente e ótimas habilidades.

Pontos Fracos: alto custo de mana e baixo HP e velocidade, tornando-o inconsistente devido aos possíveis erros ao atacar.

Melhores conjuntos de regras: Equalizador, De perto e Pessoal e Blindado.

Piores conjuntos de regras: magia fraca, de volta ao básico e desprotegido.
---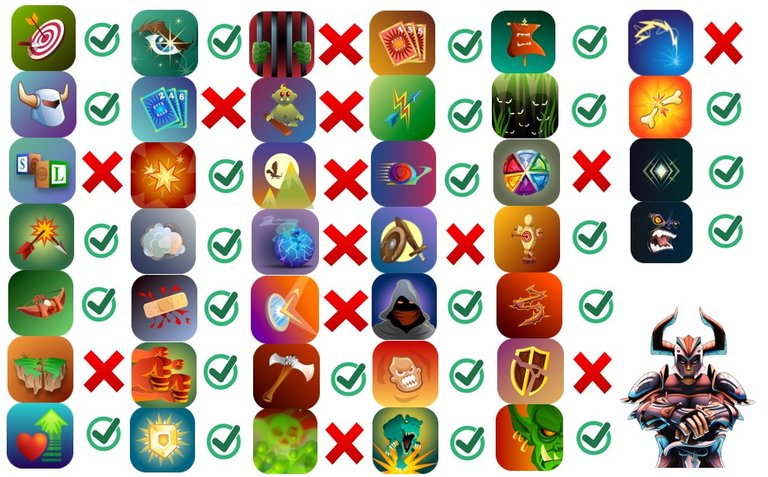 ---
MARKET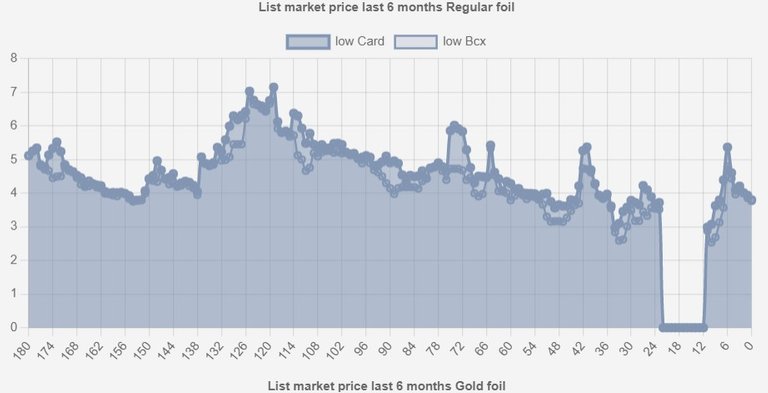 ---
About 4 months ago this card used to cost about $ 6.5 a BCX, in the present moment he is being sold for $ 3.80 to $ 4 a BCX. I think he is a relevant card to add to your deck, whether buying or renting (not financial advise!). I also believe that as soon the Chaos legion packs sell out his price will go back to $ 6 or 7 a BCX.
---
Há cerca de 4 meses esta carta custava cerca de $ 6,5 a BCX, no momento atual ele está sendo vendido por $ 3,80 a $ 4 a BCX. Acho que ele é uma carta relevante para adicionar ao seu baralho, seja comprando ou alugando (não aconselho financeiro!). Também acredito que assim que os pacotes da Chaos legion esgotarem o preço dele voltará para $ 6 ou 7 a BCX.


For this challenge I picked a ranked battle in Gold league + Modern Format. The rules were: Aim True + Melee Mayhem with Water 🐳 , Earth 🌿 and Death 👻 splinters available.
Summoner: Immortalis, in melee mayhem I expect to face many melee monsters with a lot of armor and mages to give support to them. For this reason Immortalis looks perfect to counter melee with Shatter and mages with Void ability.
General Strategy:reduce the attack power of the melee monsters with double demoralize (Alvar + Failed summoner) while Mycelic Slipspawn will divide the opponent's focus fire due to her Taunt ability.
Pelacor Mercenary: despite of his Flying ability being useless in this ruleset, his decent speed + attack power and healing ability are useful to keep him alive.
Legionnaire Alvar: great to counter melee and mages, for this reason I placed him in the 2nd position, so his Demoralize ability will last longer.
Runemancer Florre and Grund: damage dealers, both of them attack twice in a single round, which is a very powerful thing, not only that, this works perfectly with shatter ability!
---
Para este desafio escolhi uma batalha ranqueada na Liga Ouro + Formato Moderno. As regras eram: Aim True + Melee Mayhem com estilhaços de água 🐳 , terra 🌿 e morte 👻 disponíveis.

Invocador: Immortalis, no caos corpo a corpo espero enfrentar muitos monstros corpo a corpo com muita armadura e magos para dar suporte a eles. Por esta razão, Immortalis parece perfeito para contra-atacar corpo a corpo com Shatter e magos com a habilidade Void.

Estratégia Geral: reduza o poder de ataque dos monstros corpo a corpo com dupla desmoralização (Alvar + Failed summoner) enquanto Mycelic Slipspawn dividirá o foco de fogo do oponente devido a sua habilidade Taunt.

Mercenário Pelacor: apesar de sua habilidade Voar ser inútil neste conjunto de regras, sua velocidade decente + poder de ataque e habilidade de cura são úteis para mantê-lo vivo.

Legionário Alvar: ótimo para combater corpo a corpo e magos, por isso coloquei ele na 2ª posição, assim sua habilidade Demoralize vai durar mais.

Runemancer Florre e Grund: causadores de dano, ambos atacam duas vezes em uma única rodada, o que é uma coisa muito poderosa, não só isso, funciona perfeitamente com a habilidade de quebrar!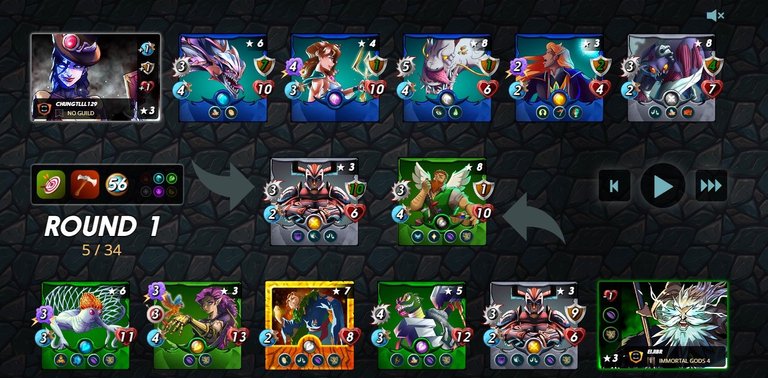 Highlights/Destaques
Shatter ability was perfect to counter the enemy combo Alvar + Hellondale (Resurrect) killing him twice in the first round, besides that, Grund trample also destroyed the 7 points armor of the Diemonshark!

Grund and Runemancer Florre was hitting very hard

The double demoralize caused a lot of problems to my opponent!

The strategy worked so perfectly that only Slipspawn died!
---
A habilidade Shatter foi perfeita para contra-atacar o combo inimigo Alvar + Hellondale (Resurrect) matando-o duas vezes no primeiro round, além disso, Grund trample também destruiu a armadura de 7 pontos do Diemonshark!

Grund e Runemancer Florre estavam batendo muito forte

A dupla desmoralização causou muitos problemas ao meu adversário!

A estratégia funcionou tão perfeitamente que apenas Slipspawn morreu!

If you want to start playing Splinterlands, please use my referral link by clicking here!
Thanks for reading!
---
Se quiser começar a jogar Splinterlands, por favor use meu link de referência clicando aqui!!

Obrigado por ler!

---
---