SHARE YOUR BATTLE Weekly Challenge! LIFE SAPPER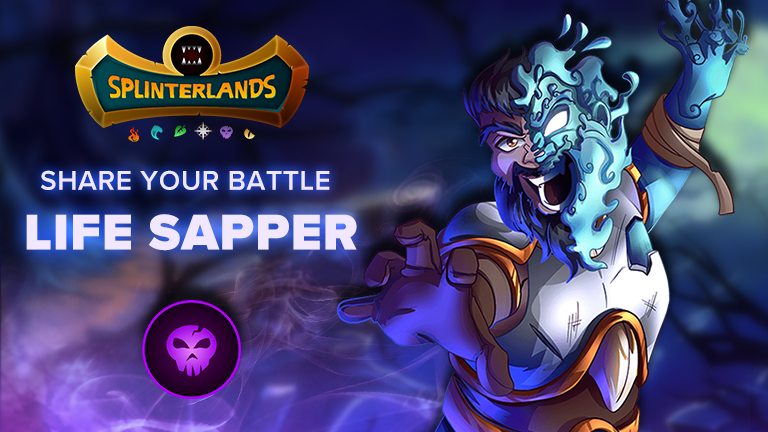 [🇺🇸 - EN & 🇧🇷 - PT/BR]
Hello, everyone! 😄
Let's talk about Life Sapper for the Share your Battle Weekly Challenge. I don't like this card so much for being very situational, dependent of rule set and requires some monsters to increase his survivability such as: Dark Ha'On (Taunt), Tower Griffin (Protect).
---
Olá pessoal! 😄

Vamos falar sobre o Life Sapper para o Desafio Semanal Compartilhar sua Batalha. Não gosto muito dessa carta por ser muito situacional, dependente do conjunto de regras e requer alguns monstros para aumentar sua sobrevivência como: Dark Ha'on (Taunt), Tower Griffin (Protect).


In Gold League 🏅 level Life Sapper still has only one ability: Life Leech.

.
And there are only three other monsters with this ability in the ☠️ Death Splinter deck: Vampire (Wild Format), Venari Bonesmith and Ancient Lich (Modern Format). Although Venari Bonesmith costs 1 extra mana, I usually rather pick her instead of Sapper because of her Poison

ability.
---
No nível Gold League 🏅 Life Sapper ainda tem apenas uma habilidade: Life Leech.

E há apenas três outros monstros com essa habilidade no deck ☠️ Death Splinter: Vampire (Wild Format), Venari Bonesmith e Ancient Lich (Modern Format). Embora Venari Bonesmith custe 1 mana extra, eu costumo escolher ela em vez de Sapper por causa de sua habilidade Envenenar
---


Best Summoners: He will be decent with any summoner, but I recommend these ones: Crypt Mancer (with -1 Melee and Speed it will increase Life Sapper survivability), Mimosa Nightshade, Delwynn Dragonscale (+1 Magic Damage will increase his Life Leech by 1 point) and Byzantine Kitty (If Sapper reaches the 1st position with 9 HP ❤️ or more, Kitty will heal 3 to 4 HP every round and he will keep increasing his HP).
---
Melhores Invocadores: Ele será decente com qualquer invocador, mas eu recomendo estes: Crypt Mancer (com -1 Ataque Corpo a Corpo e Velocidade ​​aumentará a capacidade de sobrevivência do Life Sapper), Mimosa Nightshade, Delwynn Dragonscale (+1 Ataque mágico aumentará seu "Sugar Vida" em 1 ponto) e Bizantine Kitty (Se Sapper atingir a 1ª posição com 9 PV ❤️ ou mais, Kitty irá curar 3 a 4 HP a cada rodada e ele continuará aumentando seu HP).
---
Best Positions: 4th to 6th, but I don't like so much to place him in the 6th position, because he might get killed by a sneak monsters even before he can attack.
---
Melhores Posições: 4ª a 6ª, mas não gosto muito de colocá-lo na 6ª posição, pois ele pode ser morto por um monstro furtivo antes mesmo de poder atacar.
---
Strengths: Life Leech ability and good Speed for a mage.
Weakness: low HP and no armor.
Forças: sua habilidade de Sugar vida e boa velocidade para um mago.

Fraquezas: baixo PV ❤️ e não possui armadura.
---
Best Rule Sets/Melhores Regras: he is especially good on Equalizer, Explosive Weaponry, Fog of War and Little League.
Worst Rule Sets/Piores Regras: Equal Opportunity, Reverse Speed and Super Sneak.
Score/Tier of the Card: C or 5,5/10.
Nota ou Ranking da Carta: C ou 5,5/10
---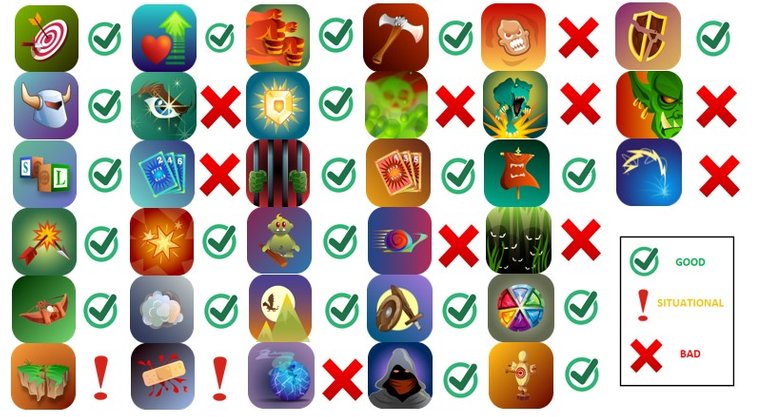 ---
Strategy Tips/Ideas
On Equalizer with 20 Mana Cap or more combine him with a Triage, because he will probably have more HP, therefore he will heal for more.

Explosive Weaponry: he will absorb the life of the targeted monster and from the one adjacent, as long he damages them.

I'm not 100% sure, but pretty confident that with the new Epic Summoner Dallan (Riftwatcher Edition), if you add Cripple, Life Sapper will probably drain HP even if the monster has Void Armor. I'm using the same logic as Merdhampir (Water Reward Monster with Life Leech + Cripple ability), even when he just hits the armor, he still gains HP. Not only that, you can use him at level 7 in Gold League 🏅!
---
Dicas/Ideias de Estratégia

Em Equalizer com 20 Mana Cap ou mais combine-o com uma Triage, pois ele provavelmente terá mais HP, portanto ele irá curar por mais.

Armas Explosivas: ele absorverá a vida do monstro alvo e do adjacente, desde que os cause dano.

Não tenho 100% de certeza, mas estou bastante confiante de que com o novo invocador épico Dallan (Riftwatcher Edition), se você adicionar Cripple, Life Sapper provavelmente drenará HP mesmo se o monstro tiver Void Armor. Estou usando a mesma lógica do Merdhampir (Water Reward Monster com Life Leech + Cripple), mesmo quando ele apenas acerta a armadura, ele ainda ganha HP. Além disso, vocês poderão utilizá-lo no nível 7 na Liga Ouro🏅!
MARKET/MERCADO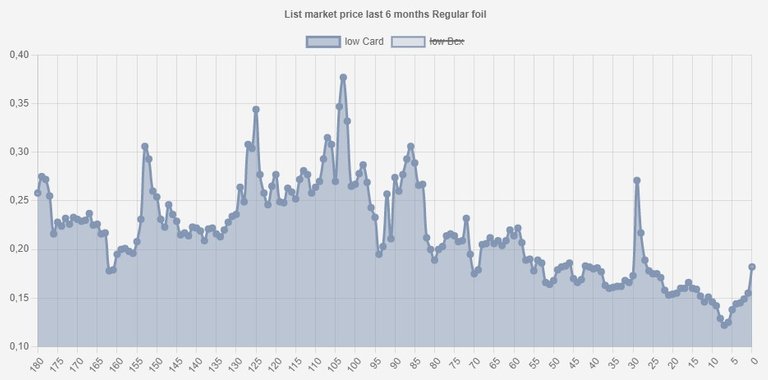 His lowest price for a single BCX in the last 6 months was $ 0.12 and the highest price $ 0.377. At the present moment his current price is $ 0.18 an intermediate price.
Seu preço mais baixo para um único BCX nos últimos 6 meses foi de US$ 0,12 e o preço mais alto de US$ 0,377. No momento, seu preço atual é de $ 0,18 um preço intermediário.


This is a ranked battle in Gold league Wild Format. You can check the rules set below.
Esta é uma batalha ranqueada na Liga ouro no Formato Selvagem. Vocês podem verificar as regras abaixo.
---

---

---
General Strategy: pick as many monsters with Flying ability as possible to not receive damage from Earthquake and survive as long as possible with the non flying monsters.
Pelacor Deceiver: decent tank with Flying and Backfire ability.
Riftwing: I thought I'd be facing some Ranged monsters, so his Headwinds ability and Scavenger would allow him to be a second Tank.
Life Sapper and Venari Bonesmith: none of them has Flying ability, but I thought that they would survive at least 3 rounds in the backline with Life Leech + Protect of Tower Griffin.
Enchanted Pixie and Tower Griffin: Support monster to provide +2 armor (Protect) and +1 Melee Damage (Inspire) for Pelacor.
---
Estratégia Geral: escolha o maior número possível de monstros com habilidade de Voar para não receber dano do Terremoto e sobreviver o maior tempo possível com os monstros não voadores.

Pelacor Deceiver: tanque decente com habilidade Voar e sair pela culatra.

Asa da Fenda: Eu pensei que estaria enfrentando alguns monstros de Combate à Distância, então sua habilidade de Vento Contra e Carniceiro permitiriam que ele fosse um segundo tanque.

Life Sapper e Venari Bonesmith: nenhum deles tem habilidade de voar, mas achei que eles sobreviveriam pelo menos 3 rounds na retaguarda com Life Leech + Proteção de Tower Griffin.

Enchanted Pixie and Tower Griffin: Monstros de suporte para fornecer +2 de armadura (Proteger) e +1 de Dano Corpo a Corpo (Inspirar) para Pelacor.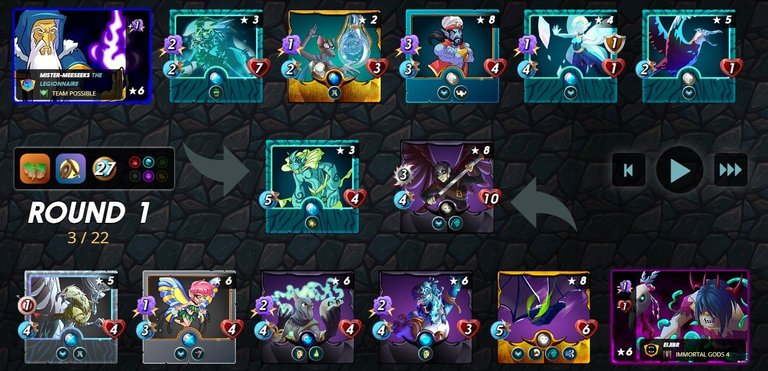 To watch the full battle, click in the images above or below!
Para assistir a batalha na íntegra clique nas imagens acima ou abaixo.

Highlights/Destaques:
To be honest I wasn't expecting Alric, however, Thaddius Brood is the perfect counter since it neutralizes his buff.

Riftwing Headwinds was useless against his monsters, but he did an awesome job absorbing 3 attacks

Venari Bonesmith was the main key to achieve victory. Since she was dealing 4 damage (2 magic damage + 2 of the poison).

Life Leech allowed them (Bonesmith and Sapper) to survive until the end of the battle.
---
Para ser honesto eu não estava esperando Alric, no entanto, Thaddius Brood é o contra-ataque perfeito, pois neutraliza seu buff.

Riftwing "Ventos Contrários" foi inútil contra os monstros do adversário, mas ele fez um ótimo trabalho absorvendo 3 ataques

Venari Bonesmith foi a chave principal para alcançar a vitória. Já que ela estava causando 4 de dano (2 de dano mágico + 2 do veneno).

Sugar Vida permitiu que eles (Bonesmith e Sapper) sobrevivessem até o final da batalha.
---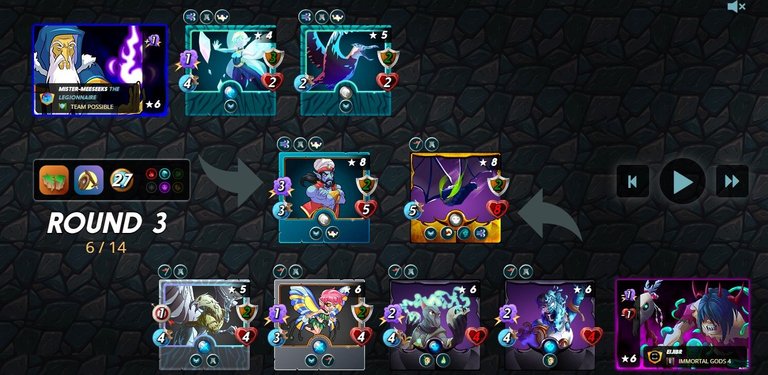 If you want to start playing Splinterlands, please use my referral link by clicking here!
Thanks for reading!
Se quiser começar a jogar Splinterlands, por favor use meu link de referência clicando aqui!!

Obrigado por ler!

---
---