SHARE YOUR BATTLE Weekly Challenge! NAGA ASSASSIN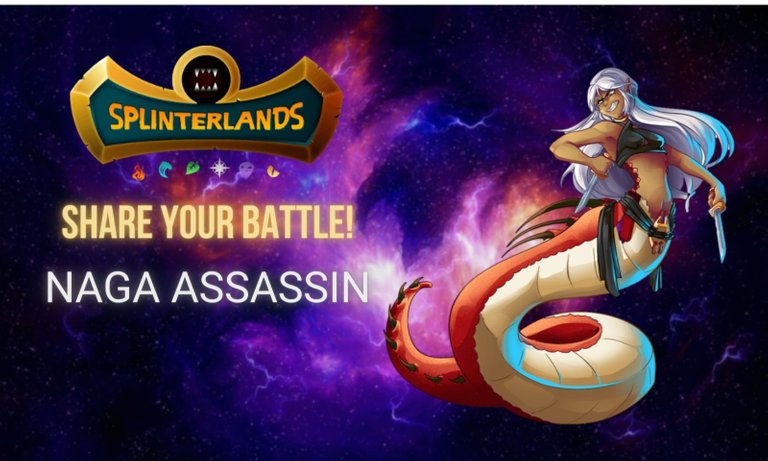 [🇺🇸 - EN - 🇧🇷 - PT/BR]
Hello, everyone! 😄
For the Share your Battle ⚔️ of this week I decided to talk about Naga Assassin! I'd rate her as a card 7.5/10 in Gold league level. It is not a card that you can use all the time, but very useful in certain situations and low mana cap!
---
Olá pessoal! 😄

Para o Desafio de compartilhar sua batalha ⚔️ desta semana resolvi falar sobre a Naga Assassina! Eu a classificaria como uma carta 7,5 de 10 no nível da liga Ouro. Não é uma carta que você pode usar o tempo todo, mas muito útil em certas situações e com baixo limite de mana!



---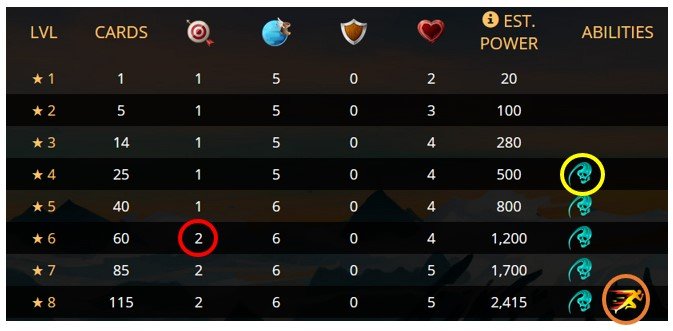 ---
From the lore
"Naga Assassins are so quick and deadly at their work that there is rarely a need for a fight. They simply slither in unnoticed, plunging a quiet knife into the most vulnerable place on their victim."
Fortunately her stats fit very well with the lore, owning high speed and sometimes you barely notice or don't fear her in the enemy lineup, although she makes a good difference in the outcome of the battle.
In the image above I highlighted the most important upgrades which is: level 3 to 4 (Backfire), 5 to 6 (Extra Damage) and 7 to 8 (Swiftness).
In short: she is not very good in Bronze 👎 and Silver ❌ league due to her 1 attack power, however, in Gold League 🚀 when she receives the extra attack at level 6 she becomes much stronger in my opinion!
---
Da história/folclore

"Assassinos Naga são tão rápidos e mortais em seu trabalho que raramente há necessidade de uma luta. Eles simplesmente deslizam despercebidos, enfiando uma faca silenciosa no lugar mais vulnerável de sua vítima."

Felizmente, suas estatísticas se encaixam muito bem com a estória, possuindo alta velocidade e às vezes você mal a percebe ou não a teme na linha inimiga, apesar dela causar um impacto grande no resultado das batalhas.

Na imagem acima destaquei os upgrades mais importantes que são: level 3 a 4 (Tiro pela Culatra), 5 a 6 (Dano Extra) e 7 a 8 (Rapidez).

Resumindo: ela não é muito boa nas ligas Bronze 👎 e Prata ❌ devido ao seu poder de ataque de 1, porém, na Liga Ouro 🚀 quando ela recebe o ataque extra no nível 6 ela fica muito mais forte na minha opinião!
---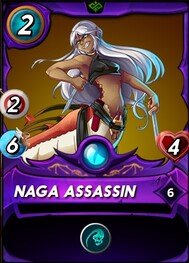 NAGA ASSASSIN
Abilities: Backfire and Swiftness
Usability: good card to counter sneak attacks and in battles with mana cap between 12 and 20
Best Summoners: Selenia Sky, Byzantine Kitty, Brighton Bloom and Quix the Devious.
Best Position: Definetely 6th position.
Strengths: low mana cost, high speed, decent amount of HP/attack power and good abilities.
Weakness: no armor
Best Rule Sets: Close Range, Keep your Distance, Briar Patch, Counterspell and Rise of the Commons.
Worst Rule Sets: Reverse Speed, Aim True and Fire & Regret.
---
Habilidades: Tiro pela culatra e Rapidez

Usabilidade: boa carta para combater ataques furtivos e em batalhas com limite de mana entre 12 e 20

Melhores invocadores: Selenia Sky, Byzantine Kitty, Brighton Bloom e Quix the Devious.

Melhor Posição: Definitivamente 6ª posição.

Forças: baixo custo de mana, alta velocidade, quantidade decente de HP/poder de ataque e boas habilidades.

Fraqueza: não possui armadura

Melhores conjuntos de regras: Queima-roupa, Mantenha a distância, Espinheiro, Contrafeitiço e Ascensão dos Comuns.

Piores conjuntos de regras: velocidade reversa, mira certeira e fogo e arrependimento.
---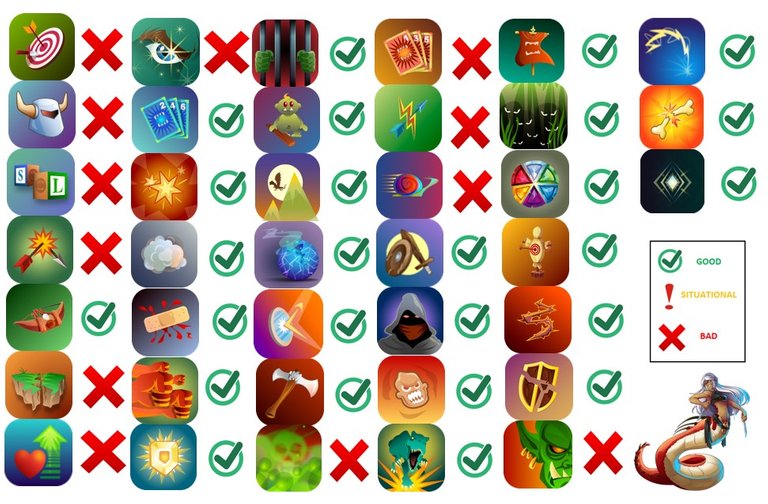 ---
MARKET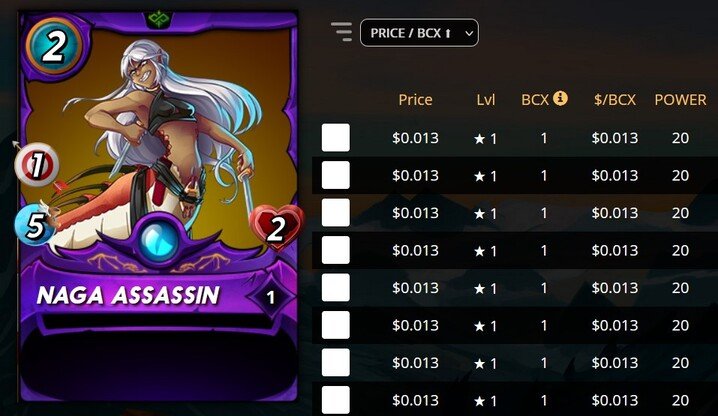 As reward card, she is very cheap and easy to upgrade! If you want to own a level 6 copy, it will cost you only $ 0.78! A very nice price for a good card!
---
Como cartão de recompensa, ela é muito barata e fácil de atualizar! Se você deseja possuir uma cópia de nível 6, ela custará apenas $ 0,78! Um preço muito bom por uma carta boa!


For this challenge I picked a ranked battle in Gold league + Modern Format. The rules were: Briar Patch + Heavy Hitters with Fire 🔥, Earth 🌿, Death 👻 and Dragon 🐉 splinters available.
General Strategy: I decided to use Quix The Devious since it would be unlikely to face a lineup based on melee attacks, besides that Quix will diminish ranged attack and speed by 1. Therefore, my lineup will be focused on magic and ranged attacks!
Void Dragon + Fungus Fiend (Main Tank + Cannon Fodder ): with his high speed + flying + Void he will be very tough to hit and kill.
Khmer Princess: support monster to heal Void Dragon and keep him alive as long as possible.
Queen Mycelia + Dr. Blight: Protect ability to increase the survivability of everyone and Affliction to counter healers!
Naga Assassin: I don't think I'm going to face much sneak attacks, but she will be useful to protect Queen Mycelia and dodge some attacks with her backfire ability!
---
Para este desafio escolhi uma batalha ranqueada na Liga Ouro + Formato Moderno. As regras eram: Briar Patch + Heavy Hitters com estilhaços de Fogo 🔥, Terra 🌿, Morte 👻 e Dragão 🐉 disponíveis.

Estratégia Geral: Decidi usar Quix The Devious pois seria improvável enfrentar uma escalação baseada em ataques corpo a corpo, além disso Quix diminuirá o ataque à distância e a velocidade em 1. Portanto, minha escalação será focada em magia e ataques à distância!

Void Dragon + Fungus Fiend (Main Tank + Cannon Fodder ): com sua alta velocidade + vôo + Void, ele será muito difícil de acertar e matar.

Khmer Princess: apoie o monstro para curar o Void Dragon e mantê-lo vivo o maior tempo possível.

Rainha Mycelia + Dr. Blight: capacidade de proteção para aumentar a capacidade de sobrevivência de todos e Affliction para combater curandeiros!

Assassino Naga: Acho que não vou enfrentar muitos ataques furtivos, mas ela será útil para proteger a Rainha Mycelia e desviar de alguns ataques com sua habilidade de tiro pela culatra!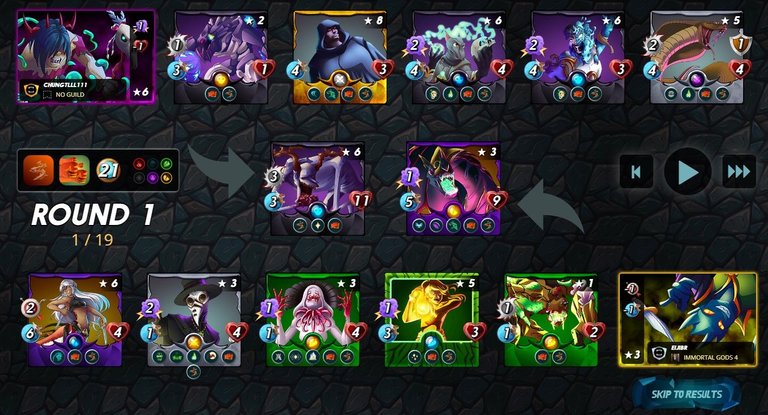 To watch the full battle, click in the image above!
 Para assistir a batalha na íntegra clique na imagem acima.

Highlights/Destaques
Dr. Blight affliction was really important to prevent of Windeku keep healing.

Naga Assassin dodged Uraeus only once, but, since she had thorns from the rule set, Uraeus ended up dying in the 3rd round. In spite of Naga being poisoned, Mycelia triage kept her alive!

Void Dragon + Tank heal of Khmer Princess was really hard to take Void Dragon down, he fell only in the 4th and last round.
---
A aflição do Dr. Blight foi muito importante para evitar que Windeku continuasse se curando.

Naga Assassin desviou de Uraeus apenas uma vez, mas, como tinha espinhos do conjunto de regras, Uraeus acabou morrendo no 3º round. Apesar de Naga ter sido envenenada, a triagem de Mycelia a manteve viva!

Void Dragon + Tank heal da Khmer Princess foi muito difícil derrubar o Void Dragon, ele caiu apenas no 4º e último round.
---

To end this post, I'll leave you with a splintermeme! 😁
If you want to start playing Splinterlands, please use my referral link by clicking here!
Thanks for reading!
---
Para finalizar este post, fiquem com um splintermeme! 😁

Se quiser começar a jogar Splinterlands, por favor use meu link de referência clicando aqui!!

Obrigado por ler!
---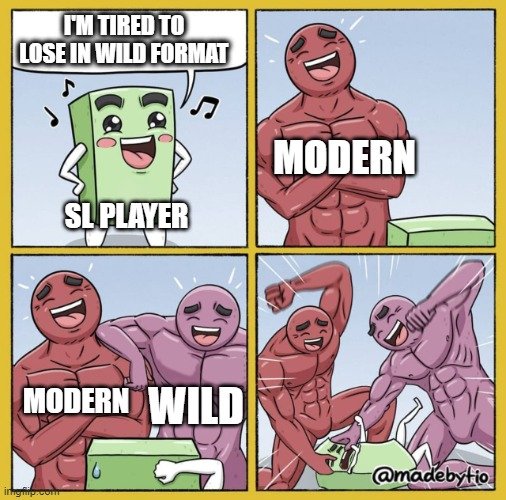 ---

---
---