SHARE YOUR BATTLE Weekly Challenge! PRISMOLOGIST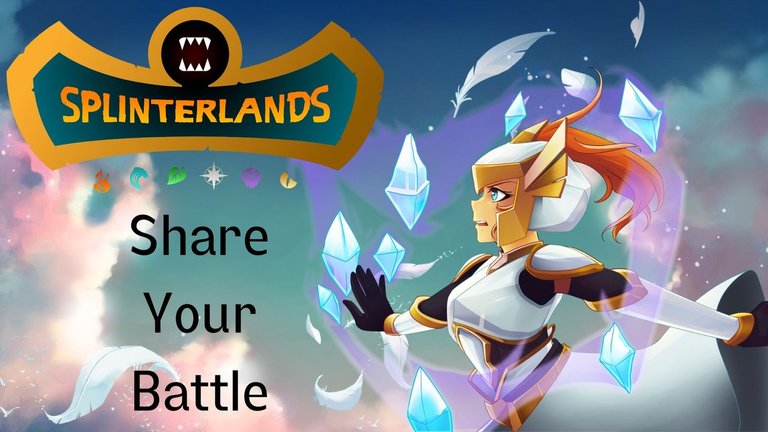 [🇺🇸 - EN - 🇧🇷 - PT/BR]
Hello, everyone! 😄
Let's talk about Prismologist ✨ for the Share your Battle ⚔️ Weekly Challenge! I'd rate Prismologist as a card 4 out of 10 in Gold league level due to her mana cost and slow speed.
---
Olá pessoal! 😄

Vamos falar sobre Prismologist ✨ para o desafio semanal Share your Battle ⚔️! Eu classificaria Prismologist como uma carta 4 de 10 no nível Gold league devido ao seu custo de mana e velocidade lenta.
---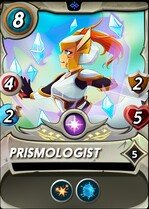 PRISMOLOGIST
Abilities: Blast and Forcefield
Usability: damage dealer in high mana battles.
Best Summoners: General Sloan, Ilthain, Lorna Shine and Grandmaster Rathe (although she will be alright with any summoner)
Best monsters to combine: Time Mage (Rust + Slow), Shieldbearer (Taunt to protect her) and Supply Runner (Swiftness)
Best Positions: 5th or 6th
Strengths: attack power and blast ability
Weakness: low Speed, high mana cost and low HP.
Best Rule Sets: Close Range, Holy Protection and Keep Your Distance
Best Rule Sets: Spreading Fury, Earthquake and Fire & Regret
---
Habilidades: Explosão e Campo de Força

Usabilidade: causador de dano em batalhas de alta mana.

Melhores invocadores: General Sloan, Ilthain, Lorna Shine e Grandmaster Rathe (embora ela esteja bem com qualquer invocador)

Melhores monstros para combinar: Time Mage (Rust + Slow), Shieldbearer (Taunt para protegê-la) e Supply Runner (Rapidez)
Melhores posições: 5º ou 6º

Pontos fortes: poder de ataque e habilidade de explosão

Fraqueza: baixa velocidade, alto custo de mana e baixo HP.

Melhores conjuntos de regras: Alcance próximo, proteção sagrada e mantenha distância

Melhores Conjuntos de Regras: Espalhando Fúria, Terremoto e Fogo e Arrependimento
---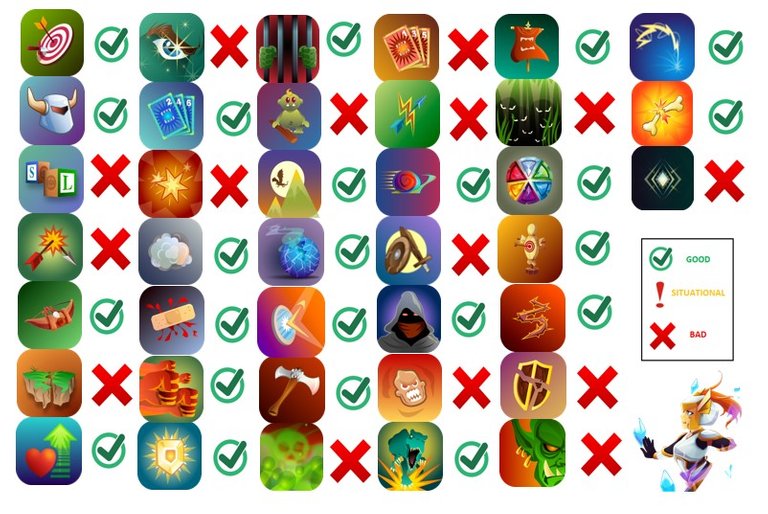 ---

For this challenge I picked a Ranked battle in Gold league + Modern Format. The rules were: Tis but scratches + Even Stevens with Fire 🔥, Water 🌊 and Life ✨ splinters available. Besides that, if you notice, I'm not using Prismologist, but my opponent is!
General Strategy: keep Shieldbearer tanking as long as possible while Venari Crystalsmith heal him and Herbalist cleanse him in case of poison or affliction.
Main Tank (Shieldbearer): He is already a great tank, but with Void Armor of Rathe + Shield he is very tough to kill!
Time Mage: good to counter Grandmaster Rathe and Kelya Frendul +1 armor and also diminish the slow speed weakness of Life element.
Dr. Blight: he is very useful to counter monsters like Uriel The Purifier and Baakjira or healers in general due to his Affliction ability.
---
Para este desafio escolhi uma batalha Ranqueada na Liga Ouro + Formato Moderno. As regras eram: Aleijar + Somente cartas pares com os elementos Fogo 🔥, Água 🌊 e Vida ✨ disponíveis. Além disso, se você notar, não estou usando Prismologist, mas meu oponente está!

Estratégia geral: mantenha o Shieldbearer tankando o maior tempo possível enquanto Venari Crystalsmith o cura e o Herbalist o limpa em caso de veneno ou aflição.

Main Tank (Shieldbearer): Ele já é um grande tanque, mas com Void Armor do invocador Rathe + Escudo ele é muito difícil de matar!

Maga do Tempo: bom para combater Grandmaster Rathe e Kelya Frendul +1 armadura e também diminuir a fraqueza de velocidade lenta do elemento Vida.

Dr. Blight: ele é muito útil para combater monstros como Uriel The Purifier e Baakjira ou curandeiros em geral devido à sua habilidade Affliction.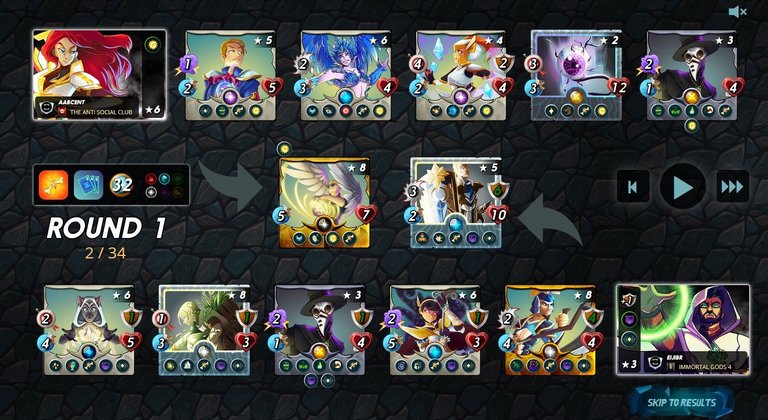 To watch the full battle, click in the images above!
Para assistir a batalha na íntegra clique nas imagens acima.

Highlights/Destaques
Shieldbearer did the job as main tank perfectly dying only in the end of round 3 when the battle was already almost over

Herbalist and Crystalsmith did a nice support.

Sunkai Harvester Oppress ability was perfect to take Pelacor Conjurer very quickly.

Prismologist didn't perform well due to the lack of synergy between the other monsters.
---
Shieldbearer fez o trabalho como tanque principal morrendo perfeitamente apenas no final do round 3 quando a batalha já estava quase no fim

Herbalist e Crystalsmith deram um bom suporte.

A habilidade Sunkai Harvester Oppress foi perfeita para pegar Pelacor Conjurer muito rapidamente.

Prismologista não performou bem devido a falta de sinergia com os outros monstros.
---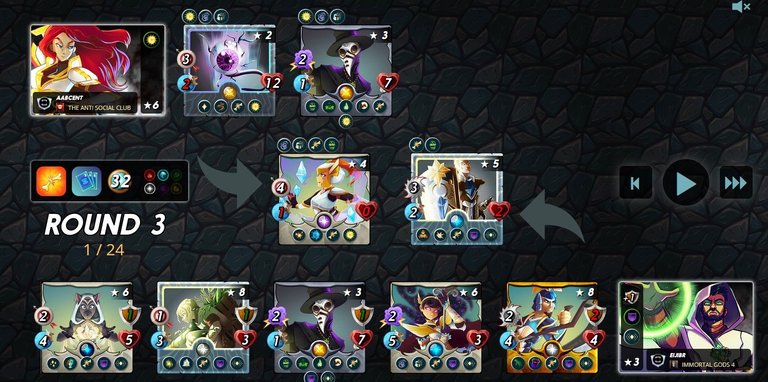 If you want to start playing Splinterlands, please use my referral link by clicking here!
Thanks for reading!
---
Se quiser começar a jogar Splinterlands, por favor use meu link de referência clicando aqui!!

Obrigado por ler!

---
---