SHARE YOUR BATTLE Weekly Challenge! SOUL STRANGLER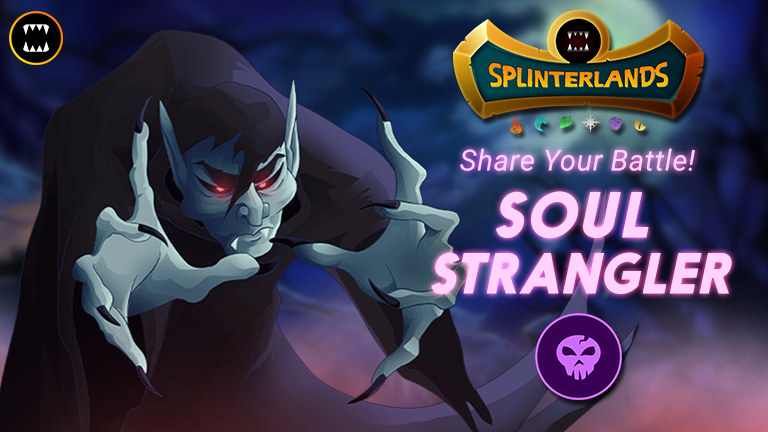 [🇺🇸 - EN & 🇧🇷 - PT/BR]
Hello, everyone! 😄
In this week share your battle we are going to talk about Soul Strangler! I don't use him very often, because it is a very situational card.
---
Olá pessoal! 😄

Nesta semana compartilhe sua batalha vamos falar sobre Soul Strangler! Eu não o uso com muita frequência, porque é uma carta muito situacional.


He is a very unique card, since I found only two similar cards: Xenith Archer (2 Mana Cost) and Highland Archer (3 Mana cost, can be played only on Wild format). The other cards have an ability like Snipe, Poison, Snare etc..
Let's compare them on Gold league level: Highland Archer (HA - Level 8) and Soul Strangler (SS - Level 6)
Attack Power ⚔️: SS has twice of HA attack. Point for Strangler.
Speed 🏃: HA is a little bit faster than SS by one point.
HP ❤️: HA has 2 points more than SS.
Although HA has two attributes better than SS, I think the 4 attack power more important than HP. To prove my point you only need to check some cards that gains an extra attack and -1 HP when upgraded (For example: Supply Runner at level 7 to 8). For this reason in my opinion SS is the winner!
---
Soul Strangler é uma carta bastante única, pois encontrei apenas duas cartas semelhantes: Xenith Archer (Custo de Mana 2) e Highland Archer (Custo de Mana 3, mas só pode ser jogado apenas no formato Selvagem). As outras cartas possuem uma habilidade como Snipe, Poison, Snare etc.

Vamos compará-las no nível da liga Ouro: Highland Archer (HA - Level 8) e Soul Strangler (SS - Level 6)

Attack Power ⚔️: SS tem o dobro de ataque HA. Ponto para Estrangulador.

Velocidade 🏃: HA é um pouco mais rápido que SS em um ponto.

HP ❤️: HA tem 2 pontos a mais que SS.

Embora HA tenha dois atributos melhores que SS, acho que o poder de ataque 4 é mais importante que HP. Para provar meu ponto você só precisa verificar algumas cartas que ganham um ataque extra e -1 HP quando sobem de nível (Por exemplo: Supply Runner no nível 7 a 8). Por esta razão, na minha opinião, SS é o vencedor!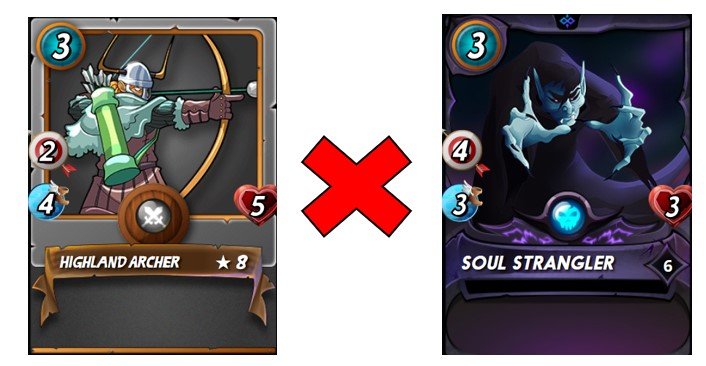 STRATEGY
Strength: attack power, but I strongly advise to pick amonster with taunt such as Dark Ha'On to support/protect him!
Weakness: low speed and HP. Monsters with opportunity, snipe and sneak kill him pretty fast!
Best Position: 5th or 6th position.
Best rule sets: here is where SS shines! Since he is a situational card you need to use him in specific rule sets such as: Back to basics (he doesn't lose anything and he will be safe in the backline), Fog of War (he can still be targeted with opportunity, but he is less vulnerable now) and Equalizer (his weakness is low HP, if he has high/medium HP he will survive much longer).

---
Forças: poder de ataque, mas aconselho fortemente escolher um monstro com provocação como Dark Ha'On para apoiá-lo/proteger!

Fraqueza: baixa velocidade e PV. Monstros com oportunidade, snipe e sneak matam-no bem rápido!

Melhor posição: 5ª ou 6ª posição.

Melhores conjuntos de regras: aqui é onde o SS brilha! Como ele é uma carta situacional, você precisa usá-lo em conjuntos de regras específicas, como: De volta ao básico (ele não perde nada e estará seguro na retaguarda), Névoa de Guerra (ele ainda pode ser alvo de oportunidade, mas ele está menos vulnerável agora) e Equalizador (sua fraqueza é HP baixo, se ele tiver HP alto/médio ele sobreviverá por muito mais tempo).
---


I decided to pick Dragon Splinter, since most of the high mana monsters are from Dragon element.
---

---
Summoner (Quix the Devious): he is the only summoner I own on gold level, so my only choice.
Main Tank: Robo-Dragon Knight he has good defense for almost everything: melee (high armor and HP), magic (Void) and Range (Return Fire, however only at level 3, mine is level 2).
Secondary Tank: Carnage Titan has double strike and decent damage, he can also tank when Robo-Dragon Knight dies.
Djinn Muirat: in high mana battles it is expected to face giant monsters (+10 Mana) and also magic, so he was perfect with his Giant Killer and Magic Reflect ability.
Sand Worm: he doesn't have much HP, so he would receive the benefit of Equalizer rule set with high damage.
Lira the Dark: I was expecting my opponent to also pick Dragon splinter with some Flying monsters, so Lira snare and Swiftness (+1 Speed) combined with -1 Speed of Quix would give me a good edge.
Soul Strangler 🦇: as already mentioned, he is great on equalizer rule set! For only 3 mana he will deal 4 damage!
---
Eu decidi escolher Dragon Splinter, já que a maioria dos monstros de alta mana são do elemento Dragon.

Invocador (Quix the Devious): ele é o único invocador que possuo no nível ouro, então minha única escolha.

Tanque Principal: Robo-Dragon Knight ele tem boa defesa para quase tudo: corpo a corpo (alta armadura e HP), magia (Void) e Range (Return Fire, porém apenas no nível 3, o meu é nível 2).

Tanque Secundário: Titã de Carnificina tem golpe duplo e dano decente, ele também pode tanque quando Robo-Dragon Knight morre.

Djinn Muirat: em batalhas de alta mana espera-se enfrentar monstros gigantes (+10 Mana) e também magia, então ele foi perfeito com sua habilidade Giant Killer e Magic Reflect.

Sand Worm: ele não tem muito HP, então ele receberia o benefício da regra do Equalizer com dano alto.

Lira the Dark: Eu esperava que meu oponente também escolhesse Dragon splinter com alguns monstros Flying, então Lira snare e Swiftness (+1 Speed) combinados com -1 Speed ​​of Quix me dariam uma boa vantagem.

Soul Strangler 🦇: como já mencionado, ele é ótimo no conjunto de regras do equalizador! Por apenas 3 mana ele causará 4 de dano!
---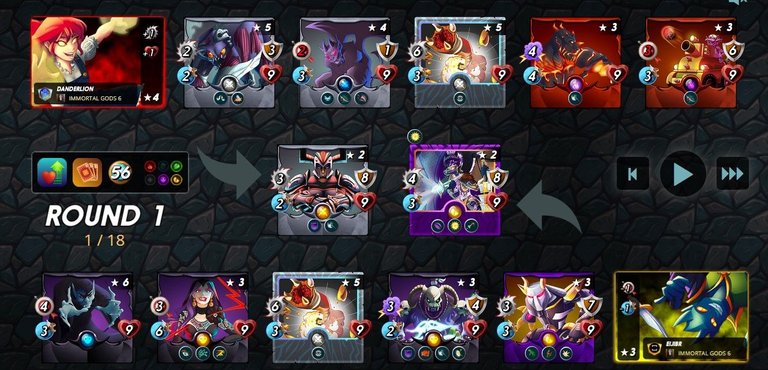 Highlights/Destaques:
Robo-Dragon Knight survived for almost 2 entire rounds doing a great job.

Soul Strangler also died in the end of round 2.

Carnage absorbed a lot of damage.

Lava Launcher and Djinn Inferni of my opponent gave me some trouble and was a great choice! I would probably have lost this battle if he had a Tarsa level 6 with max level monsters for gold league.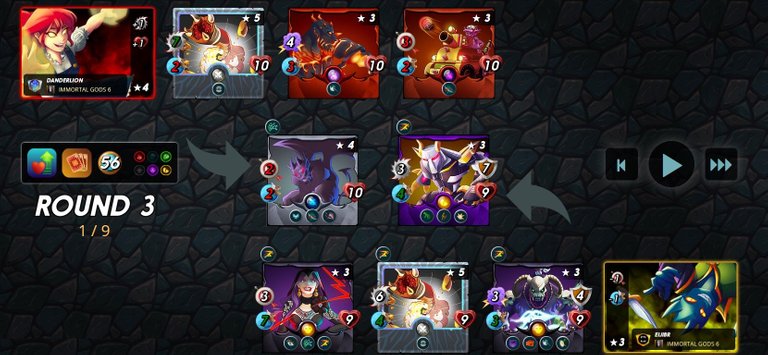 To watch the full battle click here! !
If you want to start playing Splinterlands, please use my referral link by clicking here!
Thanks for reading!
---
Para assistir a batalha na íntegra clique aqui!

Se quiser começar a jogar Splinterlands, por favor use meu link de referência clicando aqui!!

Obrigado por ler!

---
---