Splinterlands - Fire Rental Guide!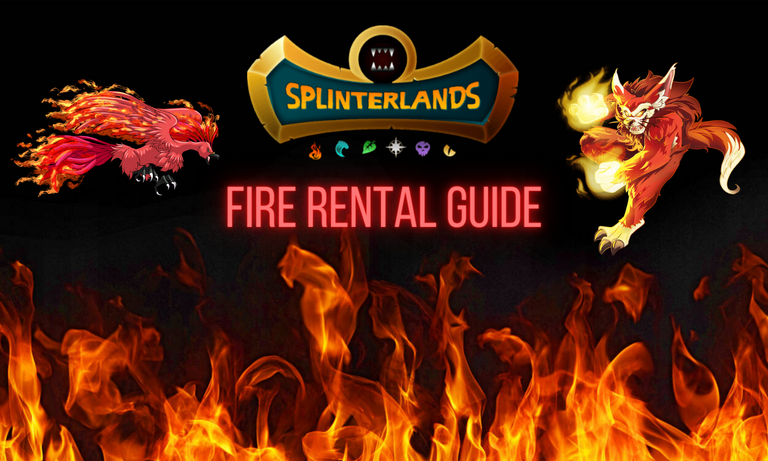 [🇺🇸 - EN & 🇧🇷 - PT/BR]
Hello, everyone! 😄
Since the new reward system changed, I believe that many players are renting the cards of the element in focus for a single day. For this reason, I decided to make a rental guide for each Element splitting into 3 categories: Bronze, Silver and Gold League. Since I do not play on Diamond+, I don't really know a solid strategy for that. Let's get started with Fire Element 🔥!
Desde que o novo sistema de recompensas mudou, acredito que muitos jogadores estão alugando as cartas do elemento em foco por um único dia. Por isso resolvi fazer um guia de aluguel para cada Elemento dividindo em 3 categorias: Liga Bronze, Prata e Ouro. Como nunca joguei no Diamond+, não conheço uma estratégia sólida para isso. Vamos começar com o elemento Fogo 🔥!

SUMMONERS
Although you can play with only one summoner, I strongly advise to rent at least 2 summoners to vary your strategies.
For Fire element I recommend: Qid Yuff + Yodin Zaku OR Tarsa + Yodin Zaku. Another good tip for Bronze and Gold league is to rent an Epic Summoner (Talia Firestorm) because they can summon rare monsters one level above of the others, for instance: on Bronze level you can use Cerberus, Fineas Rage, Living Lava etc.. at level 3 instead of 2.
---
Embora você possa jogar com apenas um invocador, aconselho fortemente alugar pelo menos 2 invocadores para variar suas estratégias.
Para o elemento Fogo eu recomendo: Qid Yuff + Yodin Zaku ou Tarsa + Yodin Zaku. Outra boa dica para Bronze e Gold apenas é alugar um invocador épico (Talia Firestorm) pois eles podem invocar monstros raros um nível acima dos outros, por exemplo: no nível Bronze você pode usar Cerberus, Fineas Rage, Living Lava etc. no nível 3 em vez de 2.
---

---
BRONZE LEVEL
On bronze level you can spam a single strategy with Tarsa + sneak monsters, therefore it is not really necessary to rent Yodin, but, if you want to increase your win rate it is a good choice.
Most of these monsters will also be necessary on higher leagues, but leveled up.
Core monsters: Sneak Monsters ->Kobold Miner (Level 3), Uraeus (Level 2), Tenyii Striker (Level 2), Elven Cuthroat (Level 3); Serpentine Spy (Level 3), Serpentine Soldier or Cerberus/Living Lava (Level 2, pick one or two, not really necessary all of them. They are going to be the main tank) and Forgotten One for Noxious Fumes rule set.
No nível bronze, vocês podem abusar de uma única estratégia com Tarsa + monstros furtivos, portanto, não é realmente necessário alugar o Yodin, mas, se você deseja aumentar sua % de vitórias é uma boa escolha.

A maioria desses monstros serão necessários em ligas mais altas, porém, com níveis maiores.

Monstros principais: Monstros furtivos -> Kobold Miner (Nível 3), Uraeus (Nível 2), Tenyii Striker (Nível 2), Elven Cutthroat (Nível 3); Serpentine Spy (Nível 3), Serpentine Soldier ou Cerberus/Living Lava (Nível 2, escolha um ou dois, não é realmente necessário todos eles. Eles serão o tanque principal) e Forgotten One para o conjunto de regras Vapores Nocivos (Veneno).
---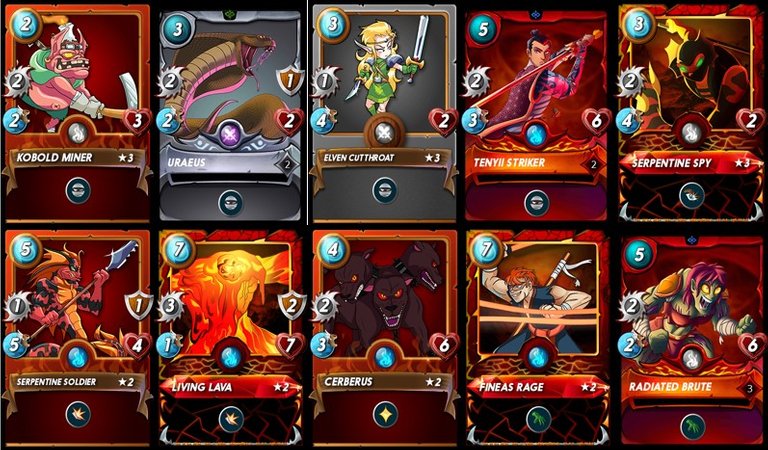 ---
Support Monsters: Goblin Shaman (level 1 is ok, but if possible at level 3 to gain the magic attack), Fire Beetle/Imp Bowman/Ferexia General (Level 3 and 2 for Epics to combo with Yodin), Spark Pixies (Earthquake matches and to dodge sneak attacks), Fineas Rage/Radiated Brute (for 2nd position with Reach ability)
Monstros de suporte: Goblin Shaman (nível 1 é ok, mas se possível no nível 3 para ganhar o ataque mágico), Fire Beetle/Imp Bowman/Ferexia General (Nível 3 e 2 para Epics para combinar com Yodin), Spark Pixies (partidas de terremoto e para evitar ataques furtivos), Fineas Rage/Radiated Brute (para a 2ª posição com a habilidade Reach)
---
---
Examples
14 Mana

20 Mana

30 Mana

And that's it! Just spam a Tank+ Sneak attackers.
E é isso! Basta colocar um Tanque + ataques furtivos.

SILVER LEVEL
You can use the same monsters mentioned on Bronze level (with higher levels), but now it is much more necessary to rent two summoners if you want to be competitive. However, if you want to just farm some chests balancing the amount spent on rentals, I think Tarsa will be enough! Level 3 to 4 for Rare summoners and Level 1 or 2 for Legendary summoners will be enough.
Monsters that get stronger due to new abilities: Flame Monkey (Level 5 with Repair), Forgotten One (Retaliate at lvl 3) and Magnor (Enrage at level 2).
For Silver level I now recommend to rent a Legendary tank for high mana battles, such as Grum or Magnor (more versatile, Grum is too slow) and also a Elemental Phoenix/Caladium/Lava Launcher or Countess Sinash (two of them will be enough).
---
Você pode usar os mesmos monstros mencionados no nível Bronze (com níveis mais altos), mas agora é muito mais necessário alugar dois invocadores se você quiser ser competitivo. No entanto, se você quiser apenas farmar alguns baús equilibrando o valor gasto em aluguéis, acho que Tarsa será suficiente! Nível 3 a 4 para invocadores raros e nível 1 ou 2 para invocadores lendários serão suficientes.

Monstros que ficam mais fortes devido a novas habilidades: Flame Monkey (Nível 5 com Repair), Forgotten One (Retaliate no lvl 3) e Magnor (Enrage no nível 2).

Para o nível Prata eu agora recomendo alugar um tanque Lendário para batalhas de alta mana, como Grum ou Magnor (mais versátil) e também um Elemental Phoenix/Caladium/Lava Launcher ou Countess Sinash (dois deles serão suficientes).
---

---
Strategy: in Silver and Gold league things are not so simple anymore like Bronze League. You can't just spam the same strategy, because your opponents will be more skilled and better decks in general. For this reason I strongly recommend you to check the 5 last battles of your opponents and then decide what will be better. For instance: let's say that your opponent is using Alric + Mages in the last 5 battles, since it is very likely he will try the same you should use Tusk or any monster that counter mages.
Estratégia: na liga Prata e Ouro as coisas não são mais tão simples como na Liga Bronze. Você não pode simplesmente usar a mesma estratégia, porque seus oponentes serão mais habilidosos e melhores decks em geral. Por esta razão, recomendo fortemente que você verifique as 5 últimas batalhas de seus oponentes e depois decida o que será melhor. Por exemplo: digamos que seu oponente esteja usando Alric + Mages nas últimas 5 batalhas, já que é muito provável que ele tente o mesmo você deve usar Tusk ou qualquer monstro que contraria magos.
---
GOLD LEVEL
In Gold League you need to be prepared to spend much more than before, because you will need summoners and monsters with high level as your rating gets higher like 2600+, because you will battle against opponents using max level cards for the league cap.
I would add only a few monsters that was not mentioned yet: Ant Miners (level 6+), Naga Fire Wizard, Beetle Queen (Level 5 for Tank heal), Tusk the wide to face mages and for Inspire ability, Zalran Efreet and Tower Griffin (Level 5 for Protect ability).
Na Liga de Ouro você precisa estar preparado para gastar muito mais do que antes, pois precisará de invocadores e monstros com nível alto à medida que sua classificação aumentar como 2600+, pois você lutará contra oponentes usando cartas de nível máximo para a capacidade permitida da liga.

Eu adicionaria apenas alguns monstros que ainda não foram mencionados: Ant Miners (nível 6+), Naga Fire Wizard, Beetle Queen (Nível 5 para Tank heal), Tusk a largura para enfrentar magos e para a habilidade Inspirar, Zalran Efreet e Tower Griffin (Nível 5 para a habilidade Protect).
---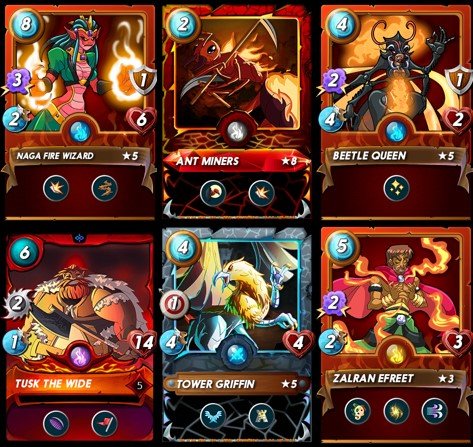 ---

That's it for today! I hope this guide give you some insight to build your fire strategies and adapt for each rule set!
If you want to start playing Splinterlands, please use my referral link by clicking here!
Thanks for reading!
Por hoje é isso! Espero que este guia lhe dê algumas dicas para construir suas estratégias com o elemento de Fogo e se adaptar a cada conjunto de regras!

Se quiser começar a jogar Splinterlands, por favor use meu link de referência clicando aqui!!

Obrigado pela leitura!

---
---