Splinterlands - New Daily Focuses - Part 1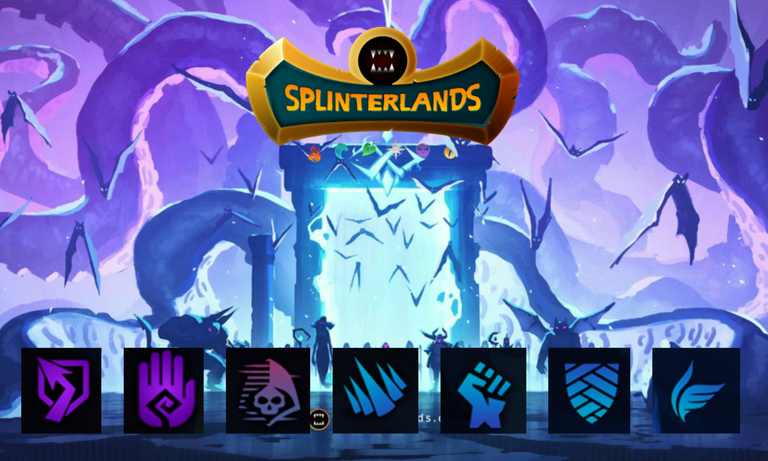 [🇺🇸 - EN & 🇧🇷 - PT/BR]
Hello, everyone! 😄
In this post for Social Media Challenge I'm going to talk about the new focuses that were launched last week!
There are in total 14 ability daily focuses, I'm going to split in two parts/posts with 7 focus each explaining a little bit and mentioning good cards (Modern Format) for the task.
Let's begin!
---
Olá, pessoal! 😄

Neste post para o desafio de mídia social vou falar sobre os novos focos que foram lançados na semana passada!

São no total 14 focos diários de habilidades, vou dividir em duas partes/posts com 7 focos cada explicando um pouco e mencionando boas cartas (Formato Moderno) para a tarefa.

Vamos começar!

ANTI-MAGIC
As described in the image below, you have to look for cards with: Void, Phase or Void Armor abilities. I'll mention the best ones in my opinion, also considering how often we can use them.
Conforme descrito na imagem abaixo, você deve procurar por cartas com: habilidades Void, Phase ou Void Armor. Mencionarei os melhores na minha opinião, considerando também a frequência com que podemos utilizá-las.
---

---
Void Armor: Grandmaster Rathe (it will count as one card only), Grum, Oaken Behemoth, Legionnaire Alvar and Djinn Muirat.

---
Phase: Pelacor Conjurer (at max level), Oshannus (Level 2+), Void Dragon (Level 3+), Chaos Agent (Level 6+) and Almo Cambio (Level 2+).

---
Void: in my opinion, these are the best cards to use very often: Unicorn Mustang, Wave Brood, Xenith Monk and Dark Ha'on.

---

REFLECT
In this focus it is very good to combine with monsters with Amplify ability or explosive weaponry rule set, since the monster adjacent will also reflect the attack!
Neste foco é muito bom para usar com monstros com habilidade Amplificar ou conjunto de regras de armamento explosivo, já que o monstro adjacente também refletirá o ataque!
---

---
Backfire: Venari Knifer, Pelacor Deceiver, Riftwing and Naga Assassin.

---
Return Fire: Cornealus, Lir Deepswimmer, Phantasm and Shieldbearer. This is the best ability to counter Yodin! (Essa é a melhor habilidade para contra atacar Yodin).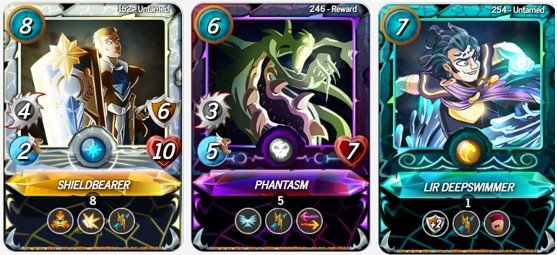 ---
Magic Reflect: Lobstradamus, Djinn Muirat (already mentioned), Failed Summoner, Owster Rotwell and Blinding Reflector.

---

STEALTH
I think this is one of the easiest one, where you need to use monsters with Sneak, Snipe or Opportunity. There are so many great options that I'll try to stick with only 3 monsters for each ability.
Eu acho que este é um dos Focos mais fáceis, onde você precisa usar monstros com Sneak, Snipe ou Opportunity. São tantas opções boas que vou tentar ficar com apenas 3 monstros para cada habilidade.
---

---
Sneak: Stitch Leech, Uraeus and Coral Wraith.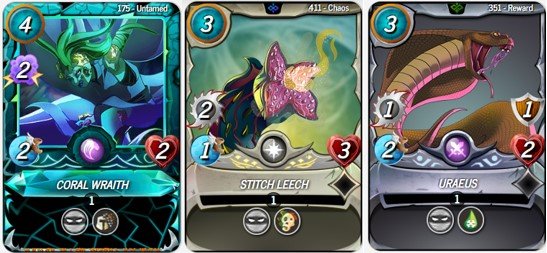 ---
Opportunity: Deeplurker (obviously), Serpentine Spy, Lira the Dark and Dragon Jumper.
---
Snipe: Ferexia General, Silvershield Sheriff (gets even better when acquires Protect ability) and Death Elemental (with Silence at level 4+).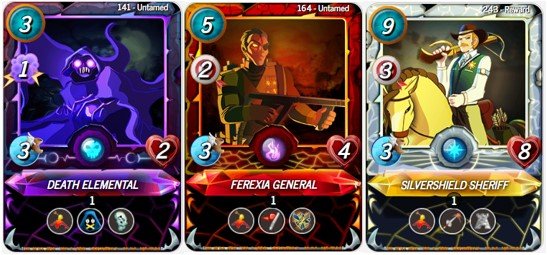 ---

ANTI-MELEE
There are only two abilities to focus: Thorns and Retaliate.
Há apenas duas habilidades para focar: Espinhos e retaliar.
---
---
Although is very obvious, I think it is impossible not to mention Mylor Crowling.
Apesar de ser óbvio, eu acredito que é impossível não mencionar Mylor Crowling.
---
Thorns: Crystal Jaguar (Good to combo with Grandmaster Rathe), Mylor and Cursed Windeku.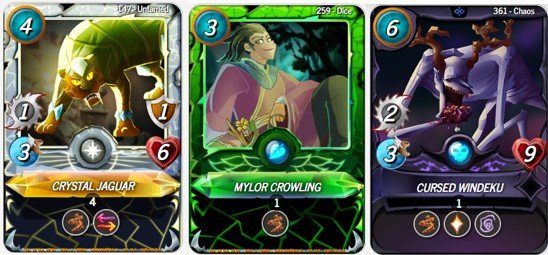 ---
Retaliate: Forgotten One, Diemonshark and Desert Dragon.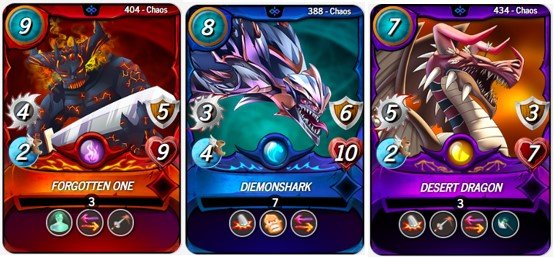 ---

BUFFS
Swiftness/Rapidez: Countess Sinash, Supply Runner (Level 5) and Adelade Brightwing (Lvl 4).
---
Inspire/Inspirar: River Hellondale (Level 2), Demented Shark (Lvl 1+), Shadowy Presence (Lvl 6)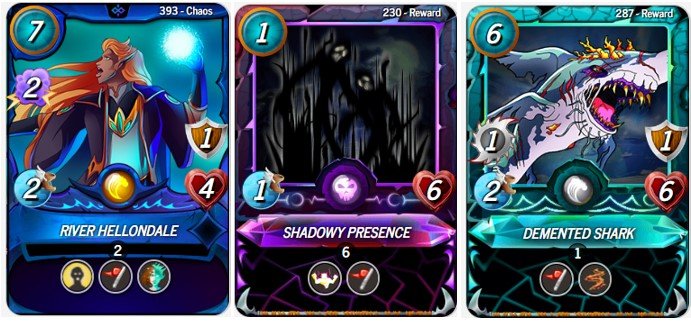 ---
Protect: Queen Mycelia (probably the best card), Venari Wavesmith and Tower Griffin.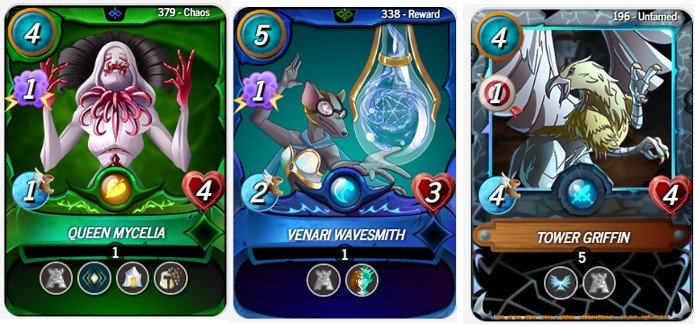 ---
Strengthen: this is a very strong ability that only a few cards has at level 1 (Djinn Renova and Epona), they usually acquire after some upgrades such as Merdaali Guardian (At lvl 8), Shadowy Presence (At Lvl 8) and Baakjira (Lvl 2).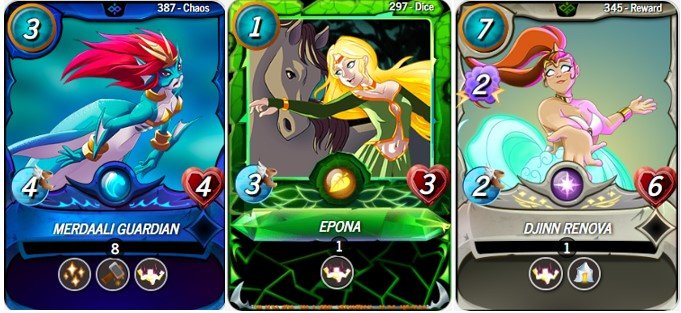 ---
DEFEND
Shield/Repair ability are very useful in rule sets like Earthquake and Lost/Weak Magic!
Escudo/Reparar são habilidades muito úteis em regras como Terremoto e magia perdida/fraca!
---

---
Shield/Escudo: Living Lava, Antoid Platoon, Carnage Titan, Mycelic Infantry and Harklaw.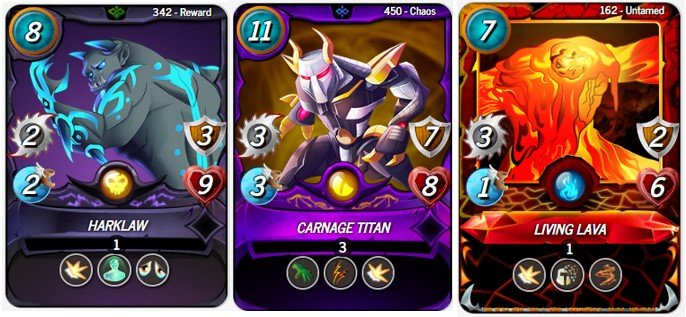 ---
Repair/Reparar: Lone Boatman, Scavo Hireling and Flame Monkey.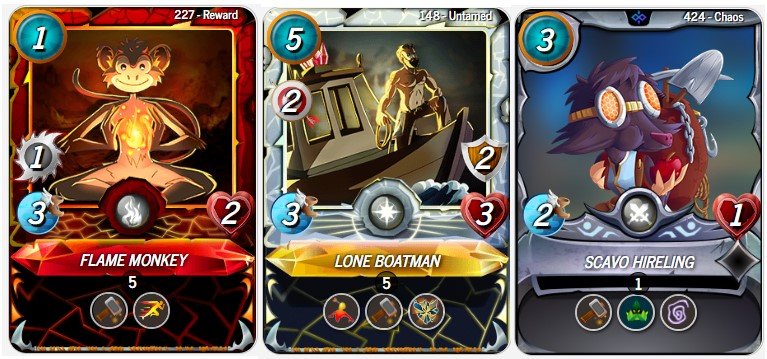 ---

FLYING
Well, this one is very intuitive what kind of ability we need to pick: Flying monsters.
Bem, este é muito intuitivo que tipo de habilidade precisamos escolher: Monstros voadores.
---

---
---
Flying/Voar: Spark Pixies, Ice Pixie, Regal Peryton, Celestial Harpy and Brighton Bloom (Summoner).

---

That's it for today!
If you want to start playing Splinterlands, please use my referral link by clicking here!
Thanks for reading!
---
Por hoje é só!

Se quiser começar a jogar Splinterlands, por favor use meu link de referência clicando aqui!!

Obrigado por ler!

---
---