Splinterlands - Possibilus The Wise - Water Legendary Summoner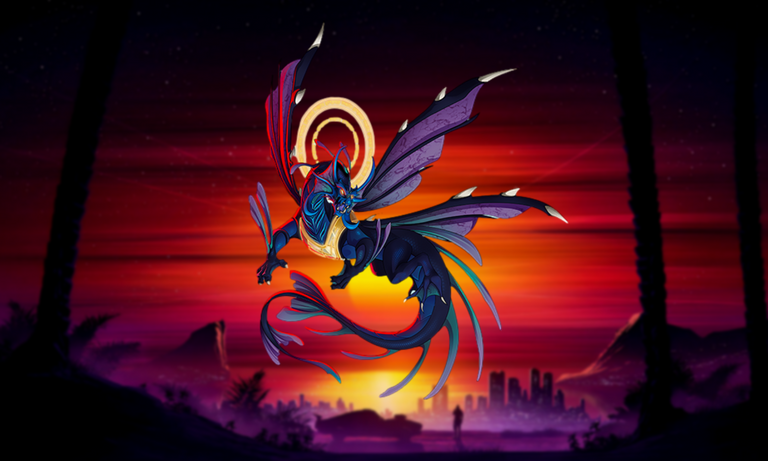 [🇺🇸 - EN - 🇧🇷 - PT/BR]
Hello, everyone! 😄
For the social media challenge of this week I decided to make a review of the New Water Legendary Summoner that was finally released: Possibilus The Wise! In this post I'm going to mention some monsters and abilities that will probably work well with him focusing on Modern Format + Gold League level.
---
Olá pessoal! 😄

Para o desafio de mídia social dessa semana decidi fazer uma análise do Novo Invocador Lendário da Água que foi finalmente lançado: Possibilus The Wise! Neste post vou citar alguns monstros e habilidades que provavelmente funcionarão bem com ele focando no Formato Moderno + nível Liga Ouro.
---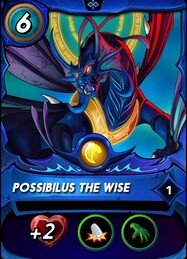 POSSIBILUS THE WISE
Abilities that will be improved by this summoner: Inspire , Opportunity, Protect, Rust, Sneak and Tank Heal/Heal.
Habilidades que serão aprimoradas por este invocador: Inspire , Opportunity, Protect, Rust, Sneak e Tank Heal/Heal.
---
Inspire
If you are going to build a melee team, monsters buffed with Inspire (River Hellondale and Demented Shark) will hit the opponent really hard increasing their chances to kill them in 1 or 2 attacks only.
---
Se você for montar um time aumentando o ataque corpo a corpo com a habilidade Inspirar (River Hellondale e Demented Shark), eles atacarão o oponente com muita força aumentando suas chances de matá-los em 1 ou 2 ataques apenas.
---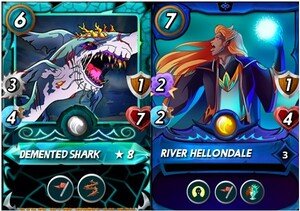 ---
Opportunity
Deeplurker, Feasting Seaweed, Parasitic Growth: these monsters will benefit from the Trample ability if they kill a monster in position 1 to 5, not only that, Deeplurker has poison, so he will potentially deal 12 damage in a single round! Regard the other two monsters, they have Scavenger ability, so they will start with +2 HP and also receive more HP during the battle and become harder to kill.
---
Deeplurker, Feasting Seaweed, Parasitic Growth: esses monstros se beneficiarão da habilidade Atropelar se matarem um monstro nas posições 1 a 5, além disso, Deeplurker tem veneno, então ele potencialmente causará 12 danos em uma única rodada! Em relação aos outros dois monstros, eles têm habilidade Carniceiro, então eles começarão com +2 HP e também receberão mais HP durante a batalha e se tornarão mais difíceis de matar.
---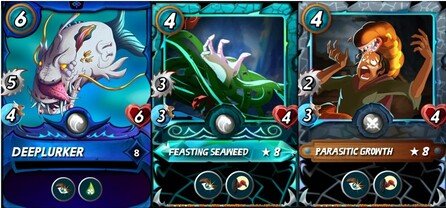 ---
Sneak
If a Sneak attack (Pelacor Bandit and Uraeus) kill a monster in the 6th position the trample won't trigger, however, many players put Dr. Blight in the last position, due to his Camouflage the sneak monster will hit the 5th monster and activate the trample to hit the last monster, becoming a good way to counter Dr.Blight. Besides that, Uraeus also has poison, increasing the benefits of choosing him!
---
Se um ataque furtivo (Pelacor Bandit e Uraeus) matar um monstro na 6ª posição, o atropelamento não será acionado, no entanto, muitos jogadores colocam o Dr. Blight na última posição, devido à sua Camuflagem, por esse motivo o monstro furtivo atingirá o 5º monstro e ativará o atropelamento para atingir o último monstro, tornando-se uma boa maneira de contra-atacar o Dr.Blight. Além disso, Uraeus também possui veneno, aumentando os benefícios de escolhê-lo!
---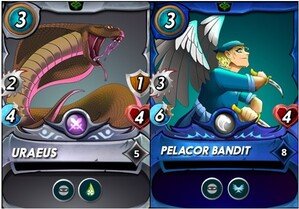 ---
Protect
Without the Kelya Frendul +1 armor many monsters become very vulnerable against snipe, sneak or opportunity monsters, for this reason Protect is a good way to diminish the weakness of lack of armor. You can use monsters like: Venari Wavesmith, Tower Griffin or Arkemis The Bear.
---
Sem a armadura (+1) que Kelya Frendul fornece, muitos monstros ficam muito vulneráveis ​​contra ataques de snipe, sneak ou de oportunidade, por esta razão Proteger é uma boa forma de diminuir a fraqueza da falta de armadura. Você pode usar monstros como: Venari Wavesmith, Tower Griffin ou Arkemis The Bear.
---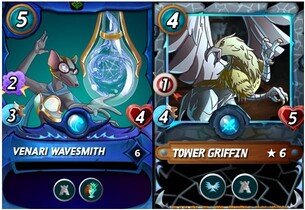 ---
Rust
This ability will reduce the armor (-2) of all enemy monster, this is probably the most valuable ability to combine with Trample ability, especially on Stamped rule set!
---
Esta habilidade reduzirá a armadura (-2) de todos os monstros inimigos, esta é provavelmente a habilidade mais valiosa para combinar com a habilidade Trample, especialmente no conjunto de regras Stamped!
---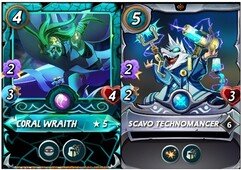 ---
Tank Heal/Heal
To be honest, I don't think this summoner is totally focused on Melee as most people think and in this topic I'll explain what I mean. With +2 HP most monsters will heal an extra HP, for example: Baakjira/Wave Brood will heal 5 HP instead of 4 HP, if you add Merdaali Guardian or Angelic Mandarin/Spirit Hoarder (Triage for Wave Brood) that will become 10 HP! Not only that you can put Baakjira in the 1st position and a tank like Diemonshark in the 2nd position!
Melee monsters also get this benefit, such as Sea Monster (Wild Format) and Xenith Monk (Modern) they get to heal an extra HP which makes a lot of difference.
---
Para ser sincero, não acho que esse invocador esteja totalmente focado em ataque corpo a corpo como a maioria acha e nesse tópico vou explicar o que quero dizer. Com +2 HP a maioria dos monstros irá curar um HP extra, por exemplo: Baakjira/Wave Brood irá curar 5 HP em vez de 4 HP, se você adicionar Merdaali Guardian ou Angelic Mandarin/Spirit Hoarder (Triage for Wave Brood) que se tornará 10 HP ! Além disso, você pode colocar Baakjira na 1ª posição e um tanque como Diemonshark na 2ª posição!

Monstros corpo a corpo também recebem esse benefício, como Sea Monster (Wild Format) e Xenith Monk (Modern) eles conseguem curar um HP extra que faz muita diferença.
---

---
Usability
To finish this post I'll leave two battles using Possibilius The Wise!
This 1st one is focusing on extra heal with monsters with a lot of HP!
In the second battle I focused on a lineup with melee monsters, although I mixed with ranged and magic attack type, because if you diversify your attack types your strategy become more solid most of the times.
To watch the full battle, click in the images or below!
---
Para finalizar este post deixarei duas batalhas usando Possibilius The Wise!

Essa primeira está focando em cura extra com monstros com muito HP!

Na segunda batalha foquei em uma escalação com monstros corpo a corpo, embora tenha misturado com tipo de ataque à distância e mágico, porque se você diversificar seus tipos de ataque sua estratégia se torna mais sólida na maioria das vezes.

Para assistir a batalha na íntegra clique nas imagens acima ou abaixo.
---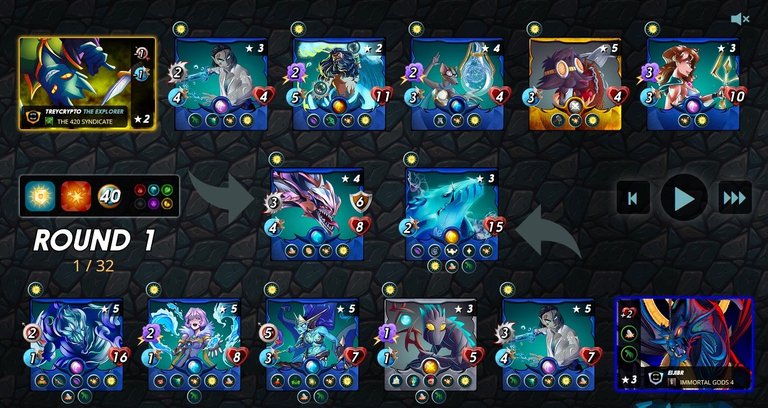 ---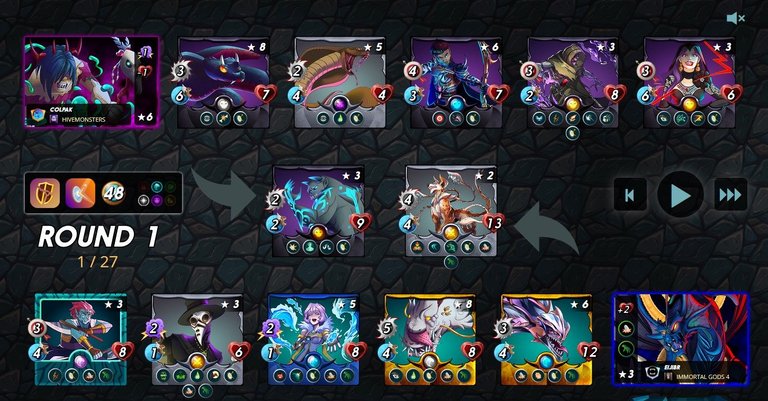 That's it for today, just a few ideas to build your strategies with the new summoner!
If you want to start playing Splinterlands, please use my referral link by clicking here!
Thanks for reading!
---
Por hoje é só, algumas ideias para montar suas estratégias com o novo invocador!

Se quiser começar a jogar Splinterlands, por favor use meu link de referência clicando aqui!!

Obrigado por ler!

---
---