New Hive Community Collage Comic Style Art Piece

I crafted this custom art collage for the purposes of having a more condensed "end of post signature" promoting communities I am heavily involved with. It turned out WAY better than I could have hoped. I edited it repeatedly over the course of two days, while also developing a long dissertation about the Hive blockchain which I will release soon.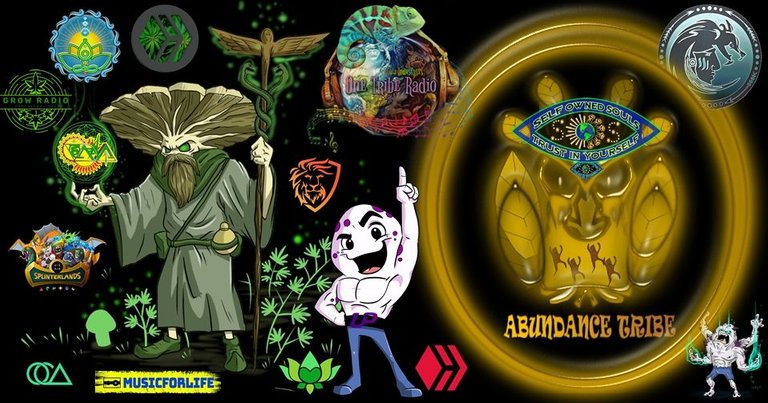 Many of the symbols within this piece are recognized official logos or alternate logos for specific Hive communities, and the symbols were crafted by several different Hive artists and graphic designers, including but not limited to: @kayrex, @edxserverus, @riverflows, @capitanzek, and of course yours truly - @ELAmental. While this is my art, not all the symbols within the art are my creations, which defines what a collage is - I just want to be clear.
I hope everyone likes this enthralling "story-graphic". I deigned it to create a visual of the interconnectedness of these communities, and the majik energy that is doing the connecting. Notice the balls of community energies floating out, up, and away from the Druid Djinn's hand, as he casts an ELAmental spell. Also notice how the music notes from the One Tribe Radio logo move to and from the Leo Finance logo, the Abundance Tribe idol/Self Owned Souls logo, stemming from the 1UP guy pointing right at One Tribe Radio above him. I even got the Monster Curator monster to source his majik energy from the glowing features surrounding the Abundance idol (he reaches into it for mana), which I have always seen as a doorway to another dimension.

Our Village Vission

Links for Free Crypto Earning Accounts
Links to Vital Crypto Resources
| Simpleswap - Cheapest Crypto Trade Fees | Presearch - Crypto Earning Search Engine |

| Purse - Web-Crypto Purchase Discounts |

Enchanted Blessings - with Love, Truth, Respect, & Honor - @ELAmental.
---
---