NFT Deep Dive - ELAmental on Reality Czars Podcast
(Unsupported https://odysee.com/$/embed/MetaVerse/eb8072d7ac7478a3bd51e9b72bd6b16ff248b8a8?r=zY8D8aKEycqxqUMXUcHF6ivPpubVyh72)
Our discussion of all sides of the NFT spectrums, including metaverse targeting predictions, current meta-spaces, how NFTs are created/become successful, where the value comes from, Splinterlands, and SO much more.
I decided to post this here not only to educate, but also since none of the other knowledgeable folks on this podcast (aside from myself) have a Hive account, or even knew about Hive before this podcast.
This is a long podcast (1.25 hours), but not a second was wasted with filler. If you have been looking for ALL the NFT info, this is it. Enjoy!
Posted on the Reality Czars' Odysee Account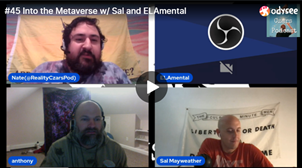 Bless the Method

Our Village Vission
Links for Free Crypto Earning Accounts
Links to Vital Crypto Resources
---
---