[EN/PT] Battle Mage Secrets! Odd Ones Out!
[EN]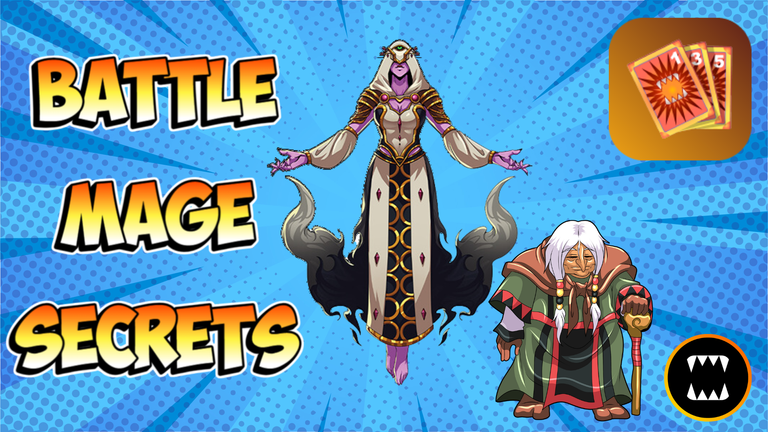 Hello, Splinters Fanatics!
This week's Battle Mages Secret is about the Ruleset Odd Ones Out

. This ruleset restricts the number of monsters a player can draw in a battle by about half, so for players who have a large collection of cards this isn't a problem. However, for those who have a deck with few card options, this can become a problem.
For this particular set of rules there are no tricks, just have a good idea of the amount of mana for each monster, in each available Splinter. This rule also helps to predict what the opponent will use, as the amount of cards is reduced. In reality, this is a rule that benefits bots more than a real player.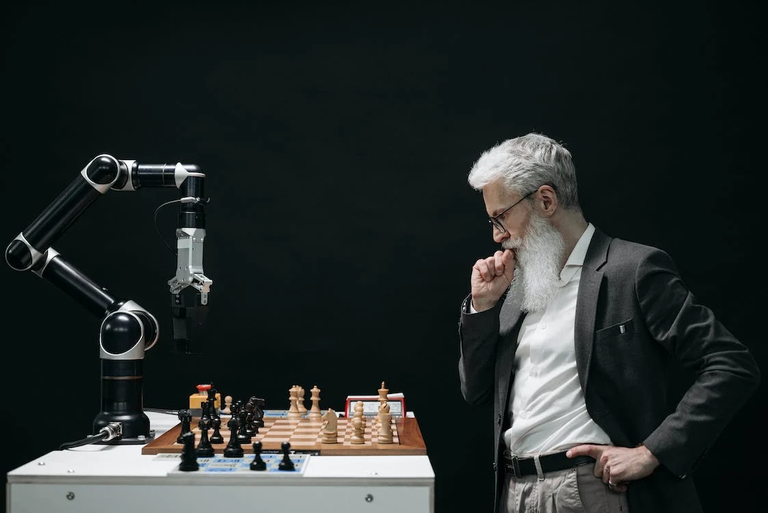 src
Using the website InTeleria and with the help of excel, it is possible to extract the number of cards classified by mana. In all, there are 248 monster cards with odd mana, excluding Summoners. In the table and graph below you can see the number of cards by mana.
| Mana | Quantidade de Cartas |
| --- | --- |
| 1 | 22 |
| 3 | 68 |
| 5 | 64 |
| 7 | 55 |
| 9 | 25 |
| 11 | 12 |
| 13 | 1 |
| 15 | 1 |
| Total | 248 |
From the spreadsheet, a mana curve graph was generated which shows a pattern well known in the world of probability, the normal distribution (Glaussin). In reality, every card game follows this same pattern, the mana theory, where the largest number of odd cards used in the game are concentrated in the central region, in the case of Splinterlands they are cards with [3], [5] and [7] mana, and the low mana and very high mana cards are fewer in number.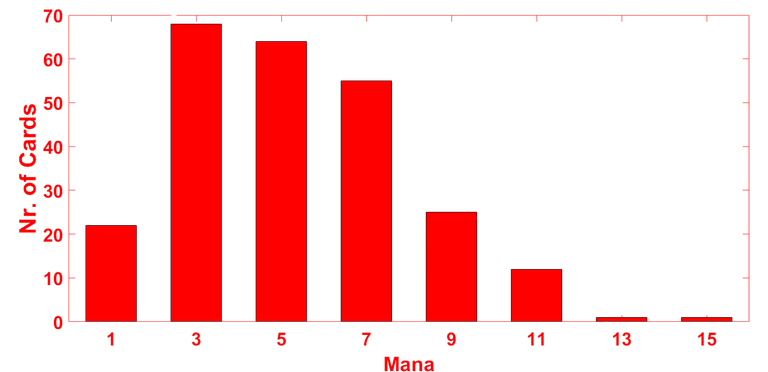 As for the Splinters, the Impar mana cards are distributed almost evenly, with the exception of the Dagon Splinter, which has a smaller number of cards, but this Splinter can choose another Splinter and in the end the number of cards will be greater in the Dagon Splinter.
| Splinters | Quantidade de Cartas |
| --- | --- |
| Fire | 37 |
| Water | 39 |
| Earth | 38 |
| Life | 42 |
| Death | 38 |
| Dagron | 22 |
| Neutral | 32 |
| Total | 248 |
The secret of the wizard ruleset for Odd Ones Out

is to have as many cards as possible in your collection, otherwise you'll have trouble putting together a good strategy due to a lack of options.

A batalha aconteceu na Liga Gold, no modo Wild, e contou com o seguinte Conjunto de Regras: Keep Your Distance

, Holy protection

e Odd Ones Out

, além de 20 de mana e os Splinter de Vida

, Terra

e Fogo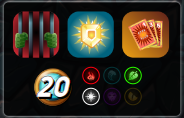 As it's a low mana battle, I chose Splinter Life, which is my favorite for these situations, and if you look at the table, it has the most options for monsters with odd mana. So the Summoner was MOTHER KHALA, which costs only 3 mana and grants (+1) Health to all allies.
My opponent chose Splinter Fire, which is also an excellent choice, given the Odd Ones Out ruleset

. However, they are good options when you can use Melee damage monsters combined with the synergy of the TARSA Summoner.

Below is my line-up strategy:
| CARD | STRATEGY |
| --- | --- |
| | In the first position, I chose IZIAR as the main tank, because it has a lot of Health and attracts almost all damage to itself with the ability Taunt , in addition it has the ability Void to halve magic damage and the probability is high for this type of monster. |
| | In the second position I climbed DIVINE HEALER, a monster that has the ability Tank Heal , which heals the monster in the first position. |
| | In third place was VENARI MARKSRAT a Ranged damage card that has the ability Martyr if defeated increases the stats of the neighboring monster. |
---
Come check out the battle!
IZIAR has a lot of health and combined with DIVINE HEALER, which offers healing ability, will have more health restored each round. Meanwhile, my opponent has focused on being very offensive, as his attack has a total of 8 damage, while my team only has 4 damage.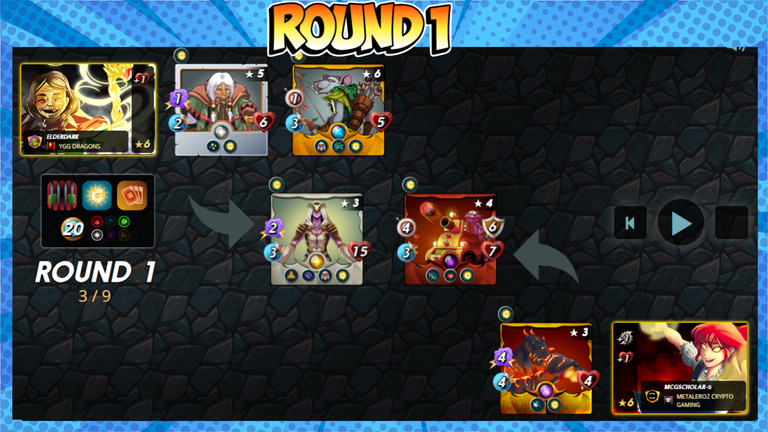 As the damage received from magical damage by IZIAR is halved, it receives 6 damage each round. If it hadn't been for DIVINE HEALER's healing, he would have already been defeated. In this round we've managed to defeat his tank and now there's only one monster left, which has very offensive magic damage but low health.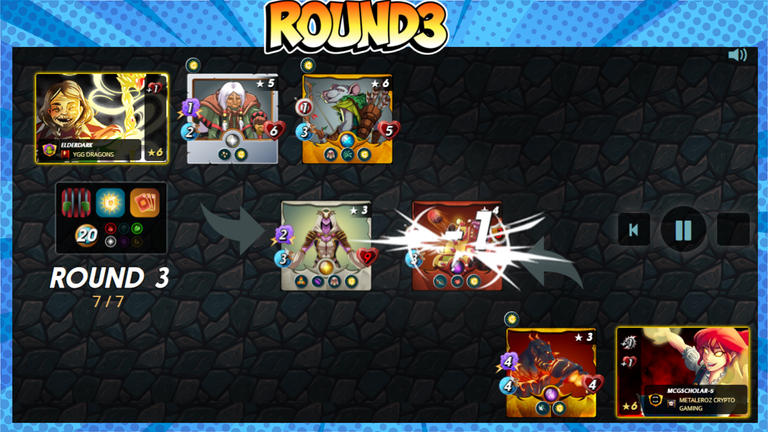 At the end of the battle, with only one monster on the field, it was quickly defeated. Our strategy proved effective and we were able to defeat it with ease.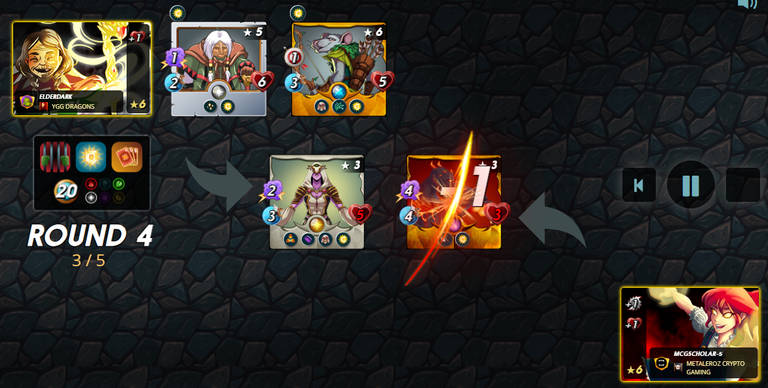 The rule set Odd Ones Out

is a restrictive rule and there is no secret or strategy that we can apply when this rule is in play. For players who have a small card collection, the ideal is to think about which Splinters have the best cards to play in this situation.
---
If you've made it this far, thank you very much for your time and if this content has been useful in any way, please leave your upvote and reblog!

[PT]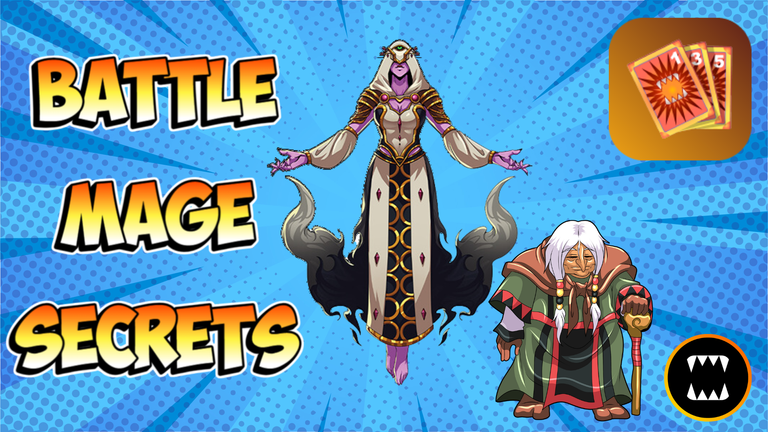 Olá, Splinters Fanaticos!
O Segredo dos Mago de Batalha dessa semana é sobre o Ruleset Odd Ones Out

. Esta conjunto de regras restringe o número de monstros que um jogador pode escalar em uma batalha por cerca da metade, para os jogadores que tem uma grande coleção de cartas isto não é um problema. Porém, para quem tem um baralho com poucas opções de cartas, isto pode se torna um problema.
Para este conjunto de regras em particular não há truques, apenas ter uma boa ideia da quantidade de mana de cada monstro, em cada Splinter disponível. Essa regra também ajudar a prever o que o oponente irá utilizar, pois a quantidade de cartas é reduzida. Na realidade esta é uma regra que beneficia mais os Bots do que um jogador real.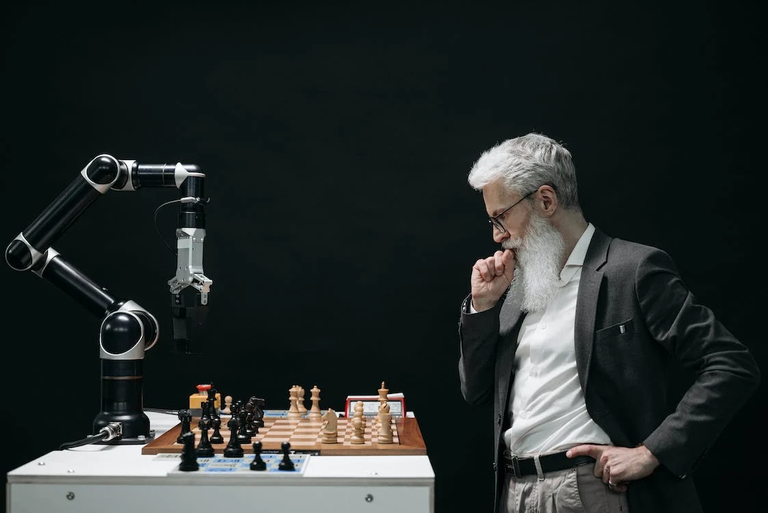 src
Utilizando o site InTeleria e com auxilio do excel é possível extrair o número de cartas classificadas por mana. Ao todo existem 248 cartas de monstros com mana impar, excluíndo os Invocadores, na tabela e gráfico abaixo é possível ver a quantidade de cartas por mana.
| Mana | Quantidade de Cartas |
| --- | --- |
| 1 | 22 |
| 3 | 68 |
| 5 | 64 |
| 7 | 55 |
| 9 | 25 |
| 11 | 12 |
| 13 | 1 |
| 15 | 1 |
| Total | 248 |
A partir da planilha foi gerado um gráfico de curva de mana que mostra um padrão bastante conhecido no mundo da probabilidade, a distribuição normal (Glaussina). Na realidade todo card game segue este mesmo padrão, a teoria da mana, onde a maior quantidade de cartas impares utilizadas no jogo esta concentrada na região central, no caso de Splinterlands são cartas com [3] , [5] e [7] de mana, e as cartas de baixa mana e altissima mana estão em menor quantidade.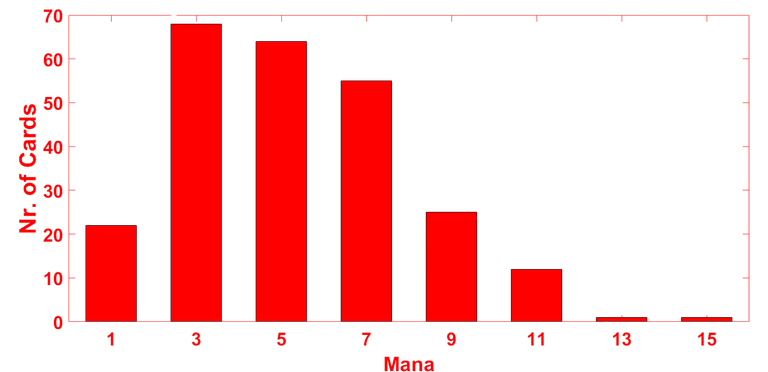 E em relação aos Splinters, as cartas de mana Impar são distribuidas de forma quase uniforme, com excessão do Splinter de Dagrão que possuem uma quantidade menor de cartas, porém esse Splinter pode escolher outro Splinter e no final das contas a quantidade de cartas será maior no Splinter de dagrão.
| Splinters | Quantidade de Cartas |
| --- | --- |
| Fire | 37 |
| Water | 39 |
| Earth | 38 |
| Life | 42 |
| Death | 38 |
| Dagron | 22 |
| Neutral | 32 |
| Total | 248 |
O segredo de mago do conjunto de regras para Odd Ones Out

é possui o maior número possível de cartas em sua coleção, caso contrário terá dificuldade em montar um boa estratégia por falta de opções.

A batalha aconteceu na Liga Gold, no modo Wild, e contou com o seguinte Conjunto de Regras: Keep Your Distance

, Holy protection

e Odd Ones Out

, além de 20 de mana e os Splinter de Vida

, Terra

e Fogo

disponíveis.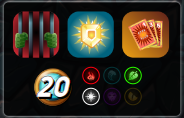 Como é uma batalha que possui baixa mana eu optei por escolher o Splinter Vida, que é o meu prefirido para estas situações, além disso se observar na tabela ele é o que possui mais opções de monstros com mana impar. Dessa forma, a Invocadora foi MOTHER KHALA, que tem custo de apenas 3 de mana e concede (+1) de Saúde a todos os aliados.
Já meu oponente escolheu o Splinter Fogo, que também é uma excelente opção pensando no conjunto de Regras Odd Ones Out

. Porém, são opções boas quando se pode utilizar monstros de dano Melee combinando com a sinergia da Invocadora TARSA.

Abaixo segue minha estratégia de escalação:
| CARD | STRATEGY |
| --- | --- |
| | Na primeira posição, escalei IZIAR como tanque principal, por possuir bastante Saúde e atrair quase todos os danos para si com a habilidade Taunt , além disso possui a habilidade Void para reduzir pela metade o dano mágico e a probabilidade é alta para este tipo de monstro. |
| | Na segunda posição escalei DIVINE HEALER, um monstro que possui a habilidade Tank Heal , que cura o monstro da primeira posição. |
| | Na terceira posição foi escalado VENARI MARKSRAT uma carta de dano Ranged que possui a habilidade Martyr caso seja derrotado aumenta as estaticas do monstro vizinho. |
---
Venha Conferir a Batalha!
IZIAR possui bastante saúde e combinado com DIVINE HEALER, que oferece habilidade de cura, terá mais saúde restaurada a cada rodada. Enquanto isso meu oponente focou em ser bastante ofensivo, pois somando seu ataque temos um total de 8 de dano, enquanto meu time tem somente 4 de dano.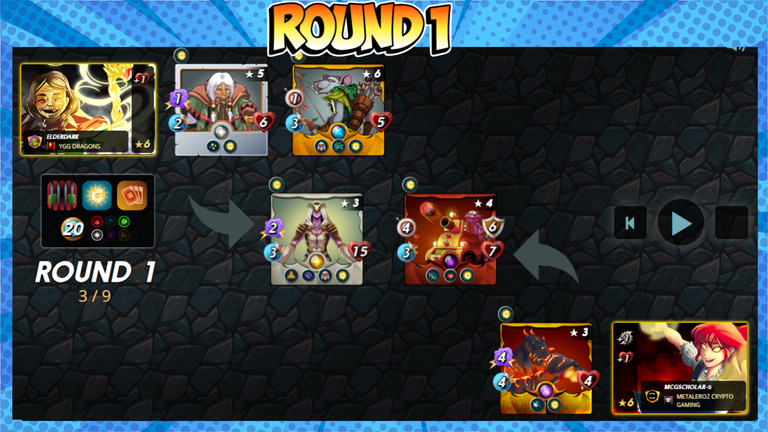 Como o dano recebido de dano mágico por IZIAR é reduzido pela metade, a cada rodada ele recebe 6 de dano. Caso não fosse a cura de DIVINE HEALER já teriado sido derrotado. Nesta rodada conseguimos derrota seu tanque e agora resta apenas um monstro, que possui dano mágico bastante ofensivo, porém baixa saúde.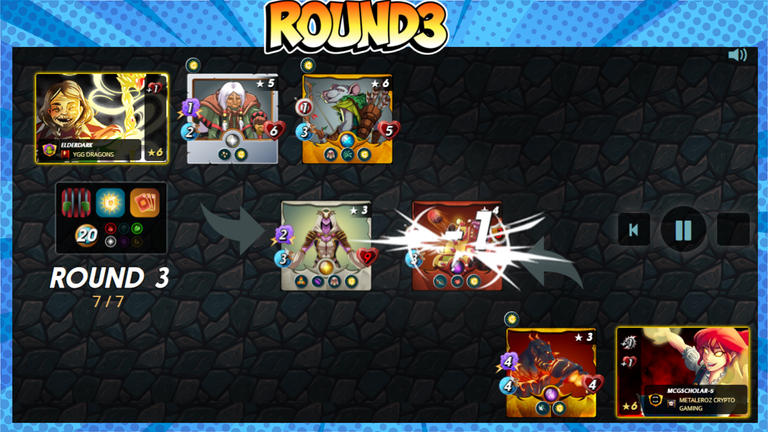 Ao final da batalha, com apenas um monstro em campo, que foi rapidamente derrotado. Nossa estratégia se mostrou eficaz e conseguimos derrotá-lo com facilidade.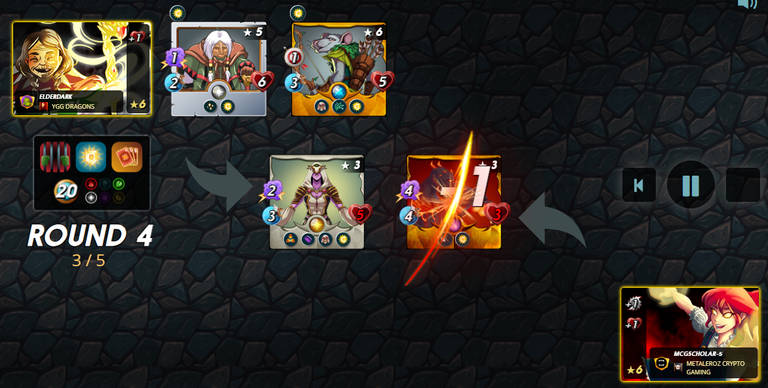 O conjunto de regra Odd Ones Out

é um regra restritiva e não existe um segredo ou estratégia que possamos aplicar quando esta regra esta em campo. Para os jogadores que possuem uma pequena coleção de carta o ideal é mentalizar quais os Splinters possuem as melhores cartas para jogar nessa situação.
---
Se chegou até aqui muito obrigado pelo seu tempo e se de alguma forma este conteudo foi útil, deixe seu upvote e reblog!

🎮 Referral Links 🎮
Splinterlands | The best #Play2earn game there is!
Rising Star | The journey of a star in the music world! START FREE!
dCrops | Opportunity simulator, the farm of Hive!
---
Imagens: @splinterlands

---
---