[EN/PT] In a battle with Equal Opportunity use protection!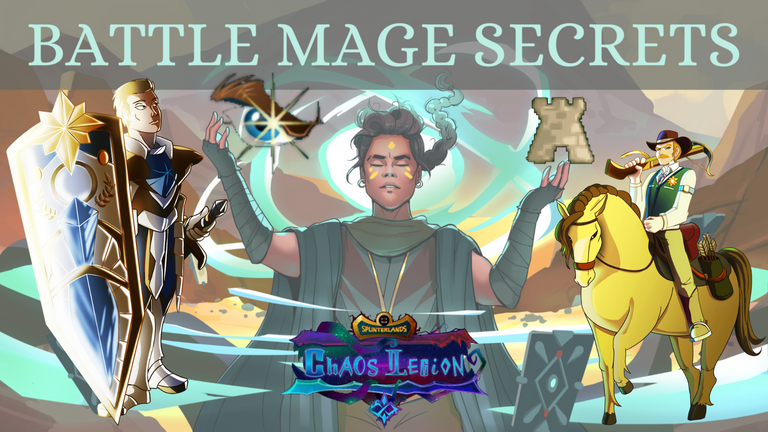 Hello Splinters Fanatics!
We are back with another 👉BATTLE MAGE SECRETS Weekly Challenge! where the battle mages reveal their secrets regarding a combat rule. The secret I'll share today is Equal Opportunity

.
---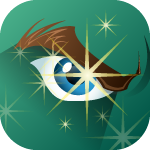 Equal Opportunity
All monsters get the Opportunity ability.
---
At the start of each battle the Rulesets are displayed, both players see which Rulesets are available and build their strategies, based on this and the recent match history of the opposing player.
The ruleset Equal Opportunity grants all monsters one of the most powerful abilities in the game, Opportunity

. All monsters seek to attack monsters of lower Health

, on the field.
Knowing this, there are some strategies that can be used to try to mitigate this reality. For, there are always monsters that are powerful, either in attack power or support, but have low health.
I myself like to use monsters with the Taunt ability

, in order to divert Opportunity's gaze away from my monsters that have low health. Monsters with the Taunt skill, in general, have a lot of Health

and Armor

. Below are presented all monsters that have this ability: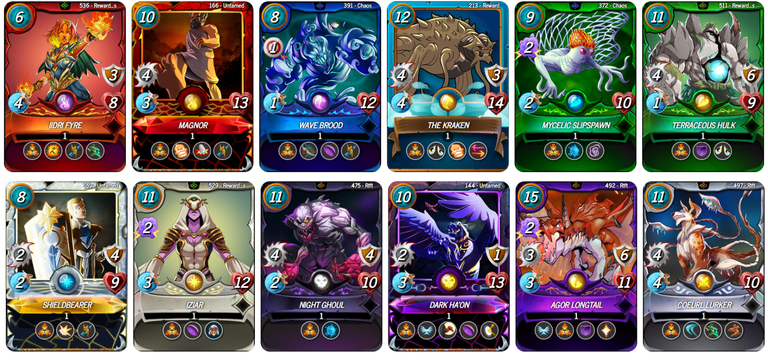 In addition, we can augment additional protections with Monsters or Summoners that have the following abilities:
👉Protect


👉Triage


👉Repair


👉Heal Tank

Looking to hide the lower health monsters the Legendary Summoner of the Splinter of Dagron, LILY SHIELDPAW, is a great option for this situation, especially when there is a lot of mana available. For, LILY grants the Triage and Camouflage abilities.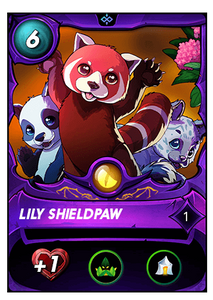 And there are players who in this situation bet on strategies focused on Speed

, because who attacks first most of the time wins. So, it is necessary to choose monsters with high speed and Summoners that increase the monster's speed.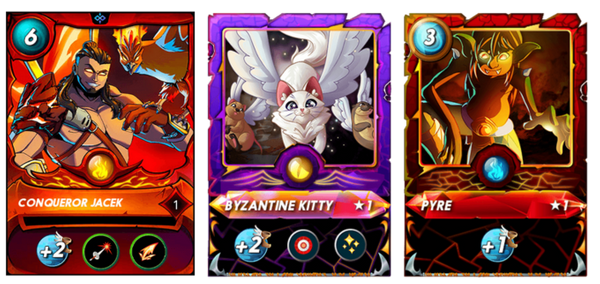 To put into practice the secrets revealed so far, nothing better than a battle containing the Equal Opportunity Rule Set

.

The battle took place in Gold League, in Wild mode, and featured the following Ruleset: Lost Legendaries

, Noxious Fumes

and Equal Opportunity

. With Fire, Life, Death and Dagron Splinter available, plus 45 mana available.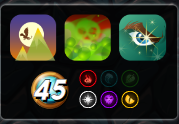 For not allowing legendary monsters on the field my choice was directed to the Life Splinter, which has monsters with a lot of Health and Armorale. Thus, I chose MOTHER KHALA Summoner, which grants (+1) Health to all allied monsters. My ally bet on reducing my speed and even indirectly chose the same Splinter as me, through Dagron's Splinter.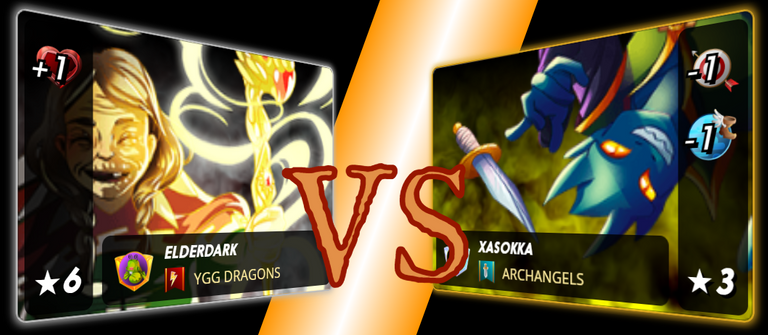 Below follows our escalation strategy:
| CARD | STRATEGY |
| --- | --- |
| | In the first position, I have scaled DRYBONE BARBARIAN as the main tank, as his Retaliate and Enrage abilities are a perfect duo to counter the opponent's melee attack damage. In addition, it possesses an excellent amount of health. |
| | In the second position I climbed the distraction tank, SHIELDBEARER, which has the Taunt skill and draws all attacks to itself. It has plenty of health and armor to last as long as possible. |
| | In the third position was rostered DJINN RENOVA who has magic damage and has the ability to increase the health of all allies by (+1), as well as Triage . |
| | Soon after, I escalated TIME MAGE, another monster with magic damage that has the ability Slow , to slow down the opponent. |
| | Next, I have scaled VENARI CRYSTALSMITH that has Ranged damage and Tank Heal and Dispel abilities. |
| | Finally, I climbed SILVERSHIELD SHERIFF another monster with Ranged damage that provides (+2) armor to all allies and the Snipe and Piercing abilities. |
---
Come Check out the Battle!
The battle is started and all buff and debuff were applied, we tried to put an extra layer of protection with (+2) of armor through SILVERSHIELD SHERIFF, but the opponent used TIME MAGE that annulled all our armor. All damage was directed at SHIELDBEARER on both teams due to the Taunt skill

.
Click on the Image Below to Watch the Full Battle!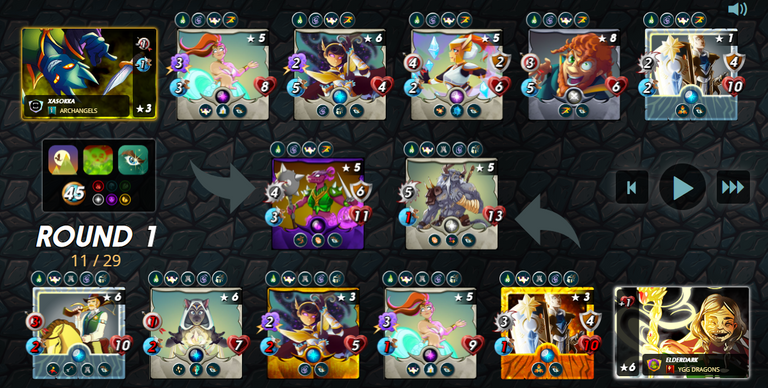 Even with the disadvantage of not having armor, our tank SHIELDBEARER resisted the first round and the opponent's tank was defeated. In fact, this round was a massacre for our team, losing our two tanks.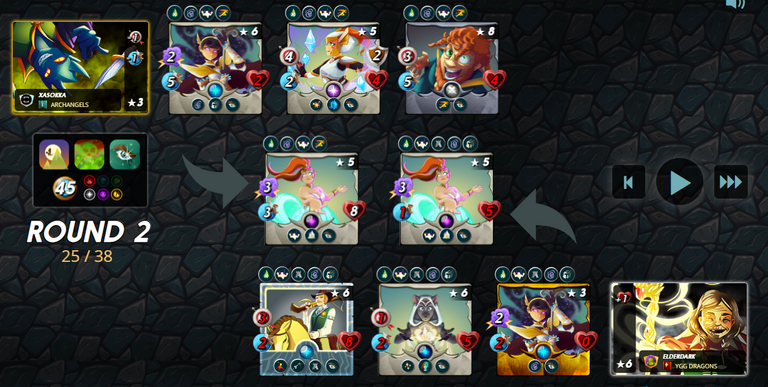 After the defeat of the opponent's TIME MAGE our armor granted by SILVERSHIELD SHERIFF was restored. And this is what changed the outcome of the battle, had it not, the outcome would have been different.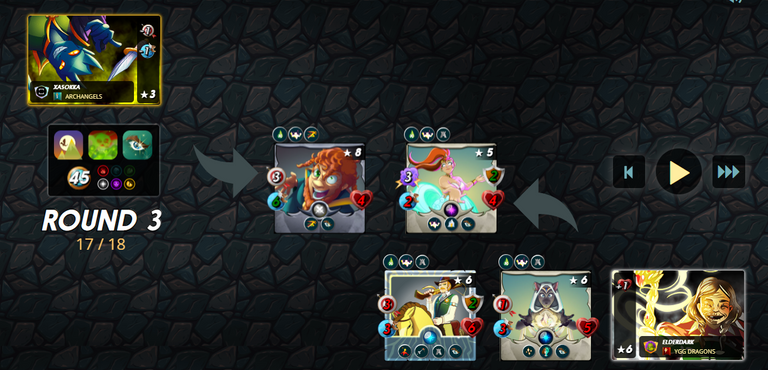 What could be different!
Using the [splintertools] tool (https://splintertools.io/) we can visualize the victory statistics for certain possible lineups. If we were to replace SILVERSHIELD SHERIFF with a double attack card like WAR CHAANG, our stats would drop from 99% to a 7% win rate. Look how crucial SILVERSHIELD SHERIFF was to our victory.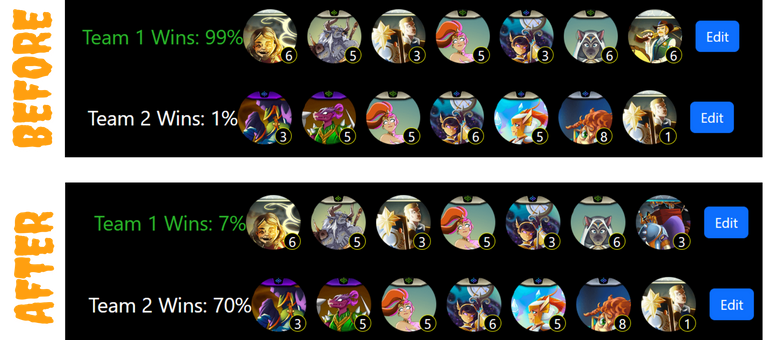 In today's post we revealed some battle mage secrets for the Equal Opportunity Rule Set (

). We saw that climbing monsters with the Taunt skill is an excellent strategy to protect less fortunate units with low Health, in addition there are strategies focused on increasing the speed to attack first and still have the chance of the opponent losing their attacks.
---
**If you have come this far, thank you very much for your time, and if in any way this content was helpful, like and share it!

[PT]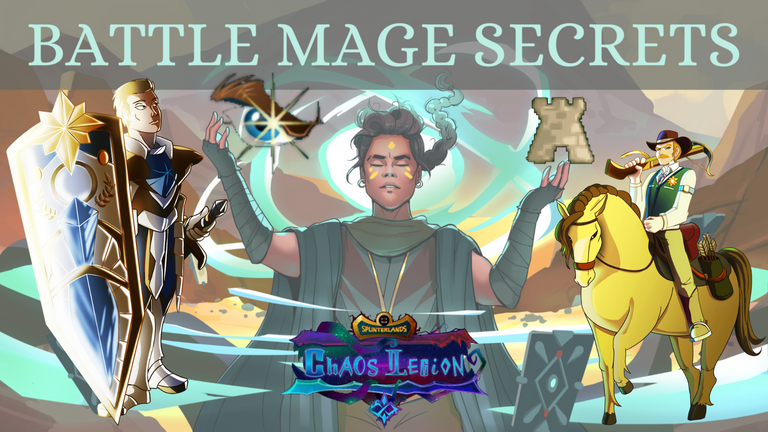 Olá, Splinters Fanaticos!
Estamos de volta com mais um 👉BATTLE MAGE SECRETS Weekly Challenge!, onde os magos de batalha revelam seus segredos em relação a uma regra de combate. O segredo que compartilharei hojé é Equal Opportunity

.
---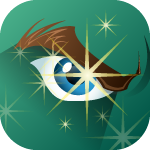 Equal Opportunity
Todos os monstros recebem a habilidade Opportunity .
---
No inicio de cada batalha o Conjunto de Regras são mostrados, ambos os jogadores vêem quais são os Conjunto de Regras disponível e montam suas estratégias, em função disto e do histórico recente de partidas do jogador adversário.
O ruleset Equal Opportunity concede a todos os monstros uma das habilidades mais poderosas do jogo, Opportunity

. Todos os monstros buscam atacar os monstros de menor Saúde

, em campo.
Sabendo disso, existem algumas estratégias que podem ser usadas para tentar mitigar está realidade. Pois, sempre existem monstros que são poderosos, seja em poder de ataque ou suporte, mas que possuem baixa saúde.
Eu mesmo gosto de utilizar monstros com a habilidade Taunt

, a fim de desviar os olhares de Opportunity dos meus monstros que possuem baixa saúde. Monstros com a habilidade Taunt, no geral, possui muita Saúde

e Armadura

. Abaixo são apresentado todos os monstros que possuem essa habilidade: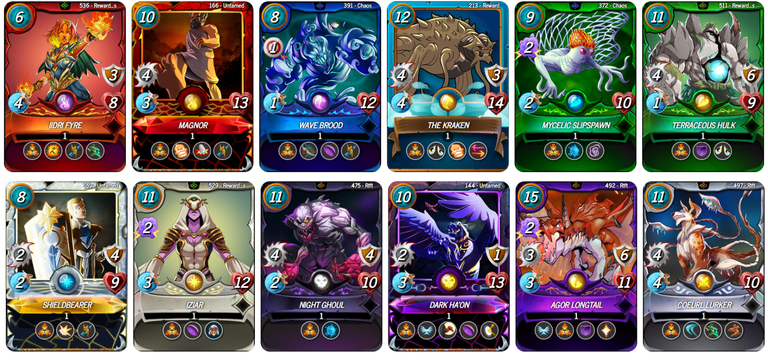 Além disso, podemos incrementar proteções adcionais com Monstros ou Invocadores que possuem as seguintes habilidades:
👉Protect


👉Triage


👉Repair


👉Heal Tank

Buscando esconder os monstros de menor saúde o Invocador Lendário do Splinter de Dagrão, LILY SHIELDPAW, é uma ótima opção para esta situação, principalmente quando houver muita mana disponível. Pois, LILY concede as habilidade Triage e Camouflage.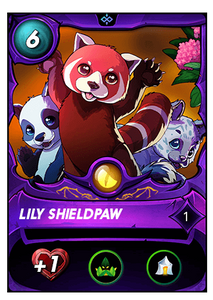 E existem jogadores que nessa situação apostam em estratégia focadas em Velocidade

, pois quem ataca primeiro na maioria das vezes leva a melhor. Então, é preciso escolher monstros com alta velocidade e Invocadores que aumentem a velocidade dos monstros.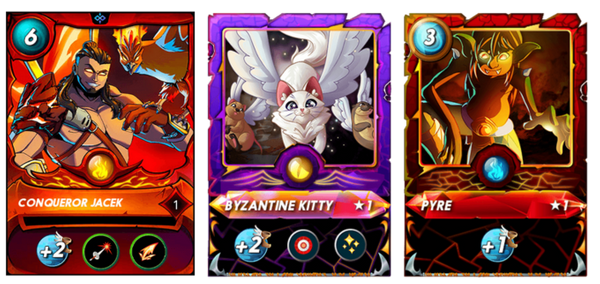 Para colocar em prática os segredos revelados até agora, nada melhor que uma batalha contendo o Conjunto de Regra Equal Opportunity

.

A batalha aconteceu na Liga Gold, no modo Wild, e contou com o seguinte Conjunto de Regras: Lost Legendaries

, Noxious Fumes

e Equal Opportunity

. Com os Splinter de Fogo, Vida, Morte e Dagrão disponíveis, além de 45 de mana disponível.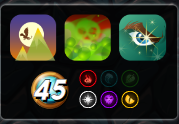 Por não permitir monstros lendários em campo minha escolha foi direcionanda para o Splinter de vida, que possui monstros com bastante Saúde e Armadura. Dessa forma, escolhi a Invocadora MOTHER KHALA, que concede (+1) de Saúde a todos os monstros aliados. Meu aliado apostou em reduzir minha velocidade e ainda escolheu indiretamente o mesmo Splinter que eu, através do Splinter de Dagrão.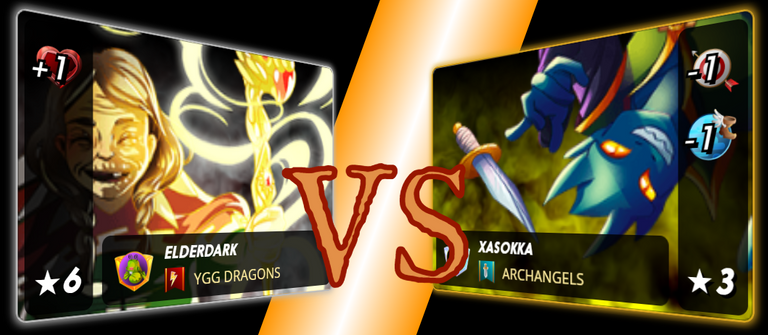 Abaixo segue nossa estratégia de escalação:
| CARD | STRATEGY |
| --- | --- |
| | Na primeira posição, escalei DRYBONE BARBARIAN como tanque principal, pois suas habilidades Retaliate e Enrage são uma dupla perfeita para contra atacar os danos de ataque melee do oponente. Além disso, possui uma excelente quantidade de saúde. |
| | Na segunda posição escalei o tanque distração, SHIELDBEARER, que possui a habilidade Taunt e atrae todos os ataques para si. Possui bastante saúde e armadura para durar o maior tempo possível. |
| | Na terceira posição foi escalado DJINN RENOVA que possui dano mágico e possui a habilidade de aumentar a saúde de todos os aliados em (+1), além de Triage . |
| | Logo após, escalei TIME MAGE, outro monstro com dano mágico que possui a habilidade Slow , para retardar o oponente. |
| | Em seguida, escalei VENARI CRYSTALSMITH que possua dano Ranged e as habilidades Tank Heal e Dispel. |
| | Por fim, escalei SILVERSHIELD SHERIFF outro monstro com dano Ranged que fornece (+2) de armadura a todos os aliados e as habilidade Snipe e Piercing. |
---
Venha Conferir a Batalha!
A batalha é iniciada e todos os buff e debuff foram aplicados, tentamos colocar uma camada de proteção extra com (+2) de armadura através de SILVERSHIELD SHERIFF, porém o oponente utilizou TIME MAGE que anulou toda a nossa armadura. Todos os danos foram direcionados para SHIELDBEARER em ambos os times devido a habilidade Taunt

.
Clique na Imagem Abaixo para Assistir a Batalha Completa!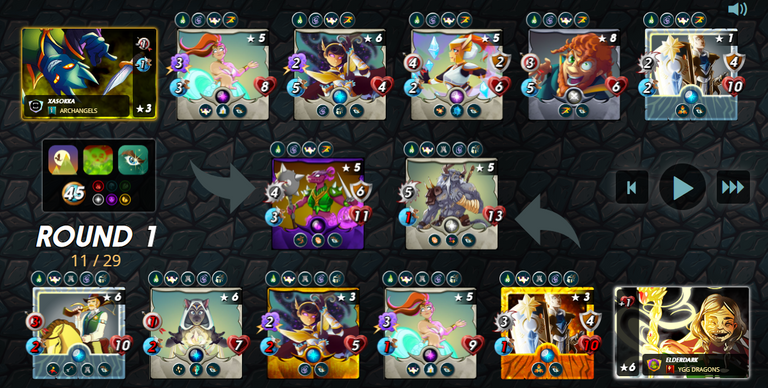 Mesmo com a desvantagem de não possui armadura, nosso tanque SHIELDBEARER resisitiu a primeira rodada e o do oponente foi derrotado. Na realidade essa rodada foi um massacre para nosso time perdendo nosso dois tanques.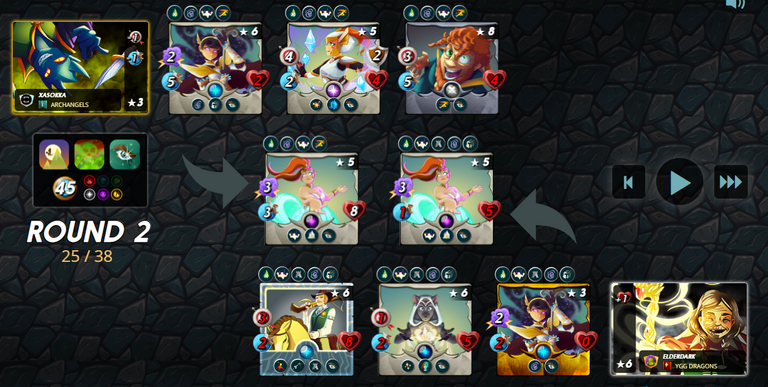 Após a derrota do TIME MAGE do oponente nossa armadura concedida por SILVERSHIELD SHERIFF foi restaurada. E isso foi o que mudou o resultado da batalha, caso não ouvesse o resultado seria diferente.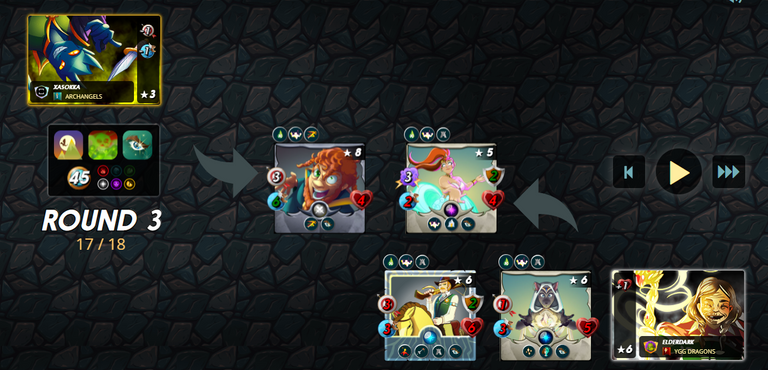 O que podia ser diferente!
Usando a ferramenta splintertools podemos visualizar as estatisticas de vitória para certas possibilidades de escalação. Caso substituíssemos SILVERSHIELD SHERIFF por uma carta com ataque duplo como WAR CHAANG, nossa estatistica caira de 99% para 7% de taxa de vitória. Olha como SILVERSHIELD SHERIFF foi cruscial para nossa vitória.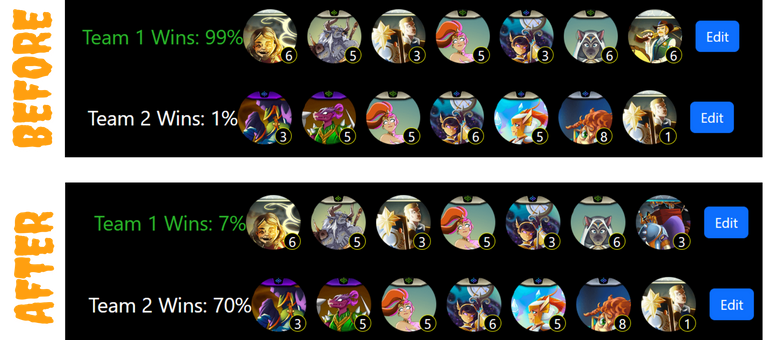 No post de hoje foram revelados alguns segredos dos magos de batalhas para o Conjunto de Regra Equal Opportunity

. Vimos que escalar monstros com a habilidade Taunt é uma excelente estratégia para proteger as unidades menos afortunadas com pouca Saúde, além disso existem estratégia focadas em aumenta a velocidade para atacar primeiro e ainda ter a chance do oponente perder seus ataques.
---
Se chegou até aqui muito obrigado pelo seu tempo e se de alguma forma este conteudo foi útil, curta e compartilhe!

🎮 Referral Links 🎮
Splinterlands | The best #Play2earn game there is!
Rising Star | The journey of a star in the music world! START FREE!
dCrops | Opportunity simulator, the farm of Hive!
---
Imagens: @splinterlands

---
---