[EN/PT] The Shark Trample: Diemonshark
[EN]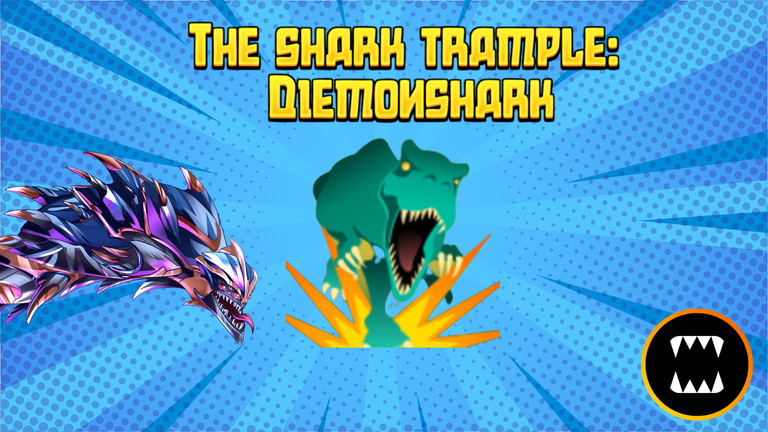 Hello, Splinter Fanatics!
In Splinterlands there is a magic in which matches are never the same, because there are always several variables that are modified depending on the Rule Set available, the Opponent's Battle History, the Mana Amount and the Available Splinter, among others.
In specific situations some monsters can shine on the battlefield and one Rule Set that does this very well is Stampede

, which can trigger a sequence of Trample

.
This ability is restricted to damage monsters Melee

, but there is a wide choice of monsters with this ability. I wonder why there aren't similar abilities for damage monsters Magic

or Ranged

? Like a rain of arrows to hit all the monsters in the backline.
Below are all the monsters with this ability and the Summoner Possibulus the Wise, who in my opinion is the second best Legendary Summoner in the Chaos Legion Edition, behind only Immortalis. But among these monsters there is one that I particularly like, its name is Diemonshark.

Diemonshark is a Splinter Water monster that has excellent Melee damage, Armor and Health and high Speed. It also has the abilities Trample

, Enrage

and Retalitie

. It's a monster whose main function is as a tank and even though it's rare, it's very powerful.

The first ability, Trample

, which is available at early levels, is an ability that can trigger another consecutive attack if the first monster attacked is defeated. And when combined with the Ruleset Stampede

it can trigger a series of Trample, when this happens it's very beautiful.
Another skill that is available at level 4, or Silver league, is Enrage which when activated increases the Melee and Speed damage statistics, making Diemonshark even more powerful. And finally, the ability Retalitie, which is only available in the Diamond League, makes the monster when hit by a Melee attack have a chance to attack its attacker.
A monster that has excellent synergy with Diemonshark is Merdaali Guardian, which is a support card that has the ability to heal and repair Armor. Thus, they make an excellent duo in many compositions.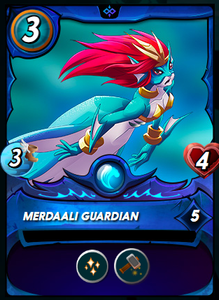 A Summoner that also has great synergy with Diemonshark is Kelya Frendul, which increases Speed and Armor by (+1). Making this monster even more powerful.

The battle took place in the Silver League, in Modern mode. The battle took place in Brawl and featured the following rulesets: Silenced Summoner

, Super Sneak

, Stamped

, as well as 13 mana and the Fire, Water and Earth Splinters available.

With this amount of mana available, I had two options: either to field a team with lots of monsters and little mana, or to field a few monsters, but with powerful ones. I decided to go for the second option and motivated by Ruleset Stamped

I chose Splinter Water, with summoner Kelya Fredul. My opponent chose Splinter Earth with the Summoner Obsidian, which is a great choice for low mana monsters.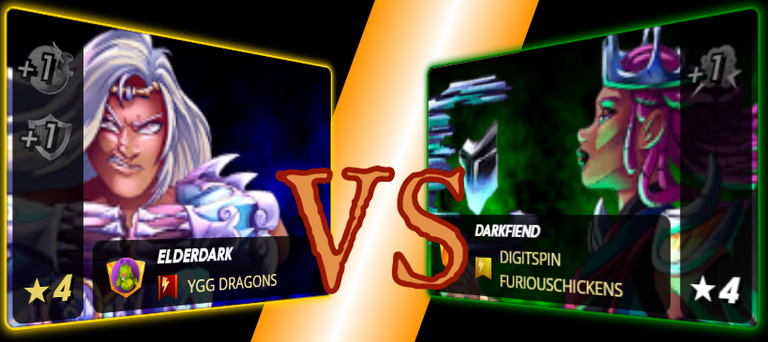 Tank - First position
As my main tank, I chose Diemonshark because of the Ruleset Stamped

, plus it has a lot of Armor and Health, which makes it resist all types of damage for a long time. My opponent chose as his Tank Hill Giant, which has a great cost-benefit ratio for low mana cards, as it has reasonable melee damage and plenty of Health.
!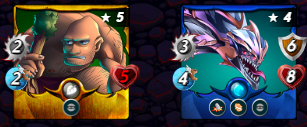 My Backline
With only 2 mana left, I chose Venator Kinjo which has the ability Camouflage which will hide it from attacks coming from Super Sneak. In addition, I've cast a zero-mana monster, Torrent Fiend, as a draw card. Note that if Diemonshark is defeated, the battle will be lost because the backline is low on health. This strategy is very risky!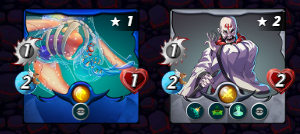 Enemy Blackline
My opponent's strategy was focused on a tank with a lot of Health and in the rear a monster with healing support, Globin Psychic. If your tank isn't defeated, it will always be healing every round. And Globin Psychic has two monsters to serve as a distraction.

To finish off today's post and consolidate the concepts we've seen so far, why not check out the battle in its entirety by clicking on the link below. I promise you won't regret it!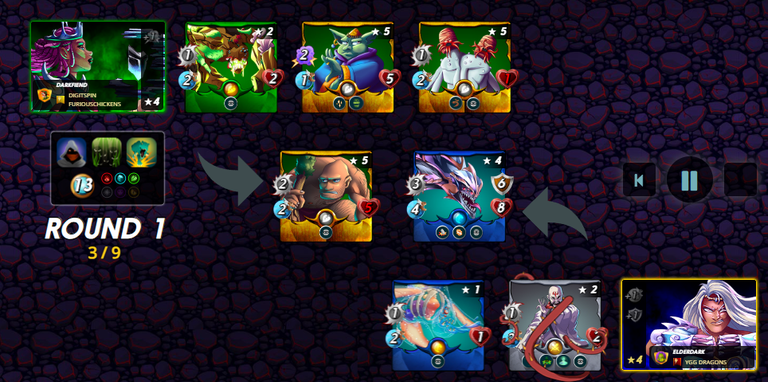 ---
Meu muito obrigado pelo seu tempo e se de alguma forma este conteudo foi útil deixe seu upvote e reblog este post para atingir mais pessoas!

[PT]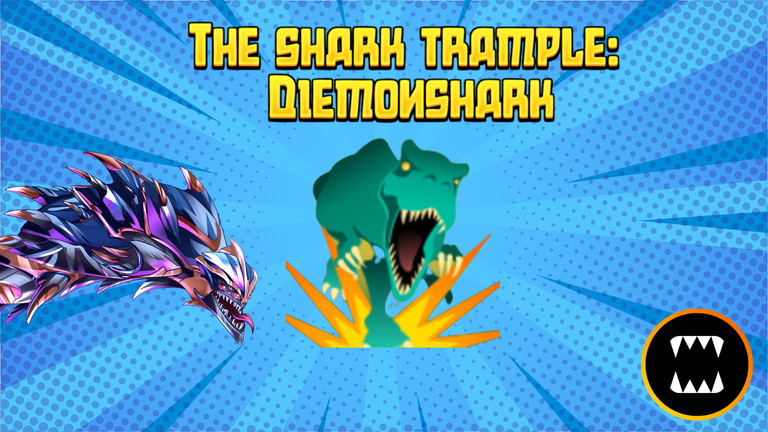 Olá, Splinters Fanaticos!
Em Splinterlands existe uma mágica em que as partidas nunca são iguais, pois sempre existe várias variáveis que são modificadas em função do Conjunto de Regras disponível, do Histórico de Batalhas do Oponente, da Quantidade de Mana e os Splinter Disponíveis, dentre outros.
Em situações específicas alguns monstros podem brilhar no campo de batalha e um Conjunto de Regra que faz esse papel muito bem é Stampede

, que pode desencadear uma sequência de Trample

.
Esta é uma habilidade restrita para monstro de dano Melee

, porém existem uma grande opção de mosntros com essa habilidade. Fico pensando porque não existem habilidades similares para monstros de dano Mágico

ou Ranged

? Como uma chuva de flechas para acertar todos os monstros da backline.
Abaixo é apresentado todos os monstros com essa habilidade e o Invocador Possibulus the Wise, que na minha opinão é o segundo melhor Invocador Lendário da Edição Chaos Legion ficando somente atrás de Immortalis. Mas, dentre esse monstro há um que eu particulamente gosto muito, seu nome é Diemonshark.

Diemonshark é um monstro do Splinter Água, que possui excelente dano Melee, Armadura e Saúde e alta Velocidade. Além disso, possui as habilidades Trample

, Enrage

e Retalitie

. É um monstro que tem a função principal de tanque e mesmo sendo de raridade rara é muito poderoso.

A primeira habilidade, Trample

, que está disponíveis nos níveis iniciais é uma habilidade que pode desencadeada outro ataque consecutivo, caso o primeiro monstro atacado é derrotado. E quando combinada com o Ruleset Stampede

pode desencadear uma série de Trample, quando isso acontece é muito lindo.
Outra habilidade que está disponível no nivel 4, ou liga Prata, é Enrage que quando ativada aumenta as estatísticas de dano Melee e Velocidade tornando Diemonshark ainda mais poderoso. E por fim, a habilidade Retalitie, que esta disponível somente na Liga Diamond, e faz com que o monstro quando atingidos por um ataque Melee tem chance de atacar seu atacante.
Um monstro que tem um excelente sinergia com Diemonshark é Merdaali Guardian, que é uma carta de suporte que tem habilidade de cura e reparação de Armadura. Assim, formam uma excelente dupla em várias composições.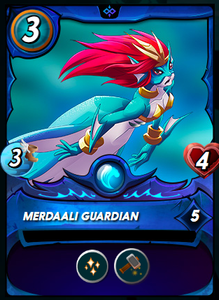 Um Invocador que também possui ótima sinergia com Diemonshark é Kelya Frendul, que aumenta em (+1) velocidade e Armadura. Tornando este monstro ainda mais poderoso.

A batalha aconteceu na Liga Prata, no modo Modern. A batalha aconteceu no Brawl e contou com as seguintes Rulesets: Silenced Summoner

, Super Sneak

, Stamped

, além de 13 mana e os Splinter Fogo, Água e Terra disponíveis.

Com essa quantidade de mana disponível eu tinha duas opções ou escalava um time com vários monstros e pouca mana, ou escalava poucos monstros, porém com poderosos. Decide optar pela segunda opção e motivado pelo Ruleset Stamped

escolhi o Splinter Água, com o invocador Kelya Fredul. Meu oponente escolheu o Splinter Terra com a Invocadora Obsidian nele a ótima opções de monstros com baixa mana.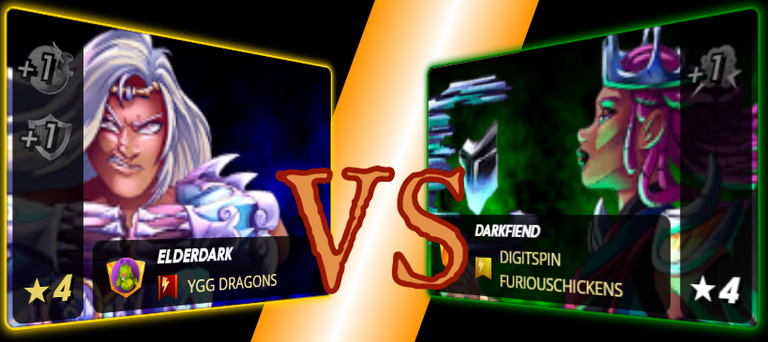 Tanque - Primeira posição
Como tanque principal escolhi Diemonshark motivado pelo Ruleset Stamped

, além disso ele possui bastante Armadura e Saúde que faz com ele resista a todos os tipos de dano por um bom tempo. Meu oponente escolheu como Tanque Hill Giant, que tem um ótimo custo benefício para cartas de baixa mana, pois possui um dano melee razoável e bastante Saúde.
!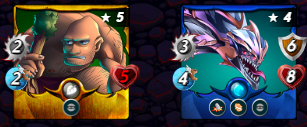 Minha Backline
Restando apenas 2 de mana optei por escolher Venator Kinjo que possui a habilidade Camouflage o que esconderá ele dos ataques proveniente de Super Sneak. Além disso, escalei um monstro com zero de mana, Torrent Fiend como carta de destração. Perceba que caso Diemonshark seja derrotado a batalha estará perdida, pois a backline possui pouca saúde. Esta estratégia é bastante arriscada!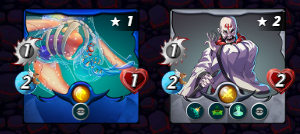 Blackline Inimiga
A estratégia do meu oponente foi focada em um tanque com bastante Saúde e na retaguarda um monstro com suporte de cura, Globin Psychic. Caso seu tanque não seja derrotado ele sempre estará se curando a cada rodada. E laod de Globin Psychic dois monstros para servir de distração.

Para finalizar o post de hoje e fixar os conceitos visto até aqui que tal conferir a batalha na integra clicando no link abaixo. Prometo que você não irá se arrepender!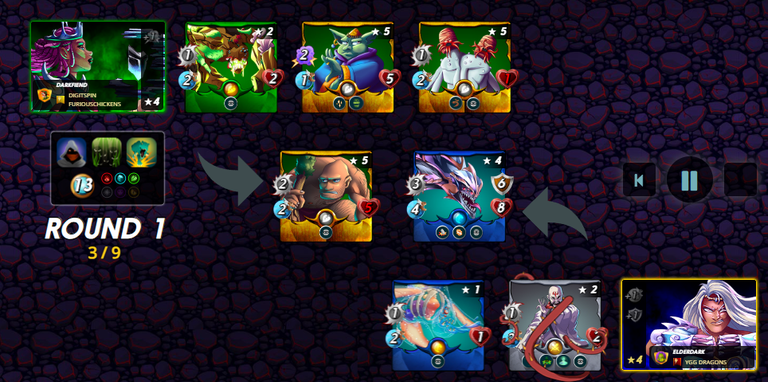 ---
Meu muito obrigado pelo seu tempo e se de alguma forma este conteudo foi útil deixe seu upvote e reblog este post para atingir mais pessoas!

🎮 Referral Links 🎮
Splinterlands | The best #Play2earn game there is!
Rising Star | The journey of a star in the music world! START FREE!
---
Imagens: @splinterlands

---
---