[EN/PT] At first it was just a card game! / No começo era só um jogo!
[EN] At first it was just a card game!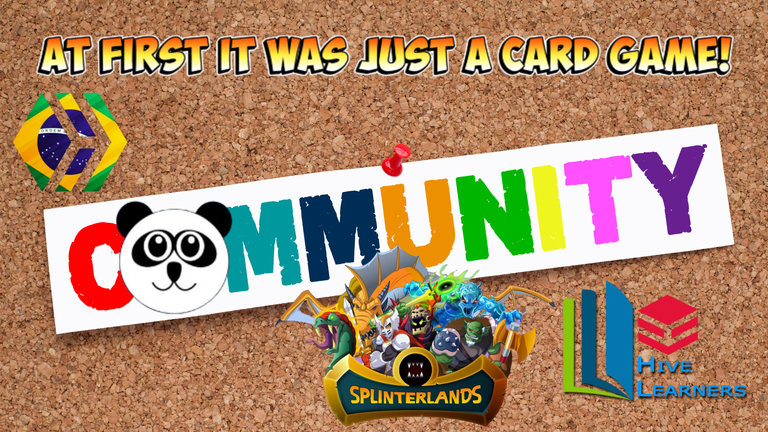 Banner created in canva
I've been at Hive since August 2021. I came to Hive because of Splinterlands, which that year was a real fever for NFT games, in fact several Hive users were brought into this ecosystem because of Splinterlands.
Splinterlands is no longer that highly profitable play-to-earn game that I used to play every day looking forward to getting some good reward in the chests, but I still play it every day.
My first year at Hive was basically playing Splinterlands, but I already knew that it was possible to produce content, I even ventured to write something about Splinterlands. However, as I didn't know the jargon of the hive content producer (communities, tags, use of front-ends, among others) my first posts were a real failure. So I just played Splinterlands for a year.
After a year, in the middle of 2022, I ventured into posting on Splinterlands again, because when I read other users' posts to learn new strategies, I noticed that they got great votes on their posts. This motivated me to write about Splinterlands, but again without success.
From Water to Wine, a community called #hivebr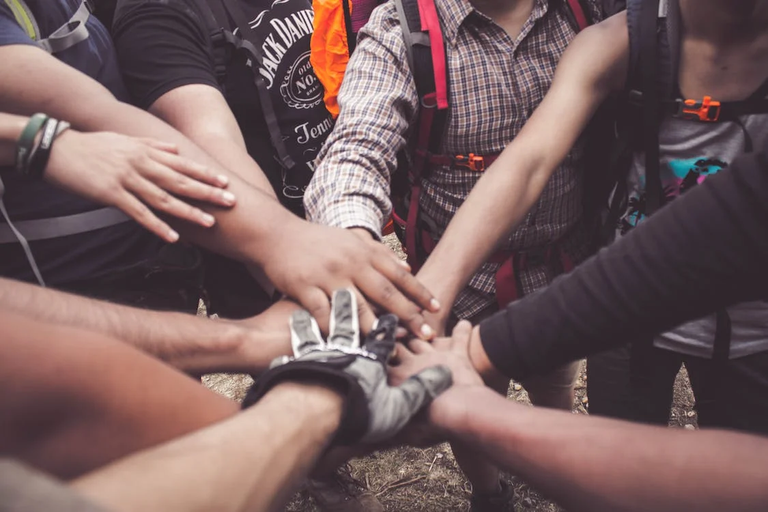 src
Until, on one of these posts, a charitable soul found me lost in this sea called Hive. It was a member of the Brazilian community HiveBR, who invited me to join. From that moment on, things changed from water to wine. With the help of the community, I began to learn the right way to post and countless other things that a beginner on Hive alone wouldn't be able to learn, and if they did, it would take a long time. The information on Hive is scattered and this is the biggest difficulty for those starting out.
In the Brazilian community I've met a lot of people from all over Brazil and the world, many of whom I consider friends, in fact they're a second family to me. In the year I've been producing content and being active on Hive, I've met some real people here. Of course, you can also find some thorns in the side, but that's what you get everywhere.
Learning new skills
src
Playing with words and extracting the deepest thoughts from the imagination by putting them into a soup of ordered words has never been my strong suit. My passion has always been the exact area, being objective with numbers. But Hive has been responsible for developing my writing skills, as I'm here almost daily producing content. And it's remarkable to see my evolution comparing posts from a year ago with the current ones.
Another thing I've been learning is English, even though I use Translate to convert texts from my native language into English. Every day I learn a new word or expression. That's because I'm consuming other people's text here on Hive, where most of it is in English.
A second home called Hive Learners
Hive is an incredible ecosystem where you can write about anything, just by looking for the right community. I started writing about Splinterlands and gradually ventured into other areas such as finance and recently found Hive Learners, which has helped me write about my life experiences.
I got to know this community thanks to my friend @gwajnberg, who is also Brazilian and is part of this community. Honestly, I'm loving writing about different subjects and experiences in my life, sometimes I get emotional remembering the past. In addition, the Hive Learners community on Discord is super helpful and friendly.
My advice to anyone starting out on Hive is to look for a community to join. And the number of people who want to help here on Hive is enormous. So, if you happen to be new here, don't waste any time!

[PT] No começo era só um jogo de cartas!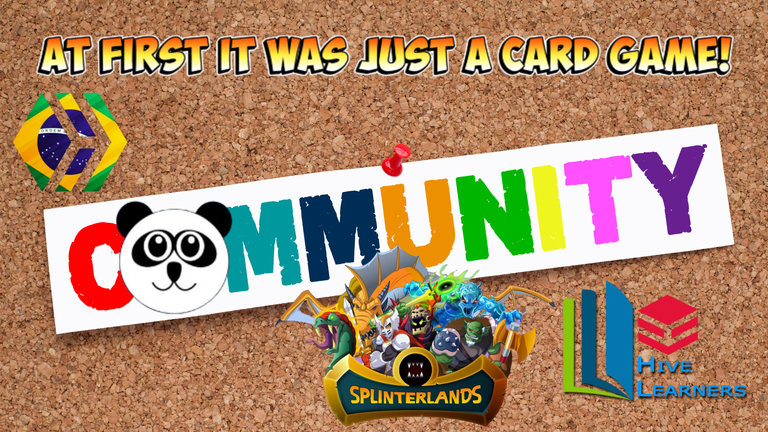 Banner created in canva
Eu estou na Hive desde Agosto de 2021. Cheguei a Hive devido a Splinterlands que naquele ano foi uma verdadeira febre dos jogos NFTs, na realidade vários usuários hive foram trazidos para esse ecossistema devido a Splinterlands.
Splinterlands não é mais aquele jogo play to earn com alta rentabilidade, que eu jogava todos os dias ansioso para conseguir alguma recompensa boa nos baús, mas mesmo assim ainda jogo todos os dias.
Meu primeiro ano na Hive foi basicamente jogando Splinterlands, mas eu já sabia que era possível produzir conteúdo, até me aventurei escrever algo sobre Splinterlands. Porém, como não sabia o jargão do produtor de conteúdo da hive (comunidades, tags, utilização de front-ends, dentre outros) meus primeiros posts foram um verdadeiro fracasso. Então, fiquei apenas jogando Splinterlands durante ano.
Após um ano, em meados de 2022, me aventurei a fazer novamente post de Splinterlands, pois lendo os posts de outros usuários para aprender novas estratégias observava que eles conseguiam ótimos votos, em seus posts. O que me motivou a escrever sobre Splinterlands, mas novamente sem sucesso.
Da água para o Vinho, uma comunidade chamada #hivebr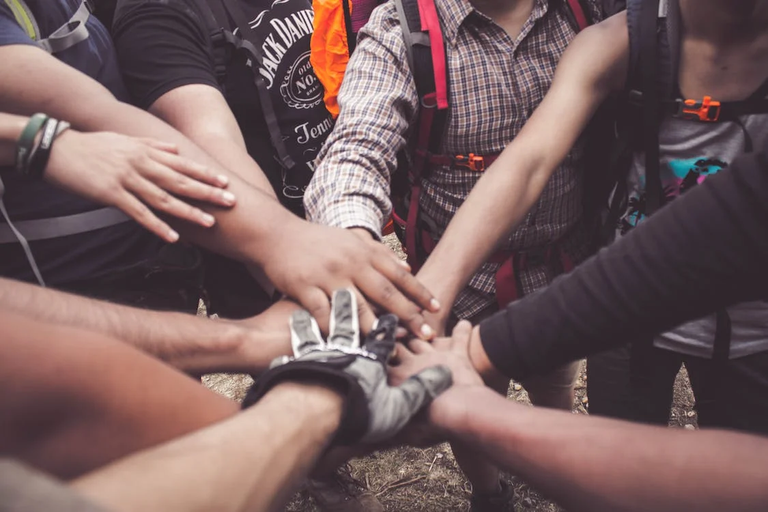 src
Até que em um desse post uma alma caridosa me achou perdido nesse mar chamado Hive. Era um membro da comunidade brasileira HiveBR, que me convidou para fazer parte da mesma. Então, a partir desse momento as coisas mudaram da água para o vinho. Pois, com a ajuda da comunidade comecei a aprender o jeito certo de postar e inúmeras outras coisas, que sozinho o iniciante na Hive não é capaz de aprender e se aprender levará bastante tempo. A informação na hive esta espalhada e essa é maior dificuldade para quem começa.
Na comunidade brasileira encontrei diversas pessoas de várias parte do Brasil e do mundo, muitas delas considero como amigos, na realidade são uma segunda família para mim. Nesse um ano produzindo conteúdo e sendo ativo na Hive encontrei pessoas verdadeiras aqui, é claro que a gente também pode encontrar alguns espinhos no meio do caminho, mas são coisas que têm em qualquer lugar.
Aprendendo novas habilidades
src
Brincar com as palavras e extrair da imaginação os mais profundos do pensamentos colocando em uma sopas de palvras ordenadas nunca foi meu forte. Minha paixão sempre foi a área de exatas sendo objetivo com os números. Mas, a Hive tem sido responsável em desenvolver a habilidade de escrita, pois quase que diariamente estou aqui produzindo conteúdo. E é notável ver minha evolução comparando post de um ano atrás com os atuais.
Outra coisa que tenho aprendido é o Inglês, mesmo que utilize o translate para passar os texto de minha língua nativa para Inglês. Todos os dias aprendo uma palavra nova ou uma expressão. Por está consumindo texto de outras pessoas aqui na Hive, onde a grande parte está em Inglês.
Uma segundo lar chamado Hive Learners
A hive é um ecossistema incrível onde podemos escrever sobre tudo, basta para isso procurar a comunidade certa. Eu comecei escreve sobre Splinterlands e aos poucos fui me aventurando em outras areas como finanças e recetemente encontrei a Hive Learners, que tem me ajudado a escrever sobre minhas experiências de vida.
E conheci esta comunidade graça a meu amigo @gwajnberg, que também é brasileiro e faz parte dessa comunidade. Sinceramente, eu estou amando escrever sobre assuntos diversos e experiência vividas em minha vida, as vezes eu me emociona ao lembrar do passado. Além de tudo a comunidade Hive Learners do discord é super prestativos e amigavéis.
Meu conselho para quem esta começando na Hive é procura uma comunidade para fazer parte dela. E o a quantidade de pessoas que querem ajudar aqui na Hive é enorme. Então, se por acaso você é um novato por aqui não perca tempo!


Posted Using LeoFinance Alpha
---
---