Nerissa Trindawn The Water Warrior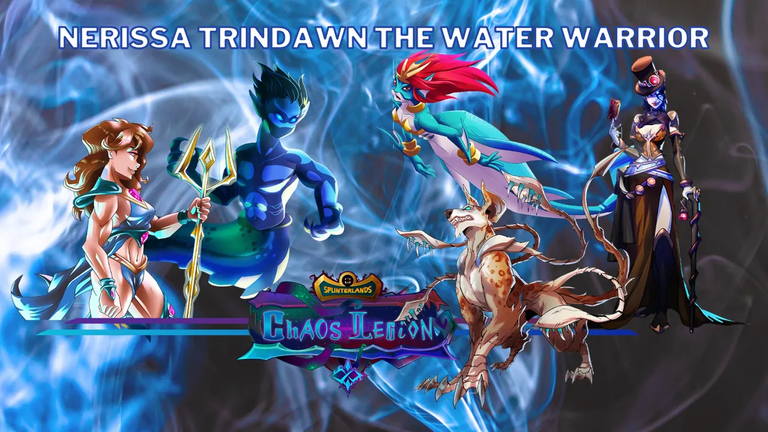 Hello, Splinterlands Family!

Are you all right? Hope so! Let's go for one more Weekly Challenge from the best #Play2earn out there, @splinterlands.
This week's Challenge will be about an Epic Water Splinter card, Nerissa Tridawn, which by the way has one of the most powerful magic attacks in Splinterlands.
Lore
Nerissa is a proud warrior of the water. Armed with her enchanted trident, she defends the seas, the rivers, and the lakes... Nerissa was born and raised by the ocean, and could swim before she could walk. She always felt the sea called to her. And within her it stirred a deep magic.

It is an epic card that since its initial level has (3) magic attack, (2) speed and (9) health, this for a cost of (9) mana.
The flagship of Nerissa is precisely her deep magic, her great magic attack power replaces the absence of abilities.
At max level this card achieves incredible (5) magic attack, slightly increases its Speed ​​to (3) and its health to (11).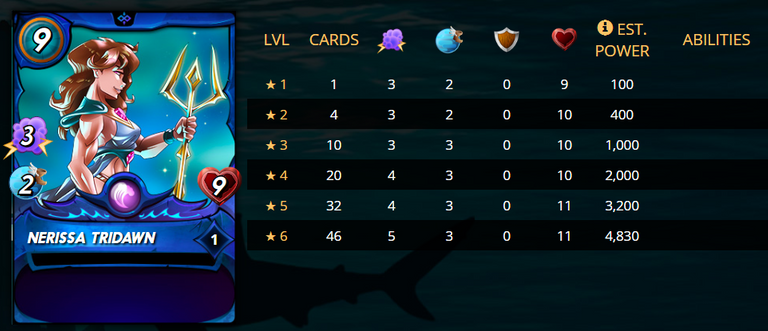 For now I have this card at level 1 and I intend to raise this card to level 4, because at this level Nerrisa has (4) magic attack.
In short, Nerissa Tridawn is a card with a lot of magic power, with average speed and a lot of health.
Because it has a magic attack and no ability to resist any kind of attack, it is advisable that Nerissa Tridawn be cast in intermediate positions. Even having enough health it is not advisable to put it in the first or even the last position, due to the Sneak attack.
Due to its great power, the longer this card stays on the field, the better for the player. Therefore, one must be aware of the position in which the units are climbed.

The best summoners for Nerissa Tridawn are precisely those that increase her magic attack power even more, and in this case, we can mention: Alric Stormbringer and Delwyn Dragnscale. Unfortunately, none of them can be used in Modern mode.😥
---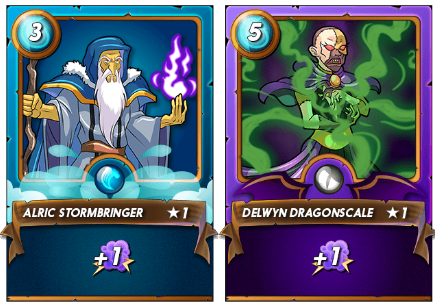 ---
The Armored Up combat rule grants additional armor to all units in the field. For magic attack cards, this is very beneficial, which is the case with Nerissa. Because, magic attack monsters can pass through armor and also gain extra protection.
Since Nerissa Tridawn doesn't have any abilities, the Back to Basic combat rule doesn't make any difference. This can even be an advantage, because while the monsters lose skills, our star remains the same.
One Combat Rule that can be a headache for Nerissa is Target Practice, as all ranged and magic monsters have the Snipe ability. On the one hand this is good, as her high magic attack can easily destroy these units, on the other hand she is a magic unit and can also be targeted by this rule. So, in this situation it is advisable to use some unit with the Taunt ability or put other ranged/magic attack units in front of you.
---

---

According to the website Splintercards, Nerissa Tridawn currently has 34,714 regular cards and 2,208 Gold Foil cards, because it is an Epic card and the Water Splinter (the Splinter of the most expensive cards), even with this large number of prints, it has a slightly high price.
At the moment, Nerissa in its regular version is priced at $1.62 and in the Gold Foil version at $11.42. Even with the large amount of impressions, it is a card with slightly above average values ​​compared to the Epics of the Chaos Legion Edition.

Analyzing the 180-day charts, for Regular and Gold Foil charts, we can see that prices are in a lateralization trend, that is, the quote is always looking for an average value.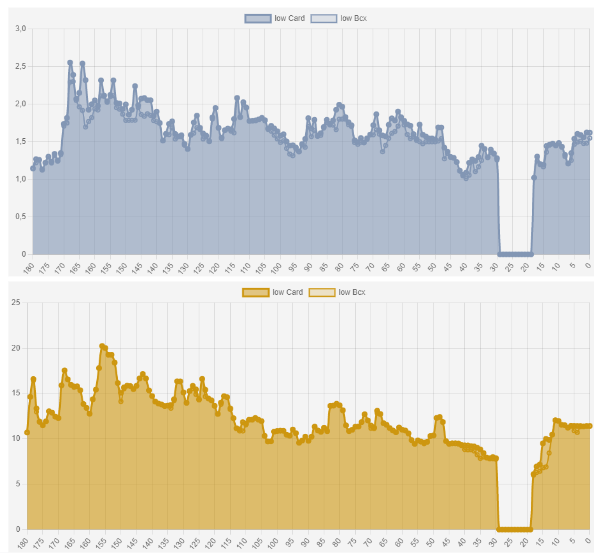 But, if the player is unable to acquire this card, the cheapest way is to rent it. For me, who plays in the Gold League, I like to rent this card at level 4, because from this level it has (4) magic attack. At this level the rent is around 10 DEC/Day.
Remember that nothing here is a BUY or SELL recommendation!

For this card, I give 7, on a scale of 0 to 10, because despite being a powerful card in relation to its attack power. Its biggest weakness is that it does not have any abilities, for an Epic card this is even strange.

The combat rules of our battle are presented below. This battle took place with three combat rules: Broken Arrows, Spreading Fury, and Stampede.
---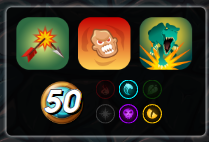 ---
Due to the ruleset and Splinters available, I opted for the Water Splinter focused on magic attack units. Our Summoner was Alric Stormbringer, which grants (+1) magic attack to all allied units.
Our opponent was bold and chose the Neutral Splinter Legendary Summoner, Lux Vega, which can target Neutral Splinter units plus another available Splinter. To be honest, it's a very stolen Summoner, because no matter how much you see the enemy's history, you can't predict what will be used, due to the countless possibilities it brings.
Below is our escalation strategy:
| CARD | STRATEGY |
| --- | --- |
| | The Kraken was chosen as a tank, as it has a lot of health, in addition to having the abilities Taunt (which attracts large parts of attacks to itself) and Demolarize (which reduces the opponent's melee attack ). |
| | Since I had (2) mana left I scaled Frost Lion as a secondary mini tank. |
| | Djinn Oshannus, this is one of the cards that I always choose, when I choose this Splinter because it has a lot of health, an excellent Speed ​​(which can be increased thanks to the rule that gives Enrage) and it has a great attack Magic. |
| | Soon after, he was cast as Ruler of the Sea, he has (3) magic attack and skills to increase the speed of all allies, reduce the opponent's magic attack power, in addition to the Blast ability. |
| | Next up was our star, Nerissa Tridawn, for her high magic attack power and Health. |
| | And finally, cast Phanton of the Abyss, which has an excellent magic attack and very high speed and abilities to reduce enemy melee attacks. |
---

In the image below, you can see the lineup of our enemy, who learned to take advantage of the combat rule set. For example, he chose a tank with the Trample skill to take advantage of the Stampede rule, he also used the Elven Mystic monster that has the Silence ability, I reduced our magic attack by (-1).
In this battle, as only melee and magic attack monsters could be used, I used some units to debuff that type of unit.
In the first round, several of our attacks were lost, as the opponent used Coeurl Lurker in the last position, which with its high speed combined with the skills Doge and Phase makes a lot of players lose the head, including me.
Meanwhile our Kraken hit like a dog, even reaching the same speed as Coeurl Lurker didn't have much luck in dodging attacks. However, our debuffs were quite effective on the opposing team.
Click on the Image to watch the full battle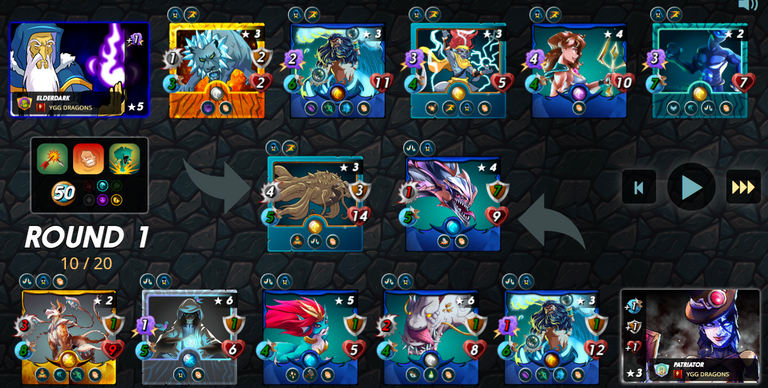 After missing several attacks on Coeurl Lurker our star, Nerissa Tridawn, manages to land her attack on this fearless fox. Now our battle goes a little lighter!
But our The Kraken is also close to being defeated and that's a problem because our enemy has a monster with the ability Opportunity and Poison, to torment the lower health units.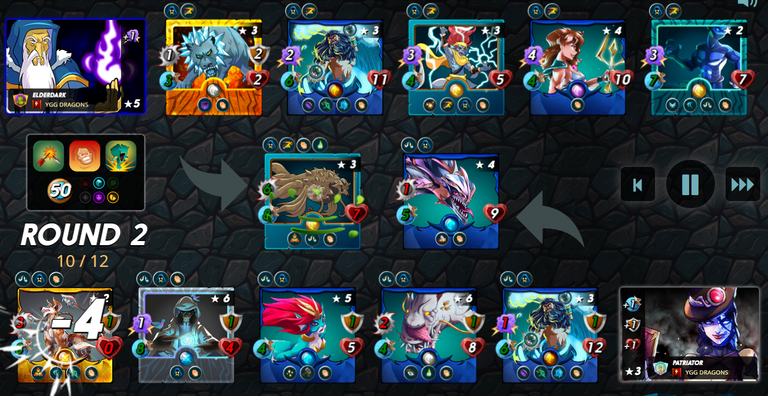 In the third round, The Kraken was finally defeated which opened up space for DeepLurker to do his Opportunity attacks with Poison.
Frost Lion received a Trample attack, as soon as The Kraken was defeated by Diemonshark. Thus, removing his armor and soon received Deeplurker's redemption attack, thus being defeated. There are now four all-powerful magic attack units left.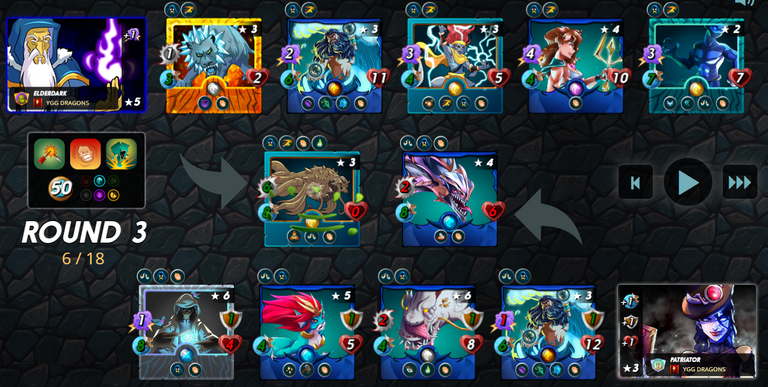 Although our team has more attack power than the opposing team, this was with the help of debuffs, and even so our team was not enough to defeat him. Well, the opposing team had a unit with the Heal Tank ability. Making our attacks in vain.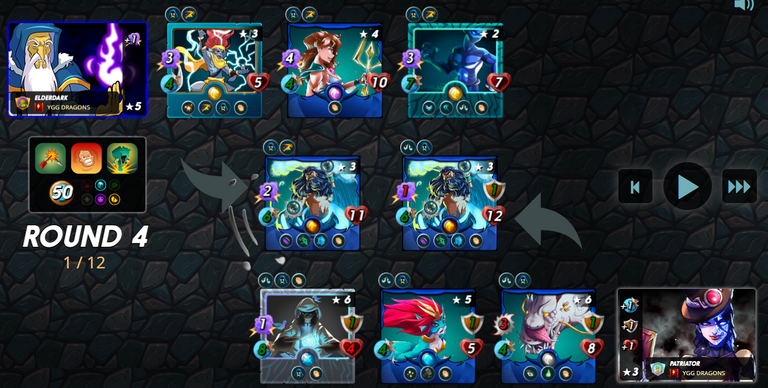 Unfortunately, the victory went to our opponent, @patriator. Congratulations to the winner!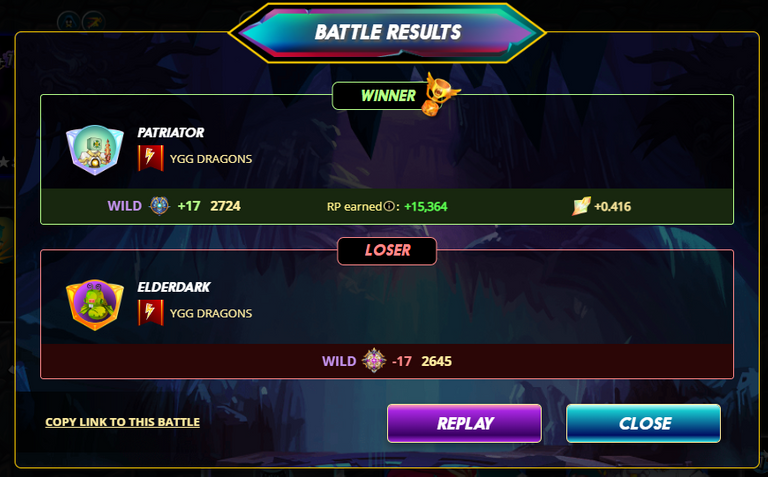 In today's battle we met Nerissa Trindawn, a Water Splinter card that has a very powerful magic attack, thus making up for the fact that it has no ability. Today she helped our team, but it wasn't enough to win the battle.
And what do you think of this letter, Nerissa Trindawn?

[PT] Nerissa Trindawn, A Guerreira das Águas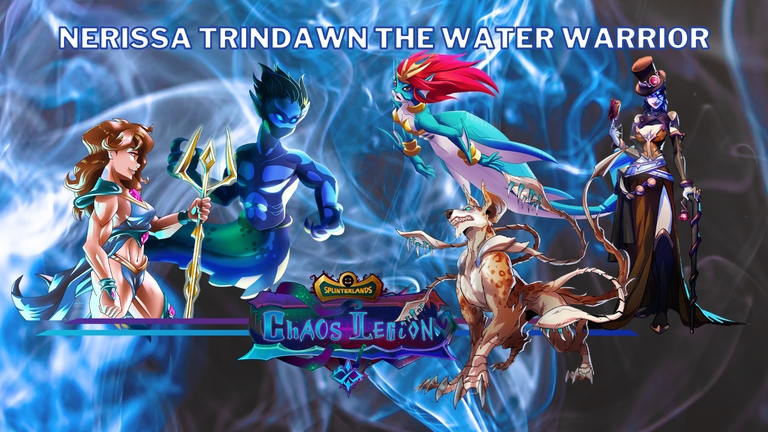 Olá, Família Splinterlands!

Tudo bem com vocês? Espero que sim! Vamos para mais um Desafio Semanal do melhor #Play2earn que existe, @splinterlands.
O Desafio desta semana será sobre uma carta Épica do Splinter de Água, Nerissa Tridawn, que por sinal possui um dos ataques mágicos mais poderosos de Splinterlands.
Lore
Nerissa é uma orgulhosa guerreira da água. Armada com seu tridente encantado, ela defende os mares, os rios e os lagos ... Nerissa nasceu e foi criada no oceano e sabia nadar antes de andar. Sempre sentiu que o mar a chamava. E dentro dela despertou uma magia profunda.

É uma carta épica que desde no nível inicial possui (3) de ataque magico, (2) de velocidade e (9) saúde, isto por um custo de (9) de mana.
O carro chefe de Nerissa é justamente sua mágia profunda, seu grande poder de ataque mágico substitui a ausência de habilidades.
No nível máximo esta carta atingi incríveis (5) de ataque mágico, aumenta levemente sua velocidade para (3) e sua saúde para (11).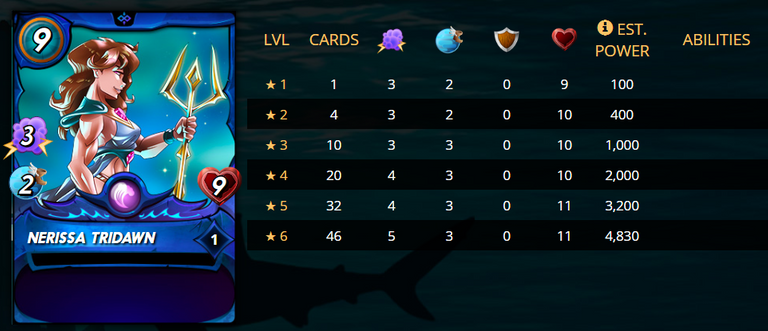 Por enquanto possuo essa carta no nível 1 e pretendo subir esta carta para o nível 4, pois neste nível Nerrisa possui (4) de ataque mágico.
Resumindo, Nerissa Tridawn é uma carta com bastante poder mágico, com velocidade mediana e Bastante saúde.
Por possui ataque mágico e nenhuma habilidade para resistir a algum tipo de ataque é aconselhável que Nerissa Tridawn seja escalada em posições intermediárias. Mesmo possuindo bastante saúde não é aconcelhável colocá-la na primeira ou até mesmo na última posição, devido a ataque Sneak.
Devido ao seu grande poder, quanto mais tempo essa carta ficar em campo, é melhor para jogador. Por isso, deve-se ficar atento a posição em que as unidades são escaladas.

Os melhores invocadores para Nerissa Tridawn são justamente os que aumentam ainda mais seu poder de ataque mágico, e neste caso, podemos citar: Alric Stormbringer e Delwyn Dragnscale. Infelizmente, nenhum deles podem ser utilizados no modo Modern.😥
---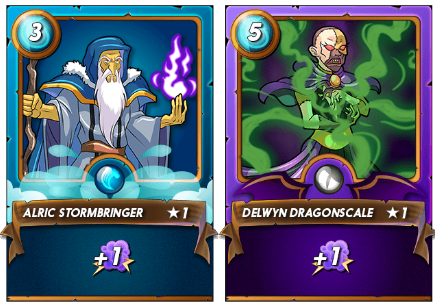 ---
A regra de combate Armored Up concede armadura adcional, a todos as unidades em campo. Para cartas de ataque mágico, isso é muito benefico, que é o caso de Nerissa. Pois, monstro de ataque mágico podem atravessar armaduras e além disso ganham proteção extra.
Como Nerissa Tridawn não possue nenhuma habilidade, a regra de combate Back to Basic não faz a menor diferença. Isso pode ser até uma vantagem, pois enquanto os monstros perdem habilidades, nossa estrela continua da mesma forma.
Uma Regra de Combate que pode ser dor de cabeça para Nerissa é Target Practice, pois todos os monstros de ataque a distância e mágico possuem a habilidade Snipe. Por um lado isto é bom, pois seu alto ataque mágico pode destruir facilmente estas unidades, por outro ela é uma unidade mágica e também pode ser alvo desta regra. Então, nesta situação é aconselhável usar alguma unidade com a habilidade Taunt ou colocar outras unidades de ataque ranged/mágica a sua frente.
---

---

Segundo o site Splintercards, Nerissa Tridawn possui atualmente 34,714 cartas regulares e 2,208 carta Gold Foil, por se trata de uma carta Épica e do Splinter de Água (o Splinter das cartas mais caras), mesmo com esse grande número de impressões possui preço um pouco elevado.
Neste momento, Nerissa na sua versão regular está cotada por $ 1.62 e na versão Gold Foil por $11.42. Mesmo com a grande quantidade de impressões é uma carta com valores um pouco acima da média se comparado com as Épicas da Edição Chaos Legion.

Analisando os gráficos de 180 dias, para cartas Regulares e Gold Foil, podemos ver que os preços estão em tendência de lateralização, ou seja, a cotação está buscando sempre em um valor médio.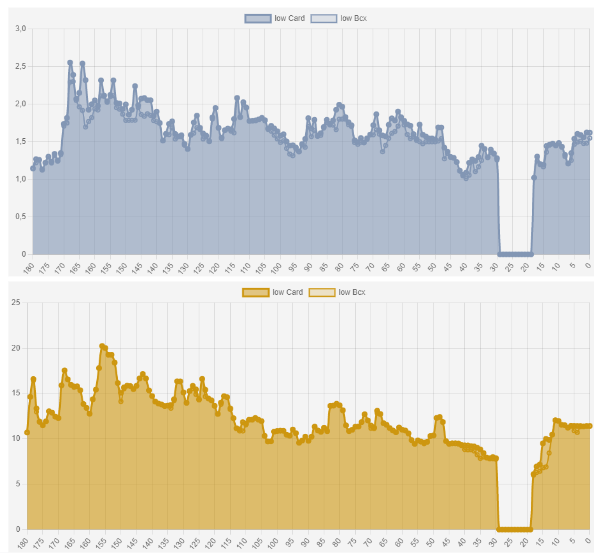 Mas, se o jogador não tem condições de adquirir esta carta, a maneira mais barata é alugá-la. Para mim que jogo na Liga Gold, gosto de alugar esta carta no nível 4, pois a partir deste nível possui (4) de ataque mágico. Neste nível o aluguel gira em torno de 10 DEC/Dia.
Lembrando que nada aqui é recomendação de COMPRA ou VENDA!

Para esta carta, dou nota 7, em uma escala de 0 a 10, pois apesar de ser uma carta poderosa em relação ao seu poder de ataque. Sua maior fraqueza é não possui nenhuma habilidade, para uma carta Épica isto é até estranho.

As regras de combate de nossa batalha são apresentadas abaixo. Essa batalha ocorreu com três regras de combate: Broken Arrows, Spreading Fury e Stampede.
---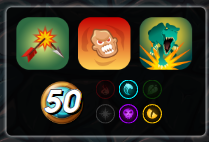 ---
Devido ao conjunto de regras e aos Splinters disponível, optei pelo Splinter de Água focado em unidades de ataques mágico. Nosso Invocador foi Alric Stormbringer, que concede (+1) de ataque mágico a todas as unidades aliadas.
Nosso adversário foi oussado e escolheu a Invocadora Lendária do Splinter Neutro, Lux Vega, que pode escolher unidades do Splinter Neutro mais outro Splinter disponível. Para ser sincero é um Invocadora muito roubada, pois por mais que você veja o histórico do inimigo não dar para prever o que vai ser usado, devido as inúmeros possibilidades que ela traz.
Abaixo segue nossa estratégia de escalação:
| CARD | STRATEGY |
| --- | --- |
| | The Kraken foi escolhido como tanque, pois possui muita saúde, além de possui as habilidade Taunt (que atrai grande partes dos ataques para si) e Demolarize (que reduz o ataque melee do oponente). |
| | Como havia sobrado (2) de mana escalei Frost Lion como um mini tanque secundário. |
| | Djinn Oshannus, esta é uma das cartas que sempre escalo, quando escolho este Splinter, pois possui muita saúde, uma excelente Velocidade (que pode ser elevada graças a regra que dar Enrage) e tem um ótimo ataque mágico. |
| | Logo em seguida foi escalado Ruler of the Sea, possui (3) de ataque mágico e habilidades para aumentar a velocidade de todos os aliados, reduzir o poder de ataque mágico do oponete, além da habilidade Blast. |
| | Em seguida foi escalada nossa estrela, Nerissa Tridawn, pelo seu alto poder de ataque mágico e Saúde. |
| | E Por fim, escalado Phanton of the Abyss, que possui um excelente ataque mágico e altíssima velocidade a habilidades para reduzir ataques melee inimigos. |
---

Na imagem abaixo, pode-se ver a escalação de nosso inimigo, que soube aproveita o conjunto de regra de combate. Por exemplo, escolheu um tanque com a habilidade Trample para aproveitar a regra Stampede, além disso usou o monstro Elven Mystic que tem a habilidade Silence, reduzino nosso ataque mágico em (-1).
Nesta batalha, como só poderiam ser usados monstros de ataque melee e mágico, utilizei algumas unidades para dar debuff nesse tipo de unidade.
Na primeira rodada, vários de nossos ataques foram perdidos, pois o adversário utilizou na última posição Coeurl Lurker, que com sua alta velocidade combinada com as habilidades Doge e Phase faz muito jogador perder a cabeça, inclusive eu.
Enquanto isso nosso Kraken apanhava feito cachorro, mesmo atingindo a mesma velocidade que Coeurl Lurker não teve muitos sorte em esquivar ataques. Porém, nosso debuffs foram bastante efetivos no time adversário.
Clique na Imagem para assistir a batalha completa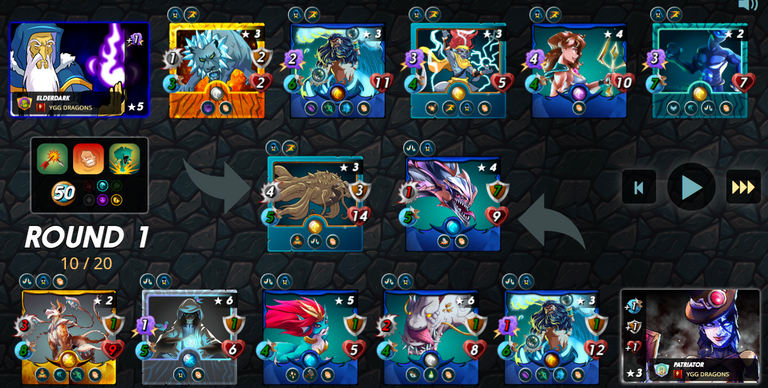 Após errar vários ataques em Coeurl Lurker nossa estrela, Nerissa Tridawn, consegue acertar seu ataque nesta distemida raposa. Agora nosso batalha segue um pouco mais leve!
Mas nosso The Kraken também está perto de ser derrotado e isso é um problema, pois nosso inimigo tem um monstro com a habilidade Opportunity e Poison, para atormentar as unidades de menor saúde.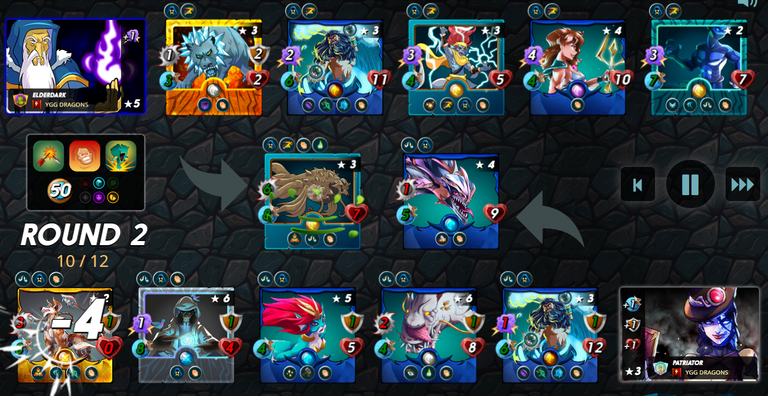 Na terceira rodada, The Kraken foi finalmente derrotado o que abriu espaço para DeepLurker fazer seus ataque Opportunity com Poison.
Frost Lion recebeu um ataque Trample, logo que The Kraken foi derrotado por Diemonshark. Retirando assim, sua armadura e logo recebeu o ataque de redenção de Deeplurker, sendo assim derrotado. Restando agora quatro unidade de ataque mágica todas poderosas.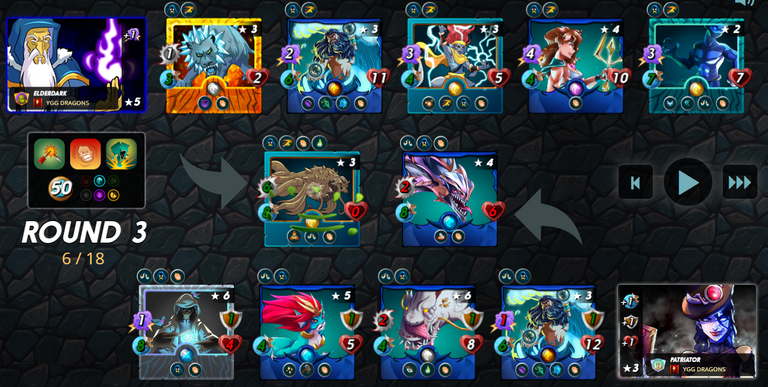 Apesar de nosso time possui mais poder de ataque que o time adversário, isso com ajuda dos debuffs, mesmo assim nosso time não foi o sufiente para derrotá-lo. Pois, o time adversário possuia unidade com a habilidade Heal Tank. Fazendo com que nossos ataques fossem em vão.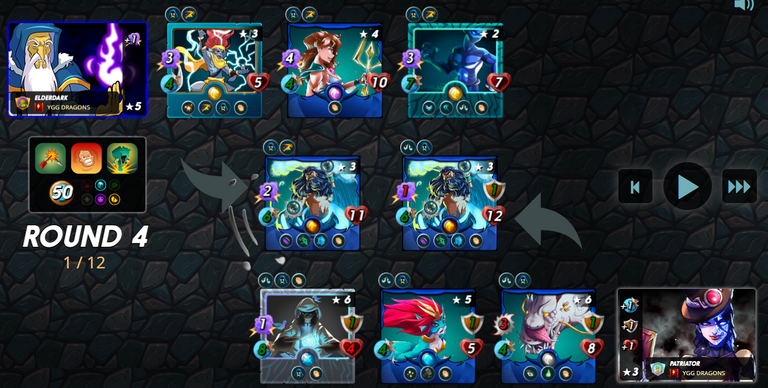 Infelizmente a vitória foi do nosso adversário, @patriator. Parabéns ao vencedor!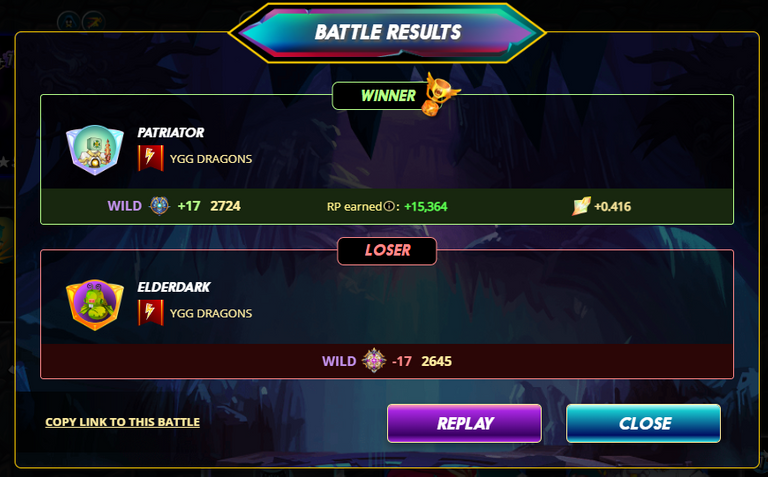 Na batalha de hoje conhecemos Nerissa Trindawn, uma carta do Splinter de Água que possui ataque mágico muito poderoso, compensando assim o fato de não ter nenhuma habilidade. Hoje ela ajudou o nosso time, mas não foi o suficiente para vencer a batalha.
E você que acha desta carta, Nerissa Trindawn?
---

🎮 Referral Links 🎮
Splinterlands | The best #Play2earn game there is!
Rising Star | The journey of a star in the music world! START FREE!
dCrops | Opportunity simulator, the farm of Hive!
---
Imagens: @splinterlands

---
---