Champions of Chaos: New tournament series with awesome rewards!
Chaos is here!
Let me introduce you to my new tournament series: Champions of Chaos, where everyone has a chance to win!
Do you think, you are an above average player? Prove your worth by competing in these sweet Champions of Chaos tournaments. Anyone, who places above the top half, will atleast break even. Top six will profit nicely. Luck wasn´t on your side this time? No problem mate! Everyone, who played in one of the Champions of Chaos tournaments for the associated month, will automatically join a raffle for a random Chaos Legion legendary card at the end of each month.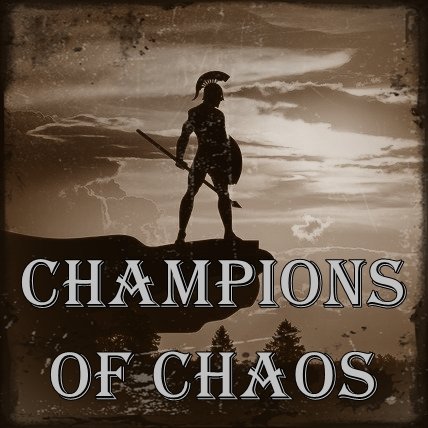 Tournament basics
We will battle it out with Chaos Legion only cards. The first tournament starts latest on April 11th with novice league level caps, so everyone has a chance for glory. Because of this, there will also be no required collection power or staked SPS. It is important for me, to give everyone the same opportunity. Each tournament consists of 20 players and will be anytime sit`n´go events. 24 hours, only one round, in two groups for some fast paced action. Tournaments with higher level caps will be added gradually. The endgame will be an event for each league cap every single day. This will be an awesome chance for strong players to aquire some highly valuable SPS. Lets check out the prize pool.

These are your prizes
Necessary evil, the entry fee will be 25 SPS. Seems much, but considering the nice prize structure, it will be worth it for the participants. There will be two ways for you, to win in these tournaments:
First, you can win by placing good in the events. The winner will quadruple his buy-in, which is pretty awesome!
100 SPS for the 1st
80 SPS for the 2nd
60 SPS for the 3rd
50 SPS for the 4th
40 SPS for the 5th
30 SPS for the 6th
25 SPS for 7th to 9th
If you are above average, you already break even, with a good chance to have a profit on your entry fee. Prize payouts can vary though, if players have the same points in the tournaments.
The second way to cash out in these Chaos Contest tournaments will be by winning a random Chaos Legion legendary card at the end of each season. Yeah, this can be a Doctor Blight too. The gods of RNG will decide. You don´t have to do anything, to participate in that raffle. I will write down each participant from every tournament per month and let RNG decide at the beginning of the next month. What happens, when you play more than one tournament per season? Easy, your chances for the legendary will rise with each participation! The winner will be announced on a peakd post and in the tournaments chan of the official Splinterlands discord at the beginning of the following month.
---
I´m really looking forward to seeing you on the battleground.
May the best warrior (or mage or whatever else you are) win! Good luck and have fun, everyone! 🙏

You haven´t played this awesome game yet, but are interested? Give it a shot. If you register through my link, I can help you at the beginning. Just message me here or on discord @Eledain#2058.

Credits to @nane-qts for those beautiful dividers and @kyo-gaming for those awesome silhouette images of the summoners.

#Perpetuals
#Splinterlands
#Gaming
#P2E
#play2earn
#tournaments
---
---