Praetorian Pack Palooza - the tournament, where everyone can win packs!

Praetorian Pack Palooza is coming for you!
Let me introduce you to my new tournament: Praetorian Pack Palooza, where everyone has a chance to win!
What is Praetorian Pack Palooza all about? Well, of course packs and fun! It doesn´t matter, how good you fare in this tournament, every tenth placed player will receive a pack or more, for the small entry fee of 10 SPS. And on top of that, every pack will be buyed straight from the ingame store, not the secondary market, so we come closer and closer to those sweet new legendary summoners from Chaos Legion.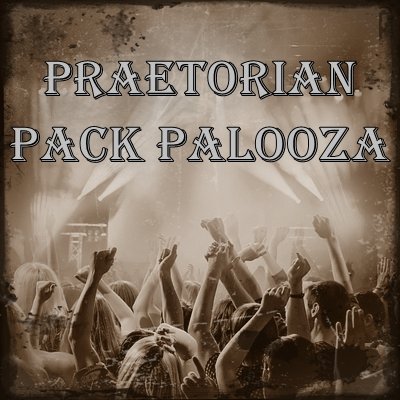 Tournament basics
We will battle it out with Chaos Legion only cards. The first tournament starts on April 16th with novice league level caps, so everyone has a chance for glory. Because of this, there will also be no required collection power or staked SPS. It is important for me, to give everyone the same opportunity. At least 150 players will battle it out in a 24 hours anytime event, only one round, in groups of 15 people. Fast paced action. If lots of people join, we can held a Praetorian Pack Palooza on each weekend and party hard in the Splinterlands!

These are your prizes
The entry fee will be small 10 SPS. Top ten players receive one or more packs each. Further down the road, every tenth placed player will also earn a pack or more, if you place 50, 100, 150 and so on. You can test your skill in this tournament and still win, even if you don´t place so well, win-win.
5 Chaos Legion packs for the 1st
4 Chaos Legion packs for the 2nd
3 Chaos Legion packs for the 3rd
2 Chaos Legion packs for the 4th
1 Chaos Legion pack for the 5th to 10 th
1 Chaos Legion pack for the 20th, 30th, 40th, 120th, 270th and so on
2 Chaos Legion packs for the 50th, 100th, 150th, 200th, 250th and so on
Doesn´t matter, how much players will join, even when 1.000 players compete, the prize structure will remain the same. There will be enough packs for everyone! 😍
---
I´m really looking forward to seeing you on the battleground.
May the best warrior (or mage or whatever else you are) win! Good luck and most important of all have some fun, everyone! 🙏
---
PS: Check out my other tournament series: Champions of Chaos

You haven´t played this awesome game yet, but are interested? Give it a shot. If you register through my link, I can help you at the beginning. Just message me here or on discord @Eledain#2058.

Credits to @nane-qts for those beautiful dividers and @kyo-gaming for those awesome silhouette images of the summoners.

#Perpetuals
#Splinterlands
#Gaming
#P2E
#play2earn
#tournaments
---
---