Esp/Eng End of season calculations in Gold Vs Diamond
---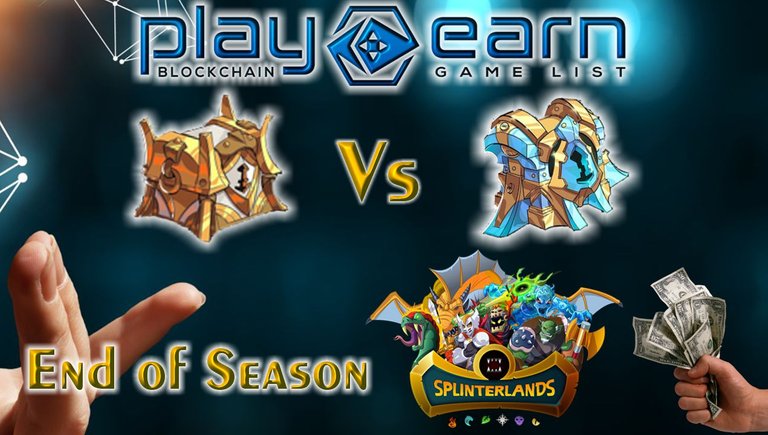 Audio with artificial intelligence
Versión con audio en Españonl debajo

Greetings and welcome to a new post. How do they taste good every season finale I do the calculations to compare how much we have earned throughout the season on this occasion I wanted to do something a little different since I sold my cards that had a maximum level to buy cards for the top level of silver and I have a card own and this allows me to play up to Gold 3 for my collection power, without the need to rent cards, so I'm collecting chest of gold and playing with these cards I managed to win several battles, it seemed like a good decision to me, however. This is the definitive way we can see if it is a good decision, so I want to show you some of my calculations and compare them to see what results they give us.

As you can see in the video, I have a book in Excel where I have the calculations of all the seasons that we had had when we were in diamonds and now I am comparing it with the season that I am in gold, however, when I was in Diamond you had to pay what it was the expense of the rentals that were a bit high right now so I decided to only use own cards now if I had to level down a bit and compare if it is feasible only using own cards or is it much better to rent and have better chests in Diamond.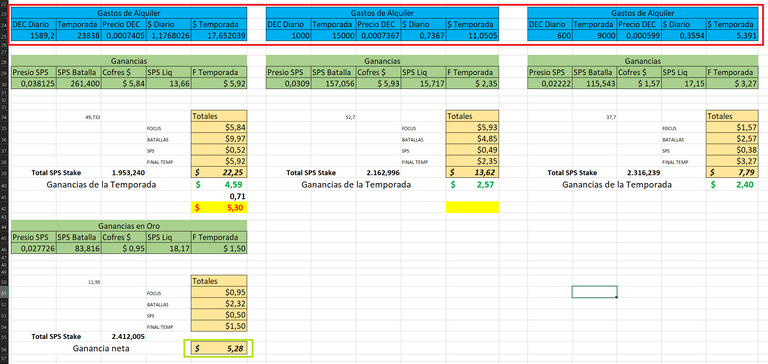 Although this is the first comparison I can make, I simply concluded that the diamond chests are much better it can be seen in the comparison I make with the chests he won in Focus and the chests at the end of the season. they are much better in Diamante but since we are not paying rent, it is the final result of my profits was a little better, this is because the rents are a bit high. Therefore it is not so feasible to currently be renting because the profits will be less, however, this is the first comparison. Let's wait for the following season to see what other results our calculations can show us. Thank you very much for viewing my content.

Saludos y bienvenidos a un nuevo post. Cómo saben bueno cada final de temporada yo saco los cálculos para comparar cuánto hemos ganado durante toda la temporada en esta ocasión quise hacer algo un poco diferente ya que vendí mis cartas que tenía nivel máximo para comprar cartas para el nivel máximo de plata y tengo carta propias y esto me permite jugar hasta Oro 3 por mi poder de colección, sin necesidad de alquilar cartas, entonces estoy cobrando cofre de oro y jugando con estas cartas logrado ganar varias batallas, me pareció una buena decisión sin embargo. Esta es la forma definitiva en cómo podemos ver si realmente es una buena decisión o no así que quiero mostrarle algunos de mis cálculos y compararlos para saber qué resultados nos da.

Cómo pueden ver en el video yo tengo un libro en Excel donde llevo los cálculos de todas las temporadas que hemos tenido cuando estábamos en diamantes y ahora lo estoy comparando con la temporada que estoy en oro sin embargo cuando estaba en Diamante tenías que pagar lo que era el gasto de los alquileres que realmente estaban actualmente un poco alto por eso tomé la decisión de solamente utilizar cartas propia ahora si tuviera que bajar un poco de nivel y comparar realmente si es factible solamente usando cartas propia o es mucho mejor alquilar y tener mejores cofres en Diamante.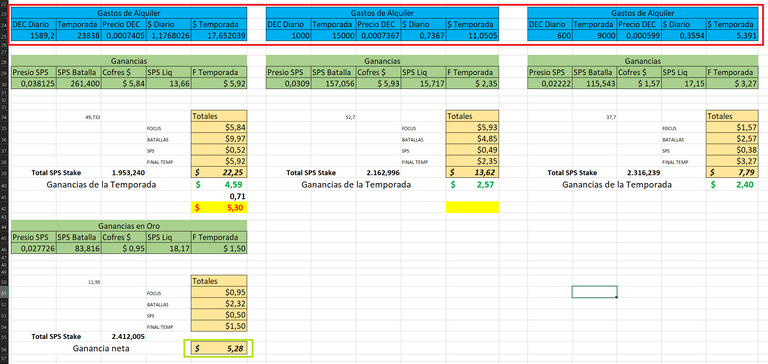 Aunque esta es la primera comparación que puedo hacer llegué simplemente a la conclusión de que realmente los cofres en diamantes son bastante mejores de hecho se puede notar en la comparación que hago con los cofres que ganó en las Focus y los cofres de la final del temporada son bastante mejores en Diamante pero como no estamos pagando alquiler, es realmente el resultado final de mis ganancias fue un poco mejor, esto se debe a que realmente los alquileres están un poco altos y por tanto no es tan factible actualmente estar alquilando porque las ganancias van a ser menores sin embargo, esta es la primera comparación esperemos a la siguiente temporada a ver qué otros resultados nos puede arrojar nuestros cálculos Muchas gracias por ver mi contenido.


Si eres hispano y quieres unirte a un clan haz click aqui
@fallen.angels
Si aún no tienes Cuenta de Splinterlands regístrate aquí
Comunidad Oficial de Splinterlands en Español
My social networks
Hive: @elfino28
https://twitter.com/ElFinoNFT
https://www.instagram.com/ElFinoNFT
https://www.youtube.com/@ElFino28


---
▶️ 3Speak
---
---