Splinterlands Battle Mage Secrets Weekly Challenge (Broken Arrows)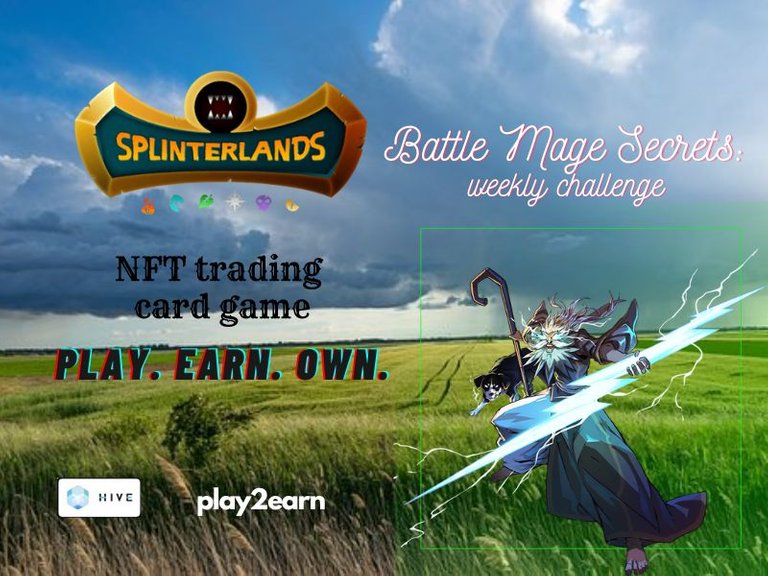 ---
Greetings, I hope you are doing spectacular! Thank-you for your time and attention, nothing is more valuable!
Splinterlands sponsors a weekly "Battle Mage Secrets" blogging challenge on #HIVE in which everyone can join. If you still haven't tried Splinterlands, there is no better day than today! You can get my referral link through the Battle Link below if you'd like!
This week's challenge features the "Broken Arrows" Ruleset, so we'll be looking at a matchup with no Ranged Monsters!
I hope you enjoy!
---
---

---
The Battle Lineup
---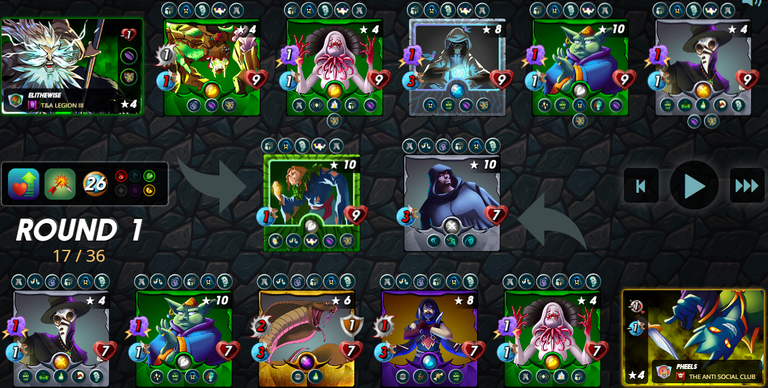 ---
Match Rulesets

(Left-to-Right)
1) Equalizer: the initial Health of all Monsters is equal to that of the Monster on either team with the highest base Health
2) Broken Arrows: Ranged type monsters may not be used in battle
---
With no Ranged monsters being available, there is a higher likeliness of facing Magical type monsters on the battlefield. The second ruleset, Equalizer, further promotes the use of Magical type monsters; allowing them to hit directly to the opposing Monster's health and attack on every turn even when not in the front position.
---
My opponent in this match used an interesting team with 3 magic attackers and 2 Sneak Melee Monsters which split their damage output to two different locations. I would not recommend this in Equalizer rulesets, as it's more efficient to focus-fire Monsters.

I chose to use an aggressive Magic-Countering team, being Summoned/lead by the Earth Splinter's Immortalis. Immortalis provides our entire team with Magical resistance and extra health.
---

---
| Friendly Summoner | Opposing Summoner |
| --- | --- |
| | |
| Friendly Monsters: | Opposing Monsters: |
| 1st | 1st |
| 2nd | 2nd |
| 3rd | 3rd |
| 4th | 4th |
| 5th | 5th |
| 6th | 6th |
---

---
1st Round Complete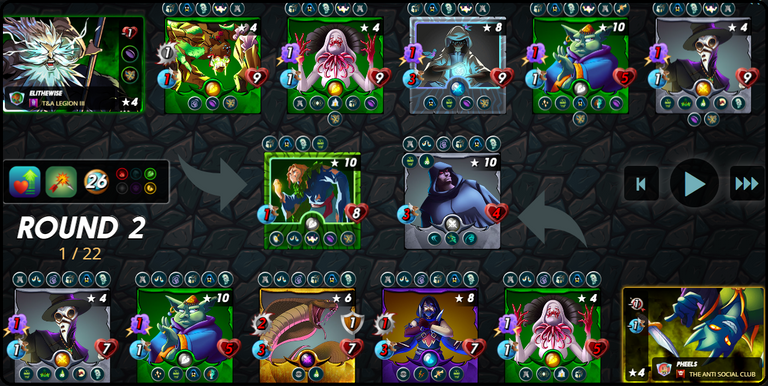 ---
The 1st round ends with no casualties. After all debuffs are applied, there is only one monster rocking more than 1 damage.

One of the significant differences in our team lies in our 1st position choice, Failed Summoner vs Chaos Agent. Usually Chaos Agent can dodge numerous attacks in a fight like this, both Physical and Magical. That would normally be advantageous for it's team, however in situations like this one it may actually be what gives your team a handicap; my Failed Summoner won't dodge magical attacks, however it will reflect magical damage each time it gets hit with a magical attack. This extra damage may give us a relatively huge boost in "total damage output" per turn, since each Monster has severely weakened attacks.
---

---
2nd Round Complete...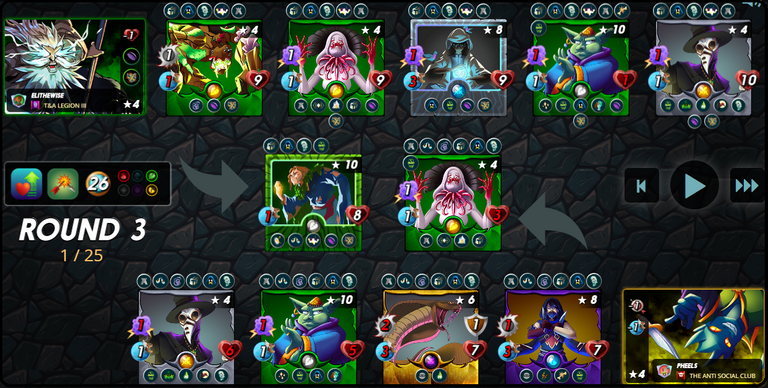 ---
Our backline (Goblin Psychic) continued to get pummeled by their two Sneak monsters, luckily avoiding Poison and death for at least one more turn. It looks like it was long enough to clear the way for our team to defeat theirs.

Their tank, Chaos Agent, was defeated in this round and several others are hurt further, getting us closer to victory.
---

---
3rd Round Complete...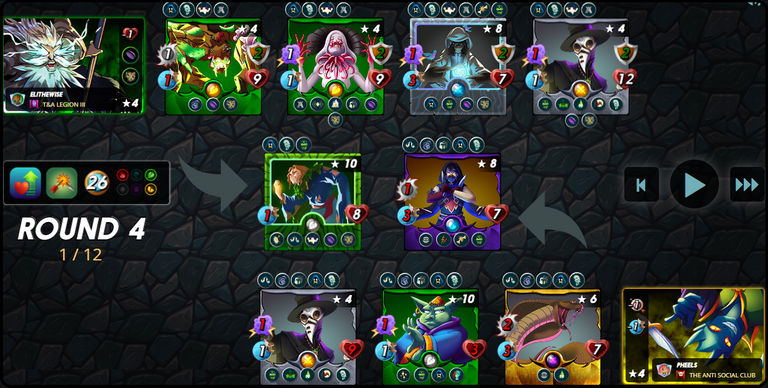 ---
Our healer, Goblin Psychic, was taken out this round. The opposing team lost their current tank, Queen Mycellia. It definitely looks to be in our favor at this point even though we don't have a Tank-healer and they do.
---

---
4th Round Complete...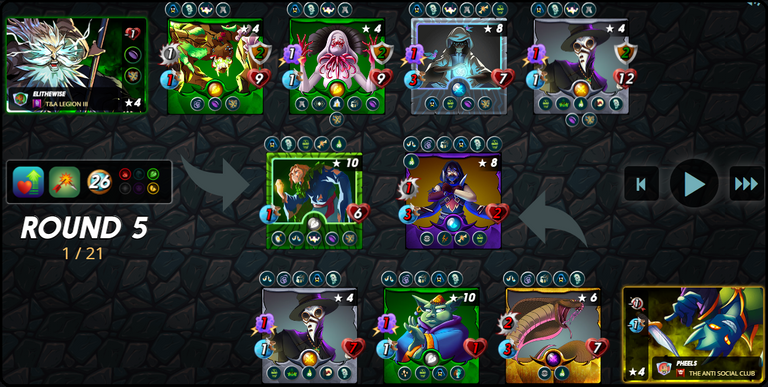 ---
At this point our team has pulled away significantly and proven to be the stronger team. There is no doubt that victory will be ours given a few more turns.

I would say our strategy was successful; the magical attacks being reduced to 0 while still reflecting 1 damage (Failed Summoner) was hugely beneficial and gave us ample time to pick apart the opposing team.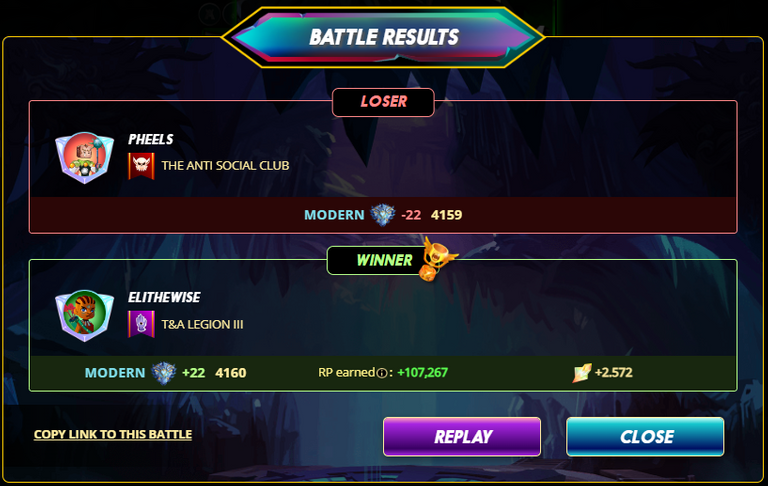 ---
That concludes this weeks Splinterlands: Battle Mage Secrets Challenge! Thank-you again for reading! I would love to hear what you think with a comment below. Until next time, cheers!

---

---
---
---