IAAC// ZOO //HURRAY!!!, TODAY IS STAKE ALIVE TOKEN.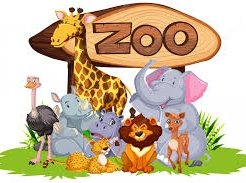 Source
Greetings great and wonderful people of HIVE. I trust your day is going great.
From the beginning of history, humans has had a keen interest on animal world
Today the world population is increasing, thereby shrinking many natural animal habitant. Many areas that use to serve as home to wild animals are being urbanized.
Many tress are cut down,cleared, residencial building being erected, roads constructed, and industries built. Poachers and hunters are extinguishing these wild animals. All these factors endanger these animals.
Some people are also doing their best to preserve wild life.
A Chinese emperor created a park measuring 607 acres of land and named it GARDEN OF INTELLIGENT that was 3 thousand years ago.
Today however for many people zoo has become the only way to get in touch with wildlife. You can see all kinds of attractive and impressive animals in the zoo, suchas brilliant butterfly, penguins, Lion, and others.
MODERN ZOO
Miniature eqauitorial forest,where birds fly, or a dark chamber that houses animals who are active at night. Strong cages that use to house dangerous animals are now being replaced by moats.
Animal-Right Activists/Zookeepers. The controversy
Animal-right activists are not in support of these animals taken out of the wild and confined in un-natural environment. Activists also argue that zoo restrict the animals movements and their instinctive behavior.
On the other hand, in reply zookeepers say that they are playing a vital role by conservation and educating the people on the need to preserve the animals habitat.
Recent survey shows that, effective zoo exhibits do increase the public awareness of the need to protect endangered species.
Parents are encouraged to visit zo with their children because of the natural fascination children have with animals.
Efforts by zoo to help protect the Tiger in Asia, Primates in Africa, and Lemurs in Madagascar appear to have been successful.
I appreciate your time spent in reading through. Your comments and suggestions are deeply appreciated.
I always look forward to Wednesday because of staking alive tokens. And today I successfully stake 200 alive token.
---
---