My Splinterlands: Season 3 Episode 3 with 71 EoS chests
So at this point of the season, I'm at +357 DEC and 1 Epic, 8 Rares, 25 Commons (of which 1 GF) and... 61 EoS chests waiting.
The strategy is still to stay in Bronze, I can't afford expensive renting of CP to play in Silver, so I'm betting on quantity of chests versus quality.

Day 9: Water
Nothing special in the rented cards, I didn't try anything new and went with the old sure values. I had quite a good run despite seeing more and more legendary cards and tricks in my opponents.
On that note, bye bye Kron
Rating: 1531 => 1805
Cost of rent: 36 DEC
15 Chests: 124 DEC, 1 Rare, 3 Commons
Day 10: Fire
Fire, fire... Fire queuing into piles of Mylor, what to do... Playing Yodin may be a solution, but it has to be played properly, not like here. I may give it a try next time I'm unlucky enough to have a Fire focus.
Rating 1805 => 1832
Cost of rent: 34 DEC
11 chests: 27 DEC, 1 Rare, 3 Commons
Day 11: Water
I discovered today the Lorna Shine decks. It's another type of annoying Life decks. At least I can't complain about the uninteractive type of deck. I tried a double healing front and back, but that didn't work. I haven't figured it out yet.
Rating 1832 => 1941
Cost of rent: 32 DEC
15 chests: 24 DEC, 1 Rare, 2 Commons
Day 12: Fire
Decided to rent Yodin, to have a try at it, and well... I didn't do that good. Most of my wins were with Tarsa in fact. I managed to get a few victories with Yodin, but not much, and mainly against bots
Rating 1941 => 1938
Cost of rent: 73 DEC
12 chests: 30 DEC, 1 Epic, 2 Commons
Day 13: Life
Life isn't that bad in the end. Not as bad as Fire in all cases. I even diversified from the "taunt and heal" strategy, for example in low mana matches. This one was pretty close, but it did work!
Rating 1938 => 1992
Cost of rent: 60 DEC
13 chests: 58 DEC, 2 Commons
I missed the rating of +2000 by just a few points. I could have pushed for it (I always play with not less than 90% ECR, so plenty under the foot) but I'd rather use my ECR to climb back quickly next season.

And with 71 EoS chests, I should get some nice stuff, right?
Let's see: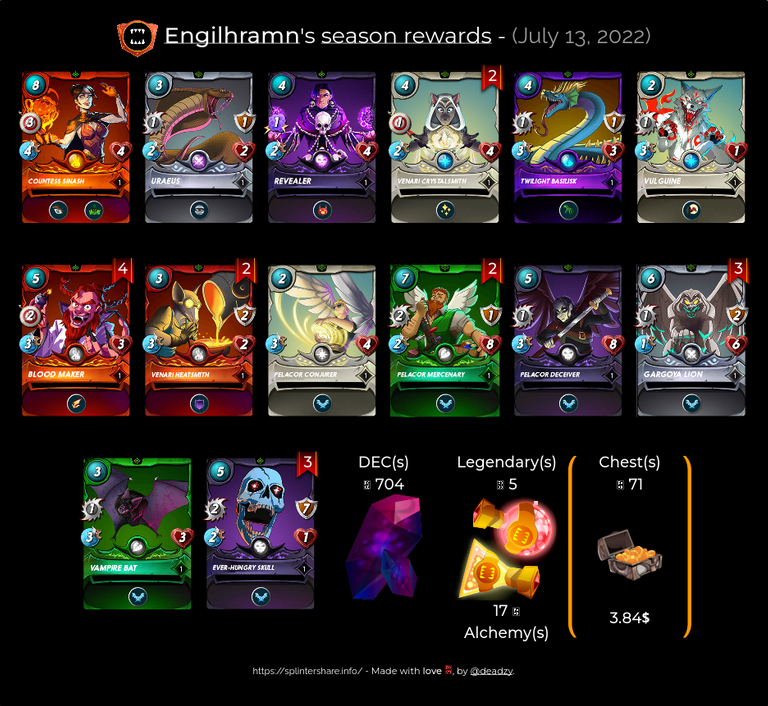 EoS chests brought me 704 DEC, 1 Legendary (yeah!), 2 Epics, 4 Rares and 13 Commons.
So the balance sheet for my 3rd season is:
+1089 DEC
1 Legendary
6 Epic
15 Rare
50 Common (1 GF)
What a change compared to the last one, when I barely break even!
Now we have an interesting new season upcoming, with Wild and Modern format implemented! Sounds like Silver would be easily affordable!
---
---