🐇Happy Easter + Splinterlands Tournament Results!😎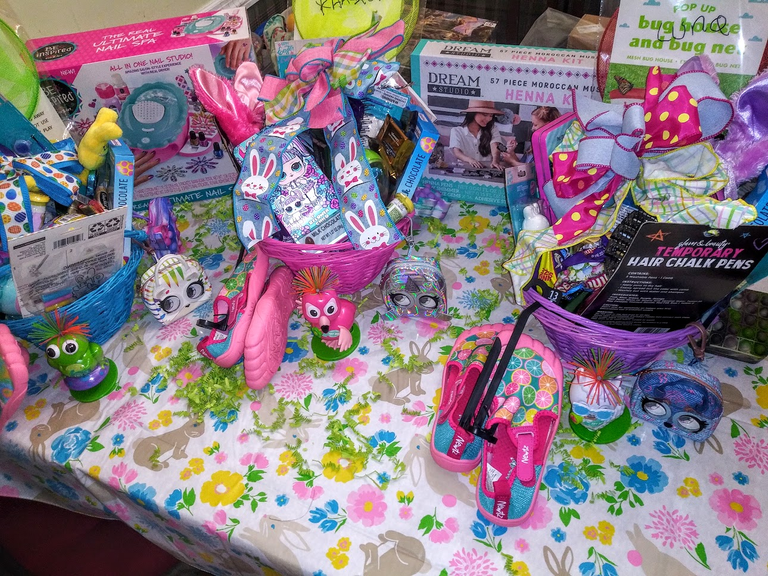 That was the princess' baskets this morning. Some wild crazy bunny flung Easter confetti grass all over my kitchen and the dog ate some silly putty. I'm sure she'll fart bubbles this evening while the excited damsels try out their new henna tattoos and do each others' nails. That pooping flamingo got me cracking up. And now they have some stuff to catch butterflies with! Assuming the sugar doesn't tear any wings apart before the nets do their gentle work. Happy Easter my lovelies!
---
Splinterlands Savagery Results

I failed miserably in this tournament. Being a huge fan of holidays and gatherings and social events, I totally spaced this out and didn't enter any teams giving away all kinds of free wins. Yes, you're welcome. Bwahahahaaa! It was a Good Friday, no? So, once this post hits the chain, I will send out the remaining prizes to the worthy winners! Congratulations to:
Thanks again to:
@enginewitty - 10,000 DEC (+2,000 for creation of tournament)
@brisby - 5000 DEC
@tbnfl4sun - 2500 DEC
@orionspeakgaming - 100 OPG
@psberx - 20,000 LVL
@freebornsociety - 50,000 PAY
for your donations for the tournament. We ultimately raised about $60 USD to begin the Assault on Veterans' Homelessness and it's all thanks to all the people involved. Expect to see another one on the 15th of next month! May your baskets and bellies be full, your hearts warm and beating and REMEMBER TO BE YOU! I always am, even while the shoe fits.
In Cooperation With:
Official Witness Representing:


Is Voting #WITNESSES difficult?
Let me do it for you!
Set Witty as your --->PROXY VOTER!<---


---
---