👹Splinterlands Savagery - Update💪

The Assault on Veterans' Homelessness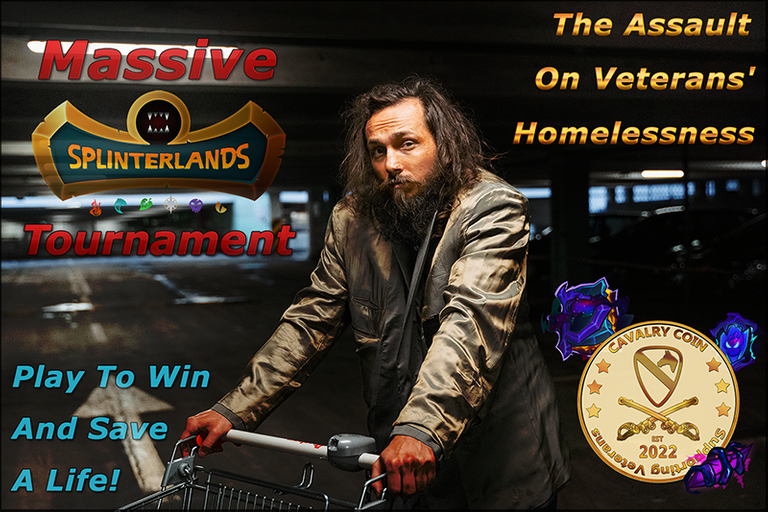 A tournament is eminent, and once initiated, will be done every month on the same date. We are hoping for a few generous souls to help with the rewards. Any gaming guilds or games themselves, that would like to contribute and help in your promotional stances, please send them to @enginewitty with a relevant memo, or comment down below what you are committing. Current donations for next Friday's tournament are:
We are aiming to have them on the 15th of every month and will be initiated tomorrow evening in the hopes a few more things will get added to the pot. Entry fees will be right about 1 HIVE and used to further the CAV TOKEN push started by myself and fellow witnesses @inthenow and @veteranforcrypto. The funds raised will be used to help the homeless #veterans in this instance, by giving it all to a local charity (or personally to a known vet) in one (or all) of our cities.
All enemies, foreign and domestic.
If you would simply like to support the #Veterans that have consistently been pushed to the side and given a piece of their life to see to it that we are a (relatively) free country, then by all means, please do. You can do this by purchasing the CAV token, voting for our witnesses, or simply sending any HIVE or Hive-Engine tokens to @tokencav. Thank you in advance.
In Cooperation With:
Official Witness Representing:


Is Voting #WITNESSES difficult?
Let me do it for you!
Set Witty as your --->PROXY VOTER!<---


---
---