The Good😁The Mad👿& the Fugly💩 (G0LD Foil Splinterlands Sale!😥)

Good News First!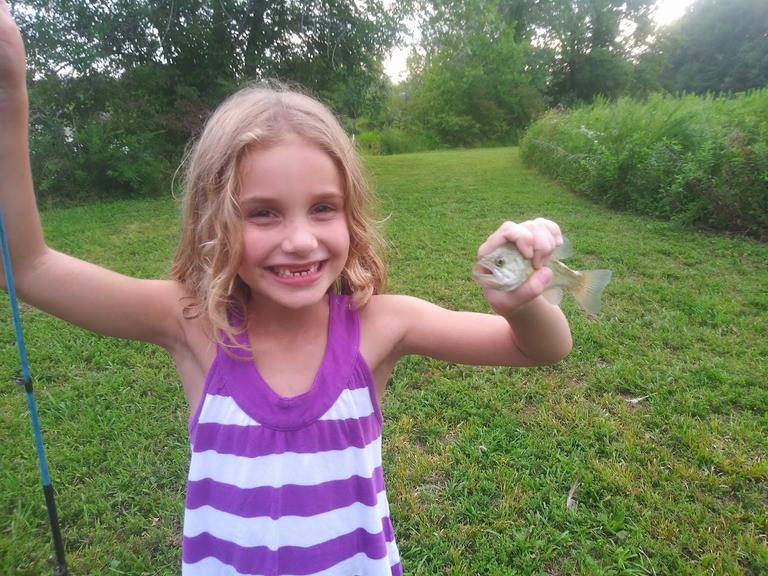 I mean, does it get any better than a princess' 'All I Want For Christmas is my 2 Front Teeth' shit eating grin from catching a tiny bass? Not really. In a few ways, I am thankful for the digital era as it will allow me to put this on chain and be forever part of history. At the same time, I find that sometimes, I am lost in the screens and forget that times like the ones pictured above, is what it, is really all about.
The Anger
It really sets in when you see something like that. That book from @carrieallen and @chrisroberts detailed some of the Splinterlands beginnings. Hell, it says 'Steem Community' on the damn thing. And the cards? Only ones I know of that were officially licensed by the Splinterlands peoples. I even had a few promo foils to top off the collection from meeting @yabapmatt and @aggroed over there in Krakow. Now they're a melted mess, pages all stuck together and, well, dammit.
The Fucking Ugly
truth is - now I need money to rebuild my burned down house. Insurance will cover some, but there is a lot they won't. So, as horrible as it is a thought to do - I am selling my Gold Foil collection in a few days after the rentals lapse. If you would like to purchase them before I put them on the public market, DM me and throw me a fair offer. They have steadily increased in value by over 400% the past few weeks and about 6 months ago - they were worth over 3 million USD. You can see the cards at Peak Monsters by clicking here and tapping the GOLD filter selection on the right. On the top of the screen, you will then see the value populate of the gold cards therein.
If no offers come through on a personal line, once the rental contracts are over, I will do them the same as I did last year and sell them by splinters so there will be 7 total separate listings. The entire collection would get a great deal and average about 40k DEC a day on rentals alone. I'll still be in the game as I have a nice chunk of SPS staked and few great deck builds to play with, but, I've gotta take care of the family. It's fugly, but I don't have many options and these #NFTs can all be replaced in the future. I've gotta do what I gotta do and while I do, REMEMBER TO BE YOU! I always am, even when a Fistful of Dollars takes the stage.
Official Witness Representing:
that other shit
Is Voting #WITNESSES difficult?
Let me do it for you!
Set Witty as your --->PROXY VOTER!<---


---
---