Mapping my Crypto Ecosystem : moving around between FIAT/CEX and DEFI
Hey everyone,
I was working on a draft of a sketch in order to explain to friends how my crypto ecosystem is working, from FIAT transfers, to stablecoin farms, LP pools, gaming, NFT, social blogging and so on. It also show the DAPP I use the most, how the blockchains are connected, bridges, intra-blockchain transfers, connections between CEX and DEFI, etc.
---
Working on this drawing made me realize that generalizing crypto adoption may not be that easy. But anyway, it also made me realize that sharing it could teach some tricks to some people. But the reverse is also true!
I bet I am doing complicated stuff sometimes, so maybe some people could help me improve and simplify my crypto ecosystem.
Without further ado, here is the sketch ! Below it, a list of bullet points explaining everything.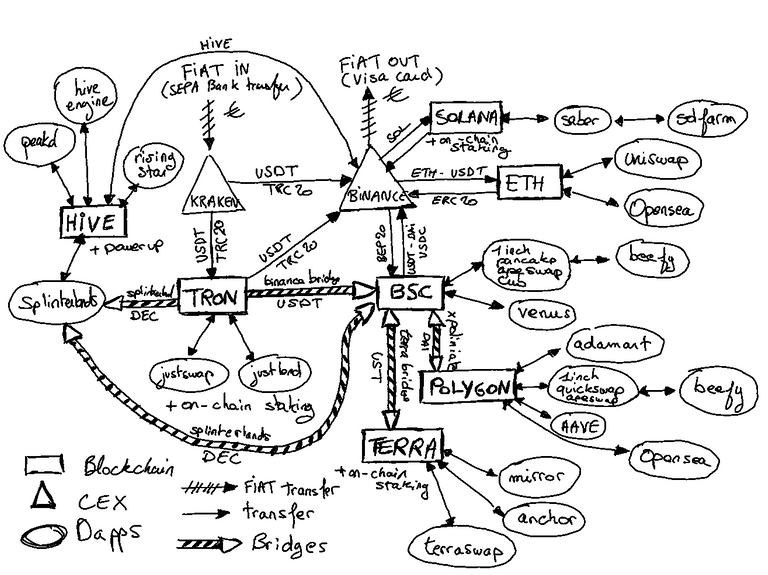 First things you may notice is that some arrows are one-sided only. It doesn't mean you can't go the other way around, it just means I never do it. They are also a lot of bridges that exist, and that I tried, but since I don't use them on a daily basis, I didn't included them in the sketch.
Second thing you may notice, I use TRON. I am a newcomer to HIVE, arrived with the splinterlands wave, and I quickly noticed how a lot of people hate TRON on HIVE. So, I DYOR and I read the whole story, with the STEEM fork. Oh my, this story was quite a ride, and I can definitly understand why a lot of people do not use TRON here. Truth is, I don't use TRON that much, except for moving USDT between CEX-DEFI and between blockchains. Quite cheap compared to the other things I found.
I move FIAT in my ecosystem using the CEX Kraken, I was originally using BINANCE, but they forbiden the SEPA transfers 2 months ago (I am located in Europe) and they are now taxing 3.5% on credit cards.
My ecosystem is really dependant upon BINANCE and the BSC. If there is an issue with BINANCE/BSC at some point, my ecosystem will be cut in half.
Gas fee on ETH are too expensive for me, so when I need to snipe an ERC20 token on uniswap, I just move founds from binance instead of using one of the many ETH bridges that are already available.
I use Splinterlands as a Bridge between BSC/TRON/BINANCE through DEC. Splinterlands is amazing for that. That's crazy to think that a blockchain game managed to build such a good system while other a struggling just making their own token available on their own blockchains.
TERRA and POLYGON and totally dependant on BSC. I am waiting for the wormhole to connect TERRA and SOLANA, but at the time of writing, it's still not the case.
I haven't found a single good bridge connecting SOLANA to the BSC, POLYGON, HIVE, TRON and TERRA. SOLANA is thus dependant upon Binance (or alternatively upon other CEX, such as FTX and Kraken).
I didn't put everything on the sketch. For example, I am on the CEX crypto.com And OMG, this CEX is like hell to get out. They don't provide any solutions except paying around 25$ to go out of their CEX, without even saying it's on ETH. The solution I found was to use the NANO network, and send the NANO to another CEX where I could then swap to USDT and go to any blockchain I want. Avoid this CEX at all costs !
Thank you for reading me, please let's discuss and help me improve my crypto ecosystem !
---
---