My Goals to achieve in "Splinterlands" for 2023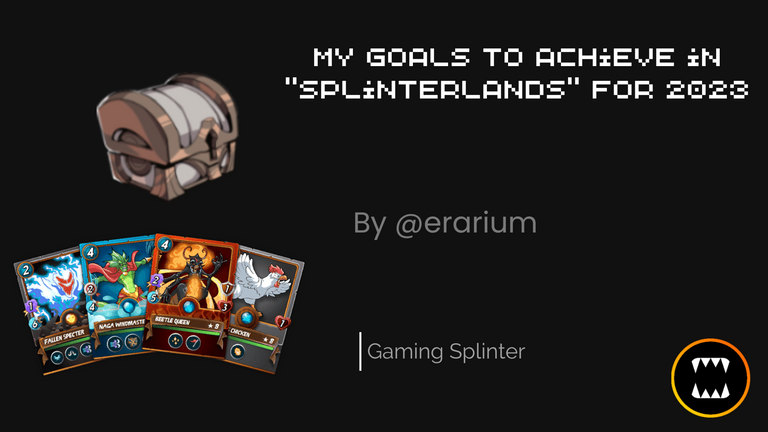 It's been more than a month since I disappeared and I don't write on the platform, this is due to work and family that have kept me really busy, fortunately December has passed, we are in a new year and I want to publish this first post talking about my goals in "Splinterlands" for 2023, the objective is to increase the value and power of my account.
With this in mind, I have several goals I want to accomplish and I will come up with a plan season by season to achieve it, I have a job of my own but I am leaning towards working from the comfort of my home and dedicating more time to Splinterlands, content creation and trading, continuing to learn is great and I am sure I can do it. This plan will be a roadmap of sorts, so I hope you understand it and if you like it you can replicate it.

Goals to achieve in Splinterlands

Raise the power of my deck:
For me this is the first thing, since without it I will not be able to fulfill my goal, which is to generate enough rewards to bring me decent profits for a whole month, of course, for this I must perform certain steps in order to achieve it, since I do not have many cards of my own, so I have to rent a good deck of cards with most teams to be competitive, taking this into account, I must do the following:
Invest: I must invest to be able to rent equipment that will allow me to play throughout the season, also, as time goes by, the idea is to decrease the investment, since the profits will be distributed in a 50/50 proportion, to buy cards that I need and build teams and the rest as personal gain, if I do this the rental of cards will gradually decrease, I will also contribute capital from what I managed to collect from the valuable content that I publish.

Sale of rewards: If I want to increase the power of my deck of cards in the game, the ideal is to use my own earnings from "Splinterlands" to achieve it, so as I said, sell part of all the rewards I get, with respect to the most useful cards I will keep them of course, the idea is to always have them for rent and also make a profit.
---
Compete in the top of the "Silver" league.
This is my second goal, which is quite reasonable, since in past publications I have commented that I like to play in silver, plus of all the leagues to start, it is the most accessible with respect to income and of course the one that can bring me the most profit from the bottom, I am not aiming to be the best in the whole game overnight, but if I am consistent at the top, I can be recognized.
Playing from day 1: To achieve this goal, I must play from the first day of the season and climb as high as I can in the rating, this will surely put me in a good place at the beginning of the season.

The ECR is very important: The ECR is perhaps the most important thing to keep in mind when playing, as I discovered that if I manage to manage it well, I can earn more RP points per victory, which will bring me more reward chests. The goal is to keep it in the range between 60% and 70%.
---
Staying consistent in the game
This is perhaps the most difficult goal to achieve of all, because if I am not constant in the game, I will not be able to get good rewards, let alone enter among the best in the "Silver" league, so, with this in mind, the idea is that I create a habit, with the goal of reaching and achieving what I want for this 2023 in "Splinterlands".
My worst enemy is myself and my inconsistency, but, the best thing about this is that I know what the problem is, so I am sure I will be able to fight it, and I will fight for it, there will be stumbles but I will do it.

Issues to consider when building my deck

I would really like to have all the cards haha, in each edition there are extremely useful cards even the oldest ones, however, we all know that the older they are the more expensive they are, so I can't afford the luxury of being interested in these editions, although I don't rule out the possibility of buying one or another card that is very useful for my game.
So, taking this into account my north is with the cards of the "Modern" format, in a few words the editions (Untamed, Dice, Chaos Legion and Riftwatchers) are the ones I will take into account, although especially "Chaos Legion and Riftwatchers", since they are the newest and their packs are still being sold in the game, so they are the cheapest cards of all.
Last but not least I will be looking at the "Untamed and Dice" editions, as I have seen very good cards at relatively cheap prices and that can help me, so I will be posting every step I take regarding what I buy or need to improve a team, this way, other players that are starting out might have some support with my content.

Will I make any other additional investments in the game?

I imagine that some will ask this question and the truth is that I just want to focus on the cards and gameplay, if we weigh the center of the whole game are the cards, it is the main thing even though it does not seem so, of course, this does not mean that I do not take into account the main tokens of "Splinterlands", but, it is not my goal right now.
Although I do not rule out accumulating some of my rewards and more if I believe that these tokens (SPS, DEC, VOUCHER), could have an upward momentum in the medium and long term.

Lastly
I hope to meet all these goals in 2023, I will start from the next season, since this one has many days to start and as I said, the idea is to start as soon as the season starts, so I will have to wait a few days to be able to play. I hope that this post will help you to try some goals and you can improve in the game.
See you next time players



| SPLINTERLANDS.COM | SPLINTERLORE | BLOG | DISCORD | TELEGRAM |

Our Social Networks:
---
---