New cards of "Riftwatchers" a total madness (Part 2)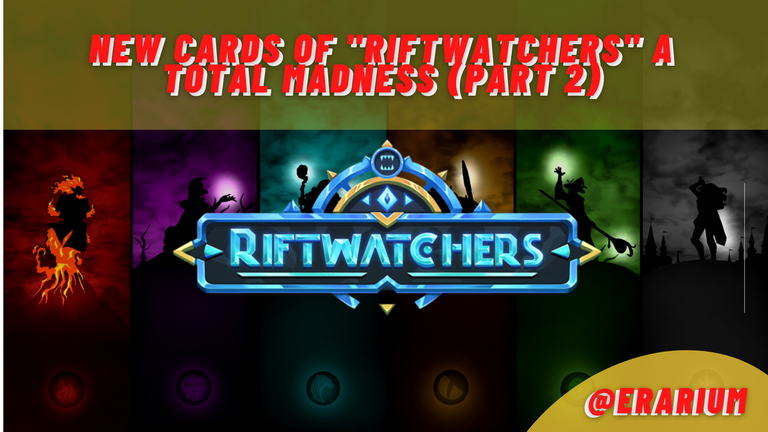 Continuing with the 2nd part of this series of posts where I will analyze the new cards of the "Riftwatchers" set, the time has come for the 2nd part, where I will again analyze each of the aspects of these cards always giving my point of view on how this new wave of creatures arriving to "Praetoria" can affect the battlefield.
To follow the same thread of post and make it somewhat comfortable for the reading of the community of players of "Splinterlands", I will keep the same format, this way you can compare the cards in each of the parts that I will write and decide which is the best of all, I hope that in the comments you can let me know your opinion about it, I for my part what I will do is detail these cards based on my experience in the game, highlighting that every day I keep learning of this fabulous game and all it has to offer.
If you haven't seen the 1st part of the post, I recommend you to click on the following link so you don't miss the sequence.

More "Riftwatchers" cards and their features

I hope with this post to improve the quality of the first one, to provide information so that you can see the potential of these new cards. Now, without further delay, I will begin with the analysis of them.
Night Ghoul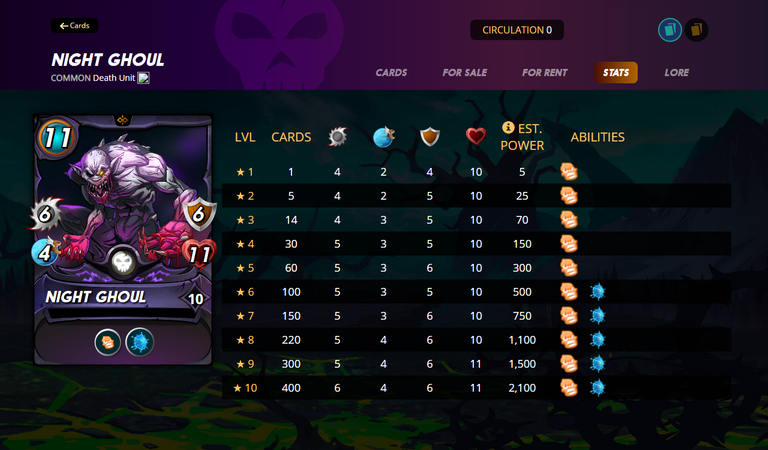 This card at first glance is impressive, its design is spectacular and goes in line with the "Splinter of Death", which is my favorite, its stats, which I will detail in a moment, are impressive, even from its lowest level, it is the strongest melee monster I've seen so far of the new set of "Riftwatchers", being only a common rarity card.
Mana cost: Its mana cost is relatively high, being 11 points, however, this will be normal in this new mini edition of cards, because the "Splinterlands" team mentioned that this set would stand out for having cards with very high mana cost, looking for very high caliber monsters with a really high mana cost and where the famous "Giant Killer" ability would be needed to stop them.

Life Points and Shield: Its life points are really high and extraordinary for this kind of creatures, having from its lowest level 10 life points, and in its highest level which is 10, a total of 11 points, which makes this monster really resistant in the battlefield, besides this, to improve its resistance, it has 6 points in shield, which make this monster a pretty good defensive weapon and battle tank.

Attack Points: The attack points of this monster are crazy, I say this because from its lowest level has a great 4 attack points and its highest level reach 6 points, if we look at it, this monster from level 1 can do incredible damage combining it with the right cards and of course going to the front of the battlefield as the great tank is, although, if the battle rules say that it can serve as a tank or elsewhere on the field, but it is one of the monsters with the strongest mana cost I've seen in the whole game.

Speed: The speed of this monster has also surprised me, it really is a very fast creature, and although at its lowest level it only has 2 points of speed, at its highest level it reaches 4 points, making it much more dangerous and deadly on the battlefield, a total butcher. In short, with only its main characteristics it is a dangerous card and where we still do not see its highest potential, due to the fact that I have yet to detail its abilities.

Abilities: The abilities of this monster are quite peculiar, since both in my opinion fit the monster completely according to the characteristics it possesses, to make it clearer, one of the abilities it possesses is the famous "Enrage", which activates its effect when the monster receives an attack, multiplying 1x5 its speed and attack, which makes it much more powerful and faster than it already is, being this a completely offensive ability. On the other hand, the 2nd ability is "Forcefield", which is activated when a monster with more than 5 attack points, manages to attack "Night Ghoul", when this happens the damage for such attack will not be 5 points, instead it will be reduced to only 1 point thanks to "Forcefield".
---
Tinderlock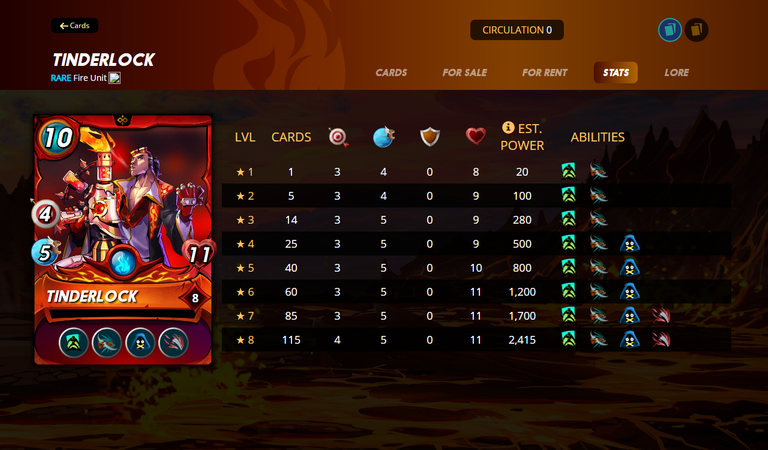 It is a monster belonging to the "Splinter of Fire" and good thing, finally I see another useful monster for that team, since, in my opinion, it is one of the teams where the cards are less interesting than the cards of the other Splinters, but, nevertheless, the great "Tinderlock" is full of surprises, since it is also a monster of high caliber, with high mana cost and a series of very good characteristics capable of causing great damage to anyone who faces him, taking into account that, unlike "Night Ghoul", this card is of the "Rare" type.
Mana cost: The mana cost of this card is also quite high, I remember that the "Splinterlands" team emphasized that the "Riftwatchers" cards will have a high mana cost, so the "Tinderlock" is no different, as it has 10 points of mana cost, so it is also a monster to use in battles that require a high mana cost.

Life points: The life points of this card are also quite high, in fact, it is a quite resistant monster, even with a higher defense than the previous one, this is due to a feature that I will mention later, however, speaking specifically of its vital points, this card has 8 points from its lowest level, reaching a maximum of 11 points is a higher level which is 8, so it is resistant even though it is not a card to be in front of the troops, although it all depends on the battle rule.

Attack Points: The attack points of this card are great, taking into account the type of attack it has, being a fighter that attacks from a distance, that is to say, from a range, in that sense its attack points from its lowest level are 3 points, and at its highest level it reaches a total of 4 points, giving it a very strong and complete offensive power, taking into account that there are cards in the "Splinter of Fire" that can easily increase its offensive power.

Speed: The speed of this card is something that I must highlight over the rest, since before I had mentioned that this card was even more resistant than the previous one, this is because from its lowest level it possesses an incredible 4 points of speed, making it very fast from the beginning, but, it gets better, since at its highest level it manages to possess up to 5 points of speed, which is incredible, making this monster a tough nut to crack even if we place it in the last battle position, since that speed could protect the rest of the cards from a possible sneak attack.

Abilities: This card has an amazing set of abilities, giving it a total of 4 abilities that increase both its attack and defense against other types of attacks, besides giving it the opportunity to be a battle tank easily by being able to attack from the first position thanks to the ability called "Close Range". On the other hand, he has a very good ability called "Last Stand", which is activated if he is the only monster left on your side of the field alive and if this happens, all his stats are multiplied, which can increase his speed, his attack and his great health points, giving him more resistance and definitely being much more dangerous if he is alone in the field.

In addition to this, he has the ability called "Silence", which in my opinion is a defensive ability that reduces by 1 point the attack power of the monsters that have magical attacks, which is great, because basically the "Splinter of Fire, in my experience does not have a serious protection against magical attacks, except for what the great "Grum Flameblade" can do, On the other hand and to finish, this card also has the ability called "Deathblow", which gives it even more power, because if the enemy team only has one card left in the field, the great "Tinderlock" causes double the damage to that monster if it manages to hit an attack, so yes, it is a very dangerous monster that increases the power of the fire team without a doubt.

Wait for the continuation

Again I hope you liked this 2nd part, where I detail two more cards from the new mini card set called "Riftwatchers". There are still other cards to review and analyze, when I finish doing my research about "Riftwatchers", I will bring the 3rd part, evaluating the cards that have been shown up to that edition. However, for another occasion, I will bring a different post evaluating another aspect of the game, as there are many positive things happening around the game.
See you next time players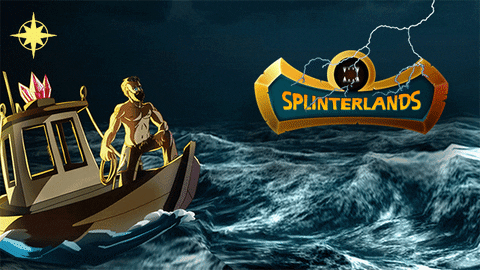 | SPLINTERLANDS.COM | SPLINTERLORE | BLOG | DISCORD | TELEGRAM |

Our Social Networks:
---
---