What can you rent with $2 in Splinterlands?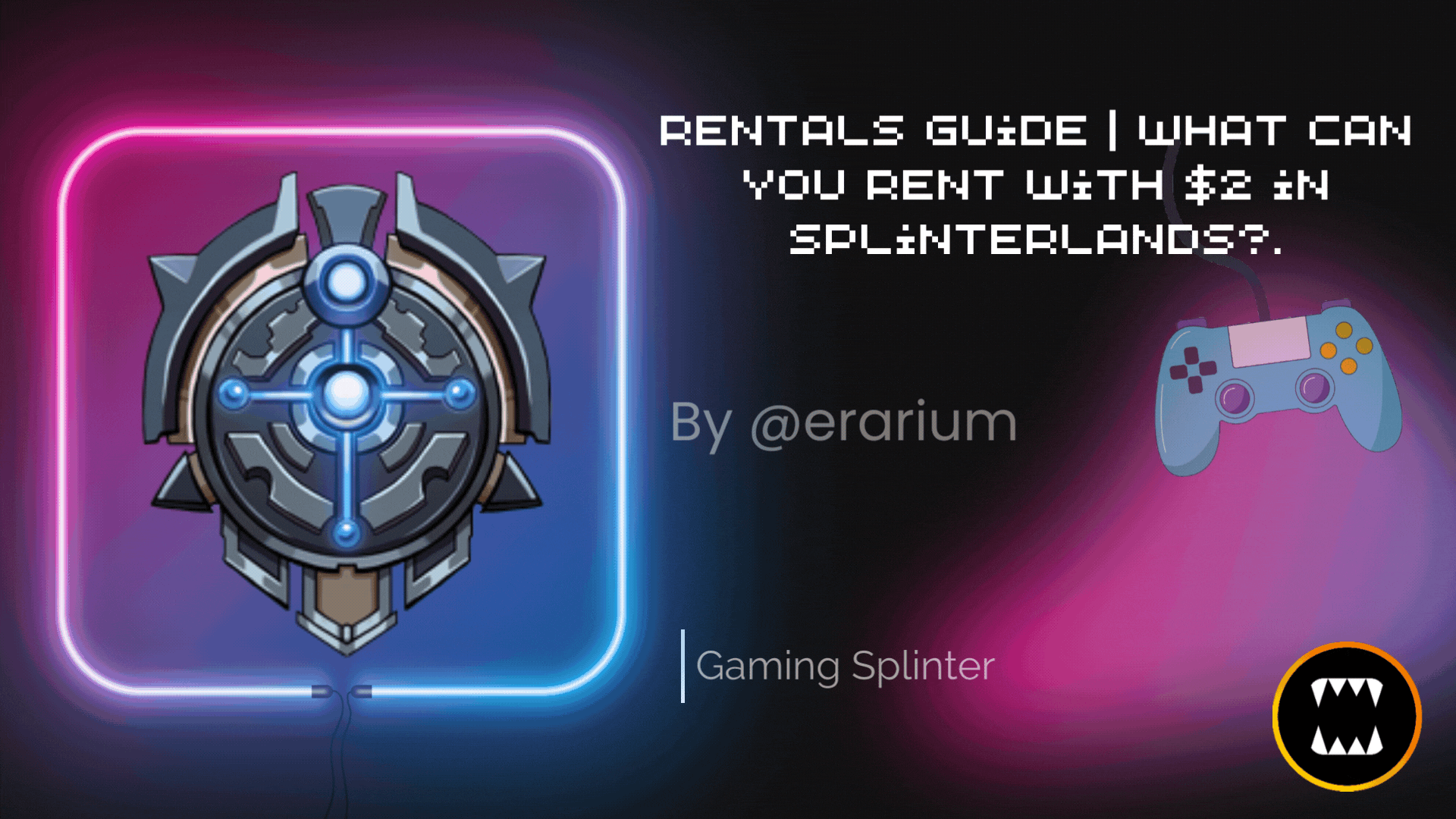 If you look closely at my title, you will see one of the most frequently asked questions by new users who enter the game and know the rental market, but, is it possible to rent good equipment with so little money? I will answer this question in the course of this post, where I will also detail everything I have been able to rent using only 2000 Credits, which is equivalent to 2$.
In addition, I will be giving some recommendations regarding this market, so that you do not suffer so much when they cancel them, also, I will talk about the equipment that we could use, although this depends on many factors, however, I hope that this information that you are about to appreciate will be very useful. On the other hand, the subject of rentals is quite complex in my opinion, I will not be able to cover all the details in one post, but, I will publish several parts that will be linked to this post, so you do not lose the sequence and can learn.

How much money can we allocate for rentals in "Splinterlands?

This is a very good question and I will finally answer it, besides, I hope that new users read this because depending on it, they can have profits doing this or otherwise have losses, I say this because it is recurrent that some users think that it is impossible to win renting cards and that in the end you end up losing more than you earn, which, let me tell you that many times it happens, but, there are many things to take into account so that, even if we have losses, we can at the end of the month, after a couple of seasons, come out in profits, whether little or much, the important thing is to be positive.
So, taking this into account, I will start by describing all the aspects that must be taken into account to rent cards in profit and not die in the attempt:
Concentrate at least in the "Silver" league: Before explaining anything else, the first thing to understand is that the game becomes profitable from this league, do not concentrate and join efforts in competing and playing in the "Bronze" league, since the profits in it are really low and the odds will always be against us. For example, my focus for now is on the "Silver" league, which does not require a large investment and of all the worthwhile ones, it is obviously the most accessible of all.

Choose 3 Splinters: The next step is to choose 3 Splinters, these 3 teams that you will choose are the ones that are going to reinforce with the most useful cards of the set, which means that most of the money you spend on renting should be concentrated on these. I can't recommend you special teams, for me, now with a little more experience I can say that all of them are good, the important thing is to use those that we know more and we don't feel comfortable (Between post I could tell you which cards you could rent).

Don't forget the cards with "S": These cards are the ones that Splinterlands gives us when we pay for the starter set, they are cards with which we can play, but not get rewards. What I want you to keep in mind here, is that you must rent each of the cards with the letter "S", so that when you play with them, you can get points to earn more season and daily chests, otherwise, it will cost you a lot to collect and earn chests. You do not have to rent all of them at the corresponding level of the "Silver" league, the lowest level is enough, rent the cards that you think are useful in battle at the necessary level.

Rent for as many days as possible: I usually rent for a maximum of 7 days, the reason is because they will never let you for all the 7 days you decided to rent them, the reason is because the market evolves as the season progresses, so most of these cards will cancel them and return the remaining to your wallet of "Credits or DECS". Also the more expensive ones, you can rent them for 3 or 4 days, as I said, they will be breaking these contracts.

Play every day: If you want to get the highest return on investment, you must play every day, this in order to take advantage of all the rentals and contracts you have acquired and additionally to earn as many points to get daily and end of season chests, no matter if your "Capture Rate" drops below 50%, our interest will be the most chests and even try to reach the top of the league standings "Silver", so, the SPS earned by battle, should not be the main objective when playing.

Keep updating your rentals: You should constantly review your cards to know which ones have been cancelled and rent them again as soon as possible, this way you will always be able to take advantage of the best prices even though as the days go by they go up in price, this way you will always be sure to rent at the best price.
Now that we know all these important aspects to take into account for the rentals, I will answer the question of the "Subtitle", the amount of money needed for the rentals in "Splinterlands" will be proportional to the league where we decide to play, having this clear, let's suppose that we decide to play in "Silver", I estimate that we would spend in the 15 days, between 2$ to 4$ as maximum, but I am sure that it is less than this amount, since, as the season goes by we are canceling rentals, we get back part of the money, this will help to buy back with part of the money that we had already destined for the rentals.

How much have I spent this season on rentals?

This season I have spent around 2$ in rentals if my accounts don't fail, although, to prove this, I went to the "Peakmonsters" platform to see all the active rentals I had, plus the rentals that had already finished, with this data I will be able to know exactly the amount of DEC that was spent in each card, and calculate how much this is in "Dollars", although I must clarify that I use part of my HIVE rewards, in HBD to buy credits, this means that, I boost my rentals using the rewards of the content I create and so I stay active in "Splinterlands".
Here are the images of the active rentals:
Link to Peakmonsters for more details, if you can't see the images very well.
---
If the images look too small, don't worry, in the following link you can see for yourselves the leased cards, you must take into account from November 23 to November 24, however, the subtotal of the cards that I still have active, makes a total of 141,422 DEC.
---
Link to Peakmonsters for more details, if you can't see the images very well.
---
The subtotal in this section is higher, being the same of 1093.198 DEC, now if we add both, 1234.620 DEC, if we multiply it by $0.00064 that is at this moment the price of the DEC, make a total of $0.79, with this amount spent in rents I have collected the following so far:


Lastly
With this I end this post, I think it has been a little longer than usual, but I hope this information is useful, to realize that, you don't have to spend excessively to earn rewards in "Splinterlands", especially in the "Silver" league which is where I am currently playing, although, I will be testing the "Gold" league soon. Wait for the next part.
See you next time players



| SPLINTERLANDS.COM | SPLINTERLORE | BLOG | DISCORD | TELEGRAM |

Our Social Networks:
---
---