Wild Battle | Testing the mighty "Water Splinter"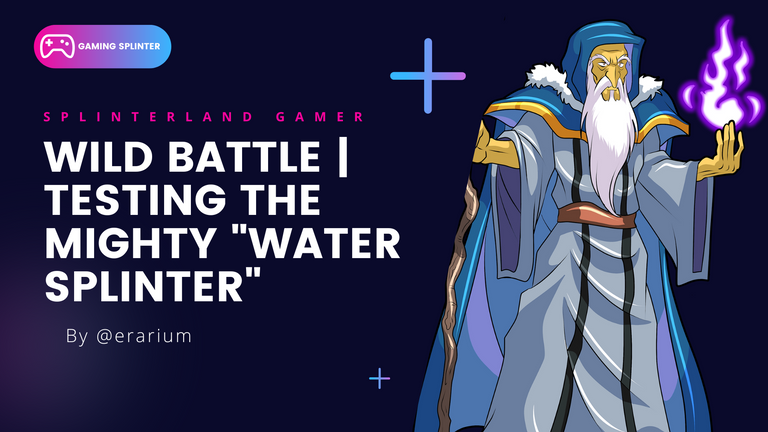 It's been a while since I've brought you new battles, however, I'm back and will share with you a battle testing some of the cards I've acquired from the water team. I had found myself absent, but, this season I have really gotten serious about it and have been playing actively, my progress has been satisfactory and I am very happy with the performance I am having in the game at the moment.
So, in this opportunity I will share with all of you my experience in battle during this season, although I will not delve much into it, I will only cover certain details of importance, on the other hand, as I already commented and as you see in the title of this post, I will explain the development of one of the battles I have had with several cards that I have studied very well to form a strong team with the "Water Splinter", so I hope you like this, and that it will also be of much value to you.

Battle Conditions


Mana: 50
Splinter available: Water, Earth, Life and Dragon
Fog of War: This is a very interesting battle rule, which allows a safe mode of play for cards that are placed in the last position on the field, in addition to those that attack from a distance, by this I mean that this rule allows cards with the abilities "Sneak and Snipe", completely lose their effect on the field, so that in a way to play with these skills would be reckless, since they practically do nothing, if not try to attack from the first position to the battle tank or wait for their tuno when they are in that position.
Even Stevens: This battle rule has nothing special, although when it comes to using certain cards of our preference, it can affect our battle strategy, the reason for this is that we can only use cards that have a mana cost with an "Even" number, this means that we can only play with cards with a mana amount of 2, 4, 6, 8, 10, 12 and so on.

Description of the battle strategy

I thought my strategy with the objective of targeting their weakest cards first, at the same time, I sought to protect myself in the same way, looking to play monsters with relatively high life points to create some resistance around my cards and these could withstand the most time on the field, taking this into account, some of the keys to form my monsters and get the victory, were as follows:
Powerful Battle Tank: In my strategy I used the type of magic attack, which is one of my favorites, because they go straight to the life points, in this sense, I placed my "Djinn Osshannus" in front, as it has a very good speed and has a very good attack, this would provide an opportunity for the rest of my cards to do their job of attacking and thus contribute to the defeat of my opponent.

Opportunity Attack: Taking advantage of the fact that one of the battle rules prevented cards with "Sneak and Snipe" from having no effect, I played with my powerful card called "Deeplurker", which focuses on attacking the cards with less life points of my opponent in the field, all this thanks to its ability called "Opportunity", this gave me a very good advantage, since my monster has a great speed and a powerful melee attack.

Attack and speed combined: The rest of my cards focused only on the attack and the speed of them, in order to attack first than my opponent and get ahead in the damage before he did it first, having as key card, the powerful and famous "Ruler of the Sea" and its powerful "Blast" ability, plus my summoner was specially placed, to increase the magical attack power of all my cards.
All this was more than enough for my cards to do great damage in the opponent's field, and my opponent had no chance to win, of course, something that I saw and that I did not comment before, were the previous battles that my opponent had, where he used very often his "Obsidian", so beforehand I expected a magical attack, this helped me to counter it and take advantage of the rule in my favor.
Below is the link and image of the battle formation: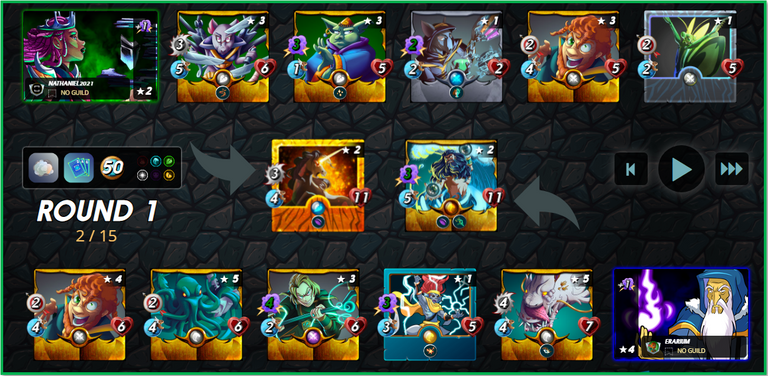 Card alignment
---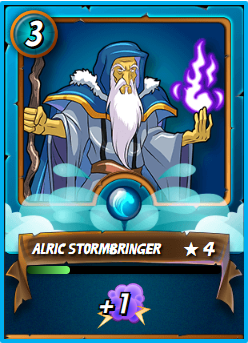 Alric Stormbringer
This was the summoner I chose to be able to accompany my "Water" team, the reason is because I really like the type of magic attack, in my opinion, I prefer magic specifically with this splinter, being this the first one that presented a great magic power, before they emerged in other teams, on the other hand, it is much faster to be able to defeat our opponents, besides, as I am playing in the wild format, I prefer to go with all possible magic attack having of course some variations that you saw in my battle clearly.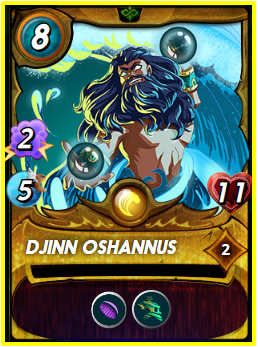 Dijinn Oshannus
I chose this card for having a large amount of vital points, in addition to a very good speed, this allows you to have the opportunity to stay for much longer on the battlefield depending on the circumstances that will be presented, on the other hand, the set of skills it has, are excellent, as it has the possibility that the magical attacks that propinen him fail, thanks to his ability to "Phase", in addition to decreasing the impact of this with "Void". This card is golden at level 2.
---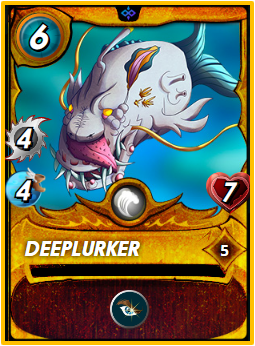 Deeplurker
This card can not miss in the water team, because it is really strong and powerful, the reason to say this is that this card has a really high speed and coordinated attack, in addition, with the help of the ability "Opportunity", with these characteristics that I already mentioned, it can go straight for the life points of the weakest card in the field, so this card can not miss in the team. The card I chose is gold at level 5.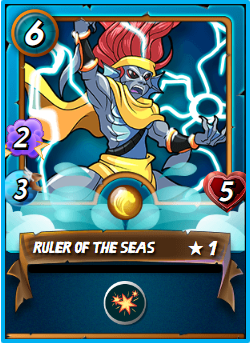 Ruler of the Sea
If you really plan to build a water team, you must have this card, since "Ruler of the Sea", is a real magic attack machine, also if combined with the right summoner, it can increase much more its attack power and range for the rest of cards, when I talk about range I mean the ability it has from its level 1, which is the famous and powerful "Blast", which causes damage adjacent to the attack target cards.
---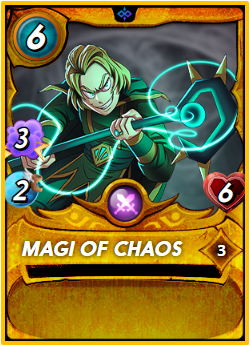 Magi of Chaos
This is a great card, although at first glance it does not have any ability that can be useful and change the course of a battle, what is certain is that it is a good machine of magical offensive power, in addition, there is the possibility of increasing its attack power thanks to our summoner, in my case I have chosen "Alric", a fairly old summoner, but really good and powerful. I rented this card at level 3 gold.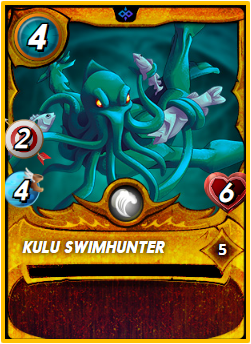 Kulu Swimhunter
Not everything is magic attack power, so I also had to recruit good cards to attack at distance with axes, it is 'for this reason that I decided to rent this card in its level 5 in its golden version, as it is at this level that has a great attack power range, in addition to a very good speed that allows me to get ahead of my opponents in the attack, which is great because it represents an advantage in most battles.
---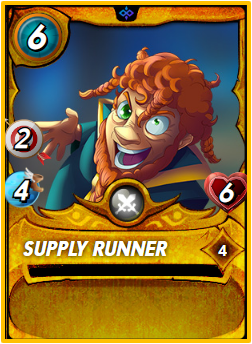 Supply Runner
This card is fabulous, unfortunately I could not acquire it beyond level 4, so it still does not have any ability that can be useful, however, what it does have is a great speed and a very good ranged attack power, it is also a neutral type card, which are always necessary to complement any strategy and team, my goal is to have it at a higher level, so I will observe how I will finish the season, to be able to have it.


Conclusion
I hope this post and battle have been to your liking, it is a simple but very effective strategy when it comes to face the "Fog of War" rule, where the "Opportunistic" attacks are the order of the day and where the magic attack is always good to make a great direct damage. For now, I will leave this publication until here, but, for another occasion I will be detailing my performance in this season, explaining what I did and pointing out the amount of chests that I currently have, plus the rewards that I have been getting little by little.
See you next time players



| SPLINTERLANDS.COM | SPLINTERLORE | BLOG | DISCORD | TELEGRAM |

Our Social Networks:
---
---