I COMPLETELY REVEAL MY SECRET DECKS! - 100% GOLD 1 GUARANTEED!!
Hello Fellows Splinterlanders!✨
Welcome to the Thursday Special! From now on, every Thursday I will share with you the decks that I am playing to reach Gold 1 at 100% Rate!
After the recent appreciation to my posts, I decided it was time to truly show you my deck! No hidden cards, no more secrets!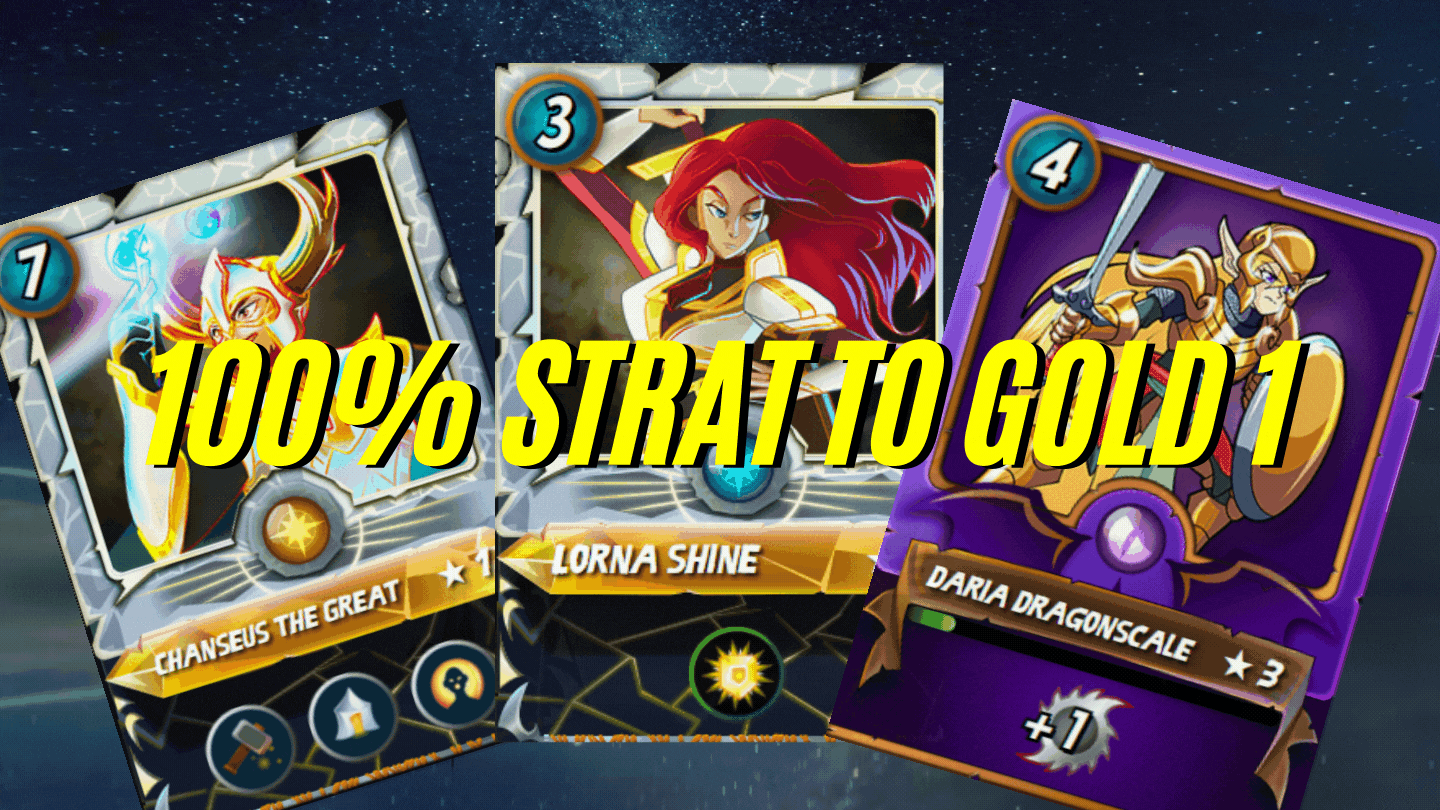 As you can tell from the image above my strategy is based mainly on 2 Decks Life & Dragon:
Lorna Shine lvl 4 ➡️ Price per day ~0.2$ 🎯 Low mana
Chanseus the Great lvl 2 ➡️ Price per day ~0.14$ 🎯 High mana - Sustained fights - Yodin counter
Daria Dragonscale lvl 4 ➡️ Price per day ~0.09$ 🎯 Low mana - Full melee
Optional Delwyn Dragonscale lvl 5 ➡️ Price per day ~0.09$ - High mana - Counter -1 mage summoners or void tanks
💸 Total rent for your summoners ➡️ 0.52$ per day
Let's move into the Monster section by starting with my favourite ones: Tanks! 💪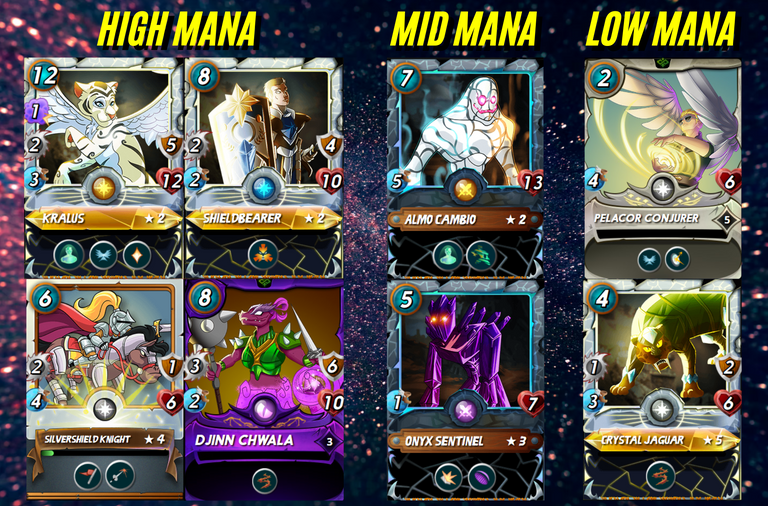 Kralus lvl 2 ➡️ Price per day ~0.2$ 🎯 High mana - Sustained fight
Shieldbearer lvl 2 ➡️ Price per day ~0.008$ 🎯High mana - 10/10 combo as last position with Kralus & Chanseus
Djinn Chwala lvl 3➡️ Price per day ~0.01$ 🎯 Low/Mid mana - Full melee
Silvershield Knight lvl 4 ➡️ Price per day ~0.017$ 🎯 Full melee sneak or opportunity - sometimes in second position or first with ShieldBearer as last
Almo cambio lvl 2 ➡️ Price per day ~0.04$ 🎯 Mid mana vs mages - Poison
Onyx Sentinel lvl 5 ➡️ Price per day ~0.03$ 🎯 Low mana
Pelacor Conjurer lvl 5 ➡️ Price per day ~0.003$ 🎯 Low mana games
Crystal Jaguar lvl 4 ➡️ Price per day ~0.004$ 🎯 Low mana - Full melee
💸 Total rent for your tanks ➡️ 0.31$ per day
Melee dmg monsters! Pair them with Daria or Lorna 👀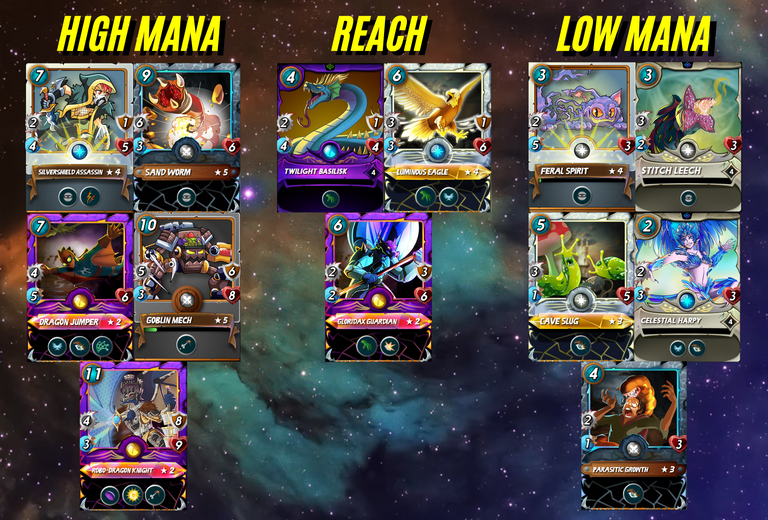 Silvershield Assassin lvl 4 ➡️ Price per day ~0.2$ 🎯 God of Life Sneak
Sand Worm lvl 4/5 ➡️ Price per day ~0.03$ 🎯 Low mana
Dragon Jumper lvl 2 ➡️ Price per day ~0.12$ 🎯 Godlike in Flying
Goblin Mech lvl 5 ➡️ Price per day ~0.009$ 🎯 High mana - Melee from every position
Robo-Dragon Knight ➡️ Price per day ~0.05$ 🎯 High mana - Interesting card
Twilight Basilisk lvl 3 ➡️ Price per day ~0.003$ 🎯 Low mana - Reach
Luminous Eagle lvl 4 ➡️ Price per day ~0.03$ 🎯 Good reach card
Gloridax Guardian lvl 2 ➡️ Price per day ~0.033$ 🎯 Good reach card
Feral Spirit lvl 4 ➡️ Price per day ~0.02$ 🎯 Low mana
Stitch Leach lvl 4 ➡️ Price per day ~0.008$ 🎯 Low mana - best friend with Feral
Cave Slug lvl 3 ➡️ Price per day ~0.002$ 🎯 Slow games
Celestial Harpy lvl 3 ➡️ Price per day ~0.013$ 🎯 Low mana - Slow game
Parasitic Growth lvl 5 ➡️ Price per day ~0.002$ 🎯 Slow game
💸 Total rent for your melees ➡️ 0.52$ per day

Wowowowo that's a lot of information to digest, please give me a moment!✋

For sure guys, I admit that this article is a bit harder to digest so I please ask you to take a minute to look at this wonderful fight with Chanseus and then come back to look at the final part! Mages & Support Cards.




Mage dmg monsters! Pair them with Lorna, Chanseus or Delwyn 🧙‍♂️🔮

Bila the Radiant lvl 2 ➡️ Price per day ~0.045$ 🎯 Mid and High mana
Djinn Renova lvl 3 ➡️ Price per day ~0.011$ 🎯 Always helpful
Chaos Dragon lvl 2 ➡️ Price per day ~0.027$ 🎯 Godlike High mana
Lunakari Mistress lvl 3 ➡️ Price per day ~0.029$ 🎯 High mana - Pure dmg
Magi of Chaos lvl 3 ➡️ Price per day ~0.027$ 🎯 Mid mana - Pure dmg
Time Mage lvl 3 ➡️ Price per day ~0.008$ 🎯 Low mana - Slow enemy
Defender of truth lvl 3 ➡️ Price per day ~0.11$ 🎯 Low mana - Good support
Divine Healer lvl 5 ➡️ Price per day ~0.025$ 🎯Low mana - Cheap Healer
Light Elemental lvl 2 ➡️ Price per day ~0.013$ 🎯 Low mana - Flying
Doctor Blight lvl 2 ➡️ Price per day ~0.037$ 🎯 This guy.. is a no brain decision

💸 Total rent for your melees ➡️ 0.332$ per day

Supports & Optionals! Useful cards in diverse rulesets💣

Elven Defender lvl 5 ➡️ Price per day ~0.008$ 🎯 High mana - Full melee
Clay Golem lvl 3 ➡️ Price per day ~0.007$ 🎯 Second tank void
Creeping Ooze lvl 5 ➡️ Price per day ~0.01$ 🎯 Godlike Support
Elven Cutthroat lvl 5 ➡️ Price per day ~0.02$ 🎯 Low mana - Uneven games
Herbalist lvl 4 ➡️ Price per day ~0.005$ 🎯 Low mana - Cleanse for poison
Uraeus lvl 3 ➡️ Price per day ~0.014$ 🎯 Low mana - Uneven games
Dwarven Wizard lvl 2 ➡️ Price per day ~0.03$ 🎯 Low mana -Snipe mission
Crystal Werewolf lvl 3 ➡️ Price per day ~0.01$ 🎯 Low mana - Silence mages

💸 Total rent for your melees ➡️ 0.1$ per day 💸 Total rent for these decks➡️ 1.7$ per day




Let's make some considerations now: this dual deck will allow you to cover every game, when you can play Life or Death decks. Few times I had to lose a game due to my decks being banned, but personally I think that for a total expense of 1.7$ per day to keep yourself in G1 is more than fine.







👉Important Note: when you look to rent power you will notice that many Dragon Legendary Gold Foil have a really good price to keep you on the Gold 2 power.👈

Personally I am renting everything as I want to keep improve in the game, and I want to learn the most by playing in higher leagues. To me an overall investment of 2.5$ pday it is not comparable to the fact that:

You will avoid bots thanks to league reset (time is essence, do not waste it);
Be able to play with skilled player;
Learn compositions & combos from high level Summoner and Monster

I am personally refusing to abuse any overused meta strategy e.g. Yodin & Llama, not only for price reason but because if you use your mind you will be able to destroy these comps.

If Llama team, always go sneak melee;
If Yodin go Chanseus or Lorna + Tons of armor;
If they have Void or Magic Counter play the Crazy comp of support mage
(the low mana ones bring you poison, slow, armor and heal)





⭐️Lastly to fully optimize your investment: take notes of enemy teams! Use your money to build knowledge and you will get stronger every day! ⭐️

If you arrived here, thank you for your time. I spent a lot of time collecting notes and analyzing my games. My goal with Hive is to build an army of skilled Players and someday play against you in an Esport tournament! If you enjoyed this article, and you want to follow my growth consider following me! I will weekly keep you updated on the best strategies to win every game!

See you soon, Dr. Estiqaatsi

*My Links if you wanna reach out or help!
My Reddit: https://www.reddit.com/user/DrEstiqaatsi
My Referral: https://splinterlands.com?ref=estiqaatsi

**Optional useful cards not mentioned due to low playrate in my combos: Venari Crystalsmith & Armorsmith (healing and repair)
---
---