✨ IMPROVE YOUR WINRATE BY FOLLOWING THESE TIPS! - IN DEPTH BATTLE ANALYSIS ✨

Hello Fellows Splinterlanders!✨
⚡️Disclaimer: this content could give addiction, please be aware as your Win Rate is going to improve drastically after reading this⚡️
Welcome to the our Weekly Battle Analysis! Your favourite Doctor is here to give you the perfect medicine to peak 100% Win rate! Last week I shared with you my personal deck that has allowed me to peak Gold 1 every season, today I am back to explain you in detail how to optimize your combos and how to get the best value from those card!
💸PS. I forgot currently I reached 2750 Points, so we can finally say that with that deck you can peak Diamond 3 💸
😝 Let's jump into it by starting with the first battle😝
Spoiler : I wrecked him!

Pregame analysis: Always focus on reading well your enemy, this is a Gold Game. I expect him to have strong cards, of almost every type (magic, melee, ranged).
Earth: I need to be ready to tank a lot of magic damage.
Dragon: I need to be ready for a various comp
Life: Be careful for sustained fights
This is enough for me to understand that I cannot only focus on pure damage, but I need to be sure to have 2 tanks to avoid him to focus my carries.
50 Mana allows me to play a high mana summoner like Chanseus so this will be my composition.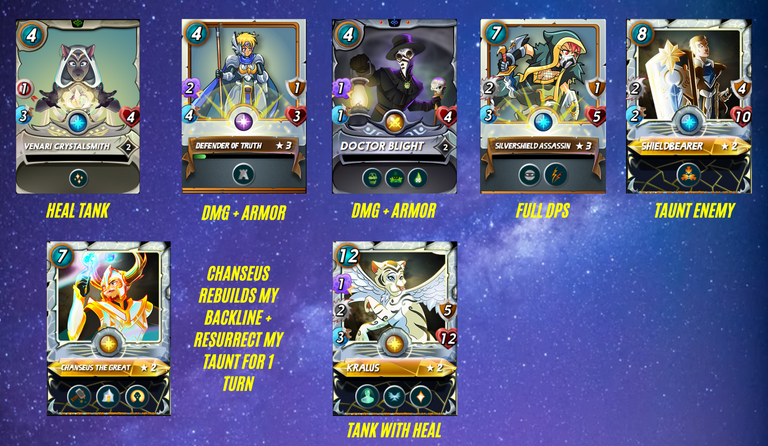 ⭐️ The combo Chanseus with Kralus & Shieldbearer seems to be really efficient to prevent a lot of damage on the rest of the comp.⭐️
Since I could not predict the enemy damage I decided to have overall Sustain thanks to healings and armor. Doctor Blight is my true damage dealer of this comp thanks to his poison. In 2nd and 3rd position I used 2 monster that I needed in the earlier stage of the game, so if enemy had some blast I would not lose my real damage.
Now let's have a look at the fight!
🐸 2nd battle at 2600+ point 🐸
Spoiler : he countered me!

Pregame analysis: I expect him to play melee Death, probably hard countering magic.
My only opportunity is to play Life, magic or melee?
Honestly here I was a bit afraid to play melee, at low mana cards death is probably a better set than mine. I decide to go all in and pick my MAGIC SUPPORT TEAM!
My focus? Keep Pelacor alive, 4 Speed, with slow of Time mage should be enough to prevent him to take damage. I also have more Armor and an Healer.. I can make it.
🔎 Fun fact he picked Orwell, so basically I was screwed up...or maybe you should just watch the game!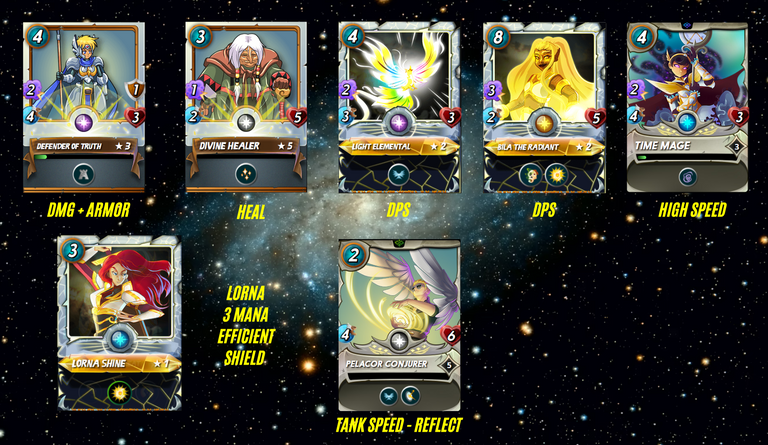 ⭐️ The combo Pelacor Conjurer + Defender of truth + Divine healer.. is just too much to handle.⭐️
Now let's have a look at the fight!
I hope that via sharing my battle and showing you my decision making you can understand better how to proficiently use the Life Deck. This is just the first Battle analysis, next time we will cover the full melee teams.
📌 Stay tuned and wait for my next article!📌
On my my next post I will focus more on Dragon.. and maybe I will have a surprise to share with you!
If you arrived here, thank you for your time. I spent a lot of time collecting notes and analyzing my games. My goal with Hive is to build an army of skilled Players and someday play against you in an Esport tournament! If you enjoyed this article, and you want to follow my growth consider following me! I will weekly keep you updated on the best strategies to win every game!
See you soon,
Dr. Estiqaatsi
*My Links if you wanna reach out or help!
My Reddit: https://www.reddit.com/user/DrEstiqaatsi
My Referral: https://splinterlands.com?ref=estiqaatsi
---
---