Cards to watch this week, - "Mr.Photo´s wishlist" for the upcoming week (Monda 8.Nov - 15.Nov )
As morning breaks over the arctic circle, without showing any real signs of sunlight anytime soon, I can hear the traffic gear up outside my window as I sit and bang away at the keyboard, stressed to the high heaven's. This piece is long overdue! I was going to follow up with more of from each colour after last week's 20% gains on my predictions.
However, as the game keeps skyrocketing in user base and blockchain play2earn in general keeps gaining traction, I see no reason for caution. Pour petrol on the fires and full throttle in to this next week of gaming, battling and feasting. (One might think he'd died and gone to heaven, but nah it's just covid baby, yeah!).
Today I point your attention to "a buffet" of cards that I think will be interesting to watch during the week, as well as consider "good buys" given the current state of the game.
I read here on Hive, I can't remember the source atm but what I read is that the Goblin Shaman is the most used card in the game, that certainly wouldn't surprise me, however that is bound to change as Blue Magic continues to dominate the meta.

I do consider some room for growth, snapping one of these guys up, the best price relatively i'd say is either the Untamed one or Alpha/Beta one for $19
---
Now this guy I used to have Gold foiled, got it in a pretty big (for my standard dCity trade) a while ago, sold him during last "pump", not regretting it since the money went to good investments.
However, not saying I wouldn't like one, that is if I had $247 to spare on a foiled card.
But for Investment purposes, I pick the A/B version here also, I really think the collection value of the OG cards is something more and more players/investors will start to seek after.

Now this bad boy is in limited supply, and he knows it, there isn't really a going "price" for the foiled one, but there are two listed the lower one for $630 which is quite something!
If you've been considering adding Lobstradamus to your arsenal, I say better do it now, since I don't think it's going for any less anytime soon!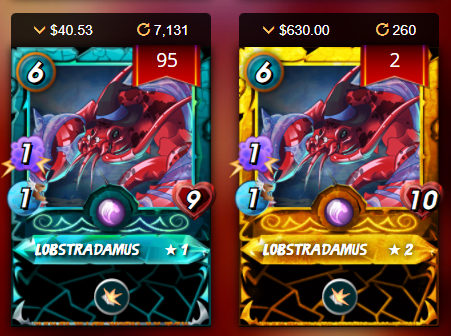 9 left and the cheapest one is slightly under $100 and deffinatly on my "to buy" consideration list. I say it's going to be $139 when I do a follow through next Monday!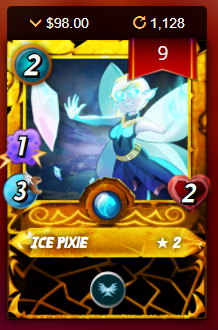 Another card where the A/B version is in my oppinion dirt cheap. The room for growth this week might very well be in the A/B cards.

This cheap ranged option is a cool add-on to for Green, for 5Mana he pairs up with the Tree for a rather cheap but efficient ranged line.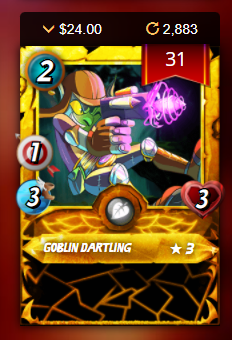 My favourite new card from green. Retaliate (amongst with thorns) is fast becoming my favourite "trait". As more players catch on to this cards' strength, it ain't long until it won't be sold for under a $100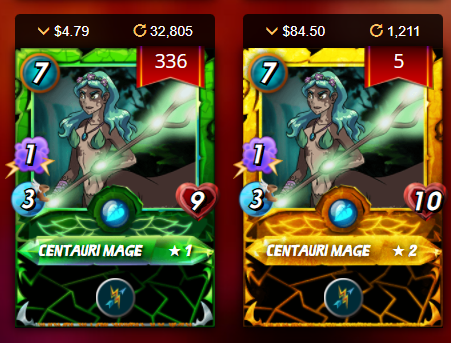 One of "Lifes" answer to Blue Magic is this hunky-dory friend of mine currently underpriced for $4.99 Eythorphoto says $6 next week. ... At least!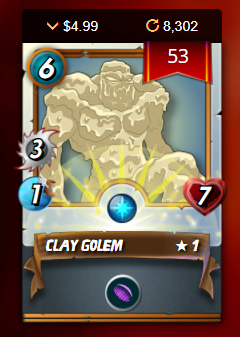 This one I add for "Death" Splinter in the Alpha / Beta cards investments for $7.45 you gt a decent frontline unit with loads of collection power and prestige, as well as a decent profit reselling it at 12 during next pump!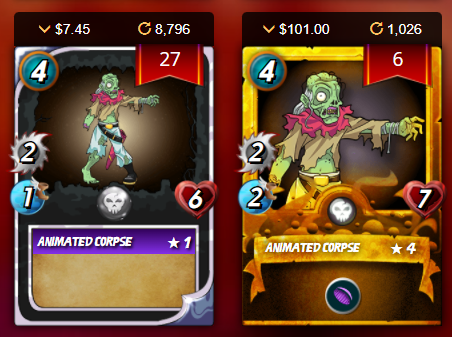 I'm on the fence with this one, could go either way, but I decided to draw your attention to it! If you are reading this shortly after I publish this, it might still be there!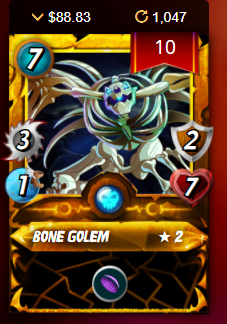 $134 Next week, and I keep on being bold with the price predictions!
But remember these are Voltaire markets, if you are an Ethiopian kid that just stumbled upon the blockchain while visiting a rich relative, but you haven't got a clue where your next meal is coming from nor where you are going to sleep tonight, I wouldn't recommend this buy! And never invest something that you can not afford to lose!
Yup, like I say, this card remains on my wish list, for playing purposes, it's brutal on the field, the shield of 10 distinguishing it from other units,
It'll be back one Blue Magic retreats a bit from its dominating position in the game at the moment!
---
This moody bit*h has not disappointed me, I'm already longing for another one, since I know it will be a corner stone in team "Maggot SlutBag" for the foreseeable future!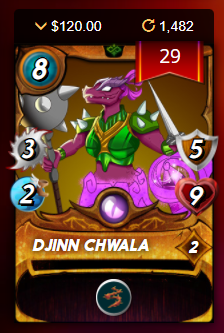 ---
Then at the end I'd like to draw my readers' attention to these three neutral cards, the two top ones, Chain Golem and Cornealius are bets for "the big boys" this week, Chain golem could reach $4-500, and I say Cornealius will be priced just below 300, say $289-299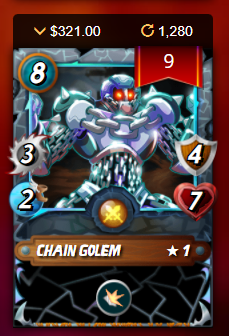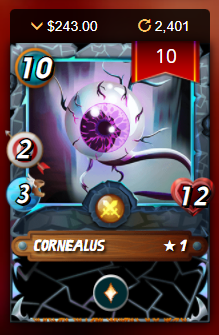 And finally this golden nugget here Ureaus !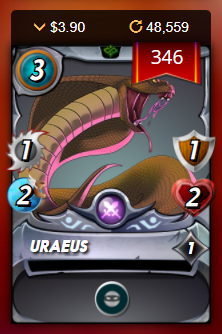 It's still dirt cheap due to availability, but believe me, this low mana cost with a shield and sneak, that is awesome for team Neutral.
And this guy when levelled up gets "Poison" as a trait, giving it a chance to infect it's "victims" each time it attacks. Giving the same effect as when units start poisoned.
Buying a few of these guys and levelling up wouldn't be such a bad business move in my books.
These have been Mr.Photo´s cards to watch for the week of 8.Nov to 15.Nov. Until next time, I hope you have a great day, I would also like to point out that prices might have changes from the time of my "snapshot" and until publishing since I had to step away from the computer due to more pressing matters closer to home!
I am trying out @reward.app which is a way to share author rewards with curators in liquid hive. So if you like this post, if it helped you out in your shopping or if you just like smut.
Why not get some liquid Hive for liking it, then! :) I hope I did everything right in the settings.
Again! Have a great day! Commenters will additionally be showered in Pizza´s ,LUV and some of that new PGM token!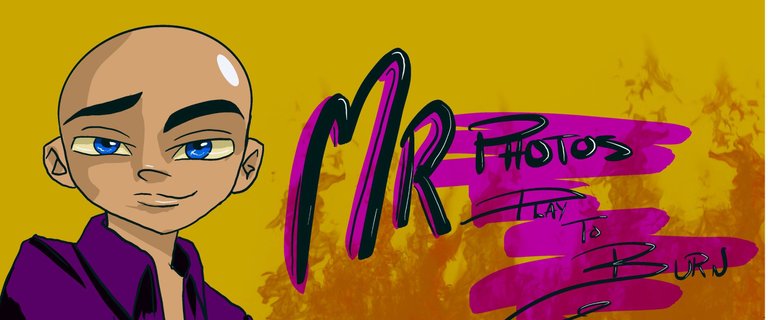 Eythorphoto!
---
---