Splinterlands & WMG: 2 great benefits that I can see.

Hello everyone...
Did you know that @Splinterlands has achieved a very admirable milestone? And not only do I mean that Splinterlands is the most popular game of the moment, surpassing many others like Axie Infinity, it is also very close to having 2 million registered users, also has an incredible record of more than 400K active users every day and recently reached an extraordinary milestone of more than 1000 million battles performed. Seeing all that Splinterlands has achieved, one can only admire and applaud it for all the goals achieved.
But there is more because it is the most popular NFT and P2E game of the moment, it has captured the attention of large investment firms such as Warner Music Group, a subsidiary of Warner, where Batman and the looney tunes are.
The objective of this commercial union, which is the first of its kind, will provide collaboration between the two companies to offer selected artists belonging to WMG to create and develop P2E games. In other words, Splinterlands and WMG will produce arcade-style games that are accessible to all to encourage wider adoption and community building around these games.
As we have already known, WMG has been very interested in the crypto and NFT sector, as it has announced partnerships in the same way with Blockparty, Genies, Dapper Labs, The Sandbox. Which will make it have a broadly marked path in the metaverse. Jesse Reich CEO of Splinterlands mentioned that WMG is the leader in the music industry, so he is thrilled to work with a company that innovates for members of the web 3.0 community and looks forward to more developments in the gaming, music, crypto, NFT, and DeFi industry.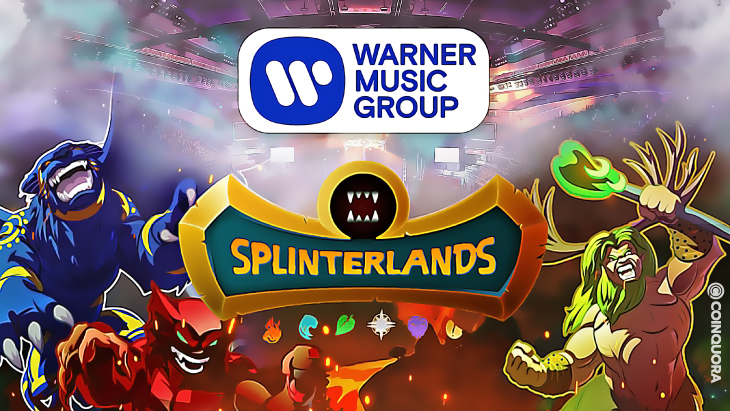 SOURCE
Of course, this news leaves some doubts if WMG will use Hive's blockchain to create these games, or if they just partnered with Splinterlands to develop games as successful as this one. Anyway, this partnership will give very positive results for the whole Hive blockchain, mainly for 2 major reasons:
1 - Advertising all over the place for Hive:
As WMG is one of the biggest companies in the music industry, thousands or even millions of people seeing this news will want to research more about Splinterlands not to miss something, and as the game economy is handled on the Hive blockchain, it means that many people will come to Hive to get accounts to be able to play Splinterlands which will make more popular Hive to all over the internet and finally could achieve what we all hope since Hive started almost 2 years ago.
2 - WMG developments to be on the Hive blockchain:
The other reason that I think will give a great contribution to Hive, is that WMG will be persuaded by Splinterlands to develop their projects on the Hive blockchain. Since many reasons such as speed and large support, the community can be a good reason, but something that appeals much more is the issue of zero transaction costs.
As I commented in a recent post, although other blockchains like Solana, Polkadot, or Polygon offer very low gas costs, when the network gets saturated these costs tend to increase, which makes no difference. In contrast, Hive can handle hundreds of thousands of transactions without associated gas costs, which is very profitable for developers looking for a potential business.
And as Splinterlands has proven to be this business since 2018, I think Hive will be the golden goose for hundreds of developers looking for better opportunities to produce and develop P2E games.
But be that as it may, Hive blockchain will always benefit from this partnership, we are just starting to see great benefits and progress. That's why this year we are going for more, we are going to achieve everything.
To conclude again I would like to congratulate @Splinterlands, no doubt you have shown how good a business can be if developed with passion and dedication, moreover if developed in Hive blockchain it also becomes a good business LOL.
Thank you very much for reading.
Posted Using LeoFinance Beta
---
---