My Brawl Report No.11 - HivePizza BrawlReport 26/11/2021
Wow 11th post! Can not beleaive how fast it has come around!
Ok this intative was kicked off by the one and only @kennysgaminglife and I am hoping not to mess it up to much! This format is also blatantly borrowed from @fireguardian , thanks for sharing your format and approach with me! Ok so this time I had a huge 8 brawls and... I won 8 brawls ! A clean sweep which I am really proud of and we won overall in the first place! Ok so one was a flee so I am only going to talk about 7 here, so strap in and get ready :P
**Brawl 1 Fire vs. Dragon **
So we had a 99 mana, opportunity no heal set up, pretty much made for Yodin! I went for Mylor in the front to draw all the hits and put my wallstop in third just in case some blast damage came through. Then I pretty much went high health bigger hitters except for pixes in case I can get a cheap kill. There set up is pretty good but I am hoping blast and wall stop really turn the tides.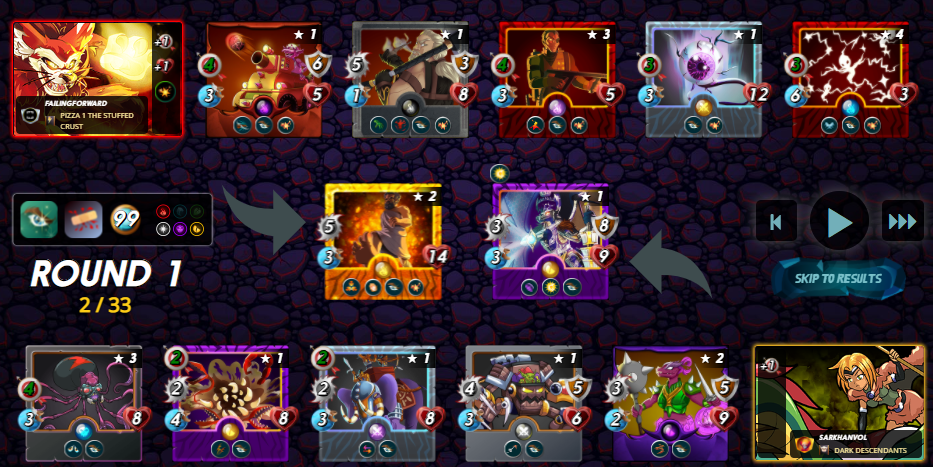 While they did some damage my enrage got me some nice dodges and my blast really wore them down. Also wallstop is now bloodlusted and from here it was a quick win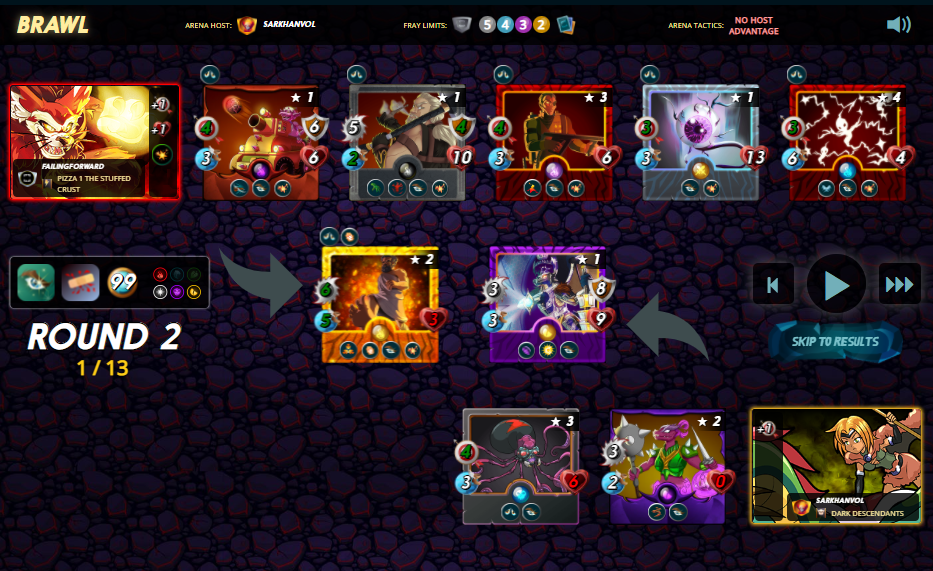 **Brawl 2 Fore vs. Dragon **
Again a high mana which is made for Yodin, it has earthquake butI only covered that with two of my guys, the rest I am hoping I can bulldoze through. They went high magic which always makes me nervous and MAgnor might not be long for this world, however the armour on wallstop and lava launcher might help with the rules set. One advantage I have is no magic so their head in a jar is a glorified doorstop at this stage. THey also have alot of speed so I might not be getting hits!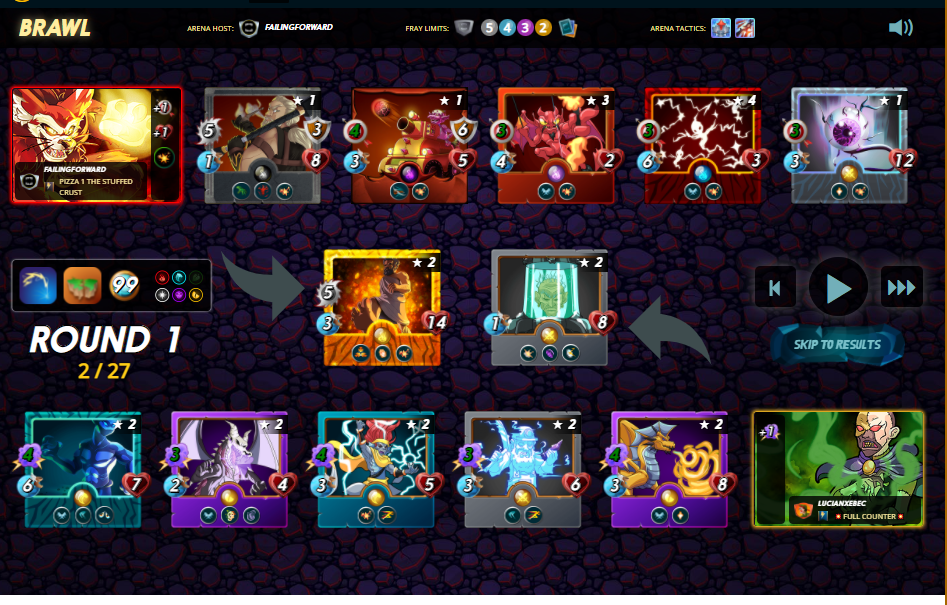 So MAgnor never even got a hit in, however because head in a jar is so slow I got lots of hits in and blast damage, if they had a speed demon up front I would have been in trouble. I went on to keep chipping away and I had enough depth to win.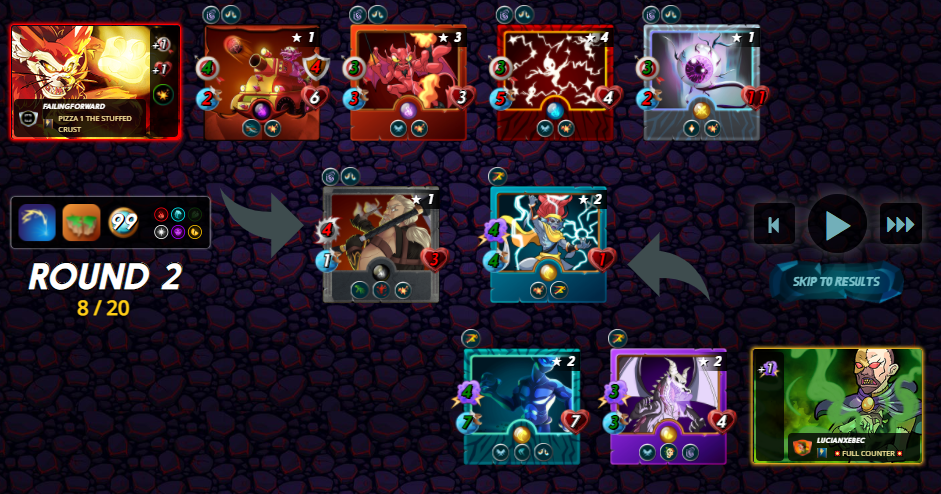 Brawl 3 Magic vs. Dragon
Again opponent went dragon! Its no heal and blast, I went magic but actually went a bit silly and did go that much magic. I was hoping for speed to knock out a few. I also knew Gladius and I am hoping to get bloodlust going with that opportunity and blast? ON the plus side the don't have magic so my armour will take some hits and I don't have many melle to get a minus 1 effect on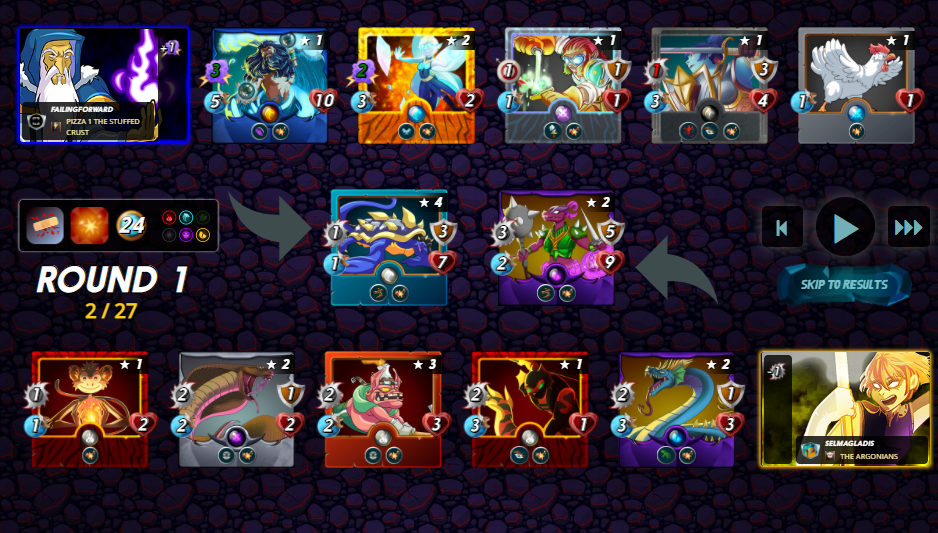 As I hoped my two magic got a quick kill and my gladius got a blood lust. Also my armour took most of the hits, from here it was a quick mop up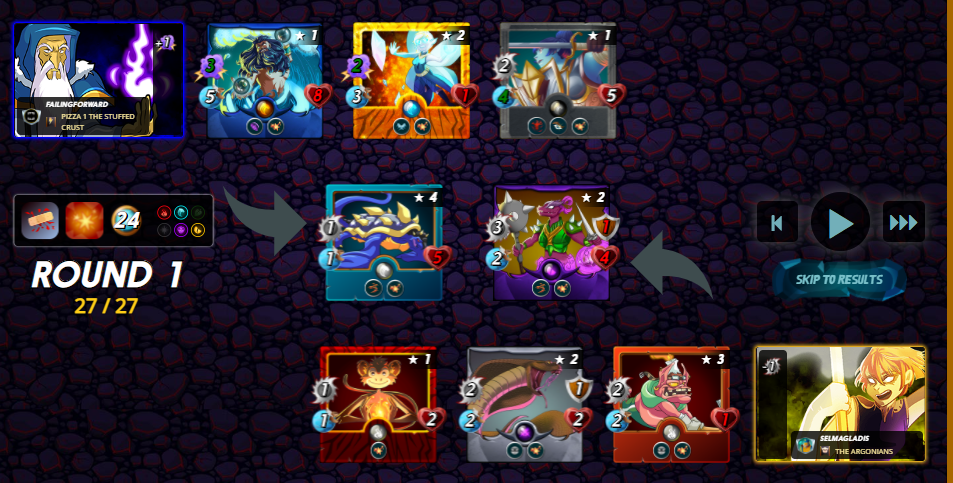 Brawl 4 Earth vs. Earth
Low speed battles always trip mu up a little but I am hoping I got the might right. I went Mylor but they went ahead and used only one meele !!!! It will be intreating to see how this goes as we both have healers and Kron, my magic reduction will help a bit. My best bet might be my gladius card, that double strike i deadly and will hopefully chew through that back like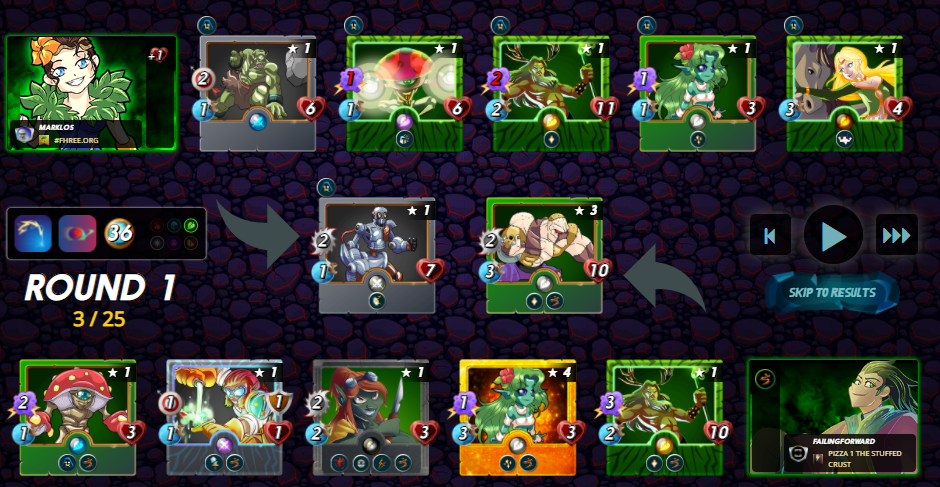 Round two and we are looking good, I have not lost anyone yet and they have lost their front guy. I managed to blood lust twice and wore down Kron at the end.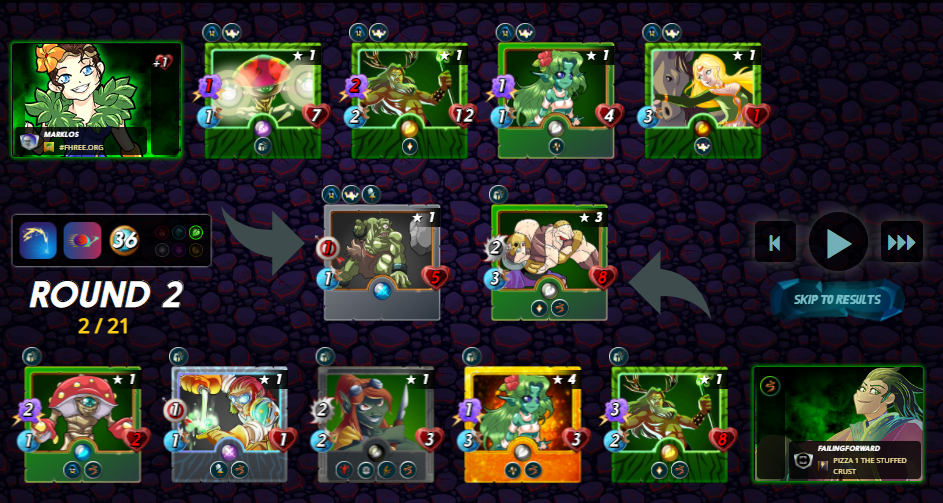 Brawl 5 Earth vs. Death
I went for a cheese Lama and Kron, I am hoping the opportunity would wipe out my chicken and gladius and activate the Kron . Plus the blast might also help. And thats what happened, once i activated Kron it was game over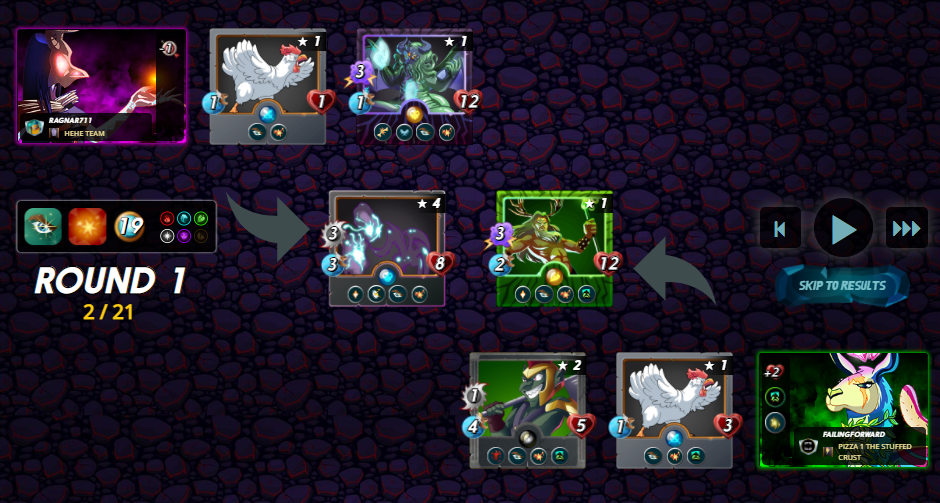 Brawl 6 Earth vs. Earth
Mylor vs. Mylor! Because of the no heal flesh golem was out the door so I tried a new gladius card I got, I am really hoping the enrage does some real damage. I like my chances here because they used failed summoner but I don't have magic, and they put in a healer but we don't get heals. THier magic might cause trouble but I think I have resist for long enough. Pretty much my sneak and oppertunity took out the magic and my gladius power through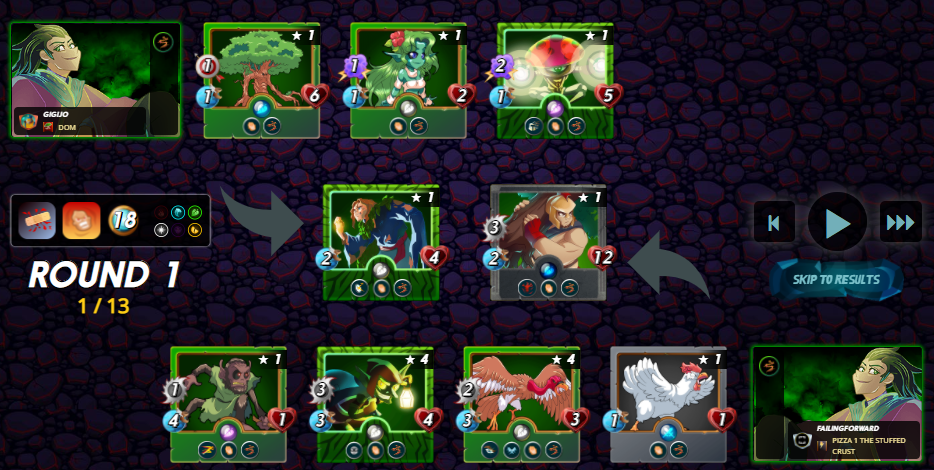 **Brawl 7 Earth vs. Magic **
SO the lack of sneak makes me a bit more comfortable playing Kron and Lama as it wont be hit till the end. I am hoping my gladius and opportunity gets a few hits in and thats why I have gone for a speed boost in the front row. Also, the total damage on their side is 5 which Kron should be able to tank. And thats what happened! Kron tanked long enough to make it!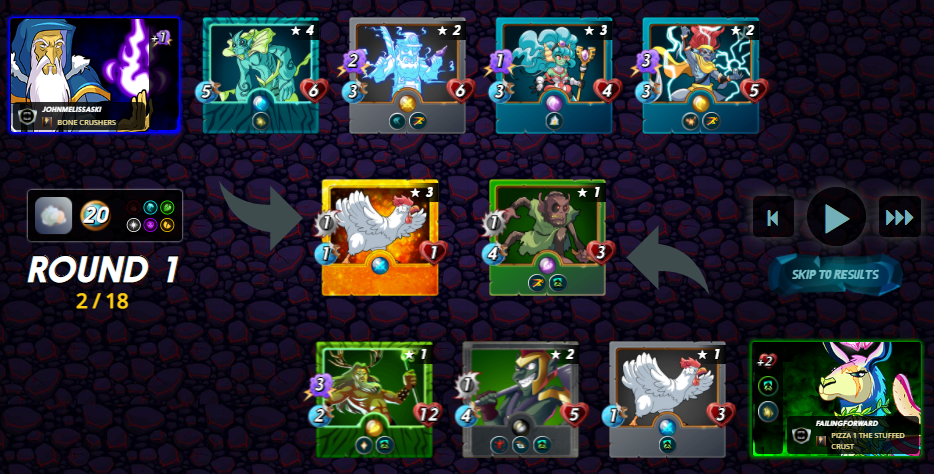 Hope you have enjoyed my Brawl report! As alway if your join use my referal code, failingforwards, get a spell book and I'll send you a card!
---
---