Winner 100 1UP - Drop a great blog in the comments to play
Hello All! As some may have seen from the curating message drops I have been having a lot of fun curating 1UP and following some great bloggers! However, I am always afraid I have missed a really great one so I wanted to run a little competition!
All you had to do was drop a 1UP appropriate blog in the comments below with a little snippet on why you think its great, can be yours or someone else. Not only will I curate the good ones, the best 3 comments will share 100 1UP in prizes
And now its time for the winners, however first lets look at the entries! Please also check out the posts there are some amazing ones here!
---
@luizeba
Nice initiative! I'm finding lots of good content creators on the comments!
Here are my own suggestions:
@RosieW: I love how happy and excited she is about Splinterlands and the community!
@Costanza: statistics and strategies about lots of different NFT Games, including less-known ones. Good for finding new stuff to play or invest!
@Marianaemilia: The SplinterZine is a great newsletter with the best Splinterlands content on it!
@Kennysgaminglife: a little bit of everything: art, battle reports, strategies, investments, etc.
@Clove71: very high-quality video content!
---
@hollowknightgod
Oh, this is such a healthy little competition. I'll name three guys who I think deserve to be listed here.
@cantfoldaces is always bringing quality content in a very objective and clear manner. He writes about hive tokens, splinterlands and the Hive community in general.
@japex1226 is the best artist I have found on Hive so far, the guy literally rocks. You guys probably know him for his late OneUp art, but pretty much everything he touches is beautiful.
@chronocrypto is writes all kinds of random stuff, but I really love his pieces on his Utopis projects, Hive engine tokens and Splinterlands gameplay and economics.
Check them out, and I'm sure you'll get great value from them.
---
@infinitytcg
Hey so I actually used this post to motivate myself to engage a little more and be productive in reaching out to more people and learning about new content and expanding my mind so thanks for this contest it lead me to find a pretty interesting deep dive for myself later.
https://ecency.com/hive-102223/@gadrian/do-you-know-this-formula-hive-spk-new-airdrop
This to me really speaks to gaming in a light I think more people should consider as by understanding the rewarding of communities and mutual growth many developers can compound their growths in a far more sustainable and rewarding way for everyone that is a part of that journey. Imagine if world of warcraft, final fantasy, kingdom hearts, or any major games considered about their audience in such a deeper way they would really lead the way of the future and even outmaneuver games like hearthstone or even pokemon itself.
!PIZZA
---
@master.splinter
THIS POST contains an amazing Splinterlands art entry from a brand new Hive artist @h-t-t
THIS POST tracking stats for the most popular blockchain games is definetly the most 1UP appropirate blog post I have seen in a while - by @cryptobeautiful.
THIS POST by @relf87 boasts the incredible curation rewards potential of the #oneup token, along with his personal recent curation stats, grided in a professional chart for easy digestion.
THIS POST confirms my longheld theory that video game consoles run on blockchain technology is inevitable - "60% of American and British video game builders have incorporated blockchain science into their game development endeavours." - @vaino-rami
On the directly #spt/Splinterlands side - THIS POST is a fabulous detailed breakdown of the Chaos Legion presale to help folks better understand what they are getting for thier funds via vouchers and promos, and what to expect moving forward towards the "regular sale".
---
@weesleytv
hello @failingforward!!
"A great blog that always has great entertainment and still helps me with helpful guides and posts that help the 1UP community"
It's @shiftrox
Link: https://ecency.com/@shiftrox
---
@relf87
Great initiative! Hmm don't have a blog in mind but wanted to share an entry which I did on the potential yield on 1UP through curation. Cheers!
https://www.1up.zone/@relf87/earning-149percent-yield-on-1up-through-curation
---
@trashyomen
I will shamelessly nominate myself! XD @trashyomen
I'm just beginning my blog journey in the metaverse and I plan on doing article, comics and tutorials about P2E and crypto in geral.
My latest Post is this comic+introduction to RollerCoin.
Thanks for the opportunity and hope to see you enjoying my future posts!
---
And the winners are @trashomen , @master.splinter , @luizeba but everyon was amazing!!!! Oneup should be heading your way now
---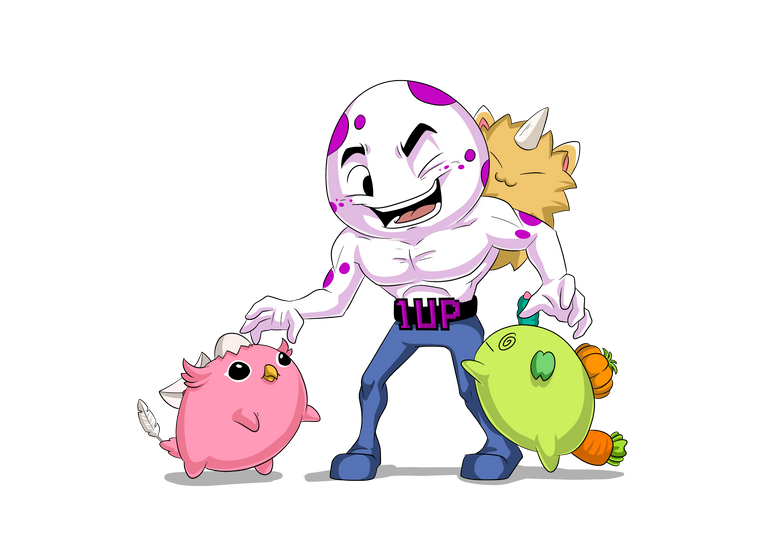 Cute image by the amazing @kayrex
---
---