Who is in the SWAP.HIVE:VOUCHER Pool?
Ok first of all big shout out to @hiq.magazine , @thatgermandude and @quekery for helping me find and creating the sweet bot that finally enabled to answer the question...
Who is in all these pools!
Ok next pool I am diving into is the Voucher HIVe pool and it is interesting one because it has such a singular use case. It is not acutally the biggest voucher pool, sps takes the cake for that one. Plus no APR at all. So who knows why people are in it ( fees maybe?)
Who is in the Pool?
Ok so lets see who is in the top 50 hey! First of we have some big player with over 3% of the pot, @hive-engine , @smalp , @numonedad , @aggroed , @hamsterpoweriii plus of course splnterlands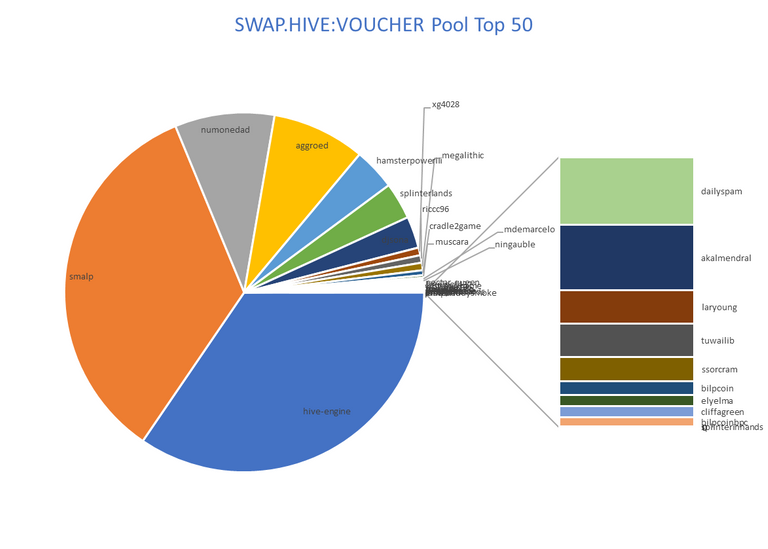 Pool Top ~~100 ~~ 39 List
Ok it just gets messy if i put 100 names in a graph so sorry if you missed out, however here is the top ~~100 ~~ 39! As you can see we do not have alot of people in here, only 39 really! So we can see jsut how much is held by so little, for a pull worth $22k we have very few bag holder wich makes sense with no APr... maybe someone should add a little APR?
| Rank | user | percentage |
| --- | --- | --- |
| 1 | hive-engine | 34.51513% |
| 2 | smalp | 34.22731% |
| 3 | numonedad | 8.95397% |
| 4 | aggroed | 8.37171% |
| 5 | hamsterpoweriii | 3.76587% |
| 6 | splinterlands | 3.30212% |
| 7 | djsona | 2.84422% |
| 8 | xg4028 | 0.69267% |
| 9 | riccc96 | 0.67412% |
| 10 | megalithic | 0.67247% |
| 11 | cradle2game | 0.44161% |
| 12 | muscara | 0.22306% |
| 13 | mdemarcelo | 0.18531% |
| 14 | ningauble | 0.17843% |
| 15 | nectar-queen | 0.16462% |
| 16 | finalpot432 | 0.11757% |
| 17 | just-my-name | 0.10733% |
| 18 | whitenose | 0.10597% |
| 19 | toukkamato | 0.10061% |
| 20 | pro100oss | 0.05671% |
| 21 | macr0s | 0.04402% |
| 22 | kaitm42 | 0.04371% |
| 23 | cunctator89 | 0.03996% |
| 24 | kingneptune | 0.03496% |
| 25 | jeffopenscards | 0.02779% |
| 26 | witchfort | 0.02599% |
| 27 | moonthumb | 0.02376% |
| 28 | irisworld | 0.02257% |
| 29 | pimpdaddysmoke | 0.00823% |
| 30 | dailyspam | 0.00704% |
| 31 | akalmendral | 0.00684% |
| 32 | laryoung | 0.00352% |
| 33 | tuwailib | 0.00344% |
| 34 | ssorcram | 0.00252% |
| 35 | bilpcoin | 0.00147% |
| 36 | elyelma | 0.00116% |
| 37 | cliffagreen | 0.00114% |
| 38 | bilpcoinbpc | 0.00097% |
| 39 | splinterinhands | 0.00009% |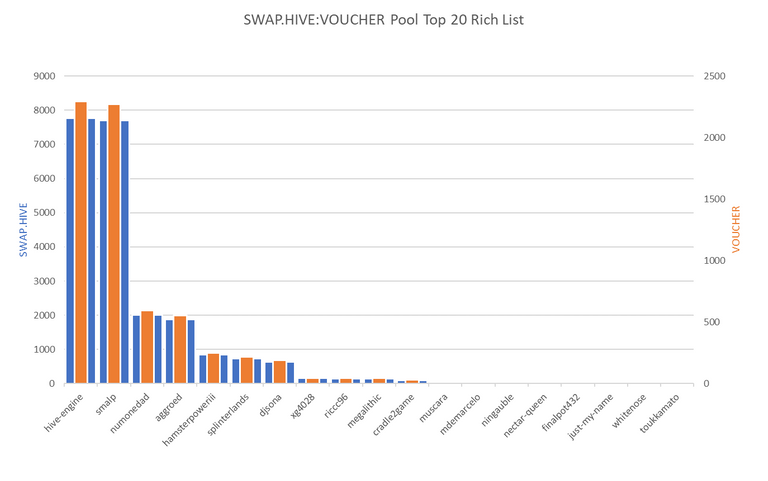 ---
---