Disintegrator, the Devastator - SPT Battle Weekly Challenge

Hello Splinterlands players!
This week the battle challenge theme is: DISINTEGRATOR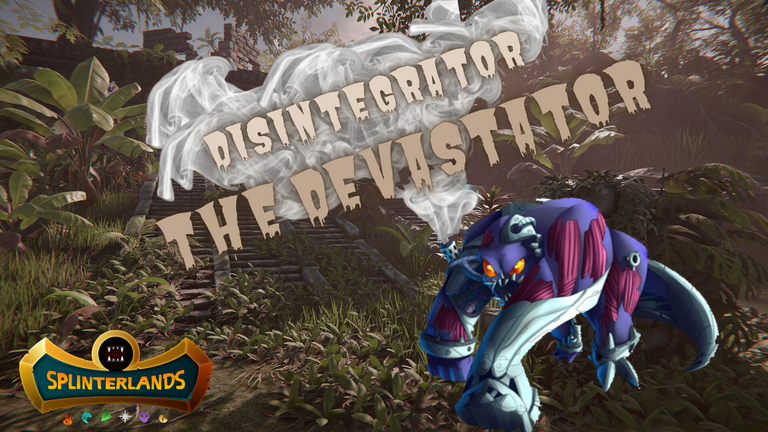 ---
LORE: With the torso of a mountain gorilla, the hind quarters of a crocodile and the mouth of a leach, the Disintegrator is a mismatch of devastating qualities. Its strength is formidable, twisted strands of metal combined with great sinews of muscle. When the heavy forearms and tail strike its foe, it will pummel them into submission without mercy. If that fails to work then the monster's evil jaws will latch onto its prey, numerous splayed fangs locking onto their body as it sucks the life from them. The obscene golem strikes terror into its foes wherever it goes and it has been known to continue to fight even after the yellow glow of life has left it eyes.
Read more HERE.

DISINTEGRATOR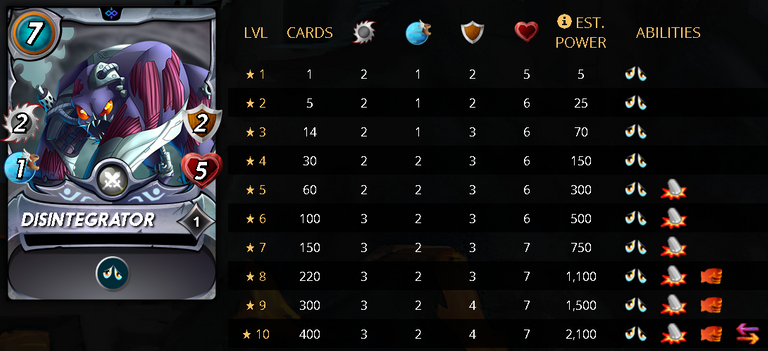 ---
The Disintegrator is a Neutral card from the Chaos Legion edition. Its stats aren't that good for the 7 Mana cost, as there are much better cards in this regard. However, due to its abilities, this card is an interesting option in some battles. Since level 1 it has the "Demoralize" ability, which reduces the Melee Damage of opponent Monsters. And at higher levels, it still acquires the "Trample", "Knock Out" and "Retaliate" abilities.
I don't really like using this card as a tank, because I don't think it is resistant enough and as I said its greatest utility is its abilities. So I prefer strategies and game rulesets that benefit its survival in the game. These are some of the rules where the Disintegrator is truly a DEVASTATOR:
| RULES | REASONS |
| --- | --- |
| Up Close and Personal | This rule allows only Melee Monsters to be used in the battle. Thus, the Disintegrator's "Demoralize" ability will certainly be effective. In this rule, it is important that the Disintegrator is not a vulnerable target, as the longer it stays alive, the more chances of victory. |
| Melee Mayhem / Equal Opportunity / Super Sneak | These rules allow Melee Monsters to attack from any position. Thus, Disintegrator can be a good option to avoid the opponent's Melee power, while taking advantage of the rules. |
| Stampede | Starting at level 5, the Disintegrator has the "Trample" ability. With this rule, its ability can be activated multiple times per attack. |
| Reverse Speed | This is another rule to consider, as the Disintegrator has a low Speed ​​even at max level. So this is a rule that boosts its stats. |

THE BATTLE
The battle was limited to using 27 Mana, all Splinters allowed, and the Standard Rule.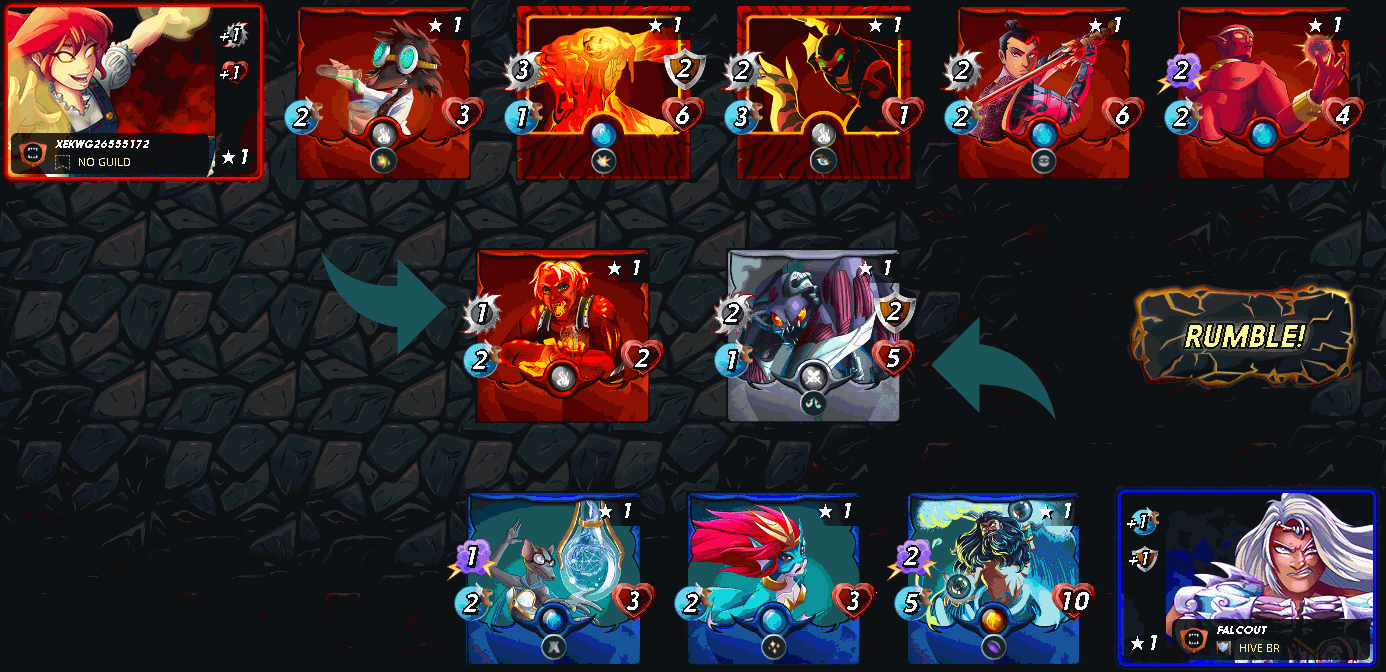 MY TEAM & STRATEGY
KELYA FRENDUL: This is a very strong and useful summoner as it grants Armor and Speed ​​to all allied Monsters.
DISINTEGRATOR: I know I said I didn't like using this Monster as a tank, but in this case it was sufficiently protected by my other cards. Its function here was to reduce the enemy's melee damage, resist in battle as much as possible and also deal damage along with Oshannus.
DJINN OSHANNUS: With 2 Magic Damage and 10 HP, this card was the ideal one for second place. If my Disintegrator was quickly destroyed or if my opponent used Magic Damage, it could take first position well, especially because of his "Void" ability.
MERDAALI GUARDIAN: A support card to Disintegrator and Oshannus, being able to heal them with the "Tank Heal" ability.
VENARI WAVESMITH: One more card to increase Disintegrator's protection and deal a little more Magic Damage. This Venari has been missing since the release of the Chaos Legion edition, but it can still come in handy in some matches.

DID YOUR STRATEGY WORK?
The answer is yes. With Kelya's and Venari Wavesmith's Armor, in addition to Merdaali Guardian's healing, Disintegrator was able to withstand almost the entire battle, preventing the opponent's Melee Monsters from being effective. Also, the opponent wasted a lot of time trying to get through the extra Armor layer of all allied Monsters, while my Monsters were destroying their cards one by one.

DO YOU LIKE THE DISINTEGRATOR?
Once again, yes. Having a ability like "Demoralize" from level 1 is a big advantage. Disintegrator is a great card, even more so because it can be used on any Splinter, since it is Neutral.
---
Well, that's all for today! I hope you liked it!
Thanks and See Ya Later!
---
---