SPT Weekly Challenge - Be afraid of the CARRION SHADE (EN/PT-BR)

[EN]
Hello Splinterlands players!
This week the battle challenge theme is: CARRION SHADE
---
LORE: A carrion shade is a dark-winged bird that feeds off of the dead bodies of animals and people. They often flock to battlefields and dangerous parts of the wilderness where there are sure to be corpses. They travel in small groups and have no natural predators. Most people fear the carrion shades, though. For to see a group following you is to know your life is in danger. Tales whispered by the elder wise women claim that if you see a single carrion shade perched outside your home, then someone you love will die that night.

CARRION SHADE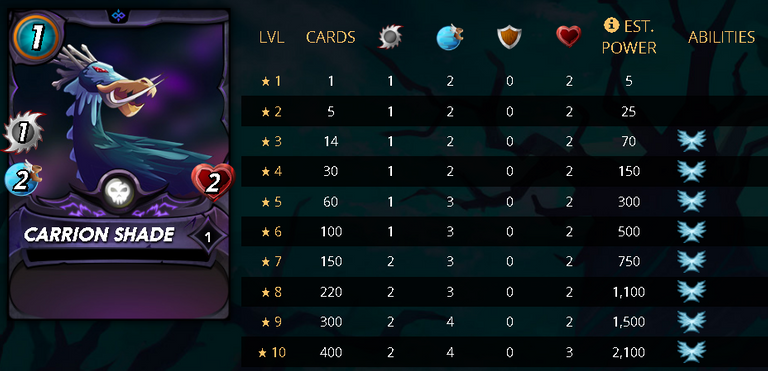 The Chaos Legion edition brought a level 1 card for each Splinter, with the exception of Dragon splinter. These cards have a similar stats, but each has its own peculiarities. The Carrion Shade belongs to the Death splinter and its peculiarity is the "Flying" ability that it acquires from level 3. It is a very useful card in low-mana battles, and it can also perform decisive evasions in the match due to its Speed ​​and "Flying" ability.

THE BATTLE
I considered this battle to be the ideal one to use this card as there was only 13 Mana available. All splinters could be used and there was still this rule:
---
Spreading Fury: All Monsters have the Enrage ability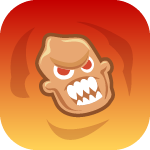 ---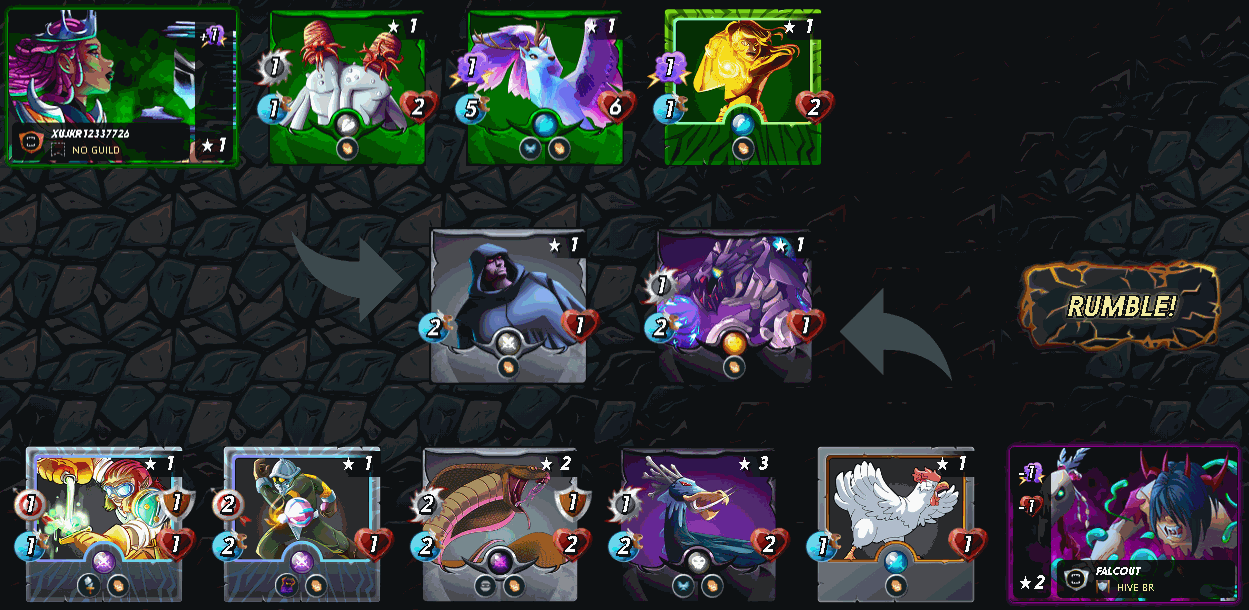 MY TEAM & STRATEGY
THADDIUS BROOD: I used this card for 2 reasons. HP reduction in low-mana battles often makes a big difference in the game. Also, it still counters the Obsidian's potential if my opponent used it (as happened in this case).
CORPSE FIEND & FURIOUS CHICKEN: Two 0 Mana cards in a battle with only 13 Mana available, giving me a huge advantage. I used them on the frontline to resist the opponent's Damage.
CARRION SHADE: Right after these 2 cards, I put the Carrion Shade to complete my frontline, having a better resistance than the other cards.
In the last positions I placed my cards to effectively deal Damage to the opponent. The URAEUS with 2 Melee Damage and the "Sneak" ability, which could attack from the front line if necessary. The GRENADIER with 2 Ranged Damage and the "Opress" ability, useful if my opponent used a non-attack card to tank, like L. Arianthus for example. And the HALFLING ALCHEMIST, which has a low Damage, but has the "Halving" ability, essential if my opponent chooses to use a single stronger monster instead of many cards.

DID YOUR STRATEGY WORK?
It worked really well, mainly because my opponent actually used Obsidian, which was countered by the power of Thaddius Brood. Also, my 3-card Frontline for only 1 Mana turned out to be really good, with Carrion Shade itself resisting 2 rounds of opponent's attack while my monsters destroyed his cards.

DO YOU LIKE THE CARRION SHADE?
Nah. It's an interesting option, especially if we only consider the Modern Format. It can work well in specific battles and it's a pretty cheap card, so I find it useful, but at the moment it's not the Card I like to use.
---
Well, that's all for today! I hope you liked it!
Thanks and See Ya Later!

[PT-BR]
Olá Splinterlands players!
O tema do desafia de batalha dessa semana é: CARRION SHADE
---
LORE: Um carrion shade é um pássaro de asas escuras que se alimenta dos cadáveres de animais e pessoas. Eles costumam se reunir em campos de batalha e partes perigosas do deserto, onde certamente haverá cadáveres. Viajam em pequenos grupos e não têm predadores naturais. No entanto, a maioria das pessoas teme os carrion shades, pois ver um grupo seguindo você é saber que sua vida está em perigo. Contos sussurrados pelas sábias mais velhas afirmam que, se você vir uma única sombra de carniça empoleirada do lado de fora de sua casa, alguém que você ama morrerá naquela noite.

CARRION SHADE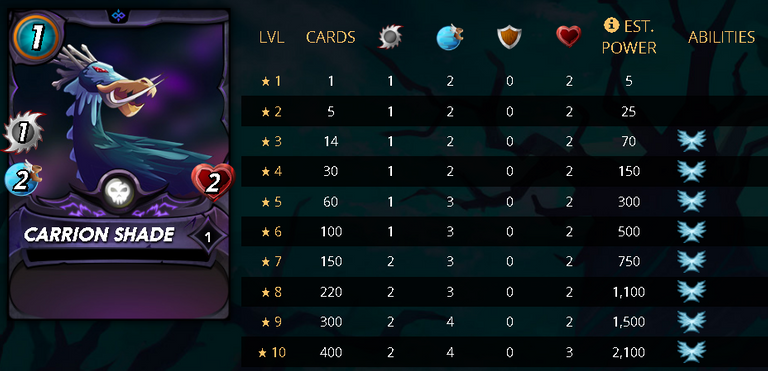 A edição Chaos Legion trouxe uma carta level 1 para cada Splinter, com exceção do Dragon, todas com stats semelhantes, porém cada qual com suas peculiaridades. A Carrion Shade faz parte do Death splinter e seu diferencial é a habilidade "Flying" que adquire a partir do level 3. É uma carta bem útil em batalhas com pouca Mana disponível, podendo ainda realizar manobras evasivas determinantes na partida devido a sua Velocidade e habilidade.

A BATALHA
Essa batalha eu considerei a ideal para sua utilização, já que só havia 13 de Mana disponível. Todos os splinters poderiam ser usados e ainda havia essa regra:
---
Spreading Fury: Todos os Monstros possuem a habilidade "Enrage"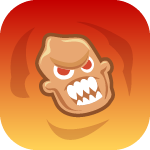 ---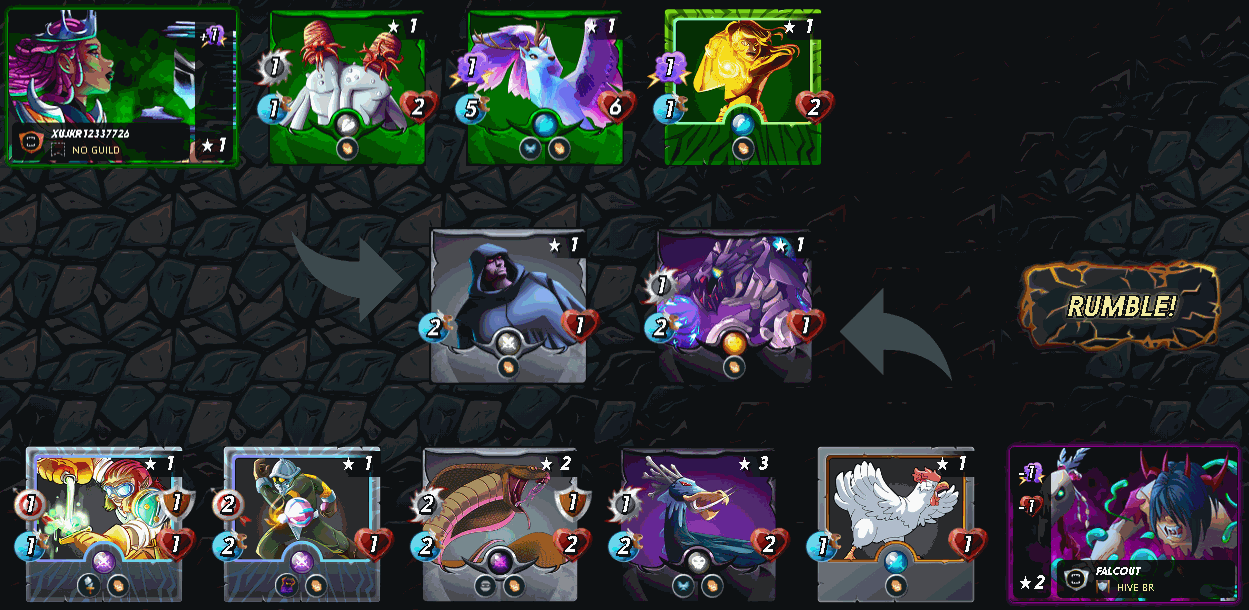 MEU TIME E ESTRATÉGIA
THADDIUS BROOD: Usei essa carta por 2 motivos. A redução de Vida em batalhas com baixa Mana costuma fazer uma grande diferença na partida. Além disso, ainda impede o potencial do Obsidian caso meu oponente o utilizasse (como ocorreu nesse caso).
CORPSE FIEND & FURIOUS CHICKEN: Duas cartas com custo 0 de Mana em uma batalha com apenas 13 de Mana disponível, me deixando em uma grande vantagem. As utilizei na linha de frente para resistir ao Dano do oponente.
CARRION SHADE: Logo após essas 2 cartas, coloquei a Carrion Shade para completar minha Front-line, tendo essa uma resistência um pouco melhor que as outras cartas.
Nas últimas posições coloquei minhas cartas para efetivamente causar Dano ao oponente. A URAEUS com 2 de Dano Melee e a habilidade "Sneak", podendo atacar na linha de frente se necessário. A GRENADIER com 2 de Dano Ranged e a habilidade "Opress", muito útil caso meu oponente usasse uma carta sem ataque para tankar, como o L. Arianthus por exemplo. E o HALFLING ALCHEMIST, que possui um Dano baixo, mas tem a habilidade "Halving", essencial caso meu oponente usasse um único monstro com um Poder de Ataque muito forte.

SUA ESTRATÉGIA FUNCIONOU?
Funcionou muito bem, principalmente porque meu oponente de fato utilizou o Obsidian, que foi counterado pelo Poder do Thaddius Brood. Além disso, minha Front-line de 3 cartas por apenas 1 de Mana se mostrou bem útil, sendo que o próprio Carrion Shade resistiu sozinho a 2 rodadas de ataque do oponente, enquanto meus monstros destruíram o adversário.

VOCÊ GOSTA DO CARRION SHADE?
Não muito. É uma opção interessante, principalmente se levarmos em consideração apenas o Modern Format. Pode servir bem em certas batalhas e é uma carta bem barata, então a considero útil, mas no momento não é o tipo de carta que gosto de utilizar.
---
Bem, isso é tudo por hoje! Espero que gostem!
Obrigado e até a próxima!

---
---