Dragon - Share your Battle Challenge (ENG/DE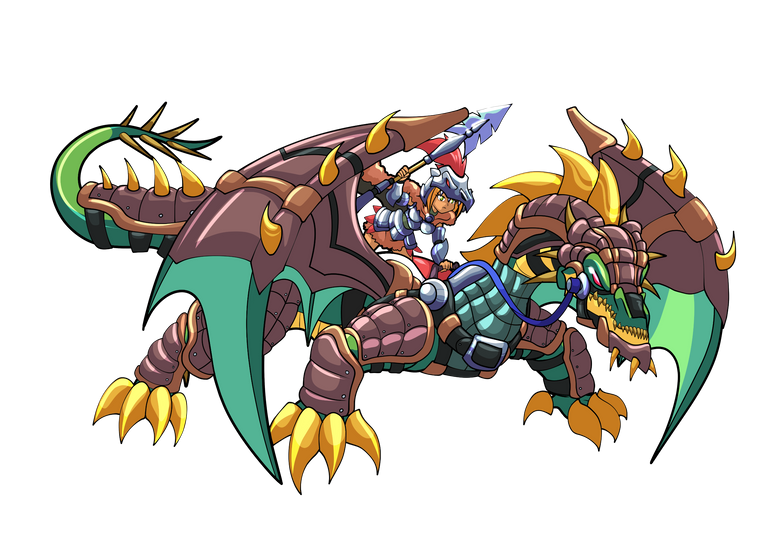 Share your Battle Challenge
English
This week, the Share your Battle Challenge is all about dragons.
This is the second time I've had the pleasure of seeing them chosen as the theme.
I am still a huge fan of using dragons in battle.
This time it was again quick to find a suitable battle to use them, to be more precise, the
requirements already fit the first battle.

Below you can see the battle requirements:
Weak Magic: Magic attacks hit the armor before they reduce health.
Explosive Weaponry: All monsters have the Blast ability (deals extra damage to monsters next to the target monster)
34 Mana was available
Earth, Death and Dragon was allowed.


I chose the Legendary Dragon Summoner Byzantine Kitty. To use the good one, you need 7 mana for
it but it also brings a lot:
+2 movement points
True Strike: This monster's attacks can't miss.
Tank Heal: Restores a part of the health of the monster in the first position every turn.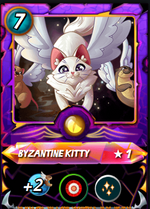 In the first position, I positioned Grund. This card can attack twice per turn thanks to its "Double Strike" ability..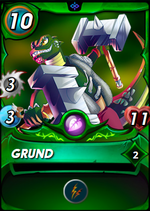 In second position I positioned Carnage Titan. It also has "Double Strike" and the ability "Reach", which allows it to attack from the second row.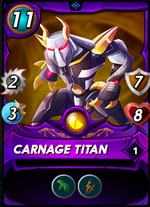 In third and fourth place, I positioned Furious Chicken and Corpse Fiend as buffers.
I positioned them between 2nd and 5th place, firstly in case the opponent uses a monster with the
ability "Sneak" and attacks from behind.
And secondly, if the opponent defeats my tank, I'd like it if my Goblin Psychic doesn't take damage
from Blast right away.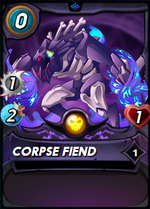 In fifth place I positioned Goblin Psychic. This monster also has the ability "Tank Heal" like my
Summoner.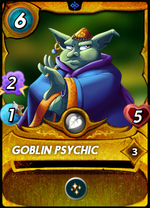 What was I thinking when I positioned it:
To keep my tank alive as long as possible with the two healers.
To have a tank as well as a second tank that can deal properly but can also withstand a lot.
To keep the back of my second tank free as good as possible so he doesn't get additional damage
from monsters attacking from behind.
Concentrate the attack on one point.

Round 1
My opponent probably suspected that I was using the Summoner Obsidian as well as, Magic
monsters, because he chose the Summoner Thaddius brood.
In addition, his tank had the ability "Void" and his second tank the ability "Void Armor" although this
makes the rule set "Weak Magic" superfluous.
His lineup also includes a monster with the Sneak ability, so I'm happy with my two little buffers.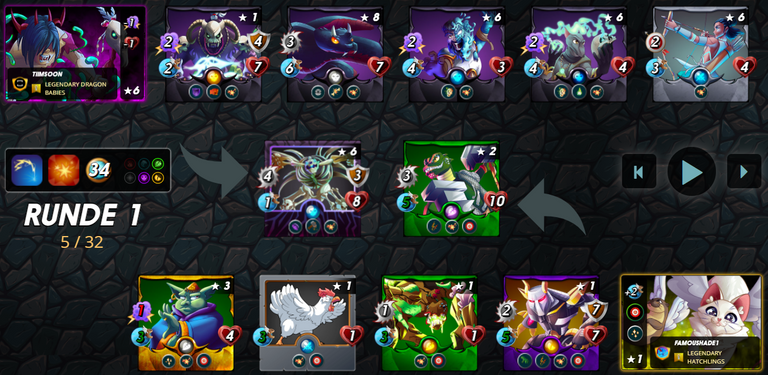 Round 2
In the first round, he defeated my Furious Chicken.
There were no losses on his side either. But since I did a good job on his Tank and Second Tank, I'm
sure that will change in the next round.
At the beginning of the second round he defeated my Goblin Psychic before it had a chance to heal
my tank. He also eliminated Corpse Fiend.
I in turn managed to eliminate his tank and second tank in this round. So from now on I had an easy
game.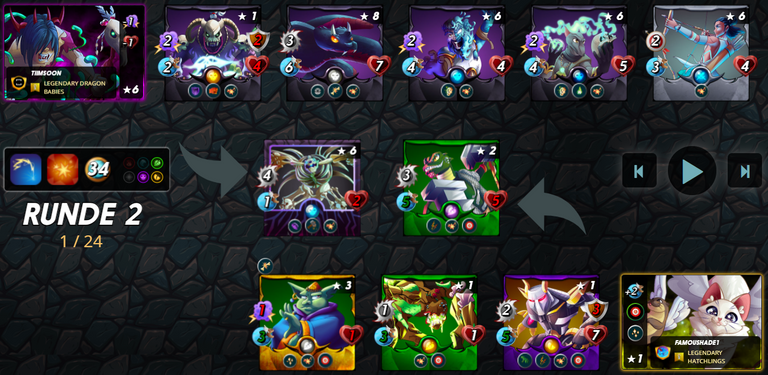 Round 3-4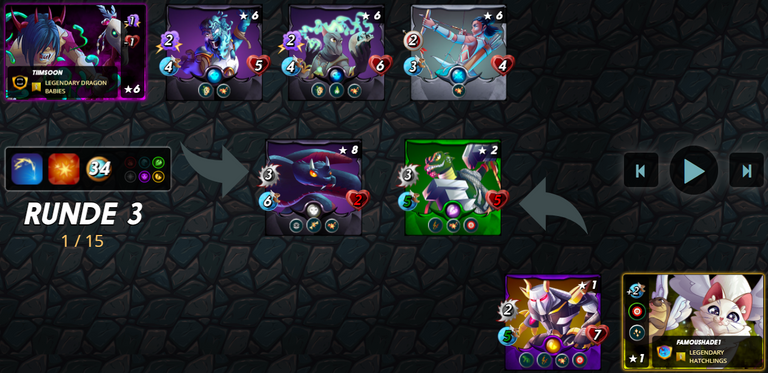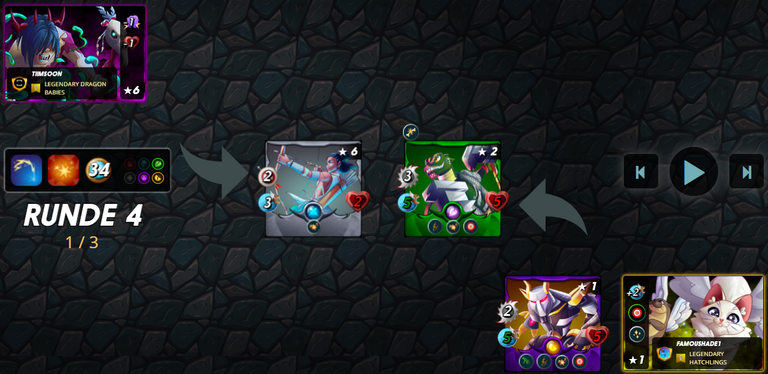 I could decide the fight clearly for me. My luck was that the opponent made his lineup, assuming that I had a lineup with mostly magic monsters.

Here you can watch the fight in full length

Thanks go to @broxi for this great divider.
I'm glad to have participated again and hope to be back soon.
Would you change anything about my lineup?
Do you like Dragon?
Feel free to let me know in the comments below.
Until next time and thanks for staying tuned.
Yours Famoushade1

Share your Battle Challenge
Deutsch
Diese Woche geht es bei der "Share your Battle Challenge" um das Thema Drachen.
Ich habe bereits zum zweiten Mal das Vergnügen, dass diese zum Thema gewählt wurden.
Nach wie vor, bin ich ein riesen Fan davon, Drachen im Kampf einzusetzen.
Dieses Mal ging es auch wieder schnell einen passenden Kampf zu finden um diese einzusetzen.
Um genauer zu sein, passten die Voraussetzungen schon beim ersten Kampf.

Im Folgenden könnt ihr die Kampfanforderungen sehen:
Weak Magic: Magische Angriffe treffen die Rüstung, bevor sie die Gesundheit reduzieren
Explosive Weaponry: Alle Monster haben die Blast-Fähigkeit (fügt Monstern neben dem Zielmonster
zusätzlichen Schaden zu)
34 Mana stand zur Verfügung
Earth, Death und Dragon war erlaubt.


Ich wählte den legendären Drachen Summoner Byzantine Kitty. Um die Gute einzusetzen, benötigt
man 7 Mana, dafür bringt sie aber auch einiges mit:
+2 Bewegungspunkte
True Strike: Die Angriffe dieses Monsters können nicht verfehlen
Tank Heal: Stellt jede Runde einen Teil der Gesundheit des Monsters in der ersten Position wieder her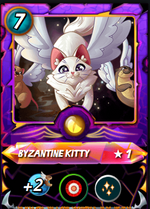 An erster Stelle positionierte ich Grund. Diese Karte kann dank ihrer Fähigkeit "Double Strike" gleich zweimal pro Runde angreifen.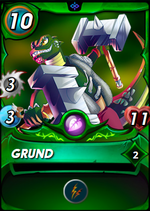 An zweiter Stelle positionierte ich Carnage Titan. Auch er verfügt über "Double Strike" und außerdem
noch über die Fähigkeit "Reach", wodurch er aus zweiter Reihe angreifen kann.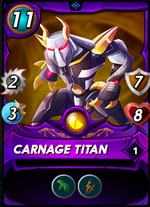 An dritter und vierter Stelle positionierte ich Furious Chicken und Corpse Fiend als Puffer.
Ich positionierte sie zwischen Platz 2 und 5, zum Einen falls der Gegner ein Monster mit der Fähigkeit "Sneak" einsetzt und von hinten angreift.
Zum Anderen falls der Gegner meinen Tank besiegt, wäre es mir recht, wenn mein Goblin Psychic
nicht gleich Schaden erleidet durch Blast.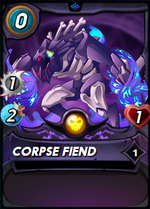 An fünfter Stelle positionierte ich Goblin Psychic. Dieses Monster verfügt ebenfalls wie mein
Summoner über die Fähigkeit "Tank Heal".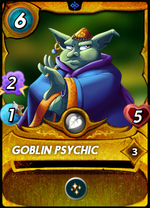 Was habe ich mir bei der Aufstellung gedacht:
Durch die zwei Heiler meinen Tank möglichst lange am Leben zu halten.
Einen Tank sowie Second Tank zu haben, die ordentlich austeilen können aber auch einiges
aushalten.
Den Rücken von meinem Second Tank, so gut es geht, freizuhalten damit er nicht
zusätzlichen Schaden erleidet von Monstern, die von hinten angreifen.
Den Angriff auf einen Punkt konzentrieren.

Runde 1
Mein Gegner vermutete wohl, dass ich den Summoner Obsidian sowie Magie Monster verwende,
denn er wählte den Summoner Thaddius brood.
Außerdem hatte sein Tank die Fähigkeit "Void" und sein Second Tank die Fähigkeit "Void Armor"
obwohl diese das Rule Set "Weak Magic" ja überflüssig macht.
In seiner Aufstellung findet sich auch ein Monster mit der Fähigkeit Sneak, weshalb ich glücklich über meine zwei kleinen Puffer bin.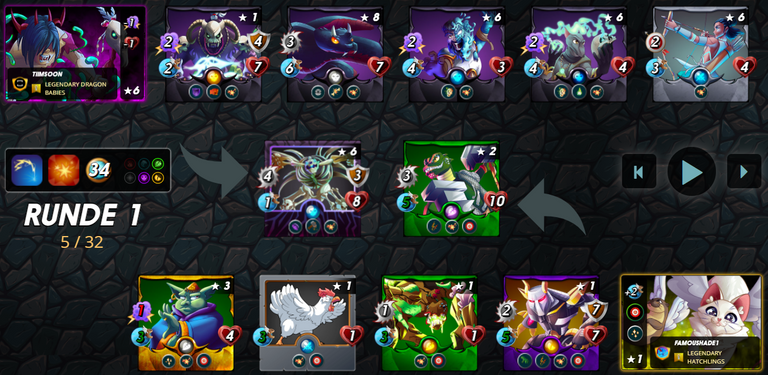 Runde 2
In der ersten Runde besiegte er mein Furious Chicken.
Auf seiner Seite gab es keine Verluste. Da ich seinem Tank sowie Second Tank aber gut zugesetzt
habe, wird sich das bestimmt noch in der nächsten Runde ändern.
Gleich zu Beginn der zweiten Runde besiegte er meinen Goblin Psychic, noch bevor dieser die
Möglichkeit hatte meinen Tank zu heilen. Außerdem eliminierte er auch Corpse Fiend.
Ich im Gegenzug habe es in dieser Runde geschafft seinen Tank sowie Second Tank zu eliminieren.
Somit hatte ich ab jetzt leichtes Spiel.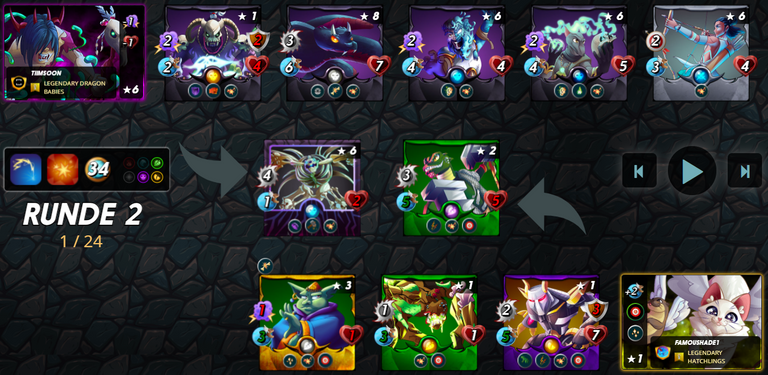 Runde 3-4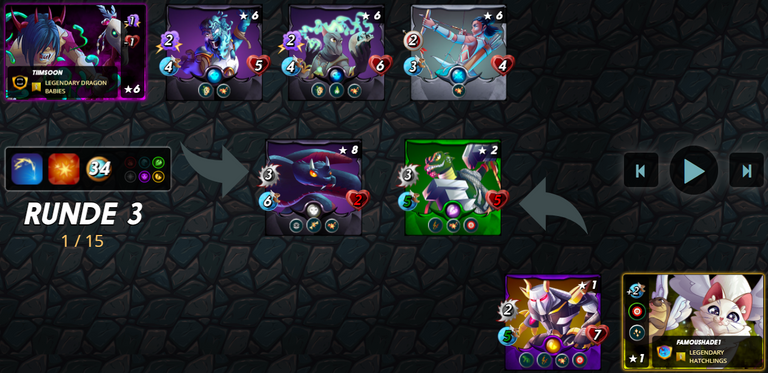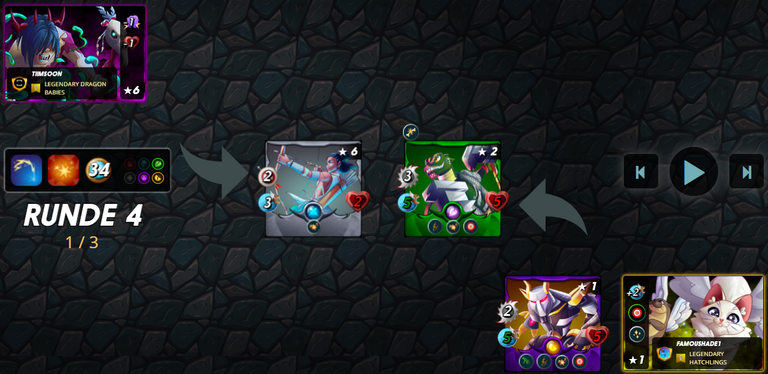 Ich konnte den Kampf klar für mich entscheiden. Mein Glück war es, dass der Gegner seine
Aufstellung in der Annahme tätigte , dass ich eine Aufstellung mit überwiegend Magie Monstern
habe.

Hier könnt ihr den Kampf in voller Länge sehen

Ein Dankeschön geht an @broxi für diesen großartigen Divider
Ich freue mich wieder mitgemacht zu haben und hoffe bald wieder dabei sein zu können.
Spielst du gerne mit Drachen?
Würdet ihr etwas an meiner Aufstellung ändern?
Lasst es mich gerne in den Kommentaren unten wissen.
Bis zum nächsten Mal und danke fürs Dranbleiben.
Euer Famoushade1
---
---