Supply Runner - Share your Battle Challenge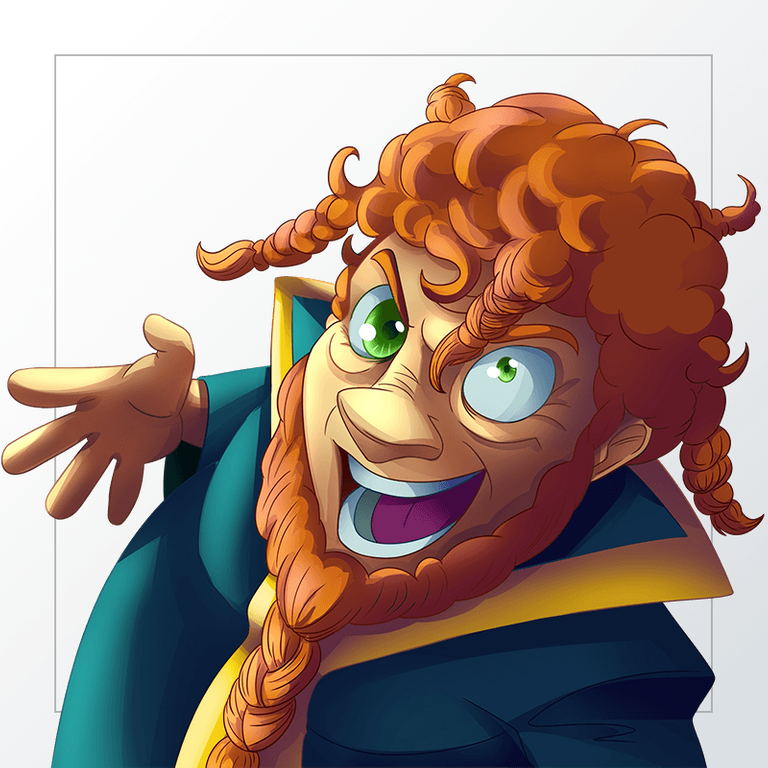 English
Share your Battle Challenge
This week the "Share your Battle Challenge" is about the monster Supply Runner..
I like this monster and I'd like to tell you why.😎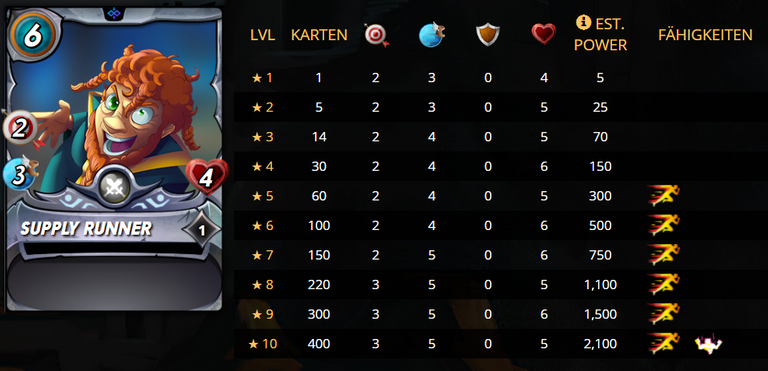 Supply Runner is a monster of the Chaos Legion Edition.
What speaks for the monster is that it is a neutral monster and can therefore be played with any Summoner.
In addition, it gets from Lv5, Silver Max, the ability "Swiftness". This causes, that all own monsters get an increased speed. Thus, it is an excellent support and is therefore also regularly used in my lineup.

The battle shown is from a tournament where only Chaos Legion Edition were allowed.


In the following you can see the combat requirements:
Target Practice: All ranged and magic attack monsters have the "Snipe" ability.
Even Stevens: Only monsters with even mana cost may be used in combat.
99 mana was available
Allowed were: Life, Wather and Earth


As Summoner I chose Obsidian. This gives my magic monsters an additional magic attack point.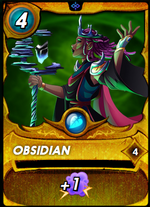 In the first place I positioned Grund. With his 4 attack points he is a real powerhouse and thanks to his ability "Double Strike" he can attack twice per turn.

In second place I positioned Mycelic Infantry as Second Tank.
He has the ability:
"Shield": Reduced damage from melee and ranged attacks.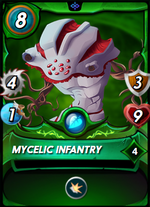 In the third place I positioned Magi of Chaos.
The monster doesn't have any refined abilities, but it has a lot of attack power.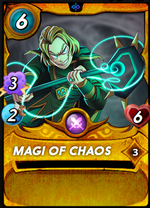 In fourth place I positioned Goblin Psychic.
This monster has the ability:
"Tank Heal": restores part of the health of the monster in the first position every turn.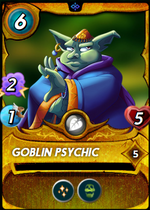 In fifth position, I positioned Queen Mycelia.
She has the ability:
"Protect": All friendly monsters get +2 armor.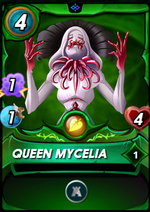 In the sixth place I positioned Supply Runner.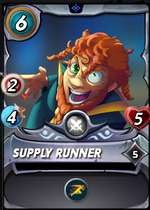 About my lineup:
A lot of this lineup revolved around my tank Grund.
I used Goblin Psychic because he heals my tank every turn.
Supply Runner I used to increase the probability of Grund hitting first. So that at least in the second round he gets a turn. Since I already made the experience that he dies at the beginning of the second turn without attacking.
Queen Mycelia was set to protect all my monsters for a change. Because of "Snipe" just the back of my monsters are a target for the opponent.

Round 1
My opponent was at a clear disadvantage since his Summoner was only at Lv1.
He used General Sloan as Summoner, which gives +1attack to his ranged fighters.
He used Time Mage which slows down my monsters because of its "Slow" ability.
In the first round we lost 2 monsters each.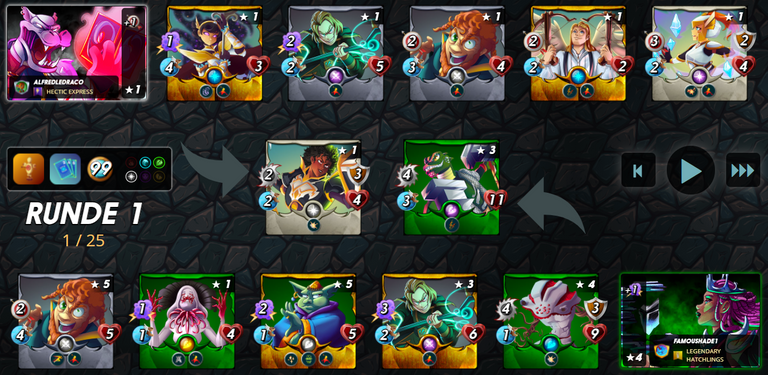 Round 2
In Round 2, my opponent lost his Tank right at the beginning and 1 more of his monsters later on.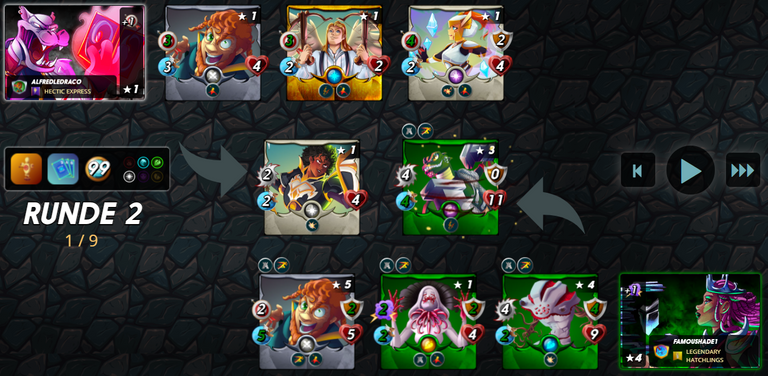 Runde 3
In this round there was no counterattack from my opponent.
Grund flattened the last two monsters of my opponent with his 2 attacks.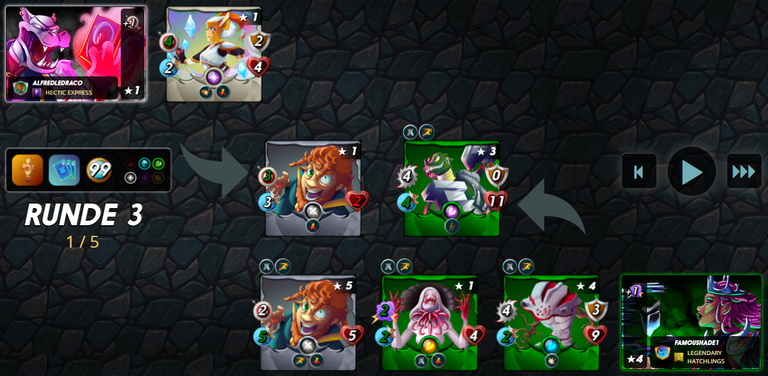 As expected at the beginning of the fight, I took the victory.

Here you can watch the fight in full length

I'm glad to have participated again and hope to be back soon.
Thanks go to @broxi for this great divider.
Would you change anything about my lineup?
Do you like playing Supply Runner?
Feel free to let me know in the comments below.
Until next time and thanks for staying tuned.
Yours Famoushade1

Share your Battle Challenge
Deutsch
Diese Woche geht es bei der "Share your Battle Challenge" um das Monster Supply Runner..
Ich mag das Monster und sag euch auch gerne warum.😎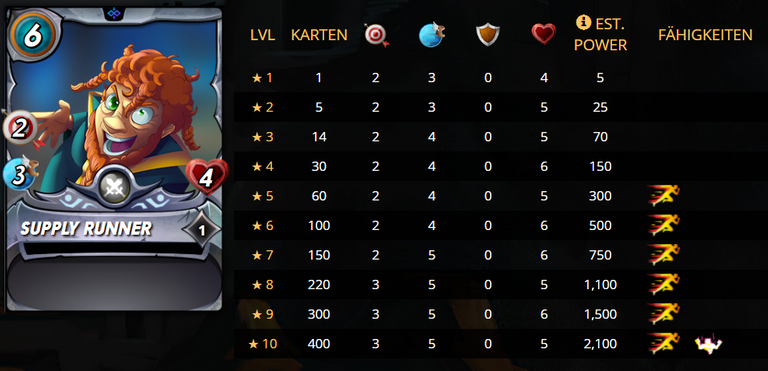 Supply Runner ist ein Monster der Chaos Legion Edition.
Was für das Monster spricht, ist das es ein neutrales Monster ist und somit mit jedem Summoner gespielt werden kann.
Außerdem bekommt es ab Lv5, also Silber Max, die Fähigkeit "Swiftness". Diese bewirkt, dass alle eigenen Monster eine erhöhte Geschwindigkeit bekommen. Somit ist er ein hervorragender Support und kommt dadurch auch regelmäßig zum Einsatz bei meiner Aufstellung.

Der gezeigte Kampf stammt von einem Turnier in dem nur Chaos Legion Edition zugelassen waren.



Im Folgenden könnt ihr die Kampfanforderungen sehen:
Target Practice: Alle Fernkampf- und Magie-Angriffsmonster haben die "Snipe" Fähigkeit.
Even Stevens: Im Kampf dürfen nur Monster mit geraden Mana kosten eingesetzt werden.
99 Mana stand zur Verfügung.
Erlaubt waren: Life, Wather und Earth.


Als Summoner wählte ich Obsidian. Dieser gibt meinen Magie-Monstern einen zusätzlichen Magieangriffspunkt.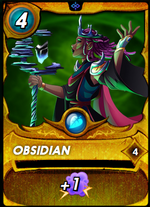 An erster Stelle positionierte ich Grund. Mit seinen 4 Angriffspunkten ist er ein wahres Kraftpaket, außerdem kann er dank seiner Fähigkeit "Double Strike" gleich zweimal pro Runde angreifen.

An zweiter Stelle positionierte ich Mycelic Infantry als Second Tank.
Er verfügt über die Fähigkeit:
"Shield": Reduzierter Schaden durch Nah- und Fernkampfangriffe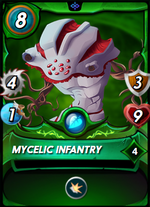 An dritter Stelle positionierte ich Magi of Chaos.
Das Monster verfügt über keine raffinierten Fähigkeiten, dafür aber über ordentlich Angriffs-Kraft.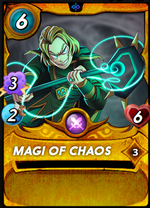 An vierter Stelle positionierte ich Goblin Psychic.
Dieses Monster verfügt über die Fähigkeit:
"Tank Heal": Stellt jede Runde einen Teil der Gesundheit des Monsters in der ersten Position wieder her.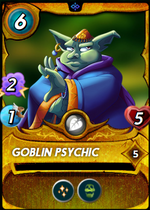 An fünfter Stelle positionierte ich Queen Mycelia.
Sie verfügt über die Fähigkeit:
"Protect": Alle befreundeten Monster erhalten +2 Rüstung.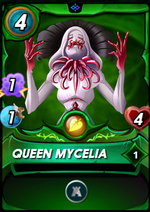 An sechster Stelle positionierte ich Supply Runner.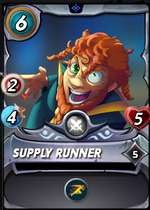 Zu meiner Aufstellung:
Es drehte sich in dieser Aufstellung sehr viel um meinen Tank Grund.
Goblin Psychic setzte ich ein da er meinen Tank jede Runde heilt.
Supply Runner setzte ich ein damit ich die Wahrscheinlichkeit erhöhe das Grund als erster zuschlägt. So dass er zumindest in der zweiten Runde auch noch einmal zum Zug kommt. Da ich schon des Öfteren die Erfahrung gemacht habe das er gleich am Anfang der zweiten Runde stirbt, ohne anzugreifen.
Queen Mycelia wurde zur Abwechslung gezielt zum Schutz aller meiner Monster gesetzt. Da durch "Snipe" gerade die hinteren meiner Monster ein Ziel für den Gegner abgeben.

Runde 1
Der Gegner war mir klar im Nachteil da sein Summoner nur auf Lv1 war.
Er verwendete als Summoner "General Sloan". Dieser gibt seinen Fernkämpfern +1Angriff.
Er setzte Time Mage ein. Die verlangsamte meine Monster aufgrund ihrer Fähigkeiten "Slow".
Gleich in der ersten Runde verloren wir jeweils 2 Monster.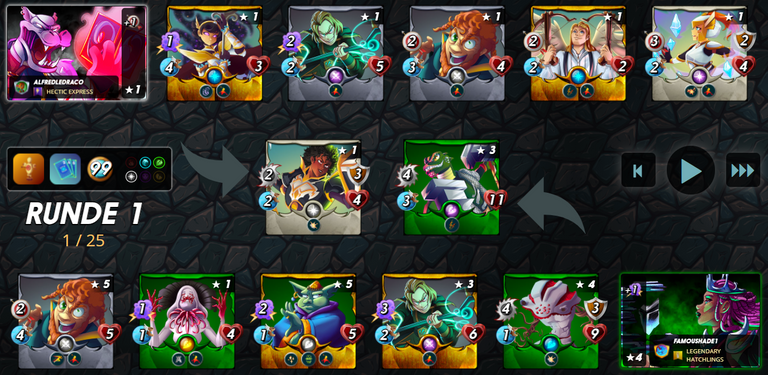 Runde 2
In Runde 2 verlor mein Gegner gleich zu Beginn seinen Tank und im späteren Verlauf 1 weiteres seiner Monster.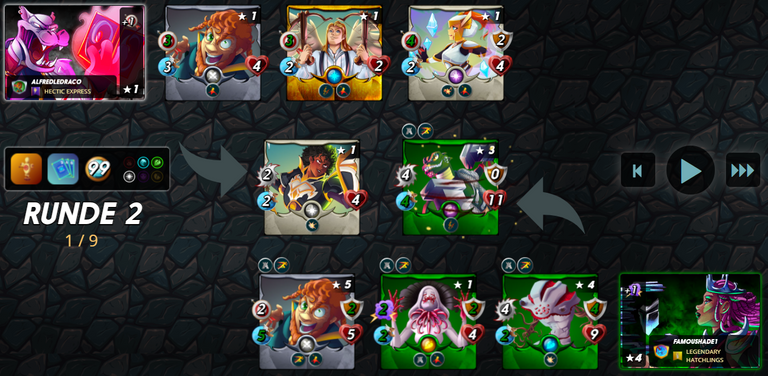 Runde 3
In dieser Runde kam vom Gegner kein Gegenangriff mehr.
Grund machte mit seinen 2 Angriffen die beiden letzten Monster meines Gegners platt.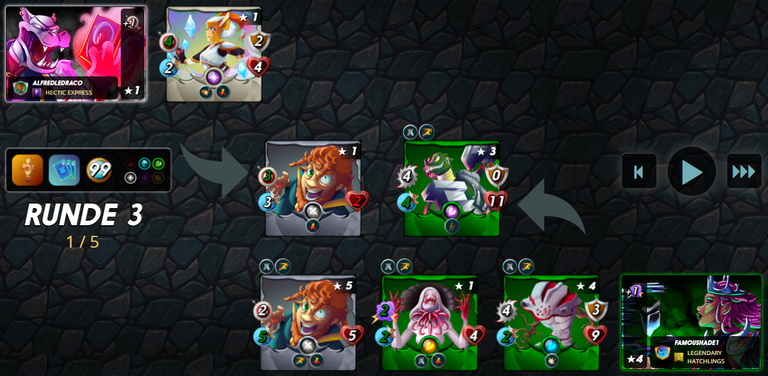 Wie bereits zu Beginn des Kampfes zu erwarten war, holte ich mir den Sieg.

Hier könnt ihr den Kampf in voller Länge sehen

Ich freue mich wieder mitgemacht zu haben und hoffe bald wieder dabei sein zu können.
Ein Dankeschön geht an @broxi für diesen großartigen Divider
Spielst du gerne mit Supply Runner?
Würdet ihr etwas an meiner Aufstellung ändern?
Lasst es mich gerne in den Kommentaren unten wissen.
Bis zum nächsten Mal und danke fürs Dranbleiben.
Euer Famoushade1
---
---