Chipping in on the Splinterlands' event, The Great Burning [EN/PT]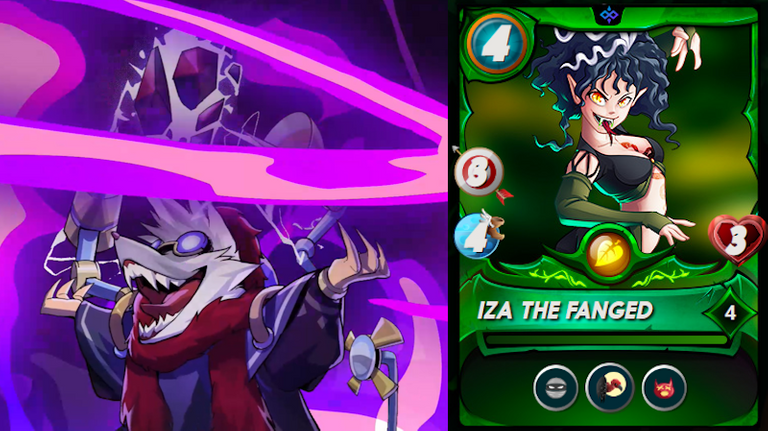 10k points because why not
Today, I've gained 10k points in the ongoing The Great Burning official Splinterlands event. I thought I'd get a random bonus instantly, but it turns out it's only going to be distributed when the event is over. That's what I get for not reading the official post related to the event with all the juicy details.
These 10k points only cost me ~3400 DEC. Do you want to participate? Are you late like me? Make sure you read the Splinterlands' dev team post about it here.
---
Playing Iza in the Market
I've also bought a maxed Iza the Fanged. I figure that I should either buy cards either at 1 BCX or maxed, regardless if I'm going to play them, in case I already do own enough Monsters of that card's Splinter. Which I currently do, for the level that I'm playing at Silver League.
Fortunately, Iza is going up a bit in price since I purchased it, so I put it up for sale for $11.59 after buying it for $8.2. This isn't measly profit, even if it looks like $3 to whales or whoever. I can buy a maxed reward common for $3 and still have the $8.2 I originally used, so it's a free maxed card for just a small couple of transactions.
Small plays in the market like this are much better than just sitting on my recently purchased cards that don't get picked in team selection so often. The original $8.2? I'll probably get them on Hive Dollars savings. There's this new goal of mine - getting 10k Hive Dollars on Savings mode through Hive usage alone - although I'm planning to buy some hive occasionally from stuff I do outside crypto.
---
PORTUGUÊS
Hoje, ganhei 10k pontos no evento oficial The Great Burning Splinterlands em andamento. Achei que receberia um bônus aleatório instantaneamente, mas descobri que só será distribuído quando o evento terminar. Isso é o que eu ganho por não ler o post oficial relacionado ao evento com todos os detalhes suculentos.
Esses 10k pontos me custaram apenas ~3400 DEZ. você quer participar? Você está atrasado como eu? Certifique-se de ler a postagem da equipe de desenvolvimento de Splinterlands sobre isso aqui.
---
Jogando Iza no Mercado
Eu também comprei um Iza the Fanged no máximo. Acho que devo comprar cartas a 1 BCX ou no máximo, independentemente se vou jogá-las, caso eu já possua Monstros suficientes do Splinter dessa carta. O que faço atualmente, pelo nível que estou jogando na Silver League.
Felizmente, Iza está subindo um pouco de preço desde que o comprei, então coloquei à venda por $ 11,59 depois de comprá-lo por $ 8,2. Isso não é um lucro insignificante, mesmo que pareça $ 3 para as baleias ou quem quer que seja. Posso comprar um cartão de recompensa máximo máximo por US $ 3 e ainda ter os US $ 8,2 que usei originalmente, portanto, é um cartão máximo gratuito para apenas algumas poucas transações.
Pequenas jogadas no mercado como esta são muito melhores do que apenas sentar em minhas cartas compradas recentemente que não são escolhidas na seleção de times com tanta frequência. Os $ 8,2 originais? Provavelmente vou comprá-los com as economias do Hive Dollars. Há esse novo objetivo meu - obter 10k Hive Dollars no modo de economia apenas por meio do uso do Hive - embora eu esteja planejando comprar algum hive ocasionalmente de coisas que faço fora da criptografia.
image source: https://splinterlands.com?ref=felipejoys
---
---