Current reward cards: silver-level legendaries + some epics [EN/PT]

EN
I'm talking about four cards in total from the Splinterlands crypto game. Harklaw, Djinn Oshannus, Djin Chwala and Uraeus. Let's get started.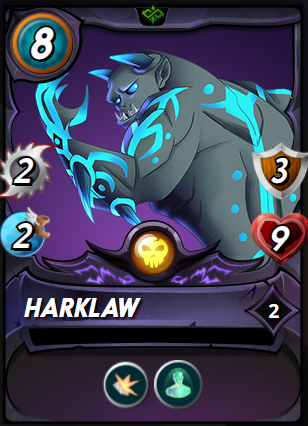 Harklaw isn't really impressive - until you realize he's Death Splinter's only legendary tank with Shield in silver league. Even Lord of Darkness doesn't have it yet, while Dark Ha'On never gets it at all. If you need physical defenses, then Harklaw is your first choice, specially if you happen to own expensive cards like Mimosa Nightshade and Corrupted Pegasus. No longer will you get beaten to a pulp! For most players, Harklaw still offers a very good tank in the first position for any 20+ mana battles. He's great at max level too, at least occasionally, considering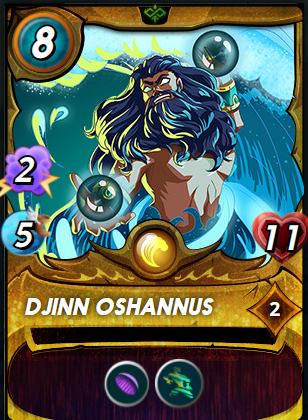 Djinn Oshannus, aka next level. If there's an above-average legendary tier card being printed right now, it's this one. Powerful enough to use in any position in many different strategies, it'll serve as a tank, an off tank, literally anything in high-mana matches and even has an effing FORCEFIELD ability from level 3+. Game changing, match breaking. Just like other over-the-top legendaries.
Djinn Bilka has been covered in my last post.
Djinn Chwala is a very welcome addition to Dragon Splinter, because he's the one tank you can use in every situation. Thorns is a really strong ability that breaks enemy melee attacks, justifying its Epic rarity. However, in higher-than-silver levels, it only gets better. Enrage and True Strike make sure it's going to hit like a bull once it finally sees its turn - just make sure you've already broken the enemy tank's armor before that happens.
Uraeus is great at not hitting things like Djinn Chwala. A neutral serpentine spy? That's ridiculous. A globally useful assassin like this deserves its above-average price. If there's only one offensive card you want to own forever to use in almost all of your battles when you're in a budget, it has got to be this one.
I hope you've enjoyed my review of these cards. Thanks for reading!
---
---
---
PT
A tradução para o português que é do Google, já que escrevo diretamente em inglês
Vou falar de quatro cartas no total. Harklaw, Djinn Oshannus, Djin Chwala e Uraeus. Vamos começar.
Harklaw não é realmente impressionante - até você perceber que ele é o único tanque lendário do Death Splinter com Shield na liga de prata. Mesmo Lord of Darkness não tem ainda, enquanto Dark Ha'On nunca consegue. Se você precisa de defesas físicas, Harklaw é sua primeira escolha, especialmente se você tiver cartas caras como Mimosa Nightshade e Corrupted Pegasus. Você não será mais espancado até virar polpa! Para a maioria dos jogadores, Harklaw ainda oferece um tanque muito bom na primeira posição para qualquer batalha de mais de 20 mana. Ele é ótimo no nível máximo também, pelo menos ocasionalmente, considerando
Djinn Oshannus, também conhecido como * próximo nível *. Se houver um card de nível lendário acima da média sendo impresso agora, é este. Poderoso o suficiente para ser usado em qualquer posição em muitas estratégias diferentes, ele servirá como um tank, um off tank, literalmente qualquer coisa em partidas de alta mana e ainda tem uma maldita habilidade FORCEFIELD do nível 3+. Mudança de jogo, quebra de partida. Assim como outros lendários exagerados.
Djinn Bilka foi abordado em minha última postagem.
Djinn Chwala é uma adição muito bem-vinda ao Dragon Splinter, porque ele é o único tanque que você pode usar em todas as situações. Thorns é uma habilidade realmente forte que quebra os ataques corpo a corpo do inimigo, justificando sua raridade épica. No entanto, em níveis mais altos do que a prata, ele só fica melhor. Enrage e True Strike garantem que ele vai bater como um touro assim que finalmente chegar a sua vez - apenas certifique-se de que já quebrou a armadura do tanque inimigo antes que isso aconteça.
Uraeus é ótimo em não acertar coisas como Djinn Chwala. Um espião neutro e serpentino? Isso é ridículo. Um assassino útil globalmente como este merece seu preço acima da média. Se houver apenas uma carta ofensiva que você deseja ter para sempre para usar em quase todas as suas batalhas quando estiver com um orçamento apertado, tem que ser esta.
Espero que tenham gostado da minha análise desses cartões. Obrigado por ler!
---
---