7000 SPS Target Achieved & Exploring Liquidity Pools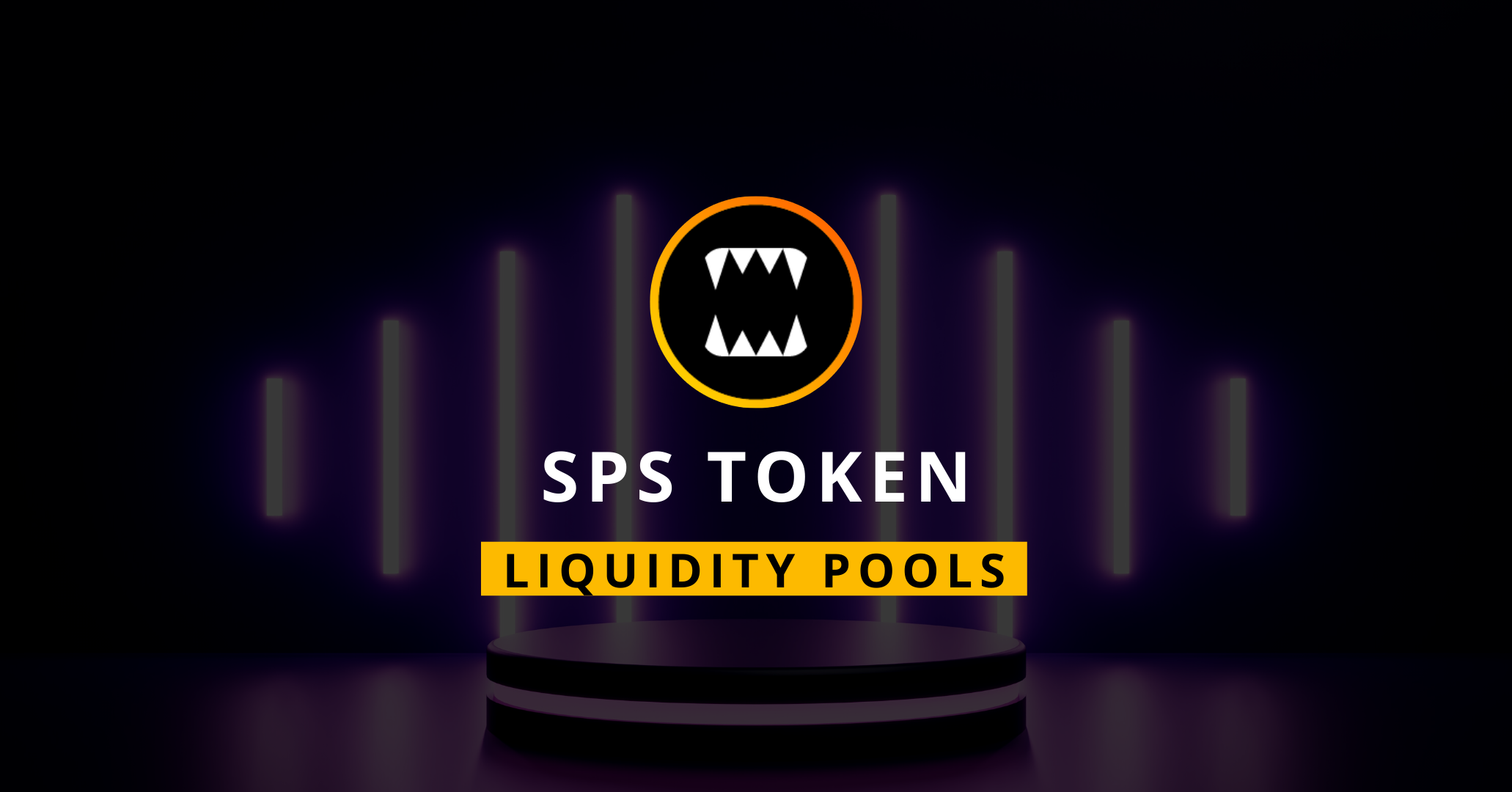 ---
Ever since the SPS airdrop stopped, my SPS stake has been increasing slowly. I have staked all of it within the game that is currently giving 29.6% APR as of now. That is quite low as compared to a few months ago and it will continue to go down. This is the time to explore other opportunities to use my SPS stake and get a better return.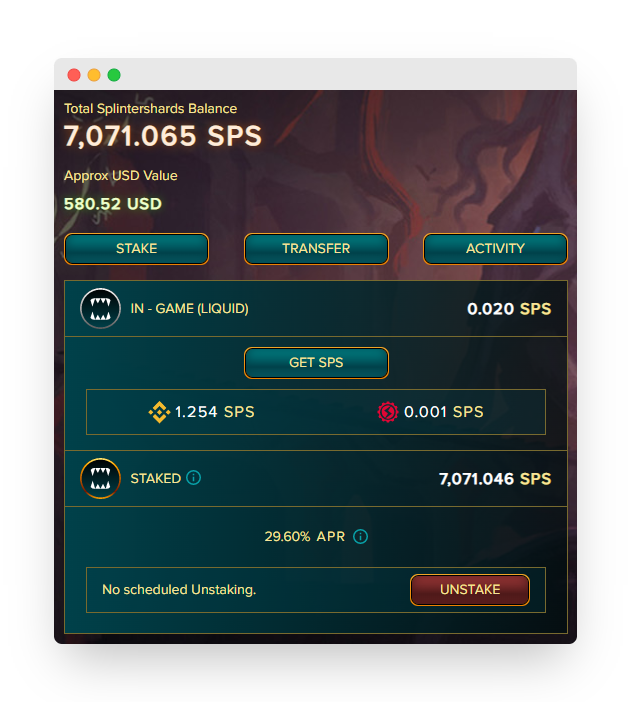 But before that, I want to give a huge shoutout to @aggroed and @yabapmatt for continuously dishing out updates. They are trying hard to make this whole experience a little better with each passing day. Every townhall they talk about upcoming features and collaborations that gets me so excited and I end up buying a handful of SPS with whatever extra cash I have.
Liquidity Pools
Splinterlands has made many changes in UI after the year-long airdrop ended. Now we have 4 different tabs named as SPS, VOUCHERS, LICENSES and POOLS. I am most interested in the POOLS tab where you can see the option to earn DEC or SPS based on the liquidity pool you are investing in. Special thanks to @forexbrokr for highlighting this in one of his threads recently. Otherwise, I would have ignored them completely. 🤤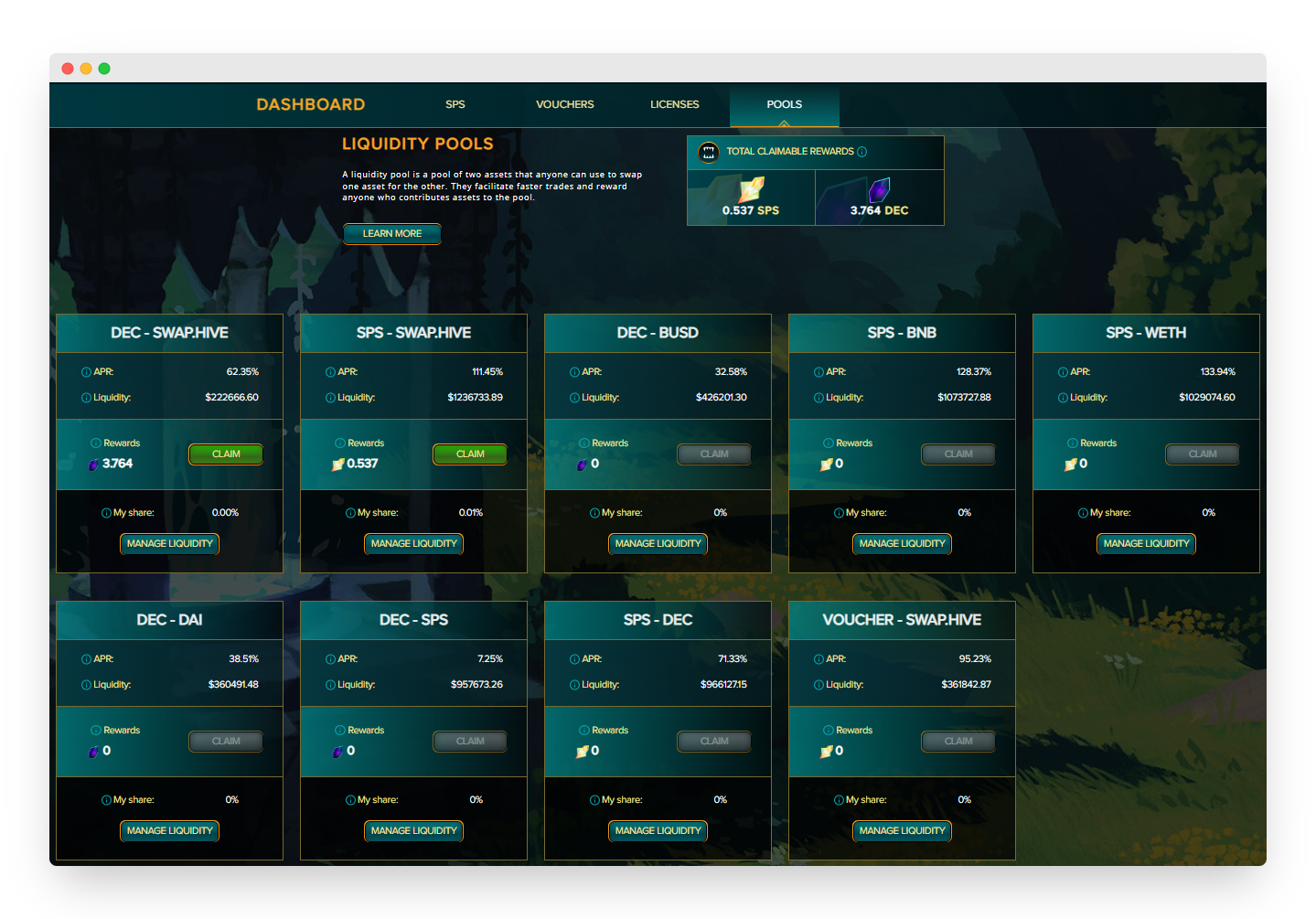 A liquidity pool helps in doing the transactions smoothly by maintaining liquidity. Great thing is that all liquidity providers get rewarded for their hard work. On top of these pool rewards, you can earn extra DEC and SPS. Right now the APRs of some of these pools is crazy. My top picks are these:
SWAP.HIVE - SPS (110% APR)
VOUCHER - SWAP.HIVE (93.69%)
SPS - BNB (127%)
SPS - WETH (132%)
These have dropped a bit since I took the above screenshot so the numbers may vary when you look at them. APR will go down even further as more people join the party. So make sure that you put your money in some of them if you want to take advantage. Although the risk is high but it's definitely better than simply staking SPS in the game.
MLSPA x Splinterlands Parternship
SPS price has been steadily growing since the airdrop ended. In the last townhall, Splinterlands team made a huge announcement which might have further implications on its price. The Major League Soccer Players Association (MLSPA) has collaborated with Splinterlands to create and develop a play-to-earn (P2E) blockchain soccer-based game for their fans.
The best part is that if you stake SPS, then you will be eligible for the airdrop of the game. Time to get ready to receive free packs or new game tokens. I am aiming to complete 10k SPS at least before they release the game. Can I do it? Yes I can and I will. xD
Riftwatchers Presale
The next big thing to happen within Splinterlands is the Riftwatchers mini edition pack presale under which 2 million packs will be sold. I will definitely buy some of those packs to see what cards I get. I am anyway bored of buying Chaos Legion packs and I think I got at least 1 card of each monster or summoner. It will be nice to see some different surprises. I still don't know if SPS is enough or if we also need to have vouchers to buy these packs. If you know, then please let me know in the comment section below.
Splinterlands continues to be the #1 blockchain game on the planet and it should stay that way in many years to come. 😉🚀
---
Follow: https://leofinance.io/@finguru
Twitter: https://twitter.com/finguru6
Discord: finguru#4062
---
Not financial advice. For infotainment purposes only.
Posted Using LeoFinance Beta
---
---