Chaos Legion: Voucher Airdrop Calculator Tool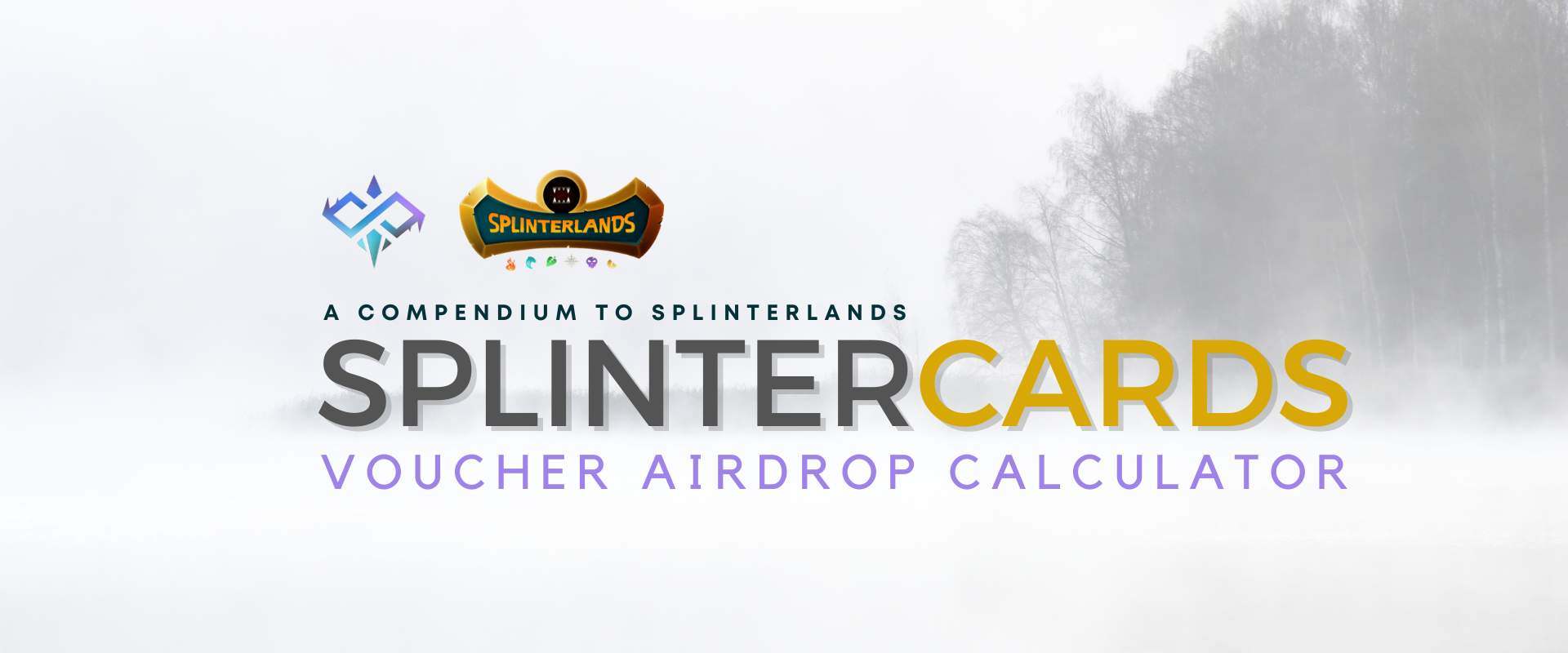 ---
As well all know that Chaos Legion (CL) Card Pack Presale is going to start from 18th Oct till 17th November**. Each CL Card pack will cost $4 and 1 Voucher. Vouchers will be airdropped daily during the presale period on the basis of these two parameters:
How much SPS YOU have staked?
How much SPS is staked OVERALL?
Only 1 million vouchers (for 1 million CL Packs) will be airdropped. We all went on guessing how many vouchers we are going to get. The bigger your SPS stake, the bigger your voucher airdrop share. It's simple! But still, if you want to make the most accurate guess, please read further.
Voucher Airdrop Calculator
I found this amazing website called Splintercards a free project by @tehox. He has recently released a tool to calculate the number of Vouchers you are going to get during the presale. ✌ Thanks a ton mate. You are doing a great job and that's why sending some coffee money (read Crypto) to you.
Access The Voucher Calculator: https://www.splintercards.com/tool-vouchers.html
It's pretty straightforward to use. Click on the above link and fill in the amount of SPS Staked in the game's wallet.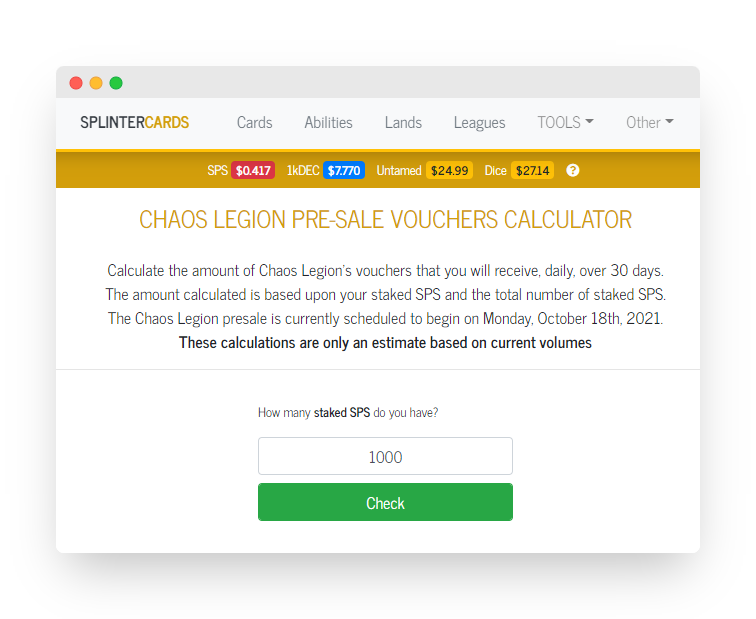 I entered 1000 but I have 600. 1000 would give you a good idea about how the voucher airdrop will work. You can enter your own actuals to find out the following details: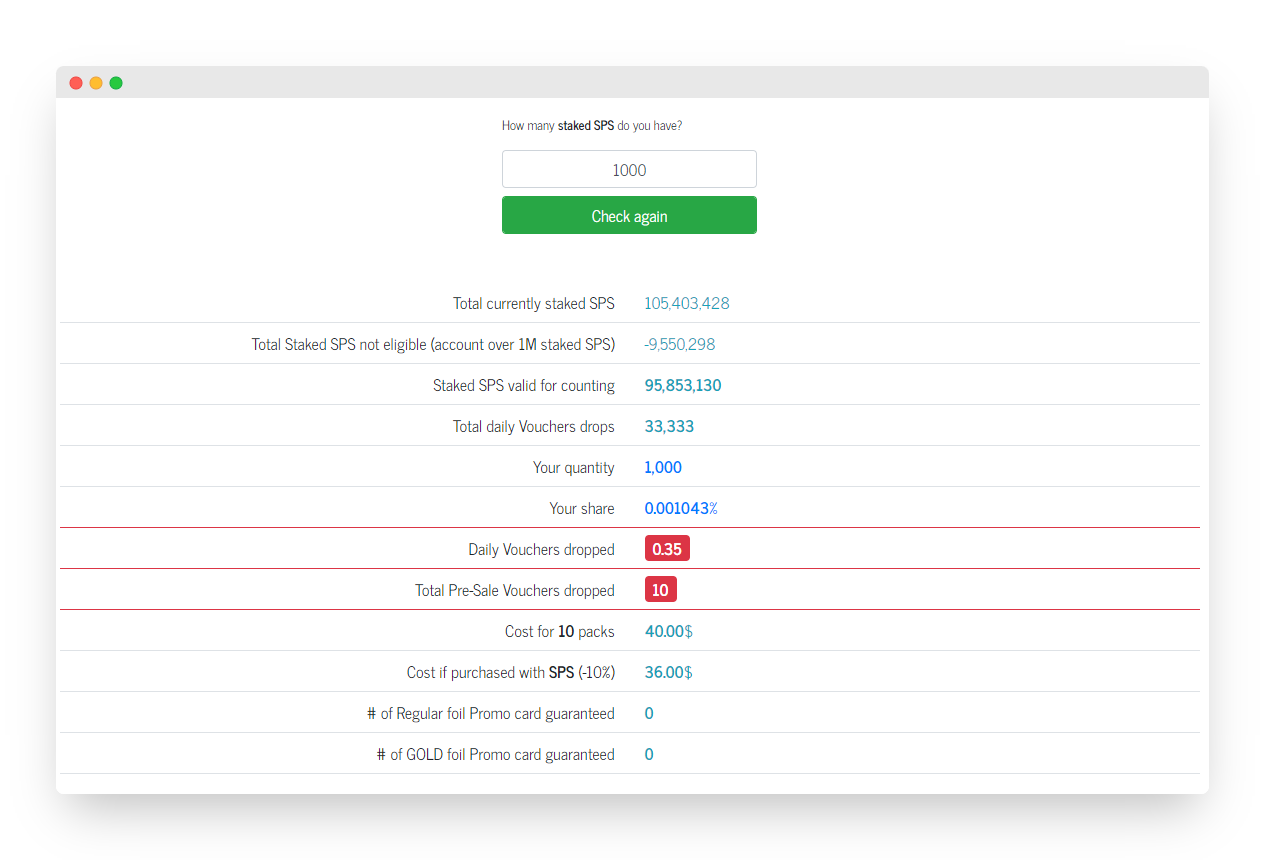 For 1000 SPS Staked in your wallet, you will get only 10 Vouchers during the presale period. The cost of one CL Pack would be $3.6 dollars if you purchase them from SPS. So make sure you buy SPS at that moment or use the SPS you already own to buy the packs. There's no reason for anyone to use any other in-game currency (DEC or Credits) for participating in the presale. Don't be a dumbo jumbo!
Splintercards is an amazing website and it provides enough information/tools for new and seasoned players to enjoy their journey while maximizing their returns. If you an investor or a player, this one is highly recommended. Once again, @tehox did a mind-blowing job, that too for free. Please buy him some coffee. :) Support him so that he can build more stuff like this one. Visit the website and you can find the tipping buttons down below the homepage.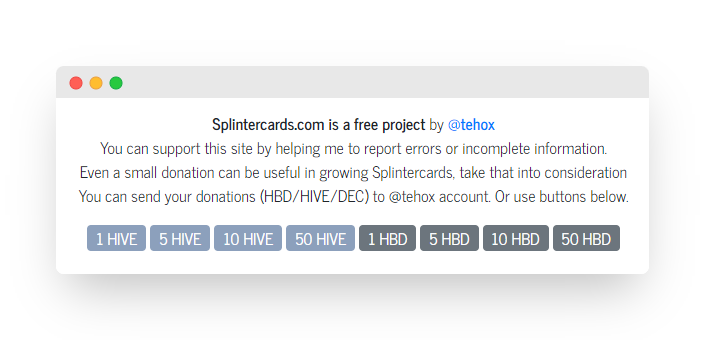 I might deep dive into the website some other time but for now, enjoy this tool and find out how many CL Card Packs you will be able to buy. 🚀 Let me know how many you are going to get in the comment section below!
If you are a new player, please check out this basic Splinterlands (DEC) guide by @crypto-guides to get you started with the game.
---

https://leofinance.io/@finguru

https://twitter.com/finguru6

finguru#4062
---

Not financial advice. For infotainment purposes only.
Posted Using LeoFinance Beta
---
---