My Brawl Report #4 - #HivePizza #BrawlReport - 09/16/21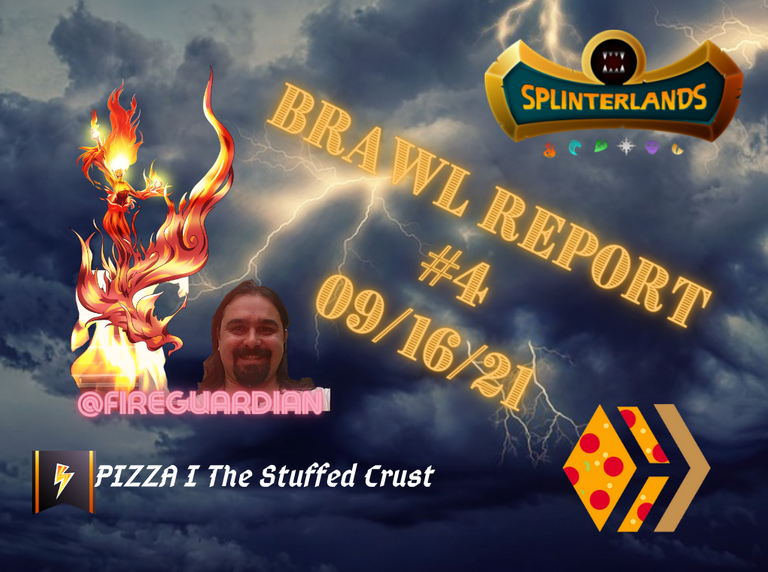 Hello everybody! This is my 4th Brawl report from the PIZZA I Guild! The Brawl Reports are an initiative by @kennysgaminglife for us to talk about the last brawl, share some insights (or dumb ideias) about our battles and make all of this a great fun learning experience! This brawl was super duper exciting, so I invite you to join me in this battle!!!
This was a really odd Brawl, since I entered my team but there was no opponent! I think that's one of the downsides of being in a GF fray. But Still, we did pretty good!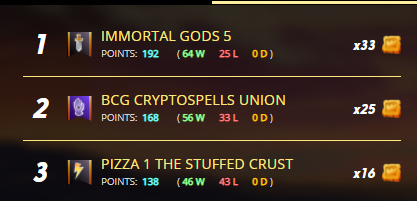 So in the end I didn't get any battle, and was just not the in last place because one of our members forgot to set his fights. But the interesting part is that I still got my merits on the fight, so NOICE!

Unfortunately I don't have any battles to share with you, but you can still read the other Brawl Report from the Pizza Guild People!

Final thoughts
There are many things changing in the game, and I think that the rent system is having a big toll in the game. I fee that I didn't get any fights because people didn't want to rent cards this time, specially Gold ones. They are really expensive right now and most of the time if you find a good deal, they will cancel it to rent for a higher price.
That also killed me in my season rewards, since I had fought hard to be at Gold 3 but on the last hour someone cancelled all my gold rentals and I fell back to Silver 1. Of course they can do that, after all it's their cards, but at the same time it leaves me with a bitter taste in the mouth, since I had payed for the rentals for many days and right close to the end they took my chests away.
On the other hand, it was interesting to see that even I didn't had any fights in the brawl, I still got the Merits. Didn't know that would happen so it was kind of a nice surprise.

This is the ideia of the awesome @kennysgaminglife, so I pass the mic to him:
Starting last month, I invited/asked members of the #HivePizza guild to publish a #BrawlReport, breaking down their highs & lows, where they need help, questions they have, strategies they love, and so on. The idea is to help us all reflect a bit, learn a bit, share a bit, earn a bit, and connect a bit.
Any other guilds interested in publishing a #BrawlReport, either as individuals, or one for the whole guild, I'm happy to send some curation love your way!

And if you read all of this and have no clue what Splinterlands is, it's an awesome game with a lot of strategy, beautiful art and tons of fun! They are developing many new features (the Brawl, for exemple, just got an upgrade of barracks and new cards!) You should really join now and don't miss the fun!!!
Thanks for reading until here!
Keep posting and keep shining!


---
---