1UP For ONEUP: Delegation Program, DAO and Liquidity Pools Are Active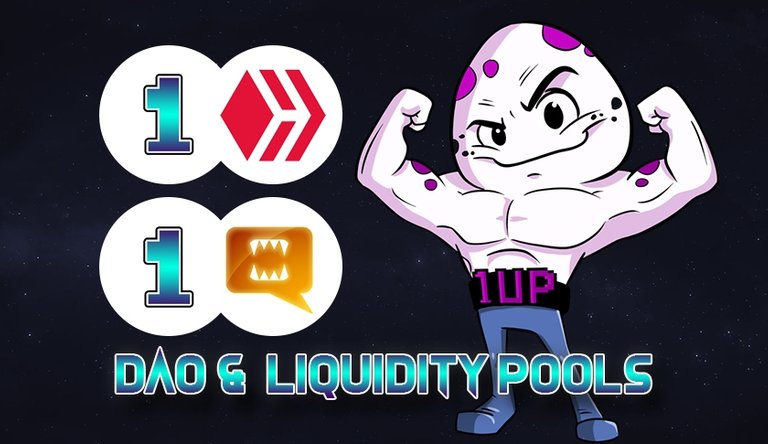 Let's start into the second week of 1UP with tons of new features and announcements. We have activated the DAO, created two liquidity pools on Tribaldex, started our delegation program and even have our first partnership with a game.
The First Week: 1Ups and Downs
The first week of 1UP is behind us. We got hit twice, first by the amazing interest from the HIVE community in the 1UP outpost, and then again by a Hive-Engine node blackout, paired with the main dev getting married (bless him and his family). This lead to a few days where 1up.zone was offline but the token functionality continued and curators switched to Peakd.com, upvoting posts in the eligible tags from there.
Today, 1up.zone is back online, coupled with the first payouts for authors and curators coming in. The market for ONEUP is waking up.

The 1UP Delegations Program
We created a framework to stake 500k ONEUP from the 1UP reserve on the dedicated account @oneup.delegation to hand out delegations for games, curators and communities.
The 1UP reserve is 30% of the issued tokens, which is 750k ONEUP (for each of the four installments every six months). This leaves us 250k ONEUP in the reserve from the first installment of issued tokens.
The first and largest delegation of 50k went to @engage1up, the Comment Curator for 1UP, managed by @jongolson, @blainjones and @elianaicgomes. They created a tool to track comments done on #oneup posts and reward the better ones. Read more about their initiative here.
The remaining 450k ONEUP are divided into 30 delegations of 15k ONEUP each. They will be for 90 days and then we reevaluate all the delegatees.
This means there are still 15 delegations open. Please contact me on Discord if you are interested in one of them, if you are an experienced curator, a blockchain game or gaming/nft community.

ONEUP Liquidity Pools (Diesel Pools)
It has never been easier to provide liquidity to a Hive-Engine token before, with the new Pool functionality on https://tribaldex.com/dieselpools/. We have created two pairs for ONEUP, that are ready to be populated with liquidity:
SWAP.HIVE:ONEUP
This will bring a great utility to ONEUP, as HIVE is the base token we all use to trade in and out of Hive-Engine. It will allow everyone to easily get access to ONEUP tokens.
ONEUP:SPT
Splintertalk is our sister tribe and the SPT token is part of the ongoing Splintershards (SPS) airdrop. This has given SPT a great value but it still lacks an incentivized reward pool. This will pull a lot of SPT (and ONEUP) into this pool and bring greater liquidity to both tokens.
You can add liquidity to both pools under https://tribaldex.com/dieselpools/add.

DAO, Burn Proposal & LP Rewards
In order to create LP rewards for the ONEUP pools, we activated the DAO feature of the outpost, which you might have seen on Splintertalk or another Hive-Engine outpost.
The DAO gets about 30% of the total inflation (6.5k ONEUP daily), reducing the Proof of Brain rewards for authors and curators to 70% of the total inflation (~14k ONEUP daily).
This allows us to move ONEUP inflation into both pools via two separate proposals.
The DAO settings are arbitrary for now and need to be adjusted over time. This is a work in progress and we will monitor this as we go. For now each new proposal burns 250 ONEUP and requires 250k ONEUP voting threshold. You can only vote with your staked ONEUP.
A burn proposal will likely follow shortly as well, to avoid abuse of the DAO inflation.

New 1UP Tags
We have changed the tags that the 1UP outpost is following. Our main tag is still #oneup, which you should always use, if you want to interact with the 1UP community directly and earn engagement upvotes for your commentators.
Additonal tags are #splinterlands (changed from previously #spt) and #nft.
We also follow the Axie Buzz (tag: #hive-143402) and the Rising Star (tag: #hive-195370) Hivemind communities. When you post into their communities, you will automatically publish to 1UP as well.

First Use-Case For ONEUP: Roll A JOINT
We partnered up with Hashkings, a HIVE game for weed growers and smokers. Their community curation account got a delegation from us, to upvote Hashkings posts. And they have activated ONEUP as payment in their game to roll a JOINT and it will be included in its RAID sale. So go and visit Hashkings and light up some ONEUP.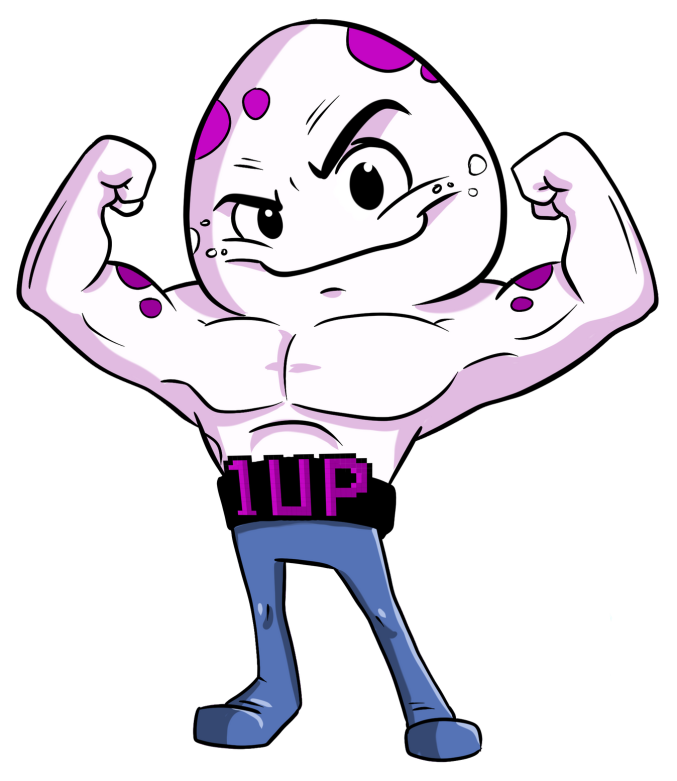 ---
---