The Curation-Cartel: !1UP Trigger, Smart Voting Mana And High Delegation Returns For 14 Different Tribes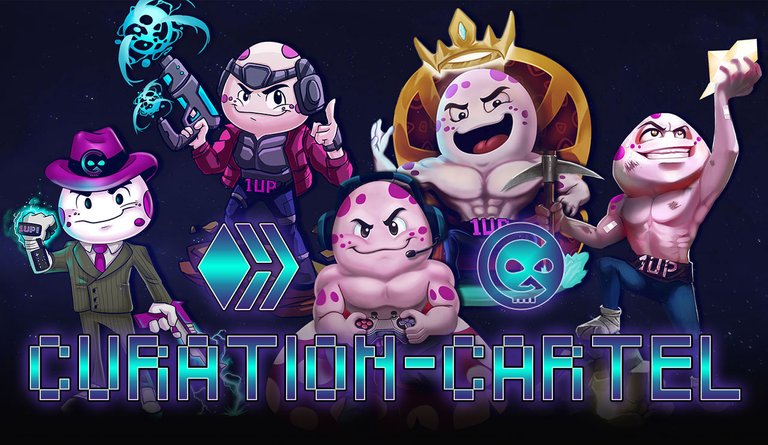 There is much happening in the @oneup-cartel each day: with operators playing and scouting games, with articles and videos (and soon live-streams) being prepared by an editorial, with investments into games and communities, with curation for many Hive-Engine tokens via the @curation-cartel and with developments like our new Discord bot with a smart voting system to best use our voting power. It never gets boring!

The Cartel is running a curation service for most of the different tribe communities on HIVE, those tokens that can be staked and delegated to other accounts. We offer a 95% return of the daily generated curation rewards, for scouting and upvoting posts and using the voting mana of all those different tokens as good as possible - both in efficiency as well as using that power responsibly.

The following accounts are part of the @curation-cartel:

The !1UP Trigger And Smart Voting
To achieve that herculean task of curating all those tribes, we developed our 1UP voting bot, where whitelisted HIVE users can trigger our curation accounts via a comment under a post (or under a comment) on HIVE. Our bot will then scan the post for all eligible tags and sends the according curation accounts to upvote it with a default value and write a comment with information about the voting accounts.

To make best use of our voting mana, the bot will queue all votes for each curation account and delay them until the moment their voting mana reaches 100% voting mana. Ideally, it should keep our voting mana always between 98% and 100%. Additionally it will scale the default vote value down if too many votes queue up.
This enables a very easy and straight forward curation for us, while maintaining the highest efficiency for earning curation rewards. This allows us to pay our delegators higher rewards, than what they would earn by voting themselves, despite our 5% fees.
The Cartel is currently earning about 17,000 ONEUP from @oneup-curator and 45,000 SPT from @monster-curator per month through the fees, just to name our two largest accounts. This is a massive and constant stream of tokens entering the Cartel treasury.
1UP Discord Bot
@kwskicky created a super cool Discord bot for us that allows us to observe our current curation accounts. It has a bunch of commands that you can find in the official post:
---
New Cartel BOT for OneUp community!
---
Below you see a screenshot from the !curators command, where you see the current $ value of our incoming delegations. And we are growing daily.
---
We can observe our voting power via !allmana to see all our accounts at once. Below you see a screenshot from before and after we activated our new smart voting bot, which should keep our voting mana between 98% and 100%. This will allow us to create the highest revenue possible with our delegated power.:
| | |
| --- | --- |
| Voting Mana Before Smart Voting | Voting Mana With Smart Voting |

Communities Working Together
We are interested to work hand-in-hand with the communities themselves and create partnerships like with the CINE token, in which we are investing and where we also offered access to our 1UP trigger to their own curators. There is more brewing with the CINE team in the background.
The hardest part about being able to curate so many tribes at once is to make sure that tag abuse will not be rewarded and each used community tribe tag is well-placed. We are all still learning in that regard and try to improve our efforts day by day. You can always reach out to us to help improving what we are doing.

What Is The Cartel?

Meta Gaming Guild
Meta Curation
Meta Dividend Token
Splinterlands, Hashkings, dCity, dCrops, Rising Star, Farming Tales, Crypto Raiders, Gods Unchained, Skyweaver, Ehon, PsyberX, Ragnarok, ChiFiBots -
and this is just the beginning of our journey.
With @curation-cartel we integrate over a dozen different curation accounts for HIVE tribes, including the popular @monster-curator and @oneup-curator, with delegations worth over 100,000 USD.
Our token is the CARTEL and by selling it we generate funds to invest into games and HIVE tribes, as well as dividend tokens, to eventually pay dividends to CARTEL token holders.
Join us on Discord to learn more about the Cartel.
---
---