New Guild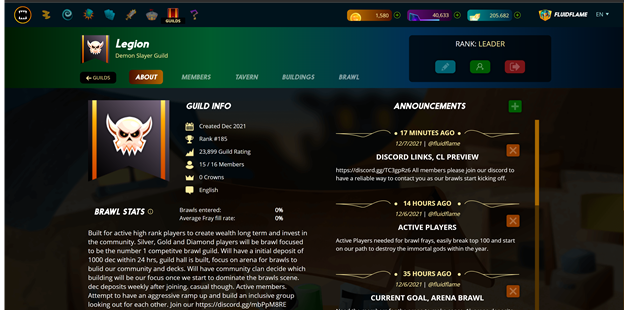 I forgot to mention, we started our own guild. I wanted a community based guild that makes active decisions on where they want the guild to go and what we want the guild to look like. I pride myself on laissez faire leadership and want my guildmates to feel like they own the guild. Taking pride in an arena we built ourselves and starting out from scratch has never felt so good.
That being said, request to join us if you want to brawl your heart out and be the top brawling guild there is. We already built up our store so we can reap the immediate benefits of the brawls and begin our journey to purchasing gladius cases!
https://discord.gg/mbPpM8RE
Join up and start brawls today, we have already leveled our guild to 2 within first hour of start up. if you want an explosion growth in the game join our ranks
https://splinterlands.com/?p=guild&id=730923bb5fbdf5c83e1fe7e21be3662e73589150&tab=members just built a new guild open to all.
Silver, gold and diamond players, we are close to our arena mark, come join us and fight alongside us as the new up and coming brawl guild
only a few spots left, 2 spots made open for brawls. looking for silver to diamond
1 spot left and arena will be open today!
#splinterlands and #playtoearn
Referral link below if really needed:
https://splinterlands.com?ref=fluidflame
LMK if you use the link and Ill send you the credits.
---
---