Landstreicher | Brawl Report #1 [ENG/DE]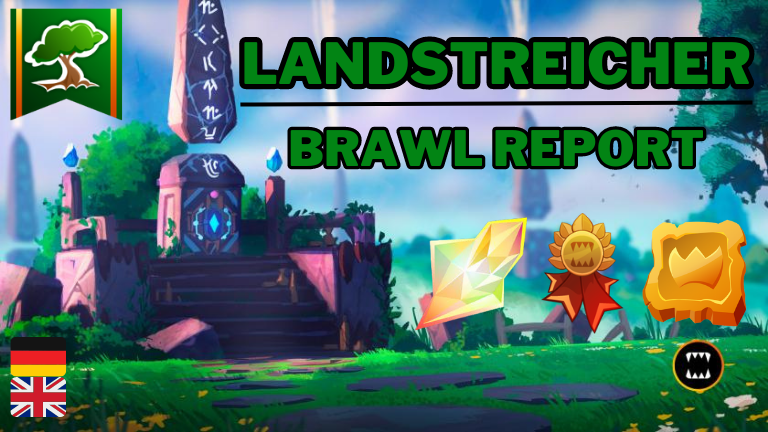 ---
Hallo Splinterlandians, im heutigen Blog Beitrag möchte ich über den letzten Tier 3 Brawl der deutschen Gilde "Landstreicher", in der ich ein aktives Mitglied bin, berichten. Es wird auf unsere Endplatzierung, Belohnungen und Top-Brawler eingegangen. Viel Spaß beim Lesen!
Hello Splinterlandians, in my today's blog post I would like to report about the recent Tier 3 brawl of the german guild "Landstreicher", in which I am an active member. Our final placement, rewards, and top brawlers will be discussed. Have fun while reading!

Final Placement - Endplatzierung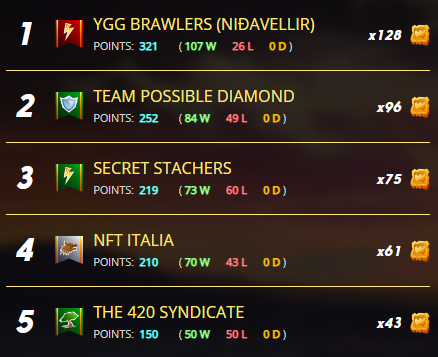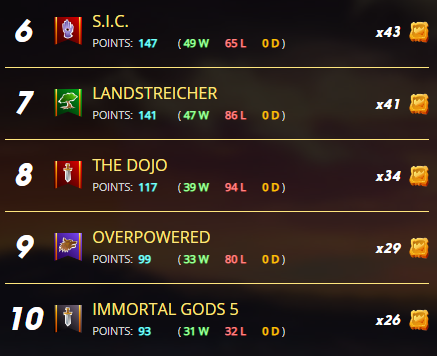 In diesem Brawl haben wir den 7. Platz erreicht. Mit ein bisschen mehr Glück hätte es auch gut und gerne der 5. bzw. 6. Platz werden können, hier fehlten nicht viele Punkte. Insgesamt konnten wir 141 Punkte bei 133 Battles erzielen, was einem Durchschnitt von 1,06 Punkten pro Battle entspricht. Dieser Durchschnitt sollte von uns in Zukunft etwas angehoben werden, indem wir besser werden und mehr Battles gewinnen.
In this brawl we reached the 7th place. With a bit more luck, it could have been the 5th or 6th place, not many points were missing here. In total we were able to score 141 points in 133 battles, which corresponds to an average of 1.06 points per battle. We should raise this average a bit in the future, by getting better and winning more battles.
---
Rewards - Belohnungen

Hier sind unsere Belohnungen zu sehen. Nicht zu vergessen sind wie immer die Crowns, von denen wir dieses Mal 41 erhalten haben.
Here you can see our rewards. Not to be forgotten, as always, are the Crowns, of which we received 41 this time.
---
Top-Brawler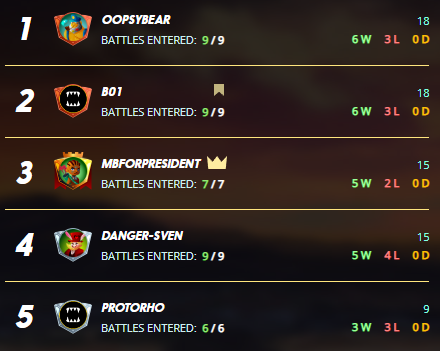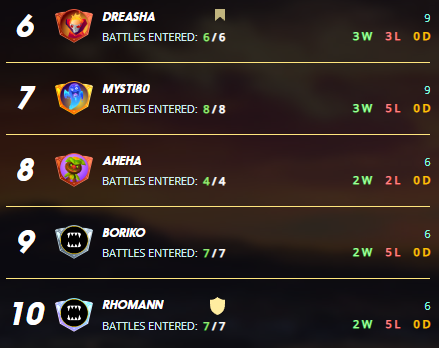 In diesem Brawl haben
@oopsybear
und
@b01
mit jeweils 6 Siegen und 3 Niederlagen am besten abgeschnitten. Insgesamt haben wir 4 Spieler, die ein positives Sieg-Niederlage-Verhältnis haben.
In this brawl,
@oopsybear
and
@b01
performed best with 6 wins and 3 losses each. In total we have 4 players who have a positive win-loss-ratio.
---
Final Words - Letzte Worte
Alles in allem war der letzte Brawl in Ordnung. Allerdings hoffe ich, dass wir uns in der Zukunft verbessern werden und dadurch bessere Belohnungen bekommen. Erwähnenswert ist zum Ende noch, dass in der letzten Season insgesamt 300000 DEC (ja ihr habt richtig gelesen, 300k DEC) gespendet wurden und dadurch, sobald genügend Crowns vorhanden sind, die Barracks auf Level 4 verbessert werden.
All in all, the last brawl was fine. However, I hope that in the future we will improve and get better rewards as a result. Finally, it is worth mentioning that a total of 300000 DEC (yes you read that right, 300k DEC) were donated in the last season and that, as soon as there are enough crowns, the barracks will be upgraded to level 4.
If you are interested in joining "Landstreicher" or working with us, please visit our Discord (
https://discord.gg/SGrwKPrvcP
). Although we are a German-speaking guild, we might also be open to English-speaking members. Thanks for reading and see you next time!
Wenn ihr nun Interesse habt "Landstreicher" beizutreten oder mit uns zusammenzuarbeiten, dann schaut doch gerne auf unserem Discord (
https://discord.gg/SGrwKPrvcP
) vorbei. Wir sind zwar eine deutschsprachige Gilde, wären aber unter Umständen auch für englisch-sprachige Mitglieder offen. Danke fürs Lesen und bis zum nächsten Mal!

Why I'm blogging about Splinterlands?
I want to increase the growth of my Splinterlands account with the rewards of blogging about my experiences, tactics and much more on Splinterlands.
Not playing Splinterlands yet?
You can use my link to sign in. Write me a message or a comment under this post and I will help you to start!
---
---